1322 (.22)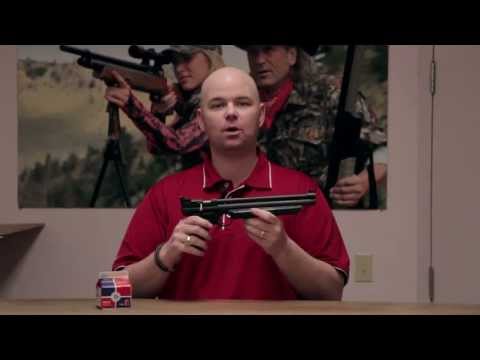 Overview
Ratings / Reviews
Downloads (Photos, Manual & EVP)
By popular demand, the 1322 variable pump pellet pistol is back! Featuring the same trusted single-action bolt design and adjustable rear sight of its .177 brethren.
An optional shoulder stock and steel breech kit for adding optics make this a great pest control pistol.
NOT A TOY. ADULT SUPERVISION REQUIRED. MISUSE OR CARELESS USE MAY CAUSE SERIOUS INJURY OR DEATH. BE CAREFUL, SHOOT SAFELY.
Primary Use
Specifications Overview

Model Number

1322C

Velocity

Up to 460 fps

Weight

2 lbs

Length

13.6 in

Mechanism

Bolt Action

Power Source

Variable Pump

Caliber

.22

Ammunition

Pellets

Capacity

Single Shot

Barrel

Rifled Steel

Front Sight

Fixed

Rear Sight

Peep or Open, adjustable

Safety

Cross-bolt

Color

Black
1322 (.22)
Customer Reviews
1322
By Remington
2014-10-16 04:52:39
Very good! Simple, sturdy, accurate and easy.
NICE GUN BUT
By Bill
2014-09-30 10:35:47
My collector 38t prompted me to stay with Crosman as it is an excellent piece. The 1322 it is a shame that it is saddled with such a sight, not as a number as others I had to adjust the rear sight. (enough said)
Excellent air pistol!!!!
By Joe
2014-08-16 13:32:29
This air pistol was dead on accurate right out of the package. Plenty of power at 10 pumps for any birds or squirrels. Also is just a fun gun to target shoot with or just plink around with.
Crosman 1322
By dahn
2014-07-14 01:44:56
Best value, no hassle, pellet gun. Prior to purchasing my 1322 I looked at several others, but I decided to try this one. Once I got home I loaded it with a Benjamin domed hollow point that was on sale and fired it at a small baby apple hanging in a tree 30 ft. away, that's when I realized I made the right choice. I couldn't be happier about my purchase, incredibly accurate and fun to shoot right out of the box.
It's...meh.
By Anonymous
2014-03-08 09:30:10
It works...but it sure is stupid.
The power is alright, the thing looks cool, it isn't too loud.
The sights...wow, just wow. I can't take too long to tell you how truly horrible the sights are, or else I'll go into a very
harshly worded rant. But just know...it's real bad. I had to set my sight all the way to the left, as well as torque it in
an unnatural angle to get this abomination to even remotely hit where I am aiming. The problems isn't me...I own several firearms (over 50), both real
as well as pellet/bb, with about half of them I can put bullets through the same hole. I know how to shoot, this gun doesn't.
I suppose I could spend the money and get a metal cover with scope mount, as well as the rest of the laundry list of improvements and mods....
I knew I should have gotten that really nice air rifle that was sitting next to this horrid piece of kit. The rifle was rated at 1500 fps.
It was a break action...so no pumping! Only $20 more. Man...I'm an idiot. Did I mention the barrel on the 1377 moves around freely if you apply even the most
delicate amount of pressure to it. This thing would be a lot more reasonable if it cost $20. That's about what it's worth.

See, I stated that I'd get caught up in a sight ramble. Oops.
But anyways, if you don't really care too much about testing your personal skill as a marksman then get it.
But if you really want something that tests you as a marksman...example...a gun that shoots better than your skills are able to shoot it ...look else where.


gun tinkers dream
By wee jock
2014-01-30 04:27:03
I read and viewed a lot of stuff before buying this excellent inexpensive pump pistol, I shoot springer air rifles mainly for varmit control but decided to try out a 1322 and modify it into a short carbine. Great accuracy up to 25yds at 10pumps after fitting of steel breech and extended breech bolt pin and red dot sight. I put a fitment on the end to facilitate a folding stock( opposite side from breech).I would agree with 2rcha about barrel rifling and intend to fit 10inch soon. Although this pistol was mainly for conversion to short range carbine for tree rat, barn rat and magpie control it is an excellent yard fun plinker at 4 to 5 pumps(cloverleaf groups at 20ft). Another plus is that because it is a pump and young lads of 12yrs find it difficult to prime , dad or uncle is always there to supervise, although I do keep my guns safely out of reach of young nimrods. All in all this american masterpiece is part of the shooting heritage and I would urge anybody looking for an entry level pistol which has the ability to grow with them to buy one.
Good air pistol
By walter
2013-12-17 21:56:16
I like this pistol because it is accurate, has good weight and is powerful. I killed 2 wild roosters with this. And also I have a good time doing target shooting with this.

I have a 1377C American classic too. The bad part of both is the custom sight that comes with these pistols (same problem with the 1377 and 1322 that I have). I have to aim a little more to the left to get to the point that I am aiming because you cant adjust the sight more. Also the thread of the sight where the screw adjusts is ease to get worn.

I ordered for both of my pistols a steel brech, the MIM sight and aslso the adaptor to get a scope on them (I hipe to have good results with those products)

I REALLY HAVE A GOOD TIME SHOOTING WITH THIS GUN.
THE 1322
By bondsman
2013-12-06 13:54:41
Picked the 1322 up for a great price and found this .22 caliber gun to be quite accurate right out of the box. I added a barrel spacer, steel breach, and upgraded the sights. Now I have one of the best tree rat killer handguns around. Great little pistol.
The 1322
By bondsman
2013-11-18 15:17:48
Purchased this .22 caliber pistol at the local Walmart for a very nice price. Right out of the box it shot straight on target. Then I added a barrel spacer, steel breech, and MIM sights. I would not trade this .22 for my brothers more expensive Benjamin pistol. What a deal.
THE 1322
By bondsman
2013-11-15 16:33:15
Right out of the box this pistol shot smooth and accurate. I added a barrel spacer, steel breech and steel MIM sights and would not trade this gun for my brothers more expensive Benjamin 22 caliber. Great gun at a great price and fun to upgrade. Now looking at the classic Sheridan Blue Streak in .20 caliber. Thank you Crosman.
crappy open sights and trigger
By lili-anne
2013-07-29 20:31:41
The crappy trigger and the crappy rear and front sights ruined my patience and user experience. I will looks for a better quality pistol
do your part and this gun will do the rest
By Guy in Colorado
2013-06-28 13:29:49
I have both the 1322 and the 1377. I got the 22 for hunting. It was a great choice. Both guns have served me well, but the 22 is definitely a better hunter. Now, this is not a magnum springer, so you can't just point and shoot and expect game to fall at your feet,but if you put a pellet from this gun somewhere vital, you will make the kill. I've taken rabbits and squirrels with headshots and cowbirds with both lung and headshots. I use Crosman Premier domed pellets and get solid kills out to 30 m.
I like to polish my sears, but the gun is certainly good enough out of the box. I find the gun tiresome for target practice because of all the pumping, but I adore it for hunting and take it with me whenever I'm in the woods or out on the ranch. I do want to upgrade it, but as I said, it's good enough and well worth the money.
Stock Model needs Work.
By 2RCHA
2013-06-21 01:20:58
In it's stock version, the gun is nothing special to write about, BUT!, when you start modding it, you can end up with a fantastic shooter. When I first got mine, I immediately installed the Crosman Steel Breech,a flat-top-piston kit,a 24" 2260 barrel, a 16 hole ported muzzlebrake, topped it off with a CenterPoint 3-9x40 I.R. AO, it now produces 700fps using 16gr AirArm's Diabolo Hunter's, and close to 900 fps using Crosman SSP's, which incidentally give me 5 shots, all in one ragged hole @ 15M(benchrested). And there's no satisfaction as there is when a good Crosman Build comes together. One thing I would like to mention, The rifling used in the 13XX/22xx barrels(of any length, other than the 10.1" .177 Lothar Walther barrel) needs to have the rifling more pronounced, its very slight as it is now, and the pellet does not engage the rifling properly, leaving the shooter with mixed results on the range,, and in the field. I've found that I need to use headsizes in the 5.53-5.55mm range to really take advantage of the rifling in these barrels. I really hope you publish this, and take this constructive criticism, It truly comes from a life-long Crosman Customer. Cheer's, Andy.
Excelent
By Anonymous
2013-06-03 13:03:54
His gun is awesome! I can't get over how accurate it is. I have had several airsoft pistols, and this one out does all of them.many little critters have meet their deaths because I decided to purchase this gun. I am looking forward to purchasing a stock for my 1322.

As for the guys that gave it 1 or 2 stars, it wasn't a big deal. The one that shot 8 inches high should have just been shot from a farther distance, and the squirrel must have been shot all the way through the body for it to die like that. The guy that shot 8 inches high even admitted ho accurate the gun was saying "I did shoot a group of 5 pellets in a dime sized area". That about sums it up. It's a great gun, just get it!
my favorite Crosman product
By dimon
2013-05-28 16:24:46
my favorite crosman product that really performs,very acurate gun, i call it a bird smaker, smakes birds efectevly up to about 40 yards,lots of mods available for this gun, i am very,very heppy with it, alot more acurate than my usless benjamin trail np that just being covered in the dust undet the desk.
Great Purchase
By Windcaller
2013-05-26 16:13:14
I highly recommend this product to anyone wanting to have some fun or get into air guns. I just got another one last week and I love it to death already. Crows and squirrels stand no chance at all. I did however only give it 4 stars because I find that you will need to get the steel breach upgrade or some scope mounts if you want any kind of real accuracy. But that could just be me as I don't really like the iron sights to much.
Great gun!
By chris2059
2013-04-19 19:52:40
Just got it delivered a few days ago. So far very impressed. Even though the grips are plastic, it feels solid. Very accurate out of the box. You can even switch over to a peep site, just by turning the site over. Love shooting this gun. The .22 caliber is more than ample for my squirrel problem. I have a Benjamin 392 and a 177 Optimus. But, this gun is going to get all my attention for the next few months. Excellent value. I know there are mods out there for it on the internet, but I like it just the way it is.
crosman .22 pump
By Slater
2013-04-19 09:25:09
This pistol is awesome.I use it strictly for target shooting.It's as accurate as one can shoot it ! I get one hole groups at 8 yds and I know thats not really far but try that with other pistols.Also I use a quality pellet ! ! Someone said you cant take squirrels with it. You can if you use a pointed pellet this way it gets plenty of penetration ! So yeah it's a great pistol for sure.
Squirrel central
By Big game Quinn
2013-03-30 13:26:16
This gun is great it is to maintain and it has a smooth operation, I have killed 3 squirrels 2 rabbits and a half a dozen birds most of them one shot I wish you didn't have to pump it ten times to get the guns power and I wish it had fiber optic sites
Lasts Forvever
By Stephen
2013-03-20 10:54:22
I have had this for almost 6 years now and has been a great little backup to my break barrel. Its great and is decently loud when shooting. Little hard to aim though. I highly suggest bb pump riffle if u want something for beginners.
New model 1322
By Crosman Rules
2013-03-05 17:24:52
I am very glad Crosman brought back the 1322. I just got my new one today, and the quality is even better than the 22 year old 1322 "Medalist" that I am now retiring, as it is getting a bit worn. The accuracy is just phenomenal, and the fit and finish excellent. Some people don't like the stock trigger, for me it is perfect. The black stocks are also decent-looking, and comfortable. Way to go Crosman!
GREAT FUN
By Big Jim
2013-02-18 17:04:45
I love to shoot. I have over 50 guns. With this 1322 I have set up a small range at my house and can shoot anytime now. While it doesn't go bang like my powder guns it still is a lot of fun. Big Jim Whittier,CA
affordable multi purpose .22 air pistol
By Patrick O
2013-02-09 11:08:47
I always wanted a .22 version of my 1377B, I bought this and it is great at hunting and popping soda cans at 20-30 yards! I have killed a rat and some squirrels easily with this pistol! It is a great air pistol costing less than others that are almost $500 and is easy to pump, maintain, and fun to shoot! If you own a 1377 you should get the 1322 as well!
nostalgia machine
By Weasel
2012-12-05 23:35:27
Almost 30 years ago my best friend Mark let me use his 1377 for as long as I liked. He was the coolest friend ever and it was the coolest pellet gun ever (at that time at least). I have recently be in the market to get a new pellet gun and the options are limitless. I want knockdown power balanced with compactness, lightweight and reliability. So the 1322 seemed like a obvious choice and the price is forgiving if I was wrong. After a long decision period I finally bought the gun today. I took it out and shot it as is. At 35 feet my grouping was amazingly tight since I haven't shot for about 30 years. The group was less than 1.5 inches on an aluminum can from a standing stance. I was impressed with the accuracy and would have been equally impressed it that group had come from a real firearm. I would like a liked a little more velocity from the gun but I suspect there are limitations to this system, a slightly longer barrel might give it a little more punch which the Backpacker has, but I didn't want that whole package.
NOT for squirrel use!!!
By Dcsurvivialist
2012-11-07 02:47:05
2 recent squirrel stories.
1) attempt was made to dispatch a squirrel from 15 ft using hollo point pellet that showed the best accuracy with my pistol was unsuccessful. I may have broken or sprained his left front arm but squrriel ran away.
2) Dispatched a squirrel with my Benjiman .25 Maruder, and while skinning him discovered a .22 cal pellet under his skin that could not penetrate the squirrel.

One squirrel dead with .22 cal inside, and another on the loose probably with another .22 cal lodged somewhere inside.

Use these for birds only!
Deviation from expected Crossman quality
By Will Wallman
2012-10-29 19:57:41
I have owned and worn out numerous air rifles / pistols protecting our 7 acres fig orchard from starlings. My normal accoutrement for starling hunting is an air rifle and a .177 pump pistol. Last week I splurged and bought a 1322 for a hard hitting rat shooter to eliminate the rat population from my barn where I have oat hay for the horses and chicken feed for the (you guessed it) chickens. I took my new 1322 and set up a 10 yard target and to my surprise the pistol shot 12 inches high at 10 yards. I dropped the rear sight as low as I could and got the overshoot down to 8 inches at 10 yards. Had my son-in-law try it and same results. We are both retired from law enforcement (20 and 30 years respectively) and have both been snipers on out SWAT teams. I'll be sending this pistol back to Crossman as a warranty issue as I think there is something major wrong with the pistol. I'll post an update on how well Crossman handles the warranty issue but in the meantime I bought another 1322 and after 10 minutes of sight adjustment I was able to put 5 pellets in a dime size area of the target at 10 yards. I believe I got a defective pistol which can happen. Will report later on Crossman's after sale warranty service for all to read.
I mean no disrespect to Crossman which normally produces top notch shooters but post sale customer service is a important issue to all of us.
Good Old 1322
By Doug NY
2012-10-27 21:57:55
At 14, I got my first Crosman .22 air pistol in 1971...I thought it was the coolest thing ever...I used it a lot that summer.
I still have it, and trained my son how to use it.
Glad to see it back... Best money I ever spent on a gun.
Fun gun
By Ray Ygual
2012-08-29 23:59:10
I have owned a 1377 for 10 years now. It is so good that when I saw the 1322 I had to buy it. My only complaint is the low velocity. I understand the 22 cal is a heavier pellet then the 177. It would be nice if they could get the same velocity out of the 1322 as they have in the 1377. Other then that it is a good gun. I up graded the breech and rear sight. It is right on the money up to 25 yards. If it shoots just as good in 10 years as it does now, just like my 1377, then it will be a very good deal. If they do find a way to increase the velocity you know I will be running to that store!
Great Shooter
By Sliver
2012-08-13 20:48:05
This is a new addition to my collection. Enjoy shooting this gun,,, all set for squirrels :o)
Fun Shooter.
By Tony
2012-08-12 01:00:17
I just got mine today. I read all of the reviews before I purchased. Five stars all the way! Love the .22 cal. Much easier to load for me. This thing packs a punch compared to my 760. It is nice to be able to control the power for plinkin in the back yard. As far as noise, it is quiet in my opinion. I usually pump it 3-4 times in the back yard. I feel like a kid again! Great job crossman.
1322C
By mike
2012-05-03 11:39:13
My 1322 & the 1399 shoulder stock arrived yesterday. With no adjustments yet, i put 4 (REALLY OLD) copperhead .22 wadcutters down range (20'), 3 in the same hole. Just bought the steel breech kit now. I plan to add a red dot and possibly a 14" barrel. The accuracy is excellent for a pistol at this price- Better than my relatively new Sheridan Bluestreak. Wood grips would have been nice, but for $60, I'll live.
1322/22
By blkbear
2012-04-30 10:29:49
minimum pumps still a usable close accurate gun/maxim pumps maxium accuracy..
this is a lifetime pistol..only working one you really need..
My favorite piece !
By curt
2012-04-27 19:20:33
And that's saying something !
The worst thing about it is the packaging. It will hurt you.
This is my favorite piece out of the dozen or so I now own. ( BB through 44 Remington Magnum )
More accurate than I am. Hits HARD. Know your target ! The gun actually has some light recoil !
With a slightly modified pump ( shimmed cup and lighter valve spring ) it shoots nearly as hard as 22 LR rimfire.
Punching holes *through* 1/2 inch plywood, and buries pellets in solid white oak. *KNOW* your target !
Power seems about the same as the 2240 at only two pumps, and goes up from there.
Trigger as-shipped was horrid, but a little polish and a much lighter longer spring, and it's "real good" now.
Very consistent, and very accurate. Can put pellets through the same hole at 40 feet from a rest.
Seen criticism of the plastic parts, but to me they are no detriment. Plastic breech is just fine. Grips excellent. ( IMHO )
Very quiet at two or three pumps. Not so much at nine.
Buy with confidence. It's the only piece I've ever given 5 stars.
Fine little gun!
By papaballoon
2012-04-17 11:52:33
I am new to air guns. sort of. I have owned BB guns and one or two pellet guns over teh years. I picked up a PC77 from a Wal mart a few years ago and enjoy it. Fine little pistol. accurate as anything. I was so impressed by that that I decided to purchase the 1322.
as nice as the 77 was, the 22 is a lot nicer. I AM NOT a gun nut. I like target shooting and in my near 60 years, I have never gone hunting! But on targets this little piece will pack a whallop! the force arriving at the target is amazingly good! a missed shot against my shed, punched a hole through the board side! pellets from the pc77 dent the wood.
I have not really gotten to know this gun yet. But overall I would say that it is a fine little handgun and a fantastic bargain at the price! It is ACCURATE! the only errors are in the hands of this clumsy shooter! and even I can hit the bullseye at 25 ft with open sights! have not tested it at my 50 ft range, or in open country, but I have a feeling that it will be very handy indeed.
This fall my son in law says he will take me bunny hunting and squirrel hunting. first time! I am looking forward to it. Thank you Crosman for bringing this gun to us! I really enjoy it!
77/22
By PBSlinger
2012-04-07 16:16:00
I've done several write ups on the 1377 and have done just about every mod on the 6 that I have owned. The performance of this little pumper made me realize I had become an air gun snob. Don't get me wrong I LOVE high quality fit and finish and none of the low end Crosman line have anything exceptional in fact I see more plastic sneaking in and the pot metal casting lines drive me nuts. The trigger pull is nothing short of horrid BUT this is an easy fix and you learn about the inner-workings of the gun in the process. These pistols are easy to service, and shoot so well I still can't believe how close they come to my $500.00 target pistol. For around $60.00 I've yet to find anything to beat them. U**er*x has made an all out offensive to import inexpensive licensed Break Barrel and CO2 guns in my opinion look pretty good but the performance and QC just isn't there. Crosman stay the course remember your roots and I'd love to see MADE IN THE USA PERIOD stamped proudly on side. Excellent Pistol, Exceptional Value. CROSMAN why don't you design and sell the UPGRADES and MODS? Like A Real Machined Quality Handle. Upgraded Pistons and air chambers on and on and on...
A nice more punch than the '77
By majorhavok
2012-04-04 00:26:40
I was really having fun with my 1377, but when I went to buy more pellets the .22 pistol was available! I just HAD to buy it and even though I have only shot it a few times it is great. The larger bullet really hits harder and so far with the Crosman pointed "field hunting" pellets the accuracy is fantastic. I can't wait until my scope/breech kit/stock arrive.. I can tell this is going to get a heck of a lot of use.
super 1322
By mr t
2012-03-13 18:37:40
Excellent gun....opened the blister pack...pumped six times..inserted pellet....put one in the black with first shot. Half inch group with first three shots..Have quite a few guns,pistols and rifles,but this is first time this ever happened. For better sight picture i then widened rear sight with Dremel tool,painted front sight with bright orange model paint and rear with flat black to give these old eyes a better sight picture.Ready to pop a pesky sun flower seed eating tree rat....Have a 1377 but this is a better shooter..Have a M417 and it also excellent..Crosmans got it together again.!!!!!!!
What an Awesome Gun
By Craig
2012-03-01 22:32:01
This pellet gun is so much fun to shoot because it shoots so well. I have a 1377 that I've had to make a lot of minor adjustments to make into the great shooter it is today. But out of the package, this 1322 is a driver. I have tried both Crosman pointed and hollow points and this gun loves hollow pointed Premiers. Once your sights are set (I prefer the peep for accuracy) this gun from 10 yards will easily rip penny sized groups. A scope and you'll be doing dime sized groups and smaller. The 1322 is lightweight with great feel, tons of modifications are available but left bone stock it is one awesome gun. For the price, features and fun it is a must have. Feel confident taking squirrels, starlings, rats and other pests with one shot... or tin cans or pellet traps. Either way, you'll enjoy its power and accuracy. For a 13" long pistol it is amazingly accurate. With a steady hand it will easily shoot on target all the time. Have fun shooting, always know what is beyond your shot and shoot safe. I am so glad they brought this back into production, it is just a great classic gun for all ages.
1322, One of the best
By Mark B
2012-02-21 17:34:04
The 1322 is among the best pneumatic pump pistols made. This pistol's lineage can be traced back to Crosman's first pump pistol in 1947. I have every variation since 1953 and this is as good as they get. Its easy to pump up, very powerful and super accurate. some people don't like the plastic breech, but I can't think of any other pneumatic pistol with this much power for its price. If you really need a steel breech one is available on this web sight , but the 1322 shoots just fine as it is. If you buy a Crosman 1322 you get a lot of gun and a lot of fun for not a lot of money.
My go to gun!
By Anonymous
2012-02-14 14:01:25
I couldn't wait for the 1322 reintroduction so I bought the 1377 and installed a steel breech, Scope, 14.5" barrel in .22 caliber and crosman shoulder stock. Hits hard and is a tack driver. I used to just aim at chipmunks body mass. Now I can count on reliable head shots. If you can only have one air gun, This is the one!!
great gun!!!!;-)
By atoll
2012-02-14 01:43:24
Crosman rules baby!;-)
1322
By Anonymous
2012-02-10 23:55:45
Had one of the original ones, and it was an excellent shooter. the new one promises to be even better. Now if Crosman would offer these in the custom shop.
Maybe my most exciting....
By BigEd
2012-01-24 23:02:01
Got my 1322 today, and right out of the box it shoots dead-on, with serious power. I can't wait to see how well it does with a little break-in use. The ol' 1377 is a fun gun for the back yard, but this is the one I'll be taking places; I've got no beefs whatsoever with this little beauty!
Simply awesome!
By Ogre8472
2012-01-17 14:52:21
I have a 1377c and it is just the perfect backpacker size weight and power. The 1322 is even better! At 10 yards this easily groups less than 1/2 inch. Soup cans with the premiers have holes on both sides. This is a home run in my book. Crosman keep it up!
IMPORTANT PLEASE READ
There are a few ways to download files to your computer. Right-click the item and select "Save As..." or you could open the link and save the document from there. All owner's manuals (OMs) and exploded view of parts diagrams (EVPs) are in a PDF format. You will need Adobe Acrobat Reader installed on your computer to open the file. If you do not have this program you can download it for free at:
http://get.adobe.com/reader/
High resolution (
High Rez
) media center files are in a variety of formats such as .TIF, .PSD, .EPS, .AI, etc. and typically require an additional program to open. Low resolution (
Low Rez
) files are in .GIF or .JPG format and should open in your web browser.