3576 Revolver Pistol (.177)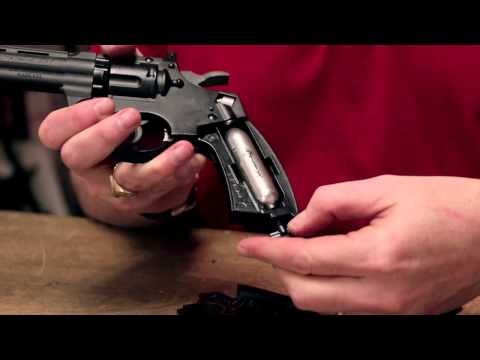 Overview
Accessories
Ratings / Reviews
Downloads (Photos, Manual & EVP)
$59.99
This item appears to be out of stock.
Enter your email address below and we'll email you when it becomes available.
CLOSE [ X ]
AUTO-NOTIFY
This semi-automatic 10-shot air pistol is unique with revolver styling and finger-molded grip design, perfect for action shooting. Powered by CO2 and available single or double action the 3576 is easy to use, as well as accurate with its six inch rifled steel barrel.
NOT A TOY. ADULT SUPERVISION REQUIRED. MISUSE OR CARELESS USE MAY CAUSE SERIOUS INJURY OR DEATH. BE CAREFUL, SHOOT SAFELY.
Primary Use
Specifications Overview

Model Number

3576W

Velocity

Up to 435 fps

Weight

2 lbs

Length

11.38 in

Mechanism

Single/Double Action

Power Source

CO2

Caliber

.177

Ammunition

Pellets

Capacity

10 shot clip

Barrel

Rifled

Front Sight

Fixed Blade

Rear Sight

Fully Adjustable

Safety

Hammer Block

Stock

Synthetic

Color

Black
3576 Revolver Pistol (.177)
Customer Reviews
Love it / Hate it.
By Pete the Snit
2014-09-09 05:08:38
I love the feel of this gun. When it works well it's great. When it leaks Co2 I want to just throw it into the woods! There are too many seals etc. to replace and by the time you order them,ship them and replace them you have half the price of the gun in the repairs. Too bad because it's a pretty cool pellet gun other wise!

Accurate Revolver
By .... .......
2014-02-01 23:05:49
I have owned this handgun for around half a year,and I am really surprised from the amount of accuracy this revolver portrays. thank you Crosman for such a great gun!!!
problems with parts
By rawson
2013-12-27 17:58:06
When I first purchased this air gun I was pleased. It didn't take a lot of co2 and it was accurate. After a while though the co2 started to leak which meant that I couldn't leave the co2 in overnight. When I dropped the gun one day and the hammer broke. The gun is made from a light plastic. For the price I would not recommend this gun. I would personally look into daisy's air guns. Also I would like to put out there that this isn't good for small game. First off I don't think it has enough power and secondly the co2 doesn't work as well in the cold.
colt/crosman python/357
By 357coltpython
2013-12-25 08:25:52
i got this gun about 5 years ago and loved it. it shot beautifully and no matter what the website says, it can very easily take down pests. the first time i tried, it was dark out, there was a rabbit about 20ft away, and all i had was my lawn mower headlights to see. first shot and the rabbit was dead. don't use it anymore due to severe co2 leak, thought it was because i dropped it one too many times, but i've seen they do that a lot. looking forward to getting another, and rebuilding this one. excellent pellet gun, very fair price.
3576 Revolver Pistol .177
By Ravager
2013-11-27 14:54:00
I have a very old model of this gun. And the older model doesnt have the molded grip, however it has an '8 inch barrel which according to the users manual ups the FPS by a certain margin. Also has a 4' inch barrel for conceal carry. I suppose...lol I got it and it was leaking. Oiling the gun for a week stopped the issue as I guess the seals were dry. But now it pukes CO2 out the barrel when its installed. I loved this gun when it was working. So should I buy the newer model and put my barrel on it? Will it fit? or can I get a seal kit from Crossman or another supplier? Its a collectors item for sure. Even has the box and manual for it though the condition is rather haggard. Any suggestions please send to masterofeverything@hotmail.com. Id love to refurbish this gem.

So Good Had to Buy Another!
By Anonymous
2013-11-24 10:03:58
Classic CO2 revolver fun. Gun is accurate with plenty of power for plinking and accurate enough using single action for informal paper punching at 10yds.

Paid 70 UK pounds each for both guns and 10 pounds for 3 extra 10 shot clips. The 357-6W is a star bargain, just wished you could get the 4 and 8 inch barrel version, then I'd buy two more.
A few words about the 3576 Revolver
By thos2x
2013-11-01 23:22:21
I found mine at Big 5 on sale for about $50, regularly $75. I was intrigued by the realism and the ten round clip. It is used primarily for plinking and target shooting. No animals, except for howling cats and only as they are running away from me. I've found that WD-40 sprayed on the pellet clip before loading seems to enhance the power. Keep a rag handy to wipe off any extra drips. This pellet pistol was worth every penny I spent on it.
crosman 375
By adze
2013-11-01 04:18:36
The very best pistol i have tried.
Long time owner
By Blaster
2013-09-24 01:07:05
I bought my 3576 in 1986. i still have it and it still works! Of course, the gas system has been changed replaced two or three times and the seals, I dont know how many times. I shot this gun so much as a kid, I probably contributed to the depletion of the ozone layer and used enough lead pellets to cause a ned lead mine to be opened. I now have all three barrels, the 4, 6, and 8 but i still like the feel and balance of the six. Now, as a parent, I am starting to feel the need to buy one each for my kids so we can sit on the back steps and shoot like I did with my dad. I just hope the guns produced today will last like mine has.
Best pellet pistol
By Happy Texan
2013-08-18 18:34:31
I bought 5 of these guns. Kept 3 returned 2 to the store. Not every gun produced is perfect. I love these guns. Academy has stopped stocking them so I went and bought one to put up because every pellet gun wears out if you shoot them a lot. Very strong, very accurate. I bought 6 pellet cylinders so I go through a lot of pellets and CO2. I bought a few automatics too, they do not even come close to accuracy of this 3576 revolver. One of my guns I took apart trying fix it. I messed that up. I do not recommend that. I hope Crosman can fix it cheap. Good luck everyone and happy shooting. Please don't kill animals just for fun.
works like a charm
By Anonymous
2013-08-01 14:17:49
pretty good beginner pistol.
Great out of the box
By DOJORODA
2013-07-09 15:41:34
I don't know what people expect from a CO2 pellet gun in this price range, but at 35 feet, my lead pellets were "stuck" to a concrete block, penetrated into a treated 2x4, and shredded some pop cans. It'll stop those evil squirrels and the breeds of birds I consider villainous.

Glad I bought it, found it to be shooting a little low and adjusted the sight up. Pretty nifty gun, and very affordable fun!
Great Gun
By Taskmaster
2013-07-09 13:50:11
This is a great gun for the money. Very realistic look and feel. I am going to be buying more clips for sure.
Very good target shooting gun
By Anonymous
2013-06-25 13:39:43
This is a fun gun. It really doesn't have much power, I'm sure it would kill a starling at close range, but if you're looking for a gun to kill animals with in this price range, there really are much better guns for that, like multi pumps and break barrels. I usually get about 80 or so shots per CO2 cartridge. This is a great gun.
Not very powerful
By Sawyer
2013-06-12 18:29:33
This is a great pistol. It shoots fairly good. The only reason I give this 3 stars is because it isnt that powerful. Overall fun gun to target shoot with and maby use on small birds but not a good gun for hunting.
Good, but could be stronger.
By Aperture Flash
2013-05-27 20:35:07
An Great intro in to the world of Co2 shooting. I love the look and feel of my .357. I just don't like the set up of the rear sights; A friend decided to try to be bad ass and spin it around his finger like a cowboy and dropped it, and the rear sight snapped off. I wish there was a way to replace it. otherwise great gun, no complaints.
its okay
By Anonymous
2013-05-20 21:19:10
this revolver is amazing with accuracy no matter if its pellets or bb's .now the reason why i give it a bad review is that even right out of the packege you would use co2 faster then the magazine guns. then maybe 2 weeks of total use it would leek so bad at night you wound have to put a new one every day .a week of use after that u would have to refill it every 7 hours .but if u just dont care about that it is good if u just want a clip gun thats accurate.
Great Hunting Gun
By Alejandro
2013-03-10 21:13:16
I shot a few doves an opossum and a few squirrels with this little pee shooter. its fun to use and its easy to use. it works pest with the hollow points by crosman i believe the premier pellets they are. Anyhow its a very fun and somewhat inexpensive gun. Buy and enjoy.
Outstanding
By glezmen
2013-03-04 11:19:35
This is an amazing gun! In my country (Hungary) it's among the cheaper guns (about 100USD, the Crosman 1088 is about 120USD), but its quality is much better than the more expensive guns.
Very accurate, nice, real gun feeling. One CO2 cartridge can last for 70-80 shots.
The sights can be adjusted both horizontally and vertically.
My only problem is with the magazine, it's not locked, so you can easily turn it by hand when it's in the gun (ok, that can be good for playing russian roulette :D), and inserting BBs is not so convenient (you have to push them hard to go deep enough to be fully inside the hole).
Anyway, I LOVE this gun, and I recommend it to anyone, buy it! :)
love the weapon
By jose sanders
2013-02-02 20:33:00
I've shot at armadillos and works best if you shoot em in the head ..well
Other wise I haven't played with it much... And boy it sure does go through
Co2 like crazy!!!!
Decent Gun
By BenB
2013-01-12 15:25:20
It's a good gun. It's not the best, but it passes.
Excellent Entry Level
By shooter mcgee
2013-01-10 15:38:29
Clip easily rotates out of position. no place to mount acc. Great gun at price level.
Nice gun!
By Anonymous
2012-12-27 20:36:29
This gun had a very nice body, looks very realistic and has a nice feel to it. It works great but what i dont like about it is that it doesnt have much fps. ive owned many guns before and this is my favorite one. Buy it!
Great for birds
By Anonymous
2012-12-21 11:08:30
I have had this pistol for 2 years. Its very accurate and is great for birds. Even better with a red dot scope on it.

Great
By Anonymous
2012-11-25 20:34:37
I wanted an accurate co2 pistol so I went for this because it had a 6 inch rifled steel barrel and shot pellets. It is very accurate and fun to shoot. I would highly recommend this but the one problem I have is the double action has an extremely long trigger pull and it is a bit hard for me to reach the trigger when I do not cock the gun so I do not use the double action very often. Besides that I don't have any complaints. It hasn't jammed or anything. I have been using wadcutter pellets and they work great.
better than most
By Logan
2012-11-20 17:15:20
Runs out of Co2 pretty quickly, but is a very good pellet pistol.
INCREIBLE
By luis cruz
2012-11-06 20:48:18
ES UN REVOLVER EXELENTE REUNE PRECICION POTENCIA YO ESTOY MUY CONFORME CON ELLA ES EL REVOLVER CO2 MAS POTENTE QUE HE CONOCIDO A DIFERENCIA DE OTROS REVOLVERES AIRGUN
So far..So Good
By Anonymous
2012-10-31 01:51:23
So far..this gun has been an awesome gun to shoot....wish it had a bit higher velocity..its at 435fps...495 would be sweet....
decent gun
By fun
2012-10-30 16:27:24
this gun is great for messing around has some power but not alot. the gun has a heavey trigger pull but looks and feels like a real gun.sometimes it will skip over a pellet. i tried shooting at a powerade bottle full of water and it didnt even penitrate.
Great
By Anonymous
2012-10-27 17:47:52
I have had this for two days now I so far it has been great I did wish it came with
A few extra clips because needing to have to keep reloading over and over can
Get annoying but the extra clips are only like a dollar or so so I think this I a great product
Great gun
By Anonymous
2012-10-21 20:15:46
I bought this gun with birthday money and loved it very much. its easy to use and gets good penetration. so far i have not had any problems with it. I would recommend it for any beginning gun enthusiasts.
It's #1 for a reason
By ReGaL
2012-09-20 16:25:53
I decided I wanted to get an air pistol for target shooting and went to a couple of different gun stores. They had many to choose from, but the clerks at both stores told me that the Crosmen 357 was their top selling gun and had been for many years. After doing to some additional online research I decided the 357 was the one to try. I sure
couldn't complain about the price...even found one store that selling the gun, holster and 3 magazines for UNDER $50.

I paid a bit more at the gun store, but they actually knocked a few bucks off when I showed them the online price and I liked going with a local dealer.

I've had the gun for about a week and have over 500 shots through it and am very pleased with it. It looks great and, after adjusting the sights, it is very accurate
in the 20-25 yd range. I'll be testing it at longer distances this weekend. I hadn't shot a pellet gun before, but it's a lot of fun. I owned a couple of Crosmen BB guns
when I was a kid (almost 50 years ago) and it's great to see they're still around and making great guns.

I can see why this gun is so highly recommended. I give it 5 stars for sure.
Awesome
By Anonymous
2012-09-19 19:10:18
I was looking for a co2 pistol and i wanted accuracy along with a great look and when I saw this I knew i wanted it. I got it for only $50 and am loving it. The only problem is the gun is designed a bit big so that can be hard but luckily it is not too bad.
good gun but not well built
By Anonymous
2012-09-10 17:45:55
i love this gun. i shoot it all the time and this is what i use when i cant shoot real guns. the only problem i have is that its fragile. i dropped it and half of the back sight broke off so now i have to use judgement to imagine an iron sight there. i would give this 5 stars if the iron sights were metal.
Crossman 3576
By Steve, Stoke on Trent UK
2012-09-09 12:35:17
Great back garden plinking pistol. Once you have around 100 shots under your belt you know the pistol's characteristics and you naturally adjust. The sightings are a bit blocky and the plastic grip is a bit of a pain to operate, however the gun really looks good and is very accurate. The first 25 shots or so are awesome but after around 40-50 shots the pistols starts to get bored and the shots start to dip. That's the norm though for a CO2 pistol I would suggest. Well worth the money. Excellent back garden plinker and the James Bond's amongst you may have enough skill to do some low level pest control. Go buy for a laugh :)
best gun ever
By Anonymous
2012-08-18 02:47:29
i would have to recomend this gun to every gun lover. this gun is what i have waited for since i started liking guns. freakin sweet gun!!!!!!!!!!!!!!!!!!
357
By Buck
2012-08-12 14:55:50
This gun is awesome. Powerful, super realistic, and accurate. Very accurate. Didn't have to adjust the site. Puts them in the same hole at 25ft using it as a single action. Only complaints are co2 usage and the grips. They feel loose, and that was from day 1, going to get wooden ones made.
Awesome for small game!
By Steeljuicebox
2012-08-05 17:10:52
To start off this gun is amazing! I have had it for about a year now, and it has been great. I have had no problems with this pistol at all! I use this gun all the time for backyard shooting, and this gun has killed rabbits and birds with ease. I also have no doubt that this gun could kill squirrels and raccoons as well. Over all this is a great gun that I would recommend for beginning and also experienced shooters.
excellent
By projectendgame
2012-08-03 12:55:10
This was my first pellet gun i have ever owned and i am very happy with it. i am not the best shot but this gun is very accurate for my skill level. i did wish i had some extra clips because it does go through pellets fast. i would recomend this gun to anyone
Awesome
By Anonymous
2012-08-01 22:48:54
Shoots looks and weighs like the real thing
Excellent weapon
By Sniperpower1996
2012-07-26 14:57:04
Okay I am 15 and I have had several guns in the past.I am a very good shot when it comes to rifles,but handguns are another story.For some reason the length of the barrel on the 3576 allows me almost perfect aim. It fires like a dream and has never jammed or anything and I have dropped it several times.Very realistic and would buy another one every time.
great
By the name
2012-07-12 21:59:27
This is a great gun for someone looking for a nice new gun buy it
Best gun!
By Anonymous
2012-06-15 07:19:44
I got the crosman 38t witch is like the 3576 but 40 years older but crosman is the best gun maker!!
Its almost perfect
By Crossman lover
2012-06-09 23:24:16
This gun is really fun but its not very powerful. i has trouble piercing an empty water bottle. also buy at least 10 clips because you go through them really quickly. also buy a lot of ammo. One co2 container is about 70-80 shots so keep that in mind when your buying everything

gret gun
By Anonymous
2012-04-11 18:28:31
this gun is perfect for target shooters. it shoots really accurate for a pistol. i recomend buying another clip becase it only holds 10 pellets

Amazing!!!
By JP56123
2012-03-27 20:41:13
I bought this last December and I've used it many times! its Amazing! This is my first pellet gun and I'm not disappointed at all. Crosman is the best brand you can buy!
AWESOME GUN!!!
By Anonymous
2012-03-26 08:18:44
very fun gun surprisingly accurate even when it said its not a pest control gun it is for me
fun but fragile
By Anonymous
2012-03-18 23:36:04
I love my .357 air revolver
By nothing
2012-03-08 11:22:07
This gun is so wonderful.I go to a shop 1 month ago and i se the .357 air pistol and i see the price he was just 59.99 dollars and two minutes after i was to my home with my gun in my hand.3 words,I LOVE IT!!!!!!!!!!!!!!!!
alright
By 14 year old
2012-02-04 20:04:18
I spent over 100$ getting extra clips and co2 cartigages and i think this gun is worth the price. It's not a very strong gun. i had a plastic club soda bottle and it wouldnt penetrate. its fun gun to srcew around but not a performance gun

Surprisingly accurate
By Dan
2012-01-25 15:45:24
I have a few CO2 action pistols and this Crosman is the cheapest, yet provides the best accuracy! It's pretty well made, particularly for the price. I'd prefer less plastic, especially on the barrel covering. The vented rib doubles as a dovetail mount, which is a great feature and design. But because it's plastic and somewhat loosely fitted to the rest of the barrel assembly, any electronic sight you attach to it will not be that solid. That's really my only complaint. Yes, the screw to pierce the cartridge isn't that smooth and requires the use of a pair of pliers, but that's not a huge issue.
This thing is fun, it holds the CO2 for days without leaking, and is very accurate. I hope Crosman continues to sell these kinds of pistols.
i just got it wonderful!!!!!!!
By pappy
2012-01-18 16:45:39
All I need now is a holster!
Crossman 3576 air revolver
By Educated buyer
2012-01-17 18:53:19
A great gun, lots of fun.
Great
By Julian
2012-01-13 21:43:39
This gun is amazing!!! It is very powerfull and it has great accuracy. Its is very sturdy.
DA BOMB
By Owner
2012-01-09 19:39:26
Da bomb!
MOST AWESOME PELLET GUN EVER!!!!!!!!!!!!!!!!!!!!!!
By Owner f the awesomeness
2012-01-06 21:30:45
I have the awesome and it is awesome awesome awesome sexy awesome and HARDCORE!!!
Love it
By ddempsey
2012-01-05 08:46:07
I got this at Academy about two months ago, and ever since then, I have loved this gun. The sight came broken on it so I can't say anything about that, but it fits really nice in your hand, and it is heavy, which I like, and it has a kick to it whevever you pull the triggerm especially when you put a new co2 cartridge in it, so it feels like a real gun. I'm starting to think that it has more power than my Daisy Powerline 880, which it says it has 800 fps on the box. The gun still looks brand new even though it has been left out in the rain. Also, this thing will keep animals like foxes, coyotes, racoons, and other pests that live around your house away, that is, if you can hit them.
HHHHHHHHHHHHHHAAAAAAARRRRRRRRRDDDDDDDDDDCCCCCCCCCCCORRRRRRRRRRRRRRRRRRREEEEEEEEEEEEEEEEEEEEEEE!!!!!!!!!!!!!!!!
By buddy
2011-12-28 22:58:22
I have thisgun it is better than the daisy model880 and it has 435 fps and the daisey model 880 750fps . BUY THE GUN!!!!!!!!!!!!!!!!!!!!!!!!!!!!!!!!!!!!!!!!!!!!!!!!!!!!!!!!!!!!!!!!!!!!!!!!!!!!!!!!!!!!!!!!!!!!!!!!!!!!!!!!!!!!!!!!!!!!!!!!!!!!!!!!!!!!!!!!!!!!!!!!!!!!!!!!!!!!!!!!!!!!!!!!!!!!!!!!!!!!!!!!!!!
.357 air revolver
By Anonymous
2011-12-28 10:16:07
I've had this gun for a while and it has pleased me very well. I took this pistol to my grandparents farm and I had so much fun with it from just plinking in the front yard to actually hunting animals up to the size of a large squirrel and maybe also taking hot shots at big hawks circling the skies. For the money you are getting a well made piece of machinery that will last you if you clean it and take care of it. Lets just say that if you treat it good then it will treat you good.
LOVE THIS GUN!
By Anonymous
2011-12-10 10:48:43
For many years i had the earlier version of this same handgun & loved it! Not only accurate but also a great psychological weapon as well.my house was on the main street of my hometown & once they had a roving carnival in town on my street.A few drunk idiots decided to hang out on my porch, so i held the gun up to the window & when they saw it they ran like hell! I used it to keep stray cats away from the house,even a groundhog or two! when the barrel clip went bad & wouldnt hold it up anymore, i was devastated.cant wait to get another one of these,loved this gun!

NOT BAD!
By VNAM65-67
2011-12-09 13:39:05
HEY GUYS THIS PELLET GUN IS PRETTY GOOD,WHAT DO U WANT FOR $50 BUCKS,MAN IT'S NOT GOING TO LAST 50YRS.IT IS FAIRLY ACCURATE & IT LOOKS GOOD.
Crosman 3576 revolvers
By JOE M
2011-12-05 02:43:56
Ive had all the models made of this gun over the years and it never jams and is a best buy for the money hands down for a revolver. I also bought the 8 inch barrel from the custom shop a few years ago and using the light weight super velocity pointed pellets can take gray squiles and rabbits and possums with single head shots. This gun is not a toy and definently demands the respect of a real firearm.
EPIC!!!!!!!!!!!!!!!!!!!!!!!!!!!
By uber247
2011-11-27 21:25:38
This gun is epic all i can say is epic and by this gun.
Junk
By owner of this junk
2011-11-26 08:02:03
I have owned this toy for 8 months (it's in a baggie now in pieces) very inaccurate, fell apart after 1123 shots. The seal leaks even with regular pell oil application. Buy a slingshot for $2 before you waste your money. I am 60 yrs old and I now pellet guns. I have owned 8 crosman (great company) guns and they should be totaly embarrased selling this crapola!!
Ehhh
By Previous Buyer
2011-11-23 17:35:46
I have had this for about 6 months. It worked well, but the screw for the co2 cartridge is horrible. After the seal broke, it still worked, but after another 2 weeks the screw jammed and it stopped functioning. I would rather buy the American Classic.
GREAT!!!!!!
By Austin
2011-11-21 17:55:48
I have just bought this gun 2 days ago and its by far the best gun ihave aquired , shoots amazing lots of power the only problem is the co2 last for about 50 - 70 shots but it ,makes up for it in performance. :)

Great!!!!
By Thomas
2011-11-21 11:30:17
My brother got me this gun as a surprise 3 years ago and it still works beautifully. It is fairly powerful for a pistol and is pretty realistic to a real revolver

There were a few cons:
1: it does go through co2 cartridges faster then other pistols.
2: the clip doesn't hold the pellets too well (they hold, but they normally fall if the gun or clip is shaken)
3: the cover for the co2 is two separate pieces that are removed from the gun and start to become a little loose but may or may not, eventually, stay on
awesome!!!!
By Anonymous
2011-11-18 10:21:26
it so awesome!!!
DA GUN
By Hermann
2011-11-09 10:22:22
I bought this to replace my 38T which was in need of repair. I am pleased with the accuracy of the 3576. =)
Gun
By Sharp Shooter1
2011-11-02 16:37:21
this is a great gun for just about anything. It suites all my needs and more. I couldn't be happier for the price too.
the best
By Anonymous
2011-10-29 08:21:40
Way better than Dan and wesson

Crosman 3576
By J.R.
2011-10-16 15:37:06
Been 45 years since I bought my first pump style 22 airgun (rifle), and later a CO2 pistol. I'm extremely impressed with this airgun, such a huge change from many years ago. Great plinking and target pistol, price is super!
Wunderbar
By Corkscrew
2011-10-09 19:22:43
This thing is RIDICULOUS! For anyone looking for a good, high-quality/low-price air pistol, look no farther.
Crosman 3576 Revolver
By ROLU
2011-09-26 07:47:21
It is even greater and fun with teflon+stell or explosive pellet (first one make holes in stell roof tile! and second one is great for realistic learning - you see a place of exact hit) try it !
excellent gun
By shane
2011-09-24 14:48:14
this is a great air pistle i use it around the house. (chipmunks) very very accuret i can hit a 3/4 inch wooden rod free handing it at 15 to 25 feet or so. love it!!!
Great gun.
By Anonymous
2011-09-06 18:11:17
Not only does it look good but it shoots good too. I bought this for $50, but it was well worth it. The only problem is the pellets are expensive. I'd say it has about 500 fps with a fresh co2 canister. It's pretty durable. If I were to rate this, it would be in the top 3 for pistols. It's pretty accurate, but the sight is a little too big. This is a great gun. As far as hunting, if your accurate enough, you could probably shoot a bird, rabbit, or squirrel.
crosman 3576 review
By edgar jaramillo
2011-08-31 18:53:42
its just great a hot sexy and exiting gun
Best pistol ever
By Julian Hansen
2011-08-25 22:50:23
I always wanted a revolver and this pistolwas the answer. It is very powerfull and fn to shoot

great
By Hunter
2011-08-22 09:11:05
i am going to buy it but the reviews on youtube are great and the gun is super sexy!!!!
357-6w
By nick
2011-08-12 13:38:29
This airgun is a cossmen masterpiece. The only plastic is the grips. It never jams up.has 435 fps. And is good for hunting rabbit and snake.
Needs some accessories? Look through the items we paired up with the 3576 Revolver Pistol (.177).
IMPORTANT PLEASE READ There are a few ways to download files to your computer. Right-click the item and select "Save As..." or you could open the link and save the document from there.

High resolution (High Rez) media center files are in a variety of formats such as .TIF, .PSD, .EPS, .AI, etc. and typically require an additional program to open. Low resolution (Low Rez) files are in .GIF or .JPG format and should open in your web browser.