Marauder PCP Air Pistol (.22 cal)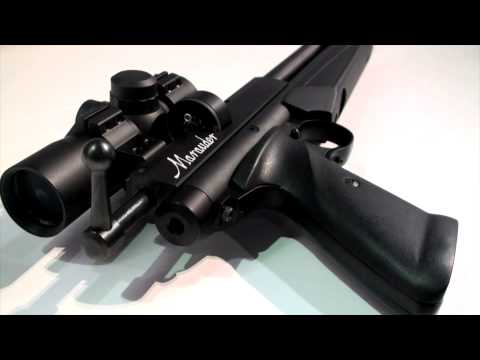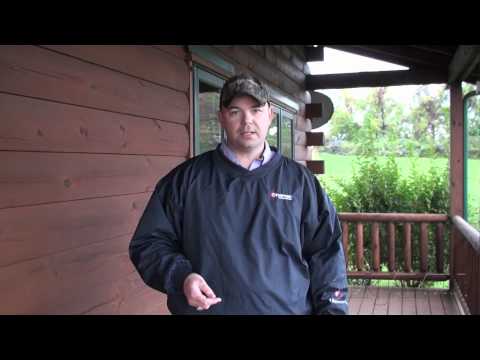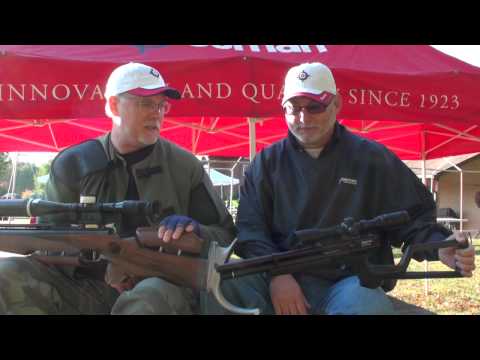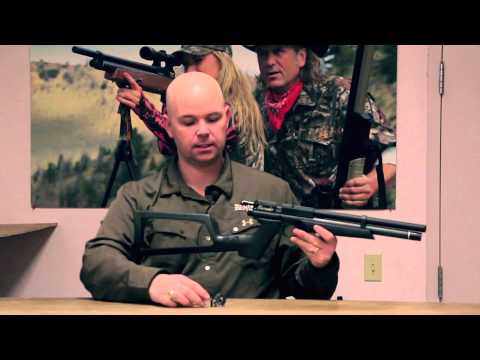 Overview
Ratings / Reviews
Downloads (Photos, Manual & EVP)
Benjamin's NEW hunting PCP pistol incorporates all the features that make the Marauder and Discovery exceptional air rifles. An excellent choice for hunting, the new Benjamin Marauder .22 caliber PCP pistol is ultra-quiet and, with practice is more than accurate enough to easily take out small game from up to 33 yards away at velocities up to 700 fps.

The newly improved trigger on the Marauder pistol is accomplished by redesigning the grip frame from our popular 2240 series of guns and adding an adjustable, two-stage, drop sear trigger utilizing precision heat treated metal components. The mechanism is designed and built with the same materials and precision as the very popular Marauder rifle trigger group.

This pistol provides all the strength and accuracy required for small game hunting. The Marauder PCP Pistol features a self-indexing, 8-shot clip and a 12-inch choked and shrouded barrel (scope not included). Overall length of the pistol is 18-inches (pistol grip configuration). A shoulder stock is included and is easily interchangeable with the pistol grips. With 3000 psi of compressed air, this gun has the muscle to quietly and dependably get the job done.
NOT A TOY. ADULT SUPERVISION REQUIRED. MISUSE OR CARELESS USE MAY CAUSE SERIOUS INJURY OR DEATH. BE CAREFUL, SHOOT SAFELY.
Primary Use
Specifications Overview

Model Number

BP2220

Velocity

Up to 700 fps

Weight

2.7 lbs

Length

18 in

Mechanism

Bolt Action

Power Source

PCP

Caliber

.22

Ammunition

Pellets

Capacity

8 Shot Clip

Barrel

Rifled Steel

Front Sight

none

Rear Sight

none

Safety

Cross-bolt

Stock

Synthetic

Color

Black
Marauder PCP Air Pistol (.22 cal)
Customer Reviews
Awesome.
By Anonymous
2014-03-31 20:23:12
A MUST BUY, This gun has it all!)
Iz cool RETAKE
By Anonymous
2014-03-28 15:27:36
OK, forget about my other review the 4 star one title: Iz cool. This is the truth:

Alright, Im sticking by my statement: Its not 400 bucks awesome, I'd say 200 bucks awesome, So keep that in mind while you read this.

I put a different scope on it ACCURATE AS A 50 cal! (not really) I use the Crosman .22 cal hollow points, and its going in to the same hole at 20 yards, with a even better scope and pellets, nickle sized groups at 100 yards easy. Again, If you have the money WORTH EVERY PENNY!


PROS:
accurate

P/C
Its small

CONS:
Isn't that comfortable
Doesn't fit snug
kinda expensive


Based on how this marauder pistol performed, I'm thinking about getting the rifle also.








Iz cool
By Anonymous
2014-03-19 23:42:35
This is a exceptional gun. Only 2 complaints. The ridiculous price, and it uses a lot of psi for one shot, anywhere from 30-75 per shot, with that said, its frickin awesome. Its not 400 bucks awesome, I'd say 200 bucks awesome, nevertheless, if you have the money, it is a great addition to any air gun collection and pest/plinking fun. I would if I could rate this gun a 4.5 star.
Please upgrade Marauder Pistol Stock!
By Hotair
2013-12-04 15:04:02
I've carefully studied the Marauder Pistol and shot a few rounds in one, but I've not bought one yet. I want this gun with a decent wooden carbine stock comparable to the one on my Marauder rifle, but the custom stock offerings are out of my price range. If you would sell the Marauder pistol with a thumbhole stock similar to the one offered by Steve Corcoran custom stocks, you could easily increase the price by $l00 (or more). I would buy one in a minute. There's no need for fancy wood or handcut checkering--just beech wood, a shoulder pad, a grip cap, and a nice finish. This combination would sell like hot cakes. (check out pictures of the Marauder pistol in a thumbhole stock at Steve Corcoran's website.)

Awesomeness
By Anonymous
2013-04-29 09:58:13
For a long time .22 cal and up air guns were illegal to own in South Africa. This all changed recently. I purchased this pistol after reading only good reviews. When it eventually arrived after a week in the mail I was very sceptical when I took it out the box. It was small. didn't weigh anything and I thought to myself this thing cant shoot as well as its said. Boy was I wrong!!! Its a demon! no one can believe the accuracy nor the power this little thing has. After fumbeling with the trigger its light and crisp as glass! By far the best gun I own. Thank you crosman for the great product. Can't wait to see what you come up with next but its sure to be amazing!! Would recommend it to any one young and old! Its an absolute blast!
Marauder PCP air pistol
By Squirrel killer
2013-04-07 17:43:44
Couldn't be happier very well made lightweight pistol. Just a blast to shoot and easy to fill with benjamin hand pump. Using a 2600 psi fill with gun slightly under powered on settings. Shooting around 40 to 50 good shots and consistent groups. Can shoot it down to almost 1400 psi and still be at 600 fps range. This is my New toy for deer hunting and no not too shoot deer but tree rats(squirrels). I have a bit of revenge coming for my seat on my stand they ate. Idk if he was pissed at the arrow i shot at him getting some revenge on my seat, or just for bedding. But I will get the last laugh with this pistol, quiet little gun doooong tick is about all you hear Birds and crows are not too scared by the sound. Which is nice maybe add a few marmot militia moderators and you will be stealthier than ever. Much quieter than the BNM breech that i had purchased. Crosman puts out some nice low budget guns that are great for the price. Im liking this gun so much i cant wait to buy the marauder rifle. Just cant decide what caliber i want yet
Very very Nice
By BL
2013-01-24 01:42:16
I was really surprised with the accuracy. I held off purchasing one earlier because of the rumors of inconsistent accuracy. It kept close to my 1720T at short range even with a Red Dot as the scope for this one is on backorder.
Power is impressive, and it seems to use air well with the out of the box settings. I am very happy with it so far.

Simply Amazing!
By Ogre8472
2012-05-15 11:24:00
The title says it all. This well thought out and versatile pcp is simply amazing. In the stock tune its stronger and quieter than most break barrels and much more accurate too. This great carbine/pistol can do the work of pest control to small game hunting in one easy to use and sleek package. This great gun will be my small game equipment of choice. I wouldn't hesitate to recommend this to a new shooter or a seasoned hunter for that matter. Please Crosman don't stop what your doing!
Fits in my pack
By Doubletough
2011-12-08 15:12:39
This pistol walks the walk! I've been lashing it to my pack for a full day on the deer stand and had more fun picking off squirrels while waiting for the bucks to move. Truly is quiet and the accuracy puts even the most wary squirrel within reach. I just need to remember to bring more clips!
IMPORTANT PLEASE READ
There are a few ways to download files to your computer. Right-click the item and select "Save As..." or you could open the link and save the document from there. All owner's manuals (OMs) and exploded view of parts diagrams (EVPs) are in a PDF format. You will need Adobe Acrobat Reader installed on your computer to open the file. If you do not have this program you can download it for free at:
http://get.adobe.com/reader/
High resolution (
High Rez
) media center files are in a variety of formats such as .TIF, .PSD, .EPS, .AI, etc. and typically require an additional program to open. Low resolution (
Low Rez
) files are in .GIF or .JPG format and should open in your web browser.