Marauder Woods Walker Air Pistol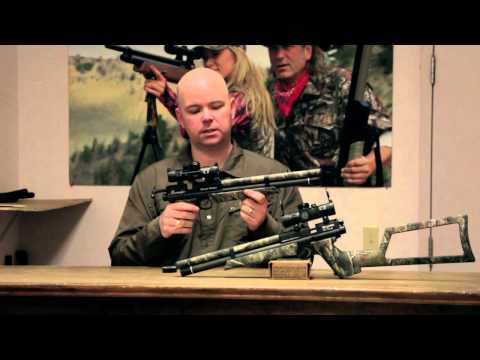 Overview
Accessories
Ratings / Reviews
Downloads (Photos, Manual & EVP)
The Woods Walker pistol unleashes magnum power in a package small enough to fit in your pack. It has the authority to take small game and varmints, and if you need it, this repeater will give you a precise follow-up shot.
The Realtree® AP camo ensures you won't be easily spotted and the included CenterPoint Multi-Tac Quick Aim Sight with custom dovetail rings allows for fast acquisition and precise targeting. Swap the pistol grip for the included shoulder stock without having to adjust the sights.
The pistol features an 8-shot rotary magazine and a crisp 2-stage trigger.
The Marauder Woods Walker is the perfect deerstand airgun for taking care of those pesky squirrels while waiting for The Big One. Driving pellets at 15.5 fpe means it's just as well suited pursuing raccoons and rabbits.
NOT A TOY. THIS AIRGUN IS RECOMMENDED FOR ADULT USE ONLY. MISUSE OR CARELESS USE MAY RESULT IN SERIOUS INJURY OR DEATH. BE CAREFUL, SHOOT SAFELY.
Primary Use
Specifications Overview

Model Number

BP2220-AP

Velocity

Up to 700 fps

Weight

2.7 lbs

Length

18 in

Mechanism

Bolt Action

Power Source

PCP

Caliber

.22

Ammunition

Pellets

Capacity

8 Shot Clip

Barrel

Rifled Steel

Optics Rail

3/8" Dovetail

Optics

Multi-TAC Quick Aim Sight

Safety

Cross Bolt

Stock

Synthetic

Color

Realtree AP™
Marauder Woods Walker Air Pistol
Customer Reviews
Not for use with Raccoon's
By Precision Shooter
2013-11-11 13:18:29
The FPE stated for this pistol does not meet the recommended 30+ fpe needed to take quarry the size of any raccoon. I use Crosman Pellets (14.5 gr domed) in my .22 Break barrel springer rifle, which delivers 21 fpe, and at less than 31 feet with a PERFECTLY placed head shot can take small raccoons, beyond that there is NO WAY to humanely take game larger or farther away without moving up to a .25 (18 to 24 gr) and 30 to 48+ fpe at 800 to 1000 fps.
I enjoy the Crosman pellets for their accuracy, and use them pretty much exclusively, however they have to come out of a gun meant for, and capable of a one shot kill.
I am in the market for this exact pistol, however it would only be for squirrels, within 75'. Try killing an elephant with a .22 center fire, and see how that works,same situation here.
Woods Walker-Marauder
By Thomasis1
2012-08-29 09:04:06
Great gun! Love the PCP's very accurrate, lost count of the number of shots on one fill (hunting I tried to keep it refilled after a few clips) I liked having the option of the rifle stock. This is a fine addition to 357 Marauder PCP. Really like the PCP's no pumping a gun or buying CO2 catriage
Needs some accessories? Look through the items we paired up with the Marauder Woods Walker Air Pistol.
IMPORTANT PLEASE READ There are a few ways to download files to your computer. Right-click the item and select "Save As..." or you could open the link and save the document from there.

High resolution (High Rez) media center files are in a variety of formats such as .TIF, .PSD, .EPS, .AI, etc. and typically require an additional program to open. Low resolution (Low Rez) files are in .GIF or .JPG format and should open in your web browser.