PC77 Pumpmaster Classic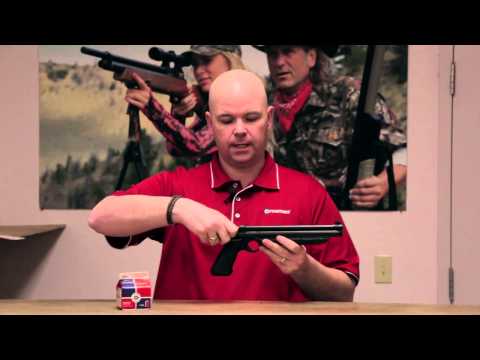 Overview
Ratings / Reviews
Downloads (Photos, Manual & EVP)
This unique pistol, popular among serious shooters, features a single-action bolt design for easier cocking and loading and a rifled steel barrel for accuracy. With the easy-pump forearm for variable pump power, you control the velocity for your shooting needs with a maximum of 600 fps. This gun features fully adjustable rear peep or open sights, and fixed blade front sights.
NOT A TOY. ADULT SUPERVISION REQUIRED. MISUSE OR CARELESS USE MAY CAUSE SERIOUS INJURY OR DEATH. BE CAREFUL, SHOOT SAFELY.
Primary Use
Specifications Overview

Model Number

PC77B

Velocity

Up to 600 fps

Weight

2 lbs

Length

13.6 in

Mechanism

Bolt Action

Power Source

Pump

Caliber

.177

Ammunition

Pellets

Capacity

Single Shot

Barrel

Rifled Steel

Front Sight

Fixed Blade

Rear Sight

Peep or Open, Adjustable

Safety

Cross-bolt

Color

Black
PC77 Pumpmaster Classic
Customer Reviews
great pistol
By Remington
2014-09-05 08:58:58
Nagyon pontos, csendes és könnyű. Ügyes a tervező!
PC77B
By Remington
2014-09-04 08:36:24
Super!
Marine expert loves this pistol.
By Bravo Tango
2014-08-12 17:21:01
Am I an expert on firearms? Maybe not. Am I an expert shot with firearms? The Marine Corps sure thought so. As far as pistols go, I usually scored about 375-380 out of 400 with the 9mm Baretta. So, now that I'm out, and living in a county that has outlawed the use of REAL firearms within the county, I was looking for an air pistol to do some target shooting. After a little research, I decided I did not want a CO2 pistol, but, a pump pistol. After a little bit more research, reading reviews and comparing prices, I decided on the PC77. Honestly, I was very disappointed with the sights. My groups were okay, but, too high. I adjusted the sights as low as I could, but, my groups, at 25 feet, were about an inch high. I filed the metal groove down to the point it was the same height as the plastic sight mount. My groups were still high. I finally had to sand the plastic mount off quite a bit to get the height adjustment right. So, why do I still give it 5 stars? Now that the sights are set, I consistently shoot groups that are less than an inch at 46 feet. 46 feet is as far as I can spread out in my yard. I also shot a pointed pellet into a 1/2" sheet of plywood at 25 feet and it went in far enough to start coming out the backside. Yeah, it rates 5 stars even after all the work on the sights. I shot a copperhead snake through the head and it went all the way through and into his body. It killed a snake,... yes I love this pistol. Buy one. I attribute that thing with the sights a fluke. And, I don't know what these guys are talking about loose barrels and such. My pistol is tight as a drum and feels great, even in my oversized hands. I'm 6'8" and have huge hands. Give it a try. You will love it.
Great little gun.
By gophergasser
2014-07-07 17:36:23
I initially went to the store looking for a CO2 pistol for plinking at gophers. I've got plenty of other firearms, and an old Benjamin Air Rifle, but I wanted something small and compact since I would be shooting at very small targets at close range.

Upon finding that most of the CO2 pistols have pretty weak muzzle velocities, I decided to go with a pump model. I settled on this one when they didn't have my number one choice in stock. I'm glad I did. Aesthetically, I like it because 1.) It's appearance is such that there is no way it can be mistaken for a regular firearm. Though we live in a rural area, there are neighbors close enough to be alarmed. 2.) It looks, and works, just like the Benjamin Air Rifle I have had since my youth. It feels like the same gun with a pistol grip and shorter barrel. Thus, it just feels comfortable and familiar.

Right out of the package, the elevation on the site was perfect. With just a slight adjustment, windage was zeroed in as as well and I couldn't be more pleased. One caveat on shooting gophers with it, especially with the .177 pellets, "don't shoot till you see the whites of their eyes". As they push dirt up out of a hole, the lightweight pellet will not penetrate the thinnest layer of dirty thus you must hold your fire till you see gopher flesh. After that, it's all good.
pc77
By Anonymous
2014-06-07 17:16:48
great little gun,shoots at point of aim right from pkg
pc77
By dfox
2014-04-15 21:07:16
great gun had it 4 months shoots great bought the 2289 stock and very easy and fun to shoot
Great Pistol
By Anonymous
2014-04-15 10:48:32
I recently bought this pistal because I didn't want a rifle or a CO2 pistol. It's a nice pellet gun, easy to pump and easy to adjust the sights. For the price it is well worth the price.
Nice little shooter
By Anonymous
2014-02-19 11:13:55
Just added this to my collection. Nice little shooter. Quarter size groups at 10 yards. Not quite as accurate as my 2289 but I think that's due to the barrel play in the barrel band. I think the addition of the steel breech and some shimming at the barrel band will take care of this.Very happy with my purchase. The kids have a little trouble pumping it, but I'm always right there to help. Just a bit of a warning; this is a fun and addictive hobby. Be prepared, once you get hooked; you'll want more than one.
Shooting
By Anonymous
2013-12-22 10:53:46
Really fun gun to mess around with and a great price for it
Crossman PC77B
By Anonymous
2013-11-29 09:49:37
The pistol is a fun shooter....fairly accurate...for a $55 .177 caliber air plinker...it is worth the price.

Easy to pump...short pump stroke is acceptable and does not require too much exertion...maximum 10 pump is achievable for repeated use. The power at 8 pumps is very acceptable for target practice at 33 feet.

Moderately good power at 8-10 pumps...can get over 600 fps with alloy ammo at 10 pumps. Penetration is what you'd expect from a lower fps rated air gun, 1/4 inch penetration into medium wood boards at 33 feet. As expected, heavier loads penetrated best.

Sights are a bit amateurish...the factory settings were far off. Lowering the rear (open) sight to the maximum setting was required to bring grouping down to acceptable range.
The peep sight is not a good sight at the focal length of the design...sight aperture is too small for the front fixed sight at my arm length.
The front "blade" sight is a bit clunky and would be a better design with a sharper point for real target performance.

Front barrel design is also a bit too flexible for my tastes...the barrel has over 1cm of movement in all directions at the front of the frame. I suppose to allow for metal expansion and contraction at wide temperature ranges....? However this could lead to lower accuracy for the shooter...? Not sure why this is designed this way...?

The stock design is good, the black plastic grip and pump are good looking...but wood is always a better material. The PC77B has a good fit for my hand, it is very comfortable to pump and shoot.

I'd recommend it for the pinker and the backyard/basement shooter.

Ammo results:
Best ammo for accuracy was GAMO Hunter Impact at 8.4 grains - 1.0 to 1.5 inch group at 33 feet
Highest speed was GAMO Raptor Real Gold - 642 fps - accuracy was good at 2.5 - 3.0 inch group at 33 feet
Best penetration in hollow point was the Crossman Premium Hollow Point Hunter...also very accurate
But not quite as good as the GAMO Hunter due to the rifled fluting on the rear cup of the GAMO Hunter.
My First Pellet Pistol
By xev2
2013-10-30 15:41:25
When i was at the store a few weeks ago; came cross this pellet pistol at a sporting goods department. This item can shot up to 600 meters per a second and it has a very unique look to it. I shot my first rounds with the .177 pellets, i was impress and amazed on how it can shot right through glass bottles, cans and wood. I would say i would be glad to pass this hobby down to generation to generation. Thank you so much crosman for having this item out for sale. keep up the great work and i cant wait to try out the 1720T
Nice gun, but a few upgrades turns it into a GREAT Gun!
By Anonymous
2013-10-07 14:08:30
Needing to deal with some pesky digging critters in the yard, I started looking into a pellet gun and kept coming back to a PC77. But my preliminary research made it pretty clear that a few mods were needed to help this gun meet its full potential. I shot it in stock form and was not very happy with my groupings despite countless adjustments to the sights. I can attribute part of this to my less than stellar eyesight and lack of bench time as I had not shot a gun in almost 20 years. But other things like the trigger pull made it very tough to keep the gun steady while firing as it has to be >5lbs to release the hammer. It is very easy to spend several hundred on mods, but the ones that helped mine the most were an upgraded sear and lighter trigger spring, Crosman steel breech, billet barrel band, and a red dot sight scope... the latter of which made the biggest difference as I can now generate groupings the size of a quarter at 10 yards. Other nice to have upgrades are custom wood grips/stock, butt stock adapter with some type of Paintball gun stock and a longer barrel ( mine is now a 14 inch). This is a great little gun that has a ton of potential.
Great little gun
By RXW
2013-10-02 19:59:40
I just bought the pump master classic being an avid hunter and shooter i am impressed with it.I sighted it in on a pistol rest at 35feet witch is around 11 yards i think but any way i was holding a 0.25 inch groups and the pellets were sticking in the wood backstop that was with. 10 pumps.However a way to mount an optic would be great
Not good enough to shoot a mouse
By Drew
2013-06-28 13:25:42
Crosman describes the purpose of this gun as a target plinker only. That is what it is. It is fun to shoot. It is addictively fun to shoot. But in the back of my mind I had the idea of going against the recommendations and was hoping to get rid of some Starlings from point blank (5 Meters) range. After shooting the gun and seeing little or absolutely no penetration on wood even from very close distances I was not sure. I discharged this gun with 10 pumps at 0 inches into a leather glove and it stopped the pellet cold with not even a mark on the thin glove. I will not be shooting anything but cans and paper with this gun, which is okay because that is what Crosman recommends and that is really its intended purpose. I will save the pest control to my Marauder .25, which is way too much overkill for birds but at least I know that I am not going to be chasing around wounded or dazed birds in my back yard. If anyone is interested, my marauder penetrated almost completely through an inch thick treated board with one shot, the pistol left a .177 smudge and bounced back just above my head.
Fun to plink with
By Robert
2013-06-20 18:39:32
I enjoy this thing. I like that you have some control on the velocity. Although much of the time, when I pump it just 1 time, it will fail to send the pellet down range. It's intermittent though...so, 2 pumps minimum and you can chase pests away without lethality if need be. 10 pumps and it sends the hollow point Destroyer pellets w serious lethality out to about 30 yds with 2-4 inch groups
pumpmaster classic
By Anonymous
2013-05-22 10:01:23
I like this air pistol. I just got it, my first air pistol, and I penetrated a 3 liter plastic jug. It went through both sides. I like it, a lot.
Unimpressed
By Anonymous
2013-05-12 13:26:23
After hearing of all the sniper-grade accuracy I purchased this from WalMart. I had thought it was a 1377c, not realizing it was a PC77 - while the general consensus is good accuracy, I find it very hard to be any bit accurate with this pistol. From factory, it's POI was approx 4" to the right of bullseye at 5 yards - without adjustment, it would barely keep on the page. Also, the rear sight is completely bottomed out, and the pistol still shoots 1" high at the same range. I have tried Gamo MasterPoint, Magnum, Hunter, Crosman Destroyer and Premium, and have yet to see any improvement in accuracy or consistency. All shooting done from a rest.
The barrel could move around in the front brace by 1mm in all directions, and the trigger felt to be at least 4lbs, with sticky creep. The Peep sight is nearly useless without pulling the pistol close to you - as the aperture needs to be a little larger, and even with use of the aperture, groups were still 1.5-2" at best at 4-5yds, and when bottomed out, still shoots high.

I would recommend this ONLY on behalf of the many other consumers who have had a very good experience with this pistol, but personally it has yet to impress me.
American Classic/Pumpmaster Classic/1377
By RobB
2013-02-08 16:25:44
Whatever you want to call it, it's a great pistol for someone just getting into air pistols, or even someone who wants to be able to keep sharp by shooting in the basement. I've got two of them, one with the LPA Mim sight and one with a red dot. Very accurate, with a good solid feel. Trigger is okay, but there is a short throw before releasing, and after a while you get used to it. I've shot all kinds of pellets with it, and it's not terribly fussy. For the sight upgrades, you have to add the steel breech kit, which adds some weight (and one of the breeches I got wasn't deburred of sharp edges well enough, and the slot where the bolt handle rides gave me a few cuts.) Many aftermarket upgrades are available, and if you look online, you can see beautifully tricked-out 1377's - it's almost like a blank canvas to the upgrade enthusiast!

Sights were aligned well from the factory, but unless you are going to upgrade the site, put a drop of green thread locker on the screw that holds the rear sight, or it could loosen; also be careful of the original rear sight when pulling the bolt handle back, as that's how I loosened mine up (though I was planning to add upgraded sights anyway.)

And be sure to get a tube of the Pellgun oil when you buy one of these, as it will keep it working smoothly and ensure the long life of the seals.

Overall, a great pistol for new or experienced airgun fans - accurate, solidly built, and a great value for the money!


Pumpmaster
By pelicanjohn
2013-01-26 18:28:28
Really great shooter. 1/2 inch groups at 10 yards, BUT you have to be very selective on choice of pellets. A good place to start is the crosman 8 grain hollow point
Premium. 3 grain alloy pellet penetrated a phone book 300 pages. The premium penetrated 600 pages. Not bad fodr a "toy"
great pistol
By Anonymous
2012-12-27 14:22:23
This pistol is fast and very easy to pump. 7 pumps works good for 15-20 yards and 5 is good for anything under 15 yards. You should get this pistol.
crosman pumpmaster classic
By Aric
2012-11-29 16:07:53
The pumpmaster classic is cool but is kind of hard 2 pump,i would recomond the 760
IMPORTANT PLEASE READ There are a few ways to download files to your computer. Right-click the item and select "Save As..." or you could open the link and save the document from there.

High resolution (High Rez) media center files are in a variety of formats such as .TIF, .PSD, .EPS, .AI, etc. and typically require an additional program to open. Low resolution (Low Rez) files are in .GIF or .JPG format and should open in your web browser.