TR77 (.177)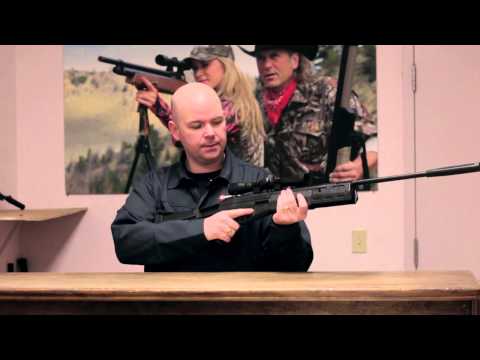 Overview
Ratings / Reviews
Downloads (Photos, Manual & EVP)
This ultimate tactical air rifle features a lightweight synthetic stock with pistol grip for control and maneuverability. Spring powered and a two-stage adjustable trigger with CenterPoint 4x32 mm scope.
NOT A TOY. THIS AIRGUN IS RECOMMENDED FOR ADULT USE ONLY. MISUSE OR CARELESS USE MAY RESULT IN SERIOUS INJURY OR DEATH. BE CAREFUL, SHOOT SAFELY.
Primary Use
Specifications Overview

Model Number

30001

Pellet Velocity

Up to 1000 fps

Alloy Pellet Velocity

Up to 1200 fps

Weight

6.1lbs

Length

43 in

Mechanism

Break Barrel

Power Source

Spring

Caliber

.177

Ammunition

Pellets

Capacity

Single Shot

Barrel

Rifled Steel

Optics Rail

3/8" Dovetail

Optics

4x32mm

Safety

Lever

Stock

Synthetic

Color

Black
TR77 (.177)
Customer Reviews
TR77(.177)
By Anonymous
2013-12-05 13:46:04
Great overall gun for the money. The scope leaves alot to be desired though,very accurate and consistent. I've been using it to eliminate a group of pesky crows!
Awesome gun
By Ben
2013-11-30 22:52:19
I got this gun and I can shoot a bird 50yds away with it. The trigger is nice but the scope is a little blurry. Can kill chipmunks, squirrel and I even got a couple of crows. Great gun
I neeeeed this gun
By Frankie Chavira
2013-11-05 21:24:10
I really want this gun but I can't afford it I only have about $80 and really want this gun. So Crosman can I have a discount I really love your brand and I have lots of rats in my house but I only have an airsoft gun and this is why I need this gun so please don't ignore my review
Initial accuracy
By C Schutte
2013-11-05 14:05:32
Can live with trigger and scope, but after 300 shots almost all shots are on the same vertical line at 35 meters, however the line is 20cm in length! So left and right seems to have stabilised, but height differs widely. At same range my old Gamo 44 hunter shoots 3 shots which I can hide under my thumb. Experimenting with different pellets aren't yielding much results at the moment, I really hope the "spring will settle", and that it is not a scope-quality issue.

The TR77 has good power so I look forward to hunting pigeons in the near future.
ممتازه
By mohammed
2013-11-03 19:22:35
ممتازه وقويه حتى في المسافات
البعيده
وزتها معقول
عمليه
The best with the nitro piston
By Delvis
2013-10-04 18:50:25
I buy it about a month ago and is the best one I have had in years, up to 1200ftps ,I have had a 300 meters shot and was a hit and a Killed.It has a good grip, is s bit heavy but once you get used to it yo will see with different ammo and all the ones I have used are very good even bent a penny with a 25 meters shot.Very reliable and for the price is the best buy you can made
Crosman TR77
By Anonymous
2013-07-15 11:51:56
Very accurate with powerful. shot 100 pellets to do a very good "break" of the rifle, after that zeroing was easy unfortunatly when i was making very small groups something broke in the gun. I`m now waiting for a new one(from the warranty) and the new scope that i bought because this gun deserves a better scope.
Overall is a very good airgun.
TR77
By Michael
2013-06-27 11:29:03
The moment I saw this gun in the shop I knew that it's the perfect airgun for me. It's "sniper rifle" looks and compactness is exactly what I wanted for sniping rats and mice. The only real issue I had was with the scope being way out. The first shots at the target at 10 metres were more than 15cm to the right and about 15cm low. I zeroed the scope at 10 metres with +- 30 pellets.
tr77
By mike
2013-06-19 21:44:30
ok so i've had this gun about 2 weeks, put almost 1000 rounds through it yet i still cannot get the gun sighted in. i've even swapped scopes still nothing.
TR77 - My First Air Rifle
By RatBoy
2013-06-14 14:07:26
Out of the box, I was shooting quarter size groups in my basement (10 yards). After 75 rounds (Crosman Premier Hollow Points), the group size rapidly decreased. I can now stack multiple shots in the head of a dime -- with my heart arrhythmia, that's not too bad. Like others have pointed out the scope (4x32 MilDot) is horrible. I like the MilDot but it's not very useful due to the poor focus throughout the field of view and bad chromatic shifts. This TR77 deserves a better scope such as a 3-9x32AO MilDot or better. The TR77 has more capability than my skills and physical condition can take advantage -- but I'll keep trying. The trigger is okay but Crosman should consider shortening the trigger stroke and make the trigger stroke lighter by a pound or two. A Trick--After loading and on target, I pull the trigger just shy of halfway through the stroke and release (does not fire). This gives me a long and light first stage with a heavy but short second stage for the real shot. Since this is my first air rifle, I may have gotten lucky because my TR77 springer seems to love any ammo I feed it. The impact point may shift with different brand, size or shape of pellets but the shots stack. I decided to not return the TR77 due to the scope because the rifle is so dang'ed accurate, feels real good at the shoulder, is not very hold sensitive, feels light and is flat-out fun to to shoot. For reasons other than the scope, this air rifle should be on your short list. About the scope: Crosman did offer me opportunity to return it but that just increases the cost of the gun.
First gun
By Dan
2013-04-13 14:22:45
Did lots of reasearch before buying this gun, the scope is as bad as others have stated but the rifle itself is amazing, strongly recommend
POW!
By Plinker
2013-02-27 11:25:30
Got this not long before we picked up the M4-177(also recomend that kit) and took it outside, using a 22 rimfire rated bullet trap, first shot was a bit off with this rifle, i could tell i hit the bottom rim of the trap, so i went to check it out. Wow, it hit there alright, what i found was a totally flat sheet of lead, and a quarter sized circle of the black steel powder coating completely blown off, with a pea-sized chip in the middle remaining, but very scarred coating right where the pellet hit. That is some power from 50 feet away.

Next shot was a fluke while dialing in the scope, but dead on bullseye, perfect. Id have called it dumb luck but in a rifle rest, without the rifle being fully broken in, ive repeated that a few times since. If looking for some power, accuracy, and a sharp looking air-rifle, this is a great pick. The only thing i found that was disappointing, was the seam of the polymer/plastic construction, its a bit coarse , so consider a emery cloth to smooth it out, then you are good to go, small game, or plinking, this beast is ready. Been using it firing with my father's Ruger Airhawk, and its been keeping up and then some in both power and accuracy. Scope could be better but is perfectly fine for casual shooting.
tr77
By ziegen17
2013-02-11 17:15:13
This thing has power,its accurate, and looks awesome love....it buy one now. Diesels like crazy for a while and is pretty loud at first. Clean the barrel before using. The first shot i took sounded like a .22 lr no doubt. Great storage area in the stock.The gun has a great fit and feel as well.
TR77 Airgun .177
By FoxPen Outdoors
2013-01-19 20:25:53
The TR77 is a nice gun for pest control and small game. Also, one of our prostaff took out a Oppossum. I shot it over a chrony and the average was 941fps, low was 931, high was 962. The gun can frop squirrels at 70yds (with a well placed shot).
TR77 spring break barrel
By PA Buckhunter
2012-12-31 23:50:55
Got it for X-mas 2012 and was dissapointed that there wasn't any fixed sights but overall great gun and the scope with its fine for now but might swap it! And it also split a one and 1/4 inch stick in half with a 3 inch split down the middle.
TR77
By Kaleb Shephard
2012-12-25 17:31:11
Very good gun first 5 shots I got the TR77 and 4x32 CenterPoint scope sighted in. Shot 5 more times and kept a nickel grouping except one flier. Took it out for some pest control and (graphic) blew the entire back of the head out at 27 yards using Crosman Destroyer EX pellets.
Tr77
By punkguy0017
2012-12-22 19:56:15
This is a really good spring break barrel rifle.Hates the daisy pointed pellets but loves the crosman hollow points. love this rifle and has a lil kick to it.Rifle is loud and very powerful do recommend.The trigger is also adjustable so thats good to set to yer fav setting.
TR77
By Bo$$
2012-12-21 18:25:06
I really hope this will turn out to be a good gun. I'm getting it for Christmas. Iv done some research and for the most part it's accurate and good quality. The gun comes with a horrible scope. If u can afford a better scope GET IT because it helps the accuracy on this gun a lot. Also the trigger is very rough. Other than that for the money it's a great gun!
tr77.
By joe
2012-12-01 16:52:04
Nice rifle. Shoots well even with cheap scope included.. pretty powerful. Good price. But I would change the scope.
Crosman TR77
By RJ
2012-11-28 07:47:58
The trigger is bad. But other than that is. Great rifle for squirrels or just target practice. If u are on a tight budget but want something that still a good quality air gun than this is the gun for u.
Break down barrel air rifle
By Anonymous
2012-11-23 16:00:07
Good very powerful accurate gun
IMPORTANT PLEASE READ
There are a few ways to download files to your computer. Right-click the item and select "Save As..." or you could open the link and save the document from there. All owner's manuals (OMs) and exploded view of parts diagrams (EVPs) are in a PDF format. You will need Adobe Acrobat Reader installed on your computer to open the file. If you do not have this program you can download it for free at:
http://get.adobe.com/reader/
High resolution (
High Rez
) media center files are in a variety of formats such as .TIF, .PSD, .EPS, .AI, etc. and typically require an additional program to open. Low resolution (
Low Rez
) files are in .GIF or .JPG format and should open in your web browser.