Legacy™ Jim Shockey Signature Series (.22)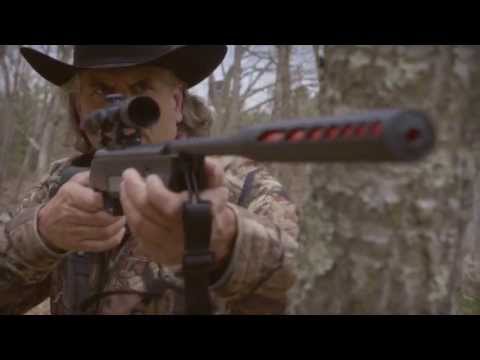 Overview
Ratings / Reviews
Downloads (Photos, Manual & EVP)
Create new memories with a Benjamin Jim Shockey Signature Series air rifle. This new rifle features an attractive over-molded barrel with "soft-touch" inserts and an adjustable comb for firm control. The patented Nitro Piston technology delivers smooth cocking, reduced vibration and shoots with 70% less noise than other spring piston rifles. The CenterPoint 3-9x40mm scope features an adjustable objective, range estimating reticle and target adjustable windage and elevation turrets. With 21 fpe, the Jim Shockey Signature Series air rifle is an effective choice for small game hunting, target shooting, or simply rekindling the adventures of your youth.
Features patented Nitro Piston power plant
Synthetic, ambidextrous stock
Over molded inserts for firm control
Adjustable height comb
Barrel integrated, sound suppression system
CenterPoint 3-9x40mm scope with adjustable objective and range-estimating reticle
Adjustable, two-stage trigger
Rifled steel barrel
Picatinny mounting rail
21 foot pounds of energy (fpe)
Recoil pad with Jim Shockey medallion
Sling mounts
NOT A TOY. THIS AIRGUN IS RECOMMENDED FOR ADULT USE ONLY. MISUSE OR CARELESS USE MAY RESULT IN SERIOUS INJURY OR DEATH. BE CAREFUL, SHOOT SAFELY.
Primary Use
Specifications Overview

Model Number

32003

Pellet Velocity

Up to 800 fps

Alloy Pellet Velocity

Up to 950 fps

Reticle Type

3-9x40 mm

Weight

6.70 lbs

Length

43 in

Mechanism

Break Barrel

Power Source

Nitro Piston

Caliber

.22

Ammunition

Pellets

Capacity

Single Shot

Barrel

Rifled steel, overmolded

Optics Rail

Picatinny Style

Safety

Lever

Color

Black and Grey
Legacy™ Jim Shockey Signature Series (.22)
Customer Reviews
It's ok
By Anonymous
2013-09-15 11:43:45
Great looking gun and hits hard. I've tried 4 types of pellets and can't get any better than 3 inch groups at 25 yards
Deadly
By Whyname
2013-08-20 23:20:05
This is a great air rifle, all day long I can shot in it the same half inch or smaller group. At 25 to 40 yards it hits hard, one shot one squirrel!! I have not tried to go out any more than 40 yard. I am every happy! Only one issue, the oval plastic piece on the bottom of the grip came off/out. Just needed a little glue and it was fixed. It does not have a sling post on the front it, has a loop of sorts, makes it hard to mount it to a tri-pod.

Wish Crosman sold a Bi or Tri-pod that I could mount to it.
Jim Shockey Signature Series (.22)
By David
2013-08-17 01:03:49
Really a great gun! It appears this "Legacy-Benjamin" is better than the two Gamo's (one .177 and one .22) I have. The CenterPoint 3-9x40mm scope also much better and zeroing easier than the one came with Gamo's. Easy to feel the difference - feeling from 21 foot pounds of energy at 20 yards.
great gun!
By Anonymous
2013-08-13 15:28:24
Great gun! very accurate with differant types of pellets. 3 group at 25 yards! hits HARD!
IMPORTANT PLEASE READ
There are a few ways to download files to your computer. Right-click the item and select "Save As..." or you could open the link and save the document from there. All owner's manuals (OMs) and exploded view of parts diagrams (EVPs) are in a PDF format. You will need Adobe Acrobat Reader installed on your computer to open the file. If you do not have this program you can download it for free at:
http://get.adobe.com/reader/
High resolution (
High Rez
) media center files are in a variety of formats such as .TIF, .PSD, .EPS, .AI, etc. and typically require an additional program to open. Low resolution (
Low Rez
) files are in .GIF or .JPG format and should open in your web browser.