Trail NP All Weather (.177)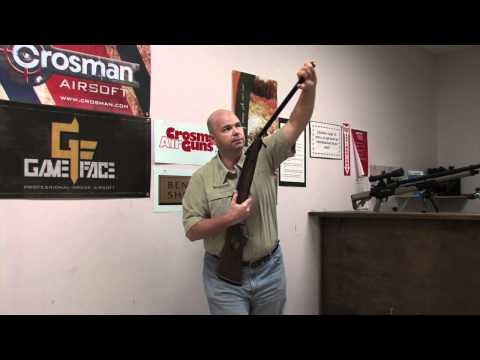 Overview
Accessories
Ratings / Reviews
Downloads (Photos, Manual & EVP)
The Trail NP all weather break barrel feature durable, all weather synthetic stocks. These rugged break barrels boast impressive muzzle and downrange energy.
NOT A TOY. THIS AIRGUN IS RECOMMENDED FOR ADULT USE ONLY. MISUSE OR CARELESS USE MAY RESULT IN SERIOUS INJURY OR DEATH. BE CAREFUL, SHOOT SAFELY.
Primary Use
Specifications Overview

Model Number

BT1K77SNP

Pellet Velocity

Up to 1000 fps

Alloy Pellet Velocity

Up to 1200 fps

Weight

8.3 lbs

Length

44.5 in

Mechanism

Break Barrel

Power Source

Nitro Piston

Caliber

.177

Ammunition

Pellets

Capacity

Single Shot

Barrel

Rifled Steel

Optics Rail

Picatinny Style

Optics

3-9x40 mm AO

Safety

Lever

Stock

Synthetic

Color

Black
Trail NP All Weather (.177)
Customer Reviews
Accuracy Issues
By Anonymous
2014-08-12 22:06:27
This air rifle was a gift for me from my parents, and so far does not shoot good at all. If keeping inside of 20 feet, it seems to do ok, but if you go out to twenty yards, the bullets seem to hold a good left to right, but vertical is aweful. Twenty yards yields a group 6 to 7 inches tall and about 2 inches wide. Going out to fifty yards, the area is about 3 inches wide and 11 inches tall. I have tried diffrerent types of ammo thinking this could cause the issue, but found little to no difference.

The odd thing is that it will shoot great about 3 shots, and the 4th shot will be 4 inches away from the 1.5" group, at which point the gun seems to go haywire. Thought the issue could be the scope, but after changing it, I still saw little to no change.

The rifle shoots hard, and I had very high hopes for it, but if it doesn't shoot good, it serves no purpose.
Bye this gun
By Cody
2014-05-27 21:13:41
I love this gun it's powerful and accurate. It is great of small game hunting and pest control it can take a rabbit no problem and a wood chuck. And the scoop is awesome. And it's nice and quiet. I would recommend for pellets the premiers (hollow point) or the destroyer, or any other pellet that crosman makes that it 7.9 grain. So if you have $200 laying around and want a good gun buy this one it's totally worth it
good pellet gun
By Andy
2014-05-05 05:09:48
Just love this gun hard hitting and accurate .The trigger a bit heavy I expect there must be away to make it lighter
Worse Purchase Ever
By Bob
2014-04-15 19:32:27
I only gave it a one because there is nothing lower. I first made the mistake of an impulse buy while on sale at. I thought it would be fun being able to shoot with my 10 year old son and it also allowed free hand practice for the upcoming silhouette season. Literally this gun would not group within the size of a sheet of paper. After trying different types of pellets and shooting over 200 rounds, I knew a break in period wasn't going to help this piece of junk. After reading another review, I decided to remove the muzzle break and look at the barrel. WOW! There was a protruding burr from the barrel as well as a huge gouge in the crown. Talking about lack of workmanship!!!! (I've worked in a machining manufacturing environment for 25+years) Obviously XXXXXXXX doesn't care about quality or they would not allow this type of garbage imported with their name on it. I took a file and removed enough material to eliminate the crown (yes it was damaged the whole depth of the crown). Well it now will group within the size of a standard target but the scope adjustment is out of range. So on dead center, I still shoot low with no further upward adjustment. The gun isn't worth spending more time or money on so lesson learned I suppose. I pulled my son's XXXXX 880 out, 4 shots from same distance with open sights. You got it, tighter group and all in the scoring rings! Do yourself a favor and do not buy anything from this manufacturer (at least if it's got made in China on it!).
Great
By Zach
2014-01-08 19:32:21
This air gun is fantastic and I love it. It is a VERY powerful gun and destroys squirrel, rabbit and with a halfway decent shot raccoon. It was absolutely worth the money if you are debating on whether or not to but one stop and just get it.
Trail NT All Weather (.177)
By Adam
2014-01-04 18:16:22
I will start at the beginning. I purchased a Gamo Whisper Fusion brought it home pulled it out the box sighted the air rifle in and the darn thing would only hold a group for about five shots and then air rifle would have to resighted. Also randomly the gun would only push the pellet right out past the end of the barrel. So here is where the situation gets way better, I took that piece of junk Gamo back and returned it while standing at the return counter the guy who was doing the return informed me that Gamo was the most returned air rifle and told me to go get a Benjamin as he has not seen one returned in over two years. So that is what I did I went back and grabbed the Benjamin Trail NT. Took it home sighted it in and the gun is what I should have purchased the first time!!!
Very nice gun
By Chevota
2013-08-09 04:24:54
I like this gun for its extra features, like the suppressor, sorry; "shroud", which is nice looking, reduces noise, and feels better when cocking. The scope which is a big upgrade over the simple 4x32 scope on most models. The Picatinny scope rail which many people are looking for. The sling mounts which are rare on break barrels and a welcome add. The synthetic stock which is imo much nicer than the syn Phantom/G1/Fury stock. The stock feels solid yet not rock hard and dampens sound a bit too, however it does adds maybe a pound to the gun. The nitro spring gives the advertised 70% noise reduction over a coil spring gun, well I didn't measure it but my ears tell me it's right. Not only is the noise reduced with the nitro over coil spring, it's the annoying twang of a coil which is eliminated, so aside form being quieter it sounds much better. The power is excellent too, but I noticed "dober" mentioned low power from his, about 100fps lower. If you have a power problem you may want to look into why and correct it. The nitro spring sometimes leak and will cost you power, and sometimes the breech seal leaks. The main seal can be a problem too so I change mine first thing to be sure it's good. These are not Crosman problems btw, they exist in most any gun under $600. The trigger however is a problem with most all Crosman break-barrel guns, but includes many other brands as well. As many here mentioned the trigger pull is too long, but they are easily fixed. You can either buy an aftermarket trigger for a cringe worthy price, but it works great, or you can fix it yourself for next to nothing. For do-it-yourselfers have the option of doing a full trigger job which isn't that hard and can make it amazing, or the easiest mod by far which is to simply replace the adj screw with one twice as long which takes only seconds and allows full adjustment. Those options and others can be found online, but for most a simple screw change is all we need.
This is a great gun when you consider it's a good and powerful base model with all these adds; cool scope, nitro, picatinny, suppressor, and sling mounts. If you want a base model then look at the Benj Titan, same basic gun inside and power, just fewer goodies.
While this is not my favorite gun because I prefer a wood stock, it is a great gun if you do. My favorite is basically the same model but in a more standard wood stock. For more info look up reviews of this and similar Crosman/Benj guns elsewhere, but if you like the upgrades then this is a hard gun to beat for the money.

Great rifle.
By Davidsbigfeet
2013-08-08 20:50:42
After I put a "charlieduhtunna grtlll " trigger on it, things got interesting. I have taken 4 rabbits so far. 3 with one head shot. Even my wife likes to shoot it. I have to cock it for her though.
It likes the heavy pellets, 10 grains area. I have tried 14 different pellets and the most accuracy is with the Kodiak match domed 10.65 grain. Premiere Ultra-Magnums 10.5 grain were a very close second.
Trail NP
By Devin-16
2013-06-06 17:39:54
This is my second break barrel rifle ive owned and without a doubt the best......it is a very powerful and accurate rifle and carries accuracy........finding the right rounds was crucial to accuracy, this is a high powered rifle therefore you need the right rounds to be accurate......do not buy cheap rounds they will do you no good.....heavy rounds and rounds with tips are best......for me Gamo rounds work best for me.....i use Red Fires they are a polymer tipped round, Blue fires will not work out of this rifle its FPS is too high and the rounds tumble and fly......at 45yds my rifle and hold tight 1" groups which for a break barrel is amazing.....ive shot out to 100yds with the rifle......though its is not very accurate at that range you can still hit a 12' inch target nicely.......as for power i have a shooting box i made out of 1/2" ply wood on a 55 degree angle and the rounds are tearing through it.......i also use 3/4" pine board for targets and the rounds go about a half inch through that.......the rifle certainly lacks on nothing......its a great weight, has great accuracy and plenty of power.........BEWARE OF WHAT YOU ARE SHOOTING, WHERE YOU ARE SHOOTING AND WHATS AROUND YOU......these rounds will travel 200yds plus and will do great damage to people, animals etc.......i have taken squirrels which do not stand a chance they are dead instantly, foxes which get dropped and ground hogs......the rifle has matched with the rounds i use have capabilities for more but shot placement is crucial if you use it for hunting and rounds are important, to me Gamo Red Fires are the best for accuracy, speed, power and penetration.
Benjamin Trail NP All Weather (.177)
By Dave
2013-03-10 22:22:25
I just recieved my brand new air rifle. In two days I have put close to 450 pellets through it (16 diferent styles and brands). I am very impressed with the rifle and scope over-all. The trigger(Gamo Clone) is trully JUNK!!! The trigger has 3/4" to 1" of take-up in the second-stage. It will not adjust out. I am 69 years old and also own a RWS DIANA 34(.177). as well as a Weihrauch (Beeman) HW97KT (.177), both with Reckord Triggers. I have owned them for enough time to have put in many hours "behind the gun". The Benjamin Trail is a fine rifle, and after seasoning the barrel. shoots very accuratly. It can hold it's own with the German guns. The only problem is that you never know when it will fire because of the lousy trigger. Mine is going to get a trigger from CharliedaTuna as soon as it gets here! You should really think about putting a better trigger in this gun. You would sell many more of these guns if you did. Several of my friends that I shoot with were very excited when they saw and handled the gun. That went away after they tried to shoot it!! Do yourselves a favor and improve the gun, you will benefit in the end. To answer your next question, No I would not recomend this gun with the current trigger. If it is changed, I would highly recommend it!!!
Family Affair
By Bleudenim
2012-07-11 03:45:05
I bought this about a month ago. My first pellet gun. Wanted to target shoot and keep a few pests at bay. My wife doesn't want to hear anything about that: ("But they're so cute!"), so I do these things when she's not around (chips & tree rats). Got my wife to try the rifle and she loved the target shooting, so I bought her one so we could compete. My son got involved so I ended up getting him one as well.

Now at age 60 years I am not easily impressed, but I am with this rifle. Once I found my comfort groove with what pellets to use for best consistency (Crosman 10.5 gr. Premier Domed & Gamo 9.6 gr. Rockets) we were all set. (Either of these pellets are excellent for "take downs", with the Crosman pellet much more economical.) The scope is good for its purpose, and I can't see replacing it with another at $40-50, but you do what you want.

The trigger at the factory setting has a VERY long pull that I found inconsistent AND annoying. Once adjusted as described in the manual, we were all happier with the rifle, and our accuracy improved: dime-sized groupings at 10 yards & quarter-sized at 75 feet. Found the rifle to be very quiet with the exception of PBA pellets that produced a definite "crack" sound. As we couldn't get groupings under 5" with them, we no longer use them, so no worries.

All in all, we could not be happier with the accuracy and sheer power of this rifle. Once properly adjusted (for a particular pellet) the scope puts you dead on. If you are going to use multiplt pellet types, I suggest you mark down the scope settings for each. My only regret is that I didn't buy the .22 cal version.
Benjamin Trail NP All Weather (.177)
By Kymosabi
2012-05-11 07:27:06
I have one of these guns, very accurate after you run a hundred or so pellets through. Scope is very clear and precise, i find. It has alot of power, so be aware. Destroys rabbits very well indeed... you wont be sorry you bought this rifle.. Kym..
Benjamin XL .177
By Mark
2012-04-18 15:41:15
Really like this pellet gun, however trigger pull is to long making it a less accurate than what it could be with a better trigger. Good value for money airgun, looks really mean! Piccatini scope rail very handy for mounting different optics. Managed to get 1 inch grouping at 25 feet. Still experimenting with different pellets. Well done Crosman!
Amazing Pellet Gun
By Aidan
2012-02-25 07:03:32
This is a truly amazing pellet rifle. It has very good accuracy, but is very heavy. I reccomend putting a bipod on it. The barrel is very large, (over 25mm in diameter) so most clamp-bipods will not fit. I had to shave down my barrel to fit on a 25mm mount, that I then put a bipod on. This gun looks very tactical, so compliment it with the scope mounted flashlight laser combo. The scope is fairly easy to zero, it took me about an hour, and that was my first time ever doing that. From about 40 yards you can have a grouping of about an inch, so it is a good varmint rifle. Be carful however, as this gun CAN shoot 1,200 fps, so take the same precautions you would a real firearm. Great job Crosman on yet another fine made gun.
speed/power
By dober
2011-11-25 05:22:09
I've bought one. Accuracy is more then nice. It is comfortable for me, but i hoped it would be a little more powerfull.
Results are 240 mps with http://www.crosman.com/gear/ammo/LUM77
263 mps with JSB Exact .177
It's about 19 joules
Love this gun!!!
By andre
2011-11-12 03:22:15
I love this rifle. First I couldn't sight it in but then after breaking in the scope (turn the elevation and windage knobs in and out all the way a couple of times to loosen things up inside) I got great accuracy. Awesome looks, very practical and sturdy. The weaver style scope mounts are great and the scope that comes with it is good. Great value. Very powerful but quiet shooting. I absolutely recommend this rifle if you like to shoot airguns.
I like this
By andrew
2011-11-04 22:55:07
I love this rifle. However, I just can't get consistency. I tried different kind of pellets and so far RWS seems to work, but still cant get dead on consistency. Very powerful, BE WARE THIS GUN IS VERY POWERFUL. I love the stock, I like the look, it's very sturdy and whats more is that I love the weaver style scope mount. Very good quality.
Needs some accessories? Look through the items we paired up with the Trail NP All Weather (.177).
IMPORTANT PLEASE READ
There are a few ways to download files to your computer. Right-click the item and select "Save As..." or you could open the link and save the document from there. All owner's manuals (OMs) and exploded view of parts diagrams (EVPs) are in a PDF format. You will need Adobe Acrobat Reader installed on your computer to open the file. If you do not have this program you can download it for free at:
http://get.adobe.com/reader/
High resolution (
High Rez
) media center files are in a variety of formats such as .TIF, .PSD, .EPS, .AI, etc. and typically require an additional program to open. Low resolution (
Low Rez
) files are in .GIF or .JPG format and should open in your web browser.