Trail NP All Weather 495fps (.22)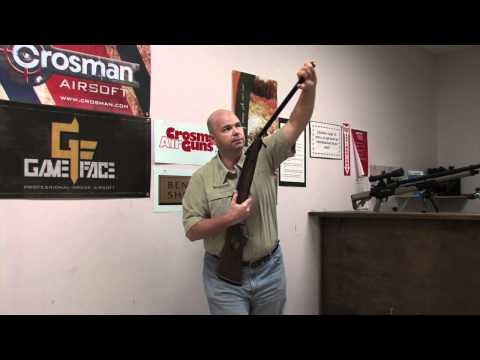 Overview
Accessories
Ratings / Reviews
With Nitro Piston Technology

70% Less Noise than the competitor's "quiet" break barrel. Gas Piston Technology uses Nitrogen as the power source, instead of a steel Spring. It dramatically reduces felt recoil by eliminating the "double hit" and "spring torque" of a steel spring. Quicker lock time leads to increased accuracy!

- All weather Ambidextrous Stock w/Thumbhole Grip
- Integral Rail Mounting System - make mounting optics quick and easy.
- Sling Mount and Swivel Studs Included
- Includes CenterPoint 3-9x40mm with adjustable objective and Mil-Dot reticle.
NOT A TOY. THIS AIRGUN IS RECOMMENDED FOR ADULT USE ONLY. MISUSE OR CARELESS USE MAY RESULT IN SERIOUS INJURY OR DEATH. BE CAREFUL, SHOOT SAFELY.
Primary Use
Specifications Overview

Model Number

BT5M22SNP

Velocity

Up to 495 fps

Weight

8.6.25 lbs

Length

44.5 in

Mechanism

Break Barrel

Power Source

Nitro Piston

Caliber

.22

Ammunition

Pellets

Capacity

Single Shot

Barrel

Rifled Steel

Optics Rail

Picatinny Style

Optics

3-9x40 mm AO

Safety

Lever

Material

Synthetic
Trail NP All Weather 495fps (.22)
Customer Reviews
The Benjamin Trail NP
By Brendan coaster
2014-09-14 19:46:17
This gun is great to Canadian small game hunt in Canada here in Ontario animals like grouse and rabbits good scope and gun
Clean your bore.
By Bruce
2014-03-23 14:04:42
Do to the fact that these air rifles fire soft lead projectiles, it is necessary to clean the bore as leading of the bore is a problem. The gun will not shot accurately with a fouled bore.
Now this is the idea Air riffle...
By Eder
2013-04-19 22:47:14
Excellent air riffle i have had many... but this is the best ever. Scope clear and accurate. This gun is worth your money. now this is what i call a real hunting companion.
I've been shooting bird, squirrels, racoons Gibnut and target shooting. This is really a baby.....
Belize, Central America
Inconsistent accuracy
By Rich
2013-01-07 14:29:04
Pros: Tons of power, and yet quiet.

Cons: Accuracy

After the first 100 pelts I was clover-leafing at 50 feet. Happy with where it was sighted, I took it out for real use. After missing a few squirrels and chalking it up to my shaky hands, I bench rested it as I fired on a squirrel about 100' off. I missed 5 times (it was not the brightest squirrel), landing pellets all around the varmint.

Taking it back to my range I found at 50' some pellets would fire up to an inch above, and an inch below. I paid $200 for this at a local sporting goods store, and that is unacceptable for this kind of performance.

After doing research, it seems I saw a lot of other folks ready to throw it away because of the same issue. Most of the detractors blame Chinese manufacturing quality. Regardless, I do NOT recommend this rifle.
Pure sexy
By Greg
2012-09-07 23:54:21
Got this and was hitting the 10 ring ( at the 10.1 meter mark any ways ) almost right away.
The only thing I want to be better is the trigger.
Small niggle for what you get in this rifle.
Want to introduce someone to air rifles this would be a really great starter gun.
Not my first AR but likely the last one I'll need for a long time.
WOW !!!
By unknown
2012-08-20 13:14:31
This gun is worth every buck....i have owned alot of air guns over my time and this one by ar is the most bang for your buck !!!!!!!!!!!!!!!!!!!! takes down squirrel rabbit birds up to a raven and is dead on accuret !!! love his gun!!!
Awesome!
By Tyler
2012-08-09 00:01:10
Great gun! Ive used mine for ravens, rabbits and squirrels, and it takes everything quickly and easily. Super accurate.
Amazing gun!
By Andrew
2012-04-09 07:26:17
I have had this gun for a year and a half and it is amazing! I have killed pigeons out to 60 yards before. But the best part is how quiet it is and the low smooth recoil it has. This is a very solid and well built gun. The scope is also very nice and clear. I would definetly recommend this rifle. Its worth every penny.
This one's a winner
By Doc
2011-12-31 08:02:46
This rifle is awesome, it's so easy to cock it can be shot all day long ant QUIET, the birds didn't leave the birds feaders even if I was shooting a few feet from them.
At 10M I can keep all shoots in a single hole. If I were to lose all my airguns the Trail would be one of the first airgun I buy back.
Poor
By Anonymous
2011-11-06 17:50:53
Not constant. I can shoot prefect for a few shots but after maybe 5 or 6 shots it drops a few feets
Needs some accessories? Look through the items we paired up with the Trail NP All Weather 495fps (.22).
IMPORTANT PLEASE READ There are a few ways to download files to your computer. Right-click the item and select "Save As..." or you could open the link and save the document from there.