Trail NP All Weather with Realtree APG (.22)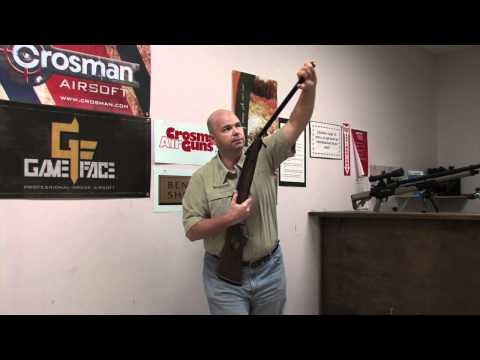 Overview
Accessories
Ratings / Reviews
Downloads (Photos, Manual & EVP)
This Trail NP all weather break barrel features durable, all weather camouflage synthetic stock decorated with Realtree™ APG. These rugged break barrels boast impressive muzzle and downrange energy.
NOT A TOY. ADULT SUPERVISION REQUIRED. MISUSE OR CARELESS USE MAY CAUSE SERIOUS INJURY OR DEATH. BE CAREFUL, SHOOT SAFELY.
Primary Use
Specifications Overview

Model Number

BT9M22CNP

Pellet Velocity

Up to 800 fps

Alloy Pellet Velocity

Up to 950 fps

Weight

8.3 lbs

Length

44.5 in

Mechanism

Break Barrel

Power Source

Nitro Piston

Caliber

.22

Ammunition

Pellets

Capacity

Single Shot

Barrel

Rifled Steel

Optics Rail

Picatinny Style

Optics

3-9x40 mm AO

Safety

Lever

Material

Synthetic

Color

Realtree APG
Trail NP All Weather with Realtree APG (.22)
Customer Reviews
NO LUCK HERE
By JD
2013-02-12 08:17:53
I bought this gun about a month ago. I have since run about +800 rounds through it (so it's broke in) and I can't shoot a 3" group at 15yrds. I thought it was a bad scope, so I replaced it with a know accurate scope...no luck. I'm shooting from a rest and have tried different positions for my bags, but no luck. After closer review, it appears the pellets are Keyholing/tumbling. I've tried all of the leading brands of pellets. In fact I've spent $80-100 on pellets with no results. I have one more batch of pellets ordered and if they don't work, I'm not sure what to do. I would not recommend this product to anyone.
The Perfect Pellet Gun
By Jim
2012-12-26 02:22:09
I've been looking for a pellet rifle for about two months. I wanted to get one so that I could introduce my boys to guns. After reading a lot of reviews I decided to buy the Benjamin Trail Real Tree Camo NP .22 This gun has been a perfect gun for us. It took about 10 minutes to zero in the Center Point 3-9x40mm scope. After a few rounds each, the boys took right to the rifle and had the time of their lives shooting targets. The trigger took a little getting used to, but they got the feel of it after a few rounds. I ordered the GRT III Trigger, just to see how much of a difference it would make. I'm glad I did! It made a world of difference. Now that we are on Christmas break the boys and I are shooting as much as we can, and we're having a blast! In my opinion this is the perfect pellet rifle. I give this gun a 5 star rating with the factory trigger and a 5 star + rating with the GRT III. Buy this gun, you will not be sorry!
ok gun
By Rob
2012-07-11 22:29:53
Ok so every one allredy knows the gun yes is hevy and yes sorry guys your trigger sucks but a guy can get use to it. so that rite out of the boxes is down 1 star I'm giving this product 3 stars because I had to return my first 1 because it had a bent barrel. when I got the new 1 it has a bad scope on it which shouldn't really be benjamins/Crosmens problem. When I called about replacing it they want me to send it back at my cost. Wich that sucks and I would not have a scope for me to use while I was waiting for the new scope overall nice idea of a gun but a lot of problems for the money.
Awesome
By summit
2012-03-07 22:00:19
This air rifle is simply awesome !!! Im shooting cans at 50m with no problems, used up a box of Crosman Premier domed pellets 1250 in just a weekend. My only complaints are the weight its heavier than my Remington .22 rimfire rifle but you could get used to it !!!
Needs some accessories? Look through the items we paired up with the Trail NP All Weather with Realtree APG (.22).
IMPORTANT PLEASE READ
There are a few ways to download files to your computer. Right-click the item and select "Save As..." or you could open the link and save the document from there. All owner's manuals (OMs) and exploded view of parts diagrams (EVPs) are in a PDF format. You will need Adobe Acrobat Reader installed on your computer to open the file. If you do not have this program you can download it for free at:
http://get.adobe.com/reader/
High resolution (
High Rez
) media center files are in a variety of formats such as .TIF, .PSD, .EPS, .AI, etc. and typically require an additional program to open. Low resolution (
Low Rez
) files are in .GIF or .JPG format and should open in your web browser.