Trail NP Hardwood (.22)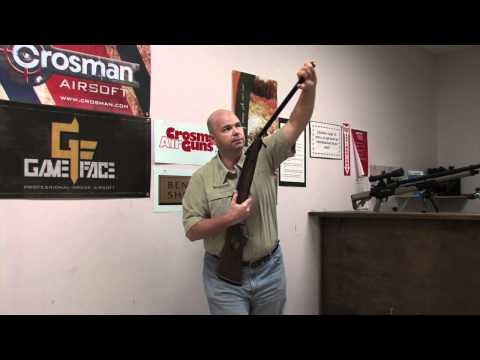 Overview
Accessories
Ratings / Reviews
Downloads (Photos, Manual & EVP)
The Trail NP Hardwood features a handsome, checkered, hardwood stock. The imposing 23 ft-lbs of muzzle energy provides 16% more downrange energy than .177 cal., and features velocities of up to 950 fps*.
NOT A TOY. THIS AIRGUN IS RECOMMENDED FOR ADULT USE ONLY. MISUSE OR CARELESS USE MAY RESULT IN SERIOUS INJURY OR DEATH. BE CAREFUL, SHOOT SAFELY.
Primary Use
Specifications Overview

Model Number

BT9M22WNP

Pellet Velocity

Up to 800 fps

Alloy Pellet Velocity

Up to 950 fps

Weight

7.125 lbs

Length

44.25 in

Mechanism

Break Barrel

Power Source

Nitro Piston

Caliber

.22

Ammunition

Pellets

Capacity

Single Shot

Barrel

Rifled Steel

Optics Rail

Picatinny Style

Optics

3-9x40 mm AO

Safety

Lever

Stock

Hardwood
Trail NP Hardwood (.22)
Customer Reviews
TOO HEAVY
By Mikel
2014-09-16 13:31:20
This gun is great in a couple of respects, such as the finish and the power. But with the supplied scope it weighs 8#, and I, an adult male, find it difficult to hold it steady (standing, with no monopod or other support for the rifle) as long as I feel it necessary to aquire the target and squeeze the trigger. That's my major complaint.

Like many, I swapped the poor trigger for a Charlie da Tuna trigger, which IS much better. I expected to have to make the mod after reading many reviews.

This Benjamin is a replacement for the original which didn't want to "break in". The one I have now is quite quiet, after a shorter break-in period than the previous model.. So what I have is a good-looking (hardwood model), quiet and powerful gun which is too heavy to shoot accurately for any length of time.


Trail np
By Anonymous
2014-04-21 11:09:40
This is a very good gun, I wouldn't buy the more powerful one simply because it can handle anything a .22 can take, if your not the best shot then you probably should get it. Went straight through a squirell head at 15 yds. No problem. Could probably take a turkey if you got a head or neck shot. Definitely worth the money, very quiet, absolutely no recoil for continuance shooting, pull is a little strong but if you have the right form it gets pretty easy.
Doing fine
By Paul C
2014-03-19 11:31:34
My first air rifle. Cock's hard but shouts fine in my basement. I have set up a range and shoot about 9 yards. I cleaned up the barrel and face of the unit and it is a winner for me. I always clean my guns regularly and have done the same with this one. I git a lot of lead out of each shooting. I looked on the internet and found no info on cleaning an air rifle. I clean it from the breach and finish with two cleaning pellets. Over all a good first air gun.
Trail NP Hardwood(.22)
By Anonymous
2014-03-16 12:14:41
First let me say I am not a novice to shooting I have owned firearms and hunted for many years. However, this is my first adult air rifle and I could not be more disappointed than I am right now. I purchased this rifle through a local distributor based on the reviews and much research on the internet. I cleaned the barrel before I ever took the first shot, I also allowed for the break in period of 100 shots as stated in the manual. I contacted crosman via email and was told to try another 100 shots for break in, I did this and nothing changed. The following is what I went through to get this rifle to shoot accurately.

I mounted the scope and attempted to sight it in, could not hit an 8 inch target a 10 yards, not even close. I changed my hold, several different types of pellets and still could not hit the target. I then purchased a rifle rest and tried to sight the scope in again and still no luck, at this point I moved the target out at 20 yards, I was able to get one out every ten shots on paper but never did hit the bulls eye.

I am really getting frustrated with this gun by now but I tried one more thing. I removed the scope and mounts and set the rifle on the rest and placed a level on the rail and made sure the rifle was perfectly level. I then put back on the scope mounts and used the level on the scope. Then I tried to sight in the scope again, same old story. I will be sending this gun back to crosman. Perhaps I just got a lemon so I will give them a chance to make it right.


Benjamin Trail NP
By Conway
2014-02-01 19:19:47
This is the break barrel from my dreams! I got a 1" group at 45 yards with Crosman Premier Hollow Points and only 50 rounds through it!!! From the shrouded barrel to the sexy wood stock and the great 3-9x40AO CenterPoint scope that comes with it, you couldn't do better for the money. This is the god of all break barrels and it will not be a disappointment.
wasted cash!!!!!
By H. Crawford
2014-01-09 15:05:57
ran this thing through the recommended 100 shot break in period, and tried five diff types of pellets so far and have shot better groups with my sons 760 pumpmaster. the scope is terrible and will not hold vertical zero, but I cant justify spending more on a new scope if the rifle will not group better than 5 shots in five inches at 25 yards!!!!
jonk rifle
By junni
2013-12-14 21:30:03
I spend 225 dolar and is the bery bad rifle not acurrent at a 45 feet it dont hit nothing not gruping I think the np is not strong is better be a spring the crosman shull take it oll and refund the money spend Im verry disapointed whit this rifle dont spend money ond this benjamin trial .22 is a pice of junk.

good gun/ bad problems
By sonny d.
2013-09-16 21:13:48
I've had this gun for quite some time and have loved it since I got it "till about a week ago" I went to the range in perfect conditions with no wind and at 50 and 100 yards was sniping water bottles. After 5 shots the barrel would not break open and 9-12 shots after the 5 accurate ones the pellets weren't even hitting a board 7 feet wide and 10 feet tall but after that I had 5 more good accurate shots. I love my benjiman air rifle but I do believe that crosman either owes me a new gun or the 300 dollars I spent on it. Keep in mind I kept this gun clean and oiled and taken care of.



500 rounds late
By Constantin
2013-07-28 11:28:34
The only thing that I look at a gun is the accuracy, and that definitely did not work out for this gun, at least not with me. It is my first air gun but I shot many different guns and I own few 308 and 30-06 so I cannot make the comparison to the airguns, but at 25 yards and 500 rounds late I should be able to get a minimum of 1/2" grouping not a 3" to 4" . I did everything possible to figure out if there's a problem may be with the scope ( replaced it with a Bushnell Trophy), used different pallets, all shots were made from bench with sandbags so recoil would not be a problem. Based on the reviews I have read I really believe they have either two different manufacturing plans or qualities varies batch to batch. It does not make any sense why some people are happy with his gun and some like myself extremely disappointed.
Piece of junk
By Anonymous
2013-02-02 19:11:26
Do not waste your time with a piece of junk like this. It is extremely poor in quality, and it would be more accurate if it didn't even have a barrel. I am extremely disappointed in crossman for advertising this gun as being good for anything! It has a lot of power, but I can't get the gun to group at 5 yards. The tightested I could get my groups at 5 yards was the size of a pie pan! Do not waste your time with this gun. It is extremely inaccurate. It will shoot an extremely lage group at ten yards, then go somewhere totally else. It has no consistencey. Do not buy this gun! I want a refund crossman! Jeff was right. Shouldnt have got the gun in the first place.
Update to my last review.
By TN.Frank
2013-01-14 08:03:42
Just a quick update to my last review. I purchased an inexpensive Reflex Sight so I could get shooting again and after sighting in I'm cutting 5 shot groups at 7 yards off of a rest that I can cover with a dime. This gun is very accurate once you get a good scope or dot sight on it. Highly recommend the gun, just be ready to ditch the scope for something better.
Rifle ok, scope sucks.
By TN.Frank
2013-01-10 16:58:01
I purchased a Trail NP form Pyramyd Air and it was delivered to me on Tuesday, sighted it in and put around 75 shots through it. Then on Thursday I went out to shoot again and run some pellets over my Chrony. Velocity isn't too bad, avg. 745fps with a 14.5gr RWS Super Dome BUT the scope took a dump after only about 20 more shots. I wish Crosman would add iron sights to this gun, lower the price and NOT provide a scope with it. That way we could use the money we save to buy a decent scope.
Extremely Disappointed
By Jeff
2012-10-02 20:17:50
Out of the box the rifle is useless -- the trigger is horrible, the scope, in addition to being fuzzy and inaccurately marked, does not hold zero and has to be substantially shimmed to achieve approximation of impact point. I can not understand how Crosman can consider the product acceptable -- obviously, Crosman does not care about it's products or it's customers. Blaming China is not accurate -- make no mistake, Crosman is responsible for this product -- Crosman designed the product, specced the product, accepted the quality of the product , advertised the product, profited from the product -- Crosman is to blame.
Crosman sells the product as a combo -- why does the scope have to be shimmed to work? If you by a car with AC do you expect to have to modify the AC in order for it to work? This product is massed produce -- the barrel droop is going to be similar on every piece. Why not make the weaver rail parallel to the barrel? Same thing with the trigger -- if the trigger were just long, scratchy and heavy that would be one thing. But, it is different every time. Replacing the stock trigger with the GRT III essentially solves the trigger issue. If Crosman cared about it's products and customers, the trigger issue could be remedied for pennies a unit.
I paid $194 for the rifle, $33 for the trigger, $70 for a usable scope -- close to $300. The rifle is not accurate -- I have tried 10 different pellets -- every hold possible, including a bench rest -- repeatable groups are not possible. If I had know this pryer to the purchase I could have purchased a known accurate, quality product and saved my self the aggravation.
The overall quality of the product is poor -- woodworking on stock is poor (my rifle has a 1 1/4" repair on the stock next to the action that was repaired with a bubble filled epoxy -- while sanding the repair the surrounding wood was burned.) A washer was missing on one of the forward stock screws allowing the countersink to be ruined. Detail lines on stock are irregular -- being massed produced, detail lines are as sharp as prototype -- another example of Crosman's lack of concern.
Boxed Premiers are the least accurate of the 10 pellets I have tried ------- I have no reason to buy anything else from Crosman.
Got it a more than a year ago. The usual small annoyances...
By neilg
2012-09-12 17:52:10
lousy trigger, hard cocking, loose screws. But overall, it shot well, was easy to handle (light and well balanced) and the finish, including the stock, was better than fair. But that trigger...
Benjamine Trail NP .22
By Old Popeye
2012-07-20 19:45:28
The Trail NP .22 is one of my favorite air rifles.
I call it the match liter. I can consistently shoot the heads off of wooden matches at ten yards.
The premium Crosman ammo is good but not perfict. If you want same hole accuracy. Use a micromiter and pick only the rounds that will give you a uniform snug fit.
Clean the bore after every twenty shots. I use the silacon oil every hundred shots. Crosman only.
With litte effort I can light seven out of ten stick natches if I follow all of the above procedures.
I used the screw in the trigger housing to lighten the trigger pull to about three pounds.
I like the free play in the trigger pull. It always reminds me to use the tip of the finger and squeeze. Not jerking.
Good work Benjamin.
Great airgun
By Anonymous
2012-04-11 23:20:22
I got this gun about a week ago on spring break, and im amazed. It took a little bit of work sighting in at first but now its shooting fantasticly. And the power is amazing as well at first i thought i was missing the cans i shot but when i walked up to them the pellet just went straight through. If you plan on eatin what you kill go for headshots, because if you shoot the body theres nothing left! Great job benjiman, you just got another satisfied customer!:)
Great Rifle
By Anonymous
2012-03-27 15:51:10
I have had my Benjamin Trail Hardwood 22 now for about a year I have put probably a 1000 rounds through it so far and it just keeps getting better, I have found that the best hold is to put my left hand under the forestock and then rest on a tripod. I really like the thumbhold stock it seems to work very well for me, I can shoot hole onto hole shots at 10 yds and 1 inch groups at 20 yds. I have read other people complaining about the trigger pull but for me it works very well I have gotten to where I know when it will fire judging by the distance I am pulling the trigger. As far as velocity I really dont know what it shoots I can only guess about 750 ft second or so but it has plenty of power as I have dispatched at least 20 rats in my shed so far. Thanks Benjamin for putting out such a great product!!
Trail NP Hardwood (.22)
By Peter
2012-03-16 10:45:54
I got this air rifle for three weeks know it so good, i am impressed balance accurate weapon with plenty of power and not a lot of noise, a great buy
Benjamin .22 cal hardwood
By Matt Hall
2012-03-11 22:09:42
Purchased this rifle a few weeks ago at the local bass pro. It is of similar size and wait to my old favorite R9 but has some bonus features I always thought would be nice; such as the weaver scope rail and gas spring. Admittedly, my first impresssions were somewhat poor. The factory trigger is terribly heavy with long gritty stages. I did get used to it, but then I've been spoiled by the match grade triggers on my other rifles. The shot cycle, however, is very smooth and the gun itself is deceptively powerful considering its noise level. Crosman states in its manual that there is a 100 shot break in period. I would up that count to 500 rounds. Now with almost a 1000 rounds through it while plinkiing in the back yard its coming around nicely. at 25 to 30 yards sub 1 inch groups are quite easy. All in all this is an excellent small game hunting rifle and one that should be considered by any serious airgun hunter.
Benj-BT9M22WNP
By Pedro
2012-03-07 07:37:20
i got the Benj-BT9M22WNP two days now and the grouping when set scope up was the easy i have tried a lots of .22 air rifles and this is the best
Benjaman .22 cal hardwood
By michael harman
2012-01-09 23:01:23
The Benjaman Trail nitro piston .22 cal took 7 working days to arrive. After opening the box first impressions was that this is a nice rifle. The stock was a little darker than I expected and the steel looked nicely finished.
The first thing I did was break the barrel to cock the gun and saw shreds of the breech seal hanging off the seal. Also the machine finish on the breech face was terrible (I am a machinist in the areo space industry for 25 plus years.) After removing the seal and deburring the counter bore I replaced the seal and loaded a pellet. The trigger SUCKED. The long gritty pull made me miss the trap! Twenty five shots later I was so disgusted with the trigger that I had to make a decision, either send the gun back or fix the trigger (voiding the warranty). After taking the trigger assambly apart what I found was that (in my opinion) the trigger parts were sent out to heat treat without being deburred. There were hardend jagged edges all over the sear and mating parts making the the pull way to long and many false second stages. I cleaned up the burrs and reassambled the trigger. (the parts were almost as hard as the file) Now the adjustment screw actually did something.
Back to shooting. But can't hit sh*t. The windage is good but the elevation changes with every shot. What I found was that the barrel lock up detente was not square to the (5mm) dowel pin that was supposed to activate it. I used vise grips to rotate it (the latch not the dowel pin) ccw about 2 degrees. Now the back side of the latch hits the dowel pin flush, locks up good but now had too many shims under the breech seal. There were five shims under the seal. I removed two of them and stoned the mating faces of the breach. The surface finnish was crap.
Now it shoots kinda accurate, bout the size of a nickel at 55 feet. Five shot groups. This is the longest I can shoot at the house. After about 600 rounds the shroud around the barrel is starting to rotate. Don't know why but I an sure it has something to do with the crappy machine work on the breech block.
Wish I would have known that the Remington NPSS was made in the states! It would have been worth the extra $ to start there.

Squirrels Beware
By Erik T
2012-01-09 17:32:21
AMAZING
By WHwarrior41
2012-01-03 12:53:09
i got this gun a couple days ago i love it the only thing i didnt really like was how the center point scope can be adjusted with out having to screw off the caps. its a veary accurate gun and veary quite, i love the stock!
BT9M22WNP
By Not Rocky's friend
2011-12-02 10:57:05
Repeatable accuracy, quiet. Too much to cock for most wommen and kids. Spend the time setting up the scope! 3 shots under one dime at 20 yds. Very humane way to take out a squirel without alarming the neghbors. BE AWARE of what is beyond your target, the carry distance of heavy pellets must be respected.
Trail NP Hardwood - A tidy little weapon.
By Dave
2011-08-11 19:29:02
I have this gun and I have to say that I am mightily impressed with it's construction, balance and general oomph.

I have to give a minus for the choice of telescopic sight bundled with it, as although the optics are fine, the lack of caps to cover the adjustment turrets is a really bad show, and the low light performance is not great as a result presumably of the relatively small objective lens. It has zoom up to an indicated 9x, but for my needs that's a bit of a waste of time. I for one would have preferred a fixed zoom scope with illuminated reticle.

The weaver rail is a very welcome addition, and the "Hardwood" stock (not sure exactly what wood it is!) is very nice to handle and operate. When brand new, cocking the rifle is a bit of a task, but that soon becomes easier. The noise at first is not impressive, but once a hundred or so pellets have been through it, it really eases up.

Once fitted with a half decent illuminated reticle scope though, this is an excellent weapon, and it really is a lot quieter than a conventional springer.

The packaging of the weapon is a bit of a worry, as it looks quite similar to that of a toy cap-gun I was given as a present for my 5th birthday (really, I still have the box for that too!) but I was really sold when I held the thing and felt how nicely balanced it is.

All said and done, a very tidy and accurate weapon with plenty of power and not a lot of noise, a great buy for a second time owner IMHO.
Needs some accessories? Look through the items we paired up with the Trail NP Hardwood (.22).
IMPORTANT PLEASE READ
There are a few ways to download files to your computer. Right-click the item and select "Save As..." or you could open the link and save the document from there. All owner's manuals (OMs) and exploded view of parts diagrams (EVPs) are in a PDF format. You will need Adobe Acrobat Reader installed on your computer to open the file. If you do not have this program you can download it for free at:
http://get.adobe.com/reader/
High resolution (
High Rez
) media center files are in a variety of formats such as .TIF, .PSD, .EPS, .AI, etc. and typically require an additional program to open. Low resolution (
Low Rez
) files are in .GIF or .JPG format and should open in your web browser.