Benjamin Titan™ NP (.177)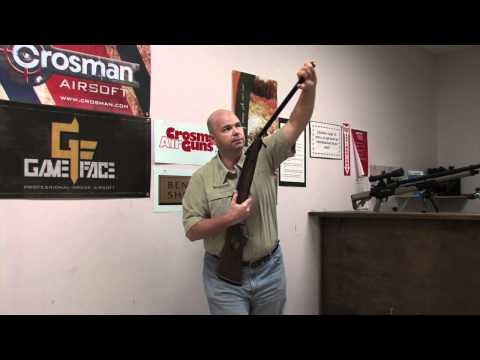 Overview
Ratings / Reviews
Downloads (Photos, Manual & EVP)
Powered by Nitro Piston® technology, the Titan NP in .177 caliber delivers velocities up to 1200fps*. High quality Titan air rifles combine an impressively quiet shot with ultra-smooth cocking action and hushed precision. And, the included CenterPoint 4x32 scope is ideal for the small game hunter.
• Ambidextrous hardwood stock with comfortable thumbhole
• Two-stage, adjustable trigger
• Ventilated, rubber recoil pad
*Calculated using alloy pellets.
NOT A TOY. THIS AIRGUN IS RECOMMENDED FOR ADULT USE ONLY. MISUSE OR CARELESS USE MAY RESULT IN SERIOUS INJURY OR DEATH. BE CAREFUL, SHOOT SAFELY.
Primary Use
Specifications Overview

Model Number

BW1K77NP

Pellet Velocity

Up to 1000 fps

Alloy Pellet Velocity

Up to 1200 fps

Weight

7.4 lbs

Length

44.5 in

Mechanism

Break Barrel

Power Source

Nitro Piston

Caliber

.177

Ammunition

Pellets

Capacity

Single Shot

Barrel

Rifled Steel

Optics Rail

Dovetail

Optics

4x32 mm

Safety

Lever

Stock

Hardwood
Benjamin Titan™ NP (.177)
Customer Reviews
Underrated and very good
By Andrew
2014-07-25 23:59:23
This is a fantastic gun. Accuracy could be a little bit better and so could the trigger. I never even used the scope that was on it I just went strait to a better scope and then eventually an even better scope. This gun is said to be used for target shooting and pest control but if you put in several hours of shooting a week like I do (and it shows) you could take down stuff much bigger. In addition to the houndreds of birds I have taken I have also take out dozens of squirrels and a couple of chipmunks. I have even taken out much bigger game with this I have taken down a fairly large ground hog and also a few full sized raccoons. If you are on the verge of getting serious about air riffles I would highly recommend this gun for the money. If your budget is a bit bigger then I would recommend getting a trail np or even better a trail np2. Most air riffles prefer to shoot domed pellets and this air riffle is no exception. From my experience and the comments I have heard from others one if the best pellets for this gun would be the crossman premier domed or the crossman premier hollow points. I would also recommend investing in a better scope. I have equipped mine with a center point 3-9 x 40 with a mil-dot reticle that cost me about 60 bucks. All in all this is a great gun that could easily get you hunting.
great gun/bad scope
By carl
2014-07-05 19:28:45
I love this gun! But the scope sucks, I and twoother shooters could not get a consistain zero. Shoot and adjust, but could not get a zeroed consistain grouping.
Amazing
By Anonymous
2014-05-28 19:51:34
this gun is amazing... i would definitely recommend to anyone.a Shots great and packs a punch
BENJAMIN TITAN NP 177
By bart Keustermans
2014-03-24 18:24:38
After schooting a jear with the QUEST1000, a verry good airrifel.I dissided to step op a bit.The BENJAMIN TITAN NP 177 is a verry precies and pouwerful airrifel.
The scoop 9x36 neded to be replased, by a better exemp.
At 150ft.i schoot groeps within 2inch.

Thanks to CROSMAN for dilivering a exelend airrifel
Nice Gun
By Russ
2013-12-25 19:57:36

This is a pretty good gun for the money. I have had it for about 6 months now. The scope would not hold zero so I replaced it with a Leapers airgun scope. Also had problems with the front stock screws loosening. A little drop of Loctite on these fixed the problem. The action was a little noisy until it broke in. Took about 2,000 pellets for it to be nice and smooth. I recommend adding a few drops of lube to the tin of pellets before use. I use Remington oil. I had terrible barrel leading issues until lubed the pellets. My gun loves Crosman hollow points. I have not found anything else that fires good out of it. Is very accurate in my opinion out to 60 yards. Works great for eliminating Starlings and English Sparrows. Overall I am happy with the gun once the few small issues were resolved.
titan .177
By nobody.
2013-12-25 13:56:10
gotta love that wooden stock. you don't see a lot of good, wooden airguns these days.
Benjamin .177 NP titan review
By Buckaroo
2013-12-09 11:18:46
I agree with most of the reviews I have seen. The scope isn't of top quality and I have replaced it. Don't seem to find much adjustment in the trigger pull either. After shooting 5 different types of pellets, I have found the Gamo Red fire and the Gamo Rocket to be the best for holding a close pattern. This is after at least 200 shots for a break-in period. This is a good rifle for the cost.
love it
By mrjaypeebee
2013-10-09 21:01:23
I love this gun but I can not zero this scope in to save my life...I would like to know what is a good scope for this gun that want break the bank....
Scope mounts didn't matach
By INTRUDER
2013-10-06 10:25:40
I bought this rifle a month or so ago, It is a joy to shoot and likes Ammo Tomahawk pellets. I've tried Blue Flame and Red Fire they are fast but lite. My next try will be the Crossman Ultra Dome pellet. I put a wide angel 4x1x4.5 banner scope on it which I had laying around and it works great. When I unpacked the scope that came with the gun I noticed there where two different scope mounts so I contacted Crossman and they said they would send out a pair that matched free of charge. That is why I give them 5 stares.
Titan np .177
By Yearcher
2013-07-22 21:48:53
Very nice gun. Very solid. The scope works but mine was quite distorted around the edges. I'd say if you get this gun you'll want to consider a better scope. Also the trigger is quite bad. Long heavy pull. A Charliedatuna grtIII is definately a big help to better accuracy. My break in is quite long and after 3 kinds of pellets, nearly 650 shots and 3 different airgun scopes accuracy is good but not great and at least mine is certainly not the tack driver others seem to be getting but I am starting to get a 1" group at 20 yds. But not the 1/2" some say they are getting at 30+ yards. Overall still a very nice gun for the price.
benjamin nitro piston .177
By vishnu
2013-05-26 11:29:09
i have recently bought the benjamin titan .177 and it works pretty good i had teken down a 5 foot iguana with one shot. this is a good gun guys
Benjamin Titan NP (.177)
By Anonymous
2013-05-26 10:30:31
Nice feeling rifle , weight is good not too light not too heavy. Quieter than I thought it would be. Smooth cocking and shooting , also due to its quietness. Tight trigger(probably 4lb to 5lb) is two stage adjustable. After initial breaking in of about 50 shots it shoots 1inch groups at 20 and 30 yards(60 feet and 90 feet). The scope works but seems a little blurry with or without the see thru covers. Scope mount would be better with weaver style mounting. I plan to replace the scope. It does not have iron sights, I bought this rifle because of this . Seems to like heavier pellets, I used several different weights settling for 9.3 grain (8.2 thru 10.5 work well also). Need swivels or something to add a sling. It`s my first thumb hole rifle, I like it.
BOSS
By pestkiller
2013-03-12 20:54:17
My titan np .177 does 1/2 inch groups at 60 feet and i'm able to hit a softball at 340 feet. I switched the junky 4x32 scope for a UTG 4-16x40 from amazon.com. . I shoot crosman premiers 10.5 grain domed pellets (the ones in the cardboard box)i find those them the most accurate. It is a great hunter for birds and small mammals (small mammals only head shots or a perfect heart shot). Over all it's a great gun that is accurate nitro piston rifle that can be used to hunt or plink. It could do with a little more knock down for full time hunting.
Titan .177 cal
By Mr. Fat boy
2013-02-18 07:11:40
I have owned a Benjamin pump air rifle since 1982. Same gun ! It finally bit the dust this last fall . It took many, many , rabbits, starlings, and a few squirrels.
I recently purchased a .177 cal np . The scope is junk! ,the trigger is not so hot, but the gun is solid. After mounting a 3x9x40 ,the gun is holding 1/2 inch
Groups at 60 feet. I have taken 2 raccoons ,also many starlings . Tack driver for sure! I shoot Gamo red fire pellets, and also put 1 drop of hoppes no.9
In the chamber every 100-150 shots. Couldn't be more satisfied except for the junk 4x32scope, and tight trigger.

This Rifle is amazing .177 Titan NP
By SteveV
2013-01-27 17:39:12
Perfect fit and finish. Power of a .22LR Rim fire. Accuracy of a snipers Rifle. (1" groups at 60ft) I love this instrument. Put a few hundred rounds through it before you zero the scope in. Also, due to the superior accuracy of the gun, be aware that when you change to a different weight/shape pellet the scope will need to be zeroed in for that pellet.
Benjamin Titan NP .177 Tack Driver
By whitesalmon
2013-01-06 15:18:32
This is a great gun!, Mine took about 150-200 shoots to fully brake in. Now it's a tack driver. At 100ft with standard Crosman lead pellets it goes right thru 1/2 inch sheet rock. This air rifle has seriously changed the way i view air rifles. For the price you can't go wrong, Now I'm looking at buying the Benjamin Trail 1500 .177 and dreaming about the .357
Benjamin Titan™ NP (.177)
By Randy C.
2013-01-01 09:54:33
I received this rifle as a warrantee exchange on a Remington Vantage NP that died after only ~600 shots. I like the ergonomics of the stock, but I would not use the butt of the rifle for anything other than a shoulder rest, for fear of breaking it. The first shot with this rifle went BOOM, much to my surprise. The oil used in it dieseled, hence the boom, but it hasn't happened since. The rifle took a bit of shooting to get broken in, during which time shots were all over the target. After that, shot groups began to tighten up enough to make zeroing my scope worthwhile. I didn't use the included scope, because it has a fixed parallax adjustment for 15 yards, and I rarely shoot that close. The rifle has to have a scope, however, since it has no iron sights, and no provision for mounting any. That is a lack, in my opinion. The adjustable trigger is nice, but no adjustment of the screw will improve the trigger feel. Another minus: there is currently no parts list available for this airgun. After my experience with the Vantage, I'd like to have some spares, but can't order them. So, pro's: Accurate, powerful, fairly quiet, with good ergonomics. Con's: No iron sights, heavy trigger, no spare parts available (yet).. Would I recommend it? I'm checking Yes.
Anal
By Dick
2012-12-30 17:42:22
Great gun. .5 inch groups at 30 yards
BADASS
By badass
2012-06-28 15:28:09
this gun is beast and great i would recommend
IMPORTANT PLEASE READ
There are a few ways to download files to your computer. Right-click the item and select "Save As..." or you could open the link and save the document from there. All owner's manuals (OMs) and exploded view of parts diagrams (EVPs) are in a PDF format. You will need Adobe Acrobat Reader installed on your computer to open the file. If you do not have this program you can download it for free at:
http://get.adobe.com/reader/
High resolution (
High Rez
) media center files are in a variety of formats such as .TIF, .PSD, .EPS, .AI, etc. and typically require an additional program to open. Low resolution (
Low Rez
) files are in .GIF or .JPG format and should open in your web browser.