Quest 1000X Rifle (.177)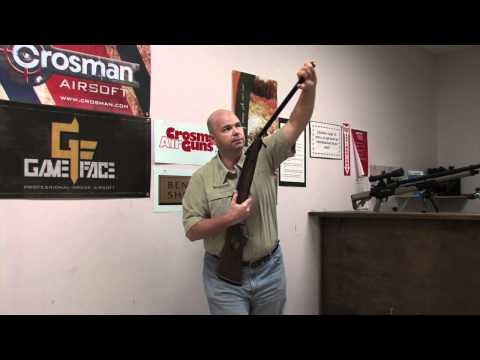 Overview
Ratings / Reviews
You'll get the power and simple elegance of the Quest 1000 with a 4x32 mm scope when you purchase this break barrel rifle.
NOT A TOY. THIS AIRGUN IS RECOMMENDED FOR ADULT USE ONLY. MISUSE OR CARELESS USE MAY RESULT IN SERIOUS INJURY OR DEATH. BE CAREFUL, SHOOT SAFELY.
Primary Use
Specifications Overview

Model Number

C1K77X

Velocity

Up to 1000 fps

Weight

6.32 lbs

Length

45 in

Mechanism

Break Barrel

Power Source

Spring

Caliber

.177

Ammunition

Pellets

Capacity

Single Shot

Optics Rail

Picatinny Style

Optics

4x32 mm

Safety

Lever

Stock

Hardwood
Quest 1000X Rifle (.177)
Customer Reviews
Great gun
By Hunter
2014-06-01 18:03:26
I've been hunting for 6 years with this gun and let me tell you it's one of the best bang for buck guns out there. Very accurate and,
Durable, will endure harsh elements and still get the job done no problem.
Great Gun
By Anonymous
2014-04-09 13:28:59
Ive had this gun for 7 years now. I got for my 13 birthday and even to this day it still shoots great. I remember when i first got it neither my dad or me could get the scope it came with sigthed in. So i ended up taking it off, but the sights on the work wonderfully. After seven years it has a little rust and some nicks in the wood. The screws come loose time to time. Ive even lost one of trigger guard screws but even after sevens this gun still works like brand new.
Great Rifle
By Eugene Green
2013-10-06 06:45:52
I picked up this rifle at Dicks sporting over July 4th 2013 weekend for my son. It was on clearance for under $60.00. This is a very hard hitting and accurate rifle for a .177 cal. The scope is great on this also. I would recommend this rifle to anyone that likes to shoot. And yes it has more than enough power to take down small game. The rifle loves the Crosman Ultra Magnum Heavy 10.5gr pellets.
quest 1000
By edgar
2013-07-30 19:16:29
Este rifle lo tengo de hace 1 1/2 años, lo utilizo para plinkeo y caza, es excelente su mira abierta con un muy buen grupo a 40 mts grupo de 5 tiros dentro de una tapita de coca-cola; en cuanto para la caza tengo cazado barios conejos y aves.
Lo uso con balines desde 7.5 gr a 10.5 adelante excelente rifle para caza y tiro de recreación.
Crossman quest 1000
By Anonymous
2013-07-29 14:21:44
I have hade this gun for about 4years and I'm vary happy with it I have killed tons of squrils mice rats wood chucks and just about any pest you can think of evean a ratcoon this gun has served me well I work on a farm so the gun shows ware and tear and is regularly abused and it just keeps working like new my only complaints is. The screws at the front of the gun come loose quit oftan and have to be titined every ten shots and the breach seal needs to be replace but I expect heaveing to fix small things after outing well over 10000 pellets threw it.
Great Rifle for the money
By Roger0271
2013-06-06 22:51:06
I been shooting Crosman Quest so many time and is very accurate and powerful i kill 3 big crows about 40 yard away real knock down power for 1.77 Rifle i was using Crosman Hollow point , The trigger is not the best but you have to learn how to used the secrets is not to pull the trigger quickly slowly pull the trigger until you got your target and then pull trigger practice and you'll love the rifle is very nice looking the wood stock is beautiful maybe a little loud and is not heavy pretty light i really recommend this rifle you will love it like i say very accurate and powerful.
This gun got me back into airgunning after 35 years
By harleyflhxi
2013-04-07 11:23:48
When I bought my Quest 1000X back in 2009, I hadn't shot an airgun for many years, as indicated in the title of this post. Back then, my family had two Crosman 760's - one with a wood stock and the other with a plastic stock. We had a huge amount of fun with them, and they were reliable - never had anything wrong with them, ever.

I started getting interested in shooting again, and because of my good experience with Crosman so many years ago, I decided to get another one. I went to the local sporting goods store and saw this gun, and was very impressed. As I held it, the fit and finish were excellent, the stock flawless wood (with no putty). I brought it home and started shooting. Compared to the old 760's, it was shocking how loud and powerful this gun is! And accurate, too. I read about other shooters complaining about the trigger, but given the fact I had nothing recent to compare it to, I got used to it and learned to shoot accurately.

Today, after four years, I like my Quest more than ever. Since I bought it, I have added two Sheridan Blue Streaks, 2240 and 1377 pistols and a 2289G carbine to my collection. I also have a Izh 53m pistol and an Avanti Champion 499B BB gun.

Now, I have other guns to compare with the Quest and I can see that the trigger could be improved, and I'm going to get an after-market replacement to remedy that problem. Because this gun is a member of the B18/B19 family, there is huge after-market support for it.

The current Crosman equivalent to the Quest is the Optimus. I am going to purchase one of those in .22 cal, and I'm anticipating the same positive experience with it, too.

To sum it up, the Quest and its later variants, such as the Optimus, are excellent guns to start with because they are good, reliable, easy to service and get parts for, and can grow with the owner as he or she gains experience. I recommend this family of Crosman guns to anyone.
great gun
By just amazing
2012-11-10 07:18:11
got it for 2years now and it shoots everything down got an rabbit over an 175M range down for low costs and high speed go crossman
Quest 1000X
By Snapper55
2012-10-31 05:09:20
Have had this rifle for about 2 years now. Package came with Center-Point 4 x 32 mil dot scope.
Accuracy is phenomenal, especially since I learned how to hold a spring/air rifle properly. 50 yard squirrel shots are not uncommon when using
Premier 7.4gr hunting pellets. Highly recommend this rifle. Good shooter for the money!
Quest 1000x
By Homer Jarvis
2012-07-15 14:06:15
this is a great gun and a great price but it needs a better trigger better open sights
Average but room for improvement.
By blackbike82
2012-07-11 23:21:37
Gun is easy to charge, has lots of power, good groups. The bad. The rear sight was misaligned. After taking the elevation screw out I moved the whole sight over then tightened it. It workd fine from then on. The elevation adjustment is very high so it is fairly loose wich affects th windage. I mounted a crossman scope (sold seperately) and could not geit so shoot better than 6" groups at 20 yards. Quarter size with open sights. I think it is the looseness of the break barrel action. I am working on geting a red dot scope that will use the rear sight holes. After all that it is a tack driver and will easily drop squirrels at 20 yards with regular pellets. Cant wait to try the hollowpoints or the gammo blue flame on the little pear eating rodents.
best
By schnecky
2012-07-10 10:13:33
Great gun vary accurate. Long rang shots amazing.
Great gun
By Anonymous
2012-04-30 14:51:49
I have had it for 4 years now and it still fires straight. I sight it in every spring and rarely need to make any adjustments. ut has worked for pest control on everything from squirrels to raccoon. i also enjoy target shooting and is good for up to 100 meters.
Crosman Quest 1000x
By JSmith59RT
2012-04-22 12:02:26
This is my first air rifle and didn't expect much performance for $99.00 (Dick's Sporting goods). To my surprise, It shoots consistently and accurately. I haven't found any small game to take out with it, but I started sighting in the scope (included) and right out of the box from 15 feet with no adjustments I shot 5 pellets through the same hole in the target, shooting in a free standing position. I plan on buying a .22 caliber air rifle once I get aquainted with this one, but there's no doubt in my mind it WILL be a Crosman product.
Love it.
By Brandon
2012-04-21 12:36:13
This rifle is the perfect air rifle for the person wanting a high volocity rifle but does not want to spend the big $$$.
amazed
By kirk
2012-04-13 07:54:19
awsome gun had it 2 years now still like new amazed by how accurate it actually is and the standard 12flb power overall its a bargain for the price
AWESOME RIFLE!!
By Russkie27
2012-03-19 11:02:05
This gun is just amazing!! I got mine on sale at Dunham's Sporting Goods. Now I expected a descent gun, but this is an awesome gun! The Crosman Quest 1000x is accurate and powerful, oh and not too expensive either. I have killed rabbits, groundhogs, and even racoons with this gun. If you want an amazing gun for a reasonable price, then buy the Crosman 1000x.
great for small game
By Anonymous
2012-02-26 17:51:28
I found this rifle at a local Dunham's on sale and i have killed everything from raccoons to squirrels. Great rifle even at retail value.
Great
By Anthony
2012-02-06 17:13:13
I have had this gun for 3 years now I've shot prob at least 10 squirrels now and it does the job I have the gamo varmit hunter HP a 300$ gun and it is not this accurate wow I love this gun would not trade it for anything !!!!!
good
By maxo
2012-01-25 13:57:08
FANTASTIC
By grand dad
2012-01-08 16:03:51
Awesome
By Sssammmmmm
2011-12-28 17:14:23
I have had this gun for 3 days and it is great
outlasts
By jake
2011-12-25 13:33:41
I've had this gun for four years, and it shoots great. NEVER SIGHT IN A BREAK-BARREL FROM A BENCH REST. very few pellet rifles will get any accuracy if you don't use the artillery hold. this gun has dropped everything from rats to a crow, an i wouldn't sell it for anything.
nice gun
By fernando
2011-12-17 13:48:22
is a nice gun
pellet gun
By redneck hunter
2011-12-07 23:44:31
its an ok pellet gun its a sturdy gun but the scope it comes with i just cant get it sighted past ten feet, after that point the best i can do is a pie plate at forty yards wich doesnt help when your trying to shoot squirles out of your garden , over all the gun itself is good i strongly advise buying a differnt scope tho
amazing
By A the kid
2011-11-05 19:59:00
once i sighted it in I never missed, my friend bet me 20 bucks that I could not shoot the top off a soda bottle from 25 yards away ................i now have 20 more dollars......HA!!!!!
Good Gun
By Joe Shmoe
2011-10-28 19:45:55
This gun is very good for varmint control and just having fun. Over all it is a good gun and investment
Awesome!
By James
2011-10-15 00:16:26
Thsi gun rocks. If anyone finds this gun to "suck", you either don['t know what you are doing or you have aproblem with the gun because mine is accurate as heck, powerful and just works everytime I crack the barrel open to load it. I'd put it against any other break barrel out there in terms of accuracy. With me shooting it of course. :)
gude
By eddie
2011-09-22 21:30:04
is the best

Good gun
By BBacon
2011-09-02 22:31:55
This is a great gun! I've had it for about a year now and I've probably put over 15,000 shots through it and it still shoots great! After a while...the two screws on either side of the fore stock loosen and it'll throw off the accuracy, Just tighten them up and it'll go right back to normal. Easily shoots the bottom of cans at 50 yards!
Fair gun
By Swem Idaho
2011-08-11 11:23:15
Overall a fair gun. However the sight alignment has to be improved. I had to adjust my rear sight almost full left to hit the target. Once there it is fairly accurate. The scope was mounted and works fair due to constant minor adjustments. It too once adjusted will group fairly well ( 1.5" @ 25 yds). The trigger on this rifle is poor at best, having too much pull length. Even with the adjustment to the trigger, it is too much. For the value it is a fair investment for varmint control. The stock on this rifle is as good as any on any hunting rifle ( nice wood). But would be better served sacrificing the wood for synthetic with improvements to the rifle itself I.E. sight alignment with barrel axis and an improved trigger, would prove to be a better end product with the same price.
IMPORTANT PLEASE READ There are a few ways to download files to your computer. Right-click the item and select "Save As..." or you could open the link and save the document from there.