Nitro Venom Dusk (.177)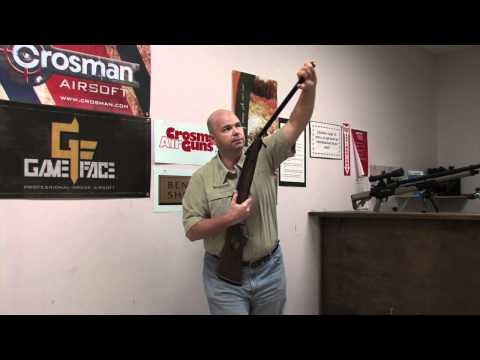 Overview
Ratings / Reviews
Downloads (Photos, Manual & EVP)
The Nitro Venom Dusk air rifle features a precision, rifled barrel with fluted muzzle break and sculpted rubber recoil pad. The rifle is equipped with a CenterPoint 3-9x32mm precision scope and a quick-lock mounting system for quick and easy optic mounting. The ambidextrous synthetic stock has a raised cheek piece and modified, beavertail forearm designed to promote the Artillery Hold shooting position. The wider surface area of the forearm is designed to rest on the palm of your hand, and assists in achieving improved accuracy with break barrel air rifles.

Crosman Nitro Venom air rifles delivers serious hunting power with muzzle energy up to 18 fpe. Take one on a hunt to experience the power, stability and stealth of Nitro Piston technology.
NOT A TOY. THIS AIRGUN IS RECOMMENDED FOR ADULT USE ONLY. MISUSE OR CARELESS USE MAY RESULT IN SERIOUS INJURY OR DEATH. BE CAREFUL, SHOOT SAFELY.
Primary Use
Specifications Overview

Model Number

CD1K77NP

Pellet Velocity

Up to 1000 fps

Alloy Pellet Velocity

Up to 1200 fps

Weight

7.375 lbs

Length

44.5 in

Mechanism

Break Barrel

Power Source

Nitro Piston

Caliber

.177

Ammunition

Pellets

Capacity

Single Shot

Barrel

Rifled Steel

Optics Rail

Picatinny Style

Optics

3-9x32 mm

Safety

Lever

Stock

Synthetic

Color

Black
Nitro Venom Dusk (.177)
Customer Reviews
Nitro Venom
By Hawke
2014-05-25 02:44:19
I've owned this airgun a little over a month now and i have run just under a 1000 pellets of diferant brands of pellets thru
it. Gamo, crosman. Beman . Like everyone else the trigger is bad for one thing, #2 the Rifle can't print a three shot group.
#3 The scope needs replaced. i have used alloy pellets in it as well they still shoot flyers like crazy. i run them thru a olinger
33 chrono and came up short on the printed specs. I took it to a gun smith he just laughed said the money it would take to
acurize it would run about 200.$ that is just over what i paid for it. on the bright side it do's ok under 25yrds. and it would make
a great paper weight. Way to heavy.
Always on target
By Margag_
2014-05-23 22:38:41
Had the rifle for 2 weeks now and it is always on target.
Enough power to make all those criters wish crossman did not exist !
great hunting gun
By Anonymous
2014-02-20 16:30:03
I've had this gun for a while and I love it. One thing I do recommend is get a different scope if you have the money I got a hawke 3-9×50 and its amazing. This gun is great for having fun and hinting small game like rabbit and squirrel. I use gamo blue flame for hunting and it literally gives me pellet in pellet hole almost every time. Lead is really or fairly quiet PBA is kinda mound but it will drop a rabbit in its tracks. I dropped a rabbit at 35 yard a while back with this gun. Get it is worth every penny.
Great gun
By oldshot
2014-02-03 14:38:46
I purchased this gun for some pest control and despite it being rated on the Crosman website as a target gun; it is fantastic. In the 3 days of hunting I have killed 3 rabbits and 15 squirrels. I have not experimented with a lot of pellets for hunting and all of my kills have been with Crosman Destroyer EX pellets. The gun fires very accurate, is quiet (unless you fire PBA ammo etc) and just a joy to pink or take small game hunting.

Sighting in the scope was easy but as mentioned by numerous others, an AO scope would be nice, also sling mounts would be a welcome upgrade. Overall the gun is a fantastic buy and does the job as well as my Benjamin XL 1500.

Some people complain about the trigger but honestly I don't have a problem with it.

After 2000 rounds in the field and at the range, this gun has me all smiles.
This thing is awesome
By Nate
2014-01-18 18:28:59
This is the best bang for the buck. Nitro Piston 1200fps (alloy pellets) with a 3-9x32mm scope. There are some complaints that scope is too blurry and it was when i received it but after reading another review, theres a way to focus the front lens perfectly. All I had to do was remove the front lens cap and turn the lens while on 6 zoom until i got a clear sight picture and clear reticle. Now I can see objective and reticle clear as day through all zoom modes. The front lens adjustment is what u would consider a parallex adjustment. Only problem is you cant do it on the fly like some higher end scopes, but it is achievable. Set it and forget it.

Another complaint people have is the trigger... There is an adjustment screw that u can tighten with a phillips head through a hole in the trigger guard to make it a little better. Just be careful not to overtighten as it threads through a plastic piece in the trigger assembley. You might be able to replace the screw with a longer one to set the trigger loser to firing position but i would advise against that as it can be unsafe if done incorrectly. My review on the trigger is this, its hard to tell when the sear is going to release and fire the gun. Its very long but not hard or heavy, its smooth. After practicing a lot with it, Im finally used to it so it doesnt bother me.

As far as accuracy goes... I been shooting crossman 10.5 gr ultra magnum dome pellets and at 10 yards i can shoot less than a 1/2" group of 25 rounds freehanded (no bipod or rest) with only a couple flier (due to my own faults)!!! This thing is accurate as hell. Of course this was only achievable after the break in period of 100 rds and after zeroing the scope. EXPECT TO HIT WHATEVER YOUR AIMING AT.

It is also pretty quiet for a 1200fps type of airgun. Though this may be due to the heavier weight ammo im using (therefore, no sonic booms). i can only guess that the heavier 10.5 gr pellets are shooting at around 875-925fps which is more than enough to take out some small game or varmits even at 40 yards.

This gun is a little on the heavier side but it is pretty balanced when using the military hold (as instructed by the paper in the box) and u get used to it quickly.

I love this gun. It was totally worth every penny for sure. Im so glad i didnt spend another $100 to get a silent stalker whisper (my friend has one and its not worth the extra $100 over this gun AT ALL).

If your looking to buy your first airgun, or 2nd, or 3rd.... doesnt matter, this is it! Stop listening to the cry babies out there. This gun is awesome.
My second NP
By Dan
2014-01-05 19:54:01
Cabelas had these on special right after the Holidays and I purchased the Nitro Venom Dusk in .177. Out of the box it was grouping dime size at 10 meters and quarter size at 25 yds. A full tin of 7.9gr Premier HP through it and it just keeps getting better. It is a very consistant shooter, easy to cock and smooth to shoot. A very good bargain.
I'm glad I picked the .177 Nitro Venom Dusk!
By Ol' Doc Paperpopper
2013-11-08 21:16:55
When I was a lad, the venerable Crosman 760 was THE pellet rifle to have; I wore mine out.
So, when I started shopping around for a plinker that wouldn't break the bank, Crosman products got researched first.
Of course, I checked out the other guys, but kept coming back to the NVD. Finally, the day before yesterday, I bought one.

I'm still in the process of breaking my new NVD in, having put 50 or 60 pellets through it, and will wait to fine-tune the scope until after the break-in period settles the rifle down some.
Speaking of the scope; I initially had issues with the same problems mentioned by other reviewers, but it took less than three minutes to perform the easy tweak that remedies the blurriness issues/ focus problems. (See Anonymous' "Easy Scope Fix" at the top of the page).

Before firing for the first time I went over the gun and checked the tightness of all accessible screws, snugging (not over-tightening!) any that seemed loose.
Next, I cleaned the barrel. This HAS to be done before firing; the barrels are notorious for being filthy out of the box. Not cleaning will increase the number of rounds you have to shoot before break-in is achieved.

I had about 25 old Crosman flat-nosed pellets left over in the junk drawer so I thought I'd grab another tin of pellets to facilitate the break-in. The store only had Crosman pointed lead pellets so I snagged a tin.
I did a comparison test of the two, wad-cutters vs. pointed hunting pellets. Five shots of each.
At 10 yards, The flats gave me a quarter-sized group with one "twitch" shot a half-inch wider than the rest.
The pointed pellets were all over the place! Not one anywhere near the bull; calling it a "six inch" grouping would be generous.
I may try the pointies again in the future, but will stick to the wad-cutters for now.

Bottom line; I'm pleased with everything about this gun, (with some minor reservations concerning the trigger... but I'll get used to it!)
Good job, Crosman!
awesome air rifle
By tyler
2013-11-08 02:04:23
This air rifle is wicked I love it
Blurry Scope fix
By Anonymous
2013-08-20 11:10:58
Lots of reviews talking about blurry, inaccurate scope.
Mine was very blurry as well - even at 4-5 mag.
Here's how to adjust it. Set magnification to about 5. Unscrew the cover of Objective lens (the one away from your eye). The exposed male thread has two notches in it. Use your fingers, no tools, to adjust the objective till you get clear mil-dot view of the reticle (cross hairs). In my case it took about 3 full turns clockwise. Carefully not to move the threaded adjustor, screw on the cover all the way.
Nitro Venom Dusk
By Ernie
2013-08-10 07:59:09
I've put maybe 500-600 shots through it. I adjusted the trigger screw maybe 3 turns out. This is a dual stage trigger so if you squeeze it a little, let off, and then aim and fire it's like a hair trigger. Sometimes it will even scare you when you pull it because its so sensitive. I know there have been some negative reviews but every manufacturer has a lemon slip through now and then. Mine is very accurate and I've had no problems whatsoever. I even like the scope. Sure you can put a better scope on and change the trigger if you want but for me it's fine. I have been shooting all my life and i can hit everything I'm aiming at with this rifle. Now I need to get the .22 version. Thanks Crosman!
Its my 1st and I like it!
By Wattsy
2013-07-15 16:38:35
So this is my 1st air-gun since the early 80's with an old pumpup Crosman... I like it, I like it ALOT! I gave it 4 VS 5 stars because I have nothing to compare it to and the trigger blows compared to every other gun I shoot (centerfires and traditional muzzleloaders) ANYWAY.. all in all its a good gun.
Scope
By Wayne
2013-07-11 07:42:13
Fun gun but I don't like the scope. The scope is blury as I use it at mag 7-9. I'm not sure if the scope is worth returning or replacing.
guns good
By brewer
2013-07-09 20:44:35
scope is terrible!! tac driver at 10 yards but i get the flyers about every 5 or 6 shoots! 1 inch groups at 25yards !! i cant complain made a 80yard shot with about 5inch 5shot group.
OUTSTANDING
By Anonymous
2013-05-28 14:56:55
ok, so i wrote a review earlyer on this gun saying that it was great but probibly not the best for hunting. i changed my mined. but there is a couple of things that i did to up its game. first i changed my amo and its gruoping is outstanding with this gun. next i changed the scope on it to a more larger scope. the scope it comes with is pretty good but i didnt really care for it that much. if you want a gun that is very very fun to shoot and bring down rabbit and squiral than is this the gun for you!
crossman Nitro venum .177 cal rifle
By Bob Jones
2013-05-26 20:18:33
Great rifle. Super accurate with premier hollow point One shot kills on cotton tail rabbits and gray squirls. I've even killed armadillos. Penetrates shell to heart. I believe that I could kill most anything that I would use a 22 for. limit shots to 35 yard or less. Chunk the scope. Mine has a 3x9x40 Nikon. You won't be sorry. Wait on the trigger Don't be antsy.You cant expect it to break like a $ 1,000.00 Browning. Practice makes perfect. Those thay have a hard time cocking it take the heel of your palm and give it a small tap, then continue with your hand around the barrel . It will then cock easier. Make sure that you mash the pellet flush with your thumb. Don,t shoot off a hard rest or grip the for stock too firmly as this will cause fliers. I love the nitro piston instead of the spring that my son's gun has. Ive had this gun 2 years and shot it a bunch. Good hunting
Now that's what I'm talkin about...
By BigGunn
2013-05-06 12:59:10
I originally purchased the Gamo Whisper DX II from Cabelas but was very disappointed in its inability to maintain group even at 10 yards. I had a rat problem and the two shots I took that night with the Gamo were misses. So the next morning I took it back to Cabelas and bought the Nitro Venom Dusk. I sighted it in at 20 yards, put about 50 shots through it and in the past two days have killed 3 rats and a cottontail that's been chewing on our car wires. Love the gun!!! It is actually quieter than the Gamo "whisper" and is far more accurate.
Awesome rifle
By AIDave
2013-05-04 01:07:53
after a lot of searching/reading, then realizing there was nearly no-end in options, I decided that I didn't need a $300 rifle to enjoy it. I had purchased a much more expensive rifle, but it's accuracy was horrible. I exchanged it for the venom, and glad I did - spot on, with only mild fliers during break in. The only downer was that there was a lot of old dried grease in the works (visible) and some sort of oil all over the stock. Otherwise, it's held up fine. The scope has held up too - I have shot light to heavy pellets, wad cutters, round nose, pointed, hollow point, and 'exotic' rounds (bb embedded in the front of a hollow point) -- they all shot excellent. The scope was nearly spot on 'out of the box' -- just adjusted for height and am now completely bored shooting at 20 yards.

I am very glad I didn't try for a new expensive gun -- if you're looking for your 1st, this is a great choice. Stay away from light/alloy ammo as they can go trans and super sonic resulting in horrible groups.
great gun
By Anonymous
2013-04-14 21:24:12
this is a great pellet rifle. it's very very accurate and shoots great. but there is two things that i wish were a little better. it doesnt have the best knock down power for small game. yes if you put a great shot on a rabbit or squiral but i use mine for smaller pests or just having a fun time shooting. with my gun its shoots more accutately with lead premium pellets.
amazing knock down power
By Anonymous
2013-02-25 15:19:51
can stop a jack rabbit at 20 yards have downed a dozen of them and close on 100 gophers alredy and have only been using it for a week magpies and pigeons dont stand a chance very very happy with my puchase it was money well spent
WATCH EM DROP
By Anonymous
2013-02-06 21:06:28
GREAT GUN BEATS .22 LR AND .22 SR HANDS DOWN BEST GUN EVER!!!!!!!!!!!!!!!!!!!
Problems with inaccuracy?
By Anonymous
2013-01-17 20:42:34
If you have problems with unreliable precision, maybe you should try zeroing your scope for the distance you are shooting..... Just a thought
Excellent Rifle
By John
2013-01-17 17:54:55
Well I read alot of these reviews, and I must say I disagree with some of the negative reviews. Maybe it's just experience, but I found after putting a few rounds down range this thing was pretty accurate. I do agree with most about the centerpoint scope. But I planned on switching it out anyway. After replacing it with a better scope I was ready to take her out into the woods. I most say, I've had this rifle for about 7 months now and she shoots like dream. I've taking down big rabits, chips, birds, squirrels etc. Just the other night I put her to the test with a monster raccoon. The shot was taken from about 60ft away when he returned back up in his tree. A single shot to neck (right where his neck connects to the upper shoulder). She's been good to me so far. I keep her well maintained and works like a dream everytime I use her. Thanks Crossman for a great rifle.
Great gun, and solution to everyone's accuracy issue(.177)
By Chris
2013-01-11 03:49:35
I love this gun! I got it about a week ago. Even before mounting the scope I shot around 200 rounds through it to get the barrel worked in. Once I got that done I threw the scope on, it doesn't focus well past 30 or so yards. I plan in replacing it. However, I have been able to punch single holes with 5 rounds at 20 yards. The trick to the accuracy is seating the pellet just a little bit deeper in the barrel and maintaining a good hold. At first when I was getting flyers I re-opened the break and saw that I was bending the pellet skirt when I closed it. Put it in a little further and I have had no more issues. As far as the trigger goes, it's touchy to say the least. Unpredictable. But that is getting better with use. After a few more cans of pellets the trigger should work out its kinks.
Great shooter . Give it some break in time. Throw scope away
By Will
2012-12-27 03:37:06
I own both .177 and .22 cal venom dusk and both were all over the target when first fired. The reviews pretty much suggest accuracy will improve after 100 or so rounds which I found to be true however accuracy was still disappointing but was showing some improvement. On a lark I changed out the centre- point scope on my .22 and immediately put five pellets in a dime sized area @ 25 yards. Put the scope on the .177 and same results. With the combination of a 4 X12 scope that focuses clearly to and beyond 100 yards ( Centre- Point got fuzzy at 25yards) and the right pellet it is not uncommon to put multiple pellets into an enlarging hole at 25 yards. I have not experienced any mechanical issues with bent parts and wish the trigger was better but it too seems to be improving with use or I am getting used to it over time. I have recently noted that the trigger seems to have a "sweet spot" that is palpable just before discharge. If you can find this spot use it to your advantage to firm up target acquisition before discharge. My gut tells me that these rifles are going to continue to get better with use..
INCONSISTANT
By Anonymous
2012-11-27 16:47:08
i purchased this gun in september(a few months ago) and it is very,very inconstant. occasionally i can get a 3 shot half inch group then they go all over the place. I cannot trust it hunting anymore because I'm afraid of missing. I know its not me because i can make a 5 shot group half inch on occasions with the titan NP .22 and i does not get inconsistent. I like the feel though and i looks very nice. I want to keep it and not sell it but I'm getting tired of the inconsistency. But I do LOVE crosmans other guns and the problem may just be on the gun i bought and not others.

unhappy
By Daryl Frank
2012-10-22 13:13:16
Almost love it! The problem is the barrel does not lock up tight. I thought it was just barrel droop but after observation I noted the true problem. I've had this rifle for over a year and I wish I had noted it right away but I was too busy. Now that I want to hunt with it I'm stuck with the useless thing.
BEST BREAK BARREL AIR RIFLE
By Outdoorsboyforlife
2012-10-21 13:23:40
I got this gun about 3 weeks ago. The first round I fired out of it sounded like a .22 long rifle, but after that it quieted down with every few shots. The gun at first is quite inaccurate with shots all over the target but that comes with breaking in the gun. Now i can hit quarters at 25 yards almost every time and sometimes dime-sized groups. It has shot 3 squirrels(one in which was taken by my 10 year old brother) and my first squirrel dropped like a rock after a devastating heart shot. This gun has yet to take rabbits but that will change when I go to the mountains. I do not have the same problem with the trigger like others, instead it is crisp and the second stage has little to no creep. I think the weaver scope mount does an amazing job with keeping the scope in place. The gun is hard to cock at first, but again that comes with breaking in the gun. The beaver tail stock makes the artillery hold very effective in keeping the gun steady and the gun does not shake as much as oppose to holding it normally. Overall I think Crosman did a great job in making this gun. Thank you Crosman.
Retraction of Previous Review
By Anonymous
2012-10-18 17:42:05
My earlier negative review has proven to be mostly incorrect. Took a LOT of pellets, but it seems that this air gun now has reached a reasonable level of accuracy. Nothing else changed so apparently it takes a while to shoot itself out. Trigger is still poor and scope very blurry at max zoom, but the gun is turning out to be not-so-bad.
crosman 177cal nitro venum dusk
By howie@walmart
2012-10-05 03:16:36
Well after reading all the reviews i must say this, what level of experience do some of these people have, i bought mine about a week ago and have put about 150 pellets through it .it shoots like a house on fire, now i did have a problem with the center point scope walking, not sure if it was the break in period or me jumping the gun haha? any ways i got a Leopold scope for xmas guess what? one hole groups. as as far the trigger yes could be better but i am still working with it. as far as anything bending not allowing it to cock properly not a problem here, maybe some of the people should take a look at how they treat their guns. i find it hard to believe you can bend the barrel by cocking the air rifle unless you are abusing the air rifle.

V/R Howard White USN Retired.
Gun is worth the money!
By MKE
2012-09-30 21:17:13
I just purchased this gun recently. I zeroed in the scope and was able to shoot targets up to 50 yards and hit dead center. This is a great gun. For those who complain about cocking the gun, its time to eat some weaties and lift some weights.
trigger
By jake
2012-09-08 17:00:28
everyone says the trigger on this rifle is bad, but if you pull the trigger a little ways after loading the gun, not enough to fire the gun, when you do go to fire, the trigger breaks clean with no creep.
Awesome!!!
By John
2012-08-14 14:38:38
Bought this godly piece of work and let me tell ya, WOW! Highly impressed. This thing is great its a jack of all trades accuate, strong, feels like my real rifle as well. Took out plenty of small game including squirrel, birds, rabbit, ground hog, chipmunk, ducks. Longest accurate shot so far is 78 yards, hit a target at 89 yards and was about 8inches off center. Highly recommened.
Definitely worth the purchase (Nitro Venom)
By Rylord
2012-08-08 09:19:12
After spending 24 years in the US military, and having vast amounts of experience with different firearms and weapons, I was leery about purchasing a pellet rifle. I do live out in the country, and was just considered purchasing a .22 caliber rifle to take care of small varmint (Gophers/Ground Hogs/Raccoon/Possum/etc.). However, I wanted to see how good these nitro piston rifles are. Saw this rifle on-sale from Dunham's Sports's in a city close to where I live in Kentucky. Bought this Nitro Venom Dusk model and brought it home. Set up the scope, and went out and shot quite a few rounds through this riffle. After about 50 or so rounds, I started to see more and more accuracy from this rifle. Finally got the scope dialed in at a very acceptable level for shooting down-range with this rifle. So far, I have taken down two "huge" fully sized ground hogs with this rifle....each with a single head shot. I am truly amazed at the accuracy and firing ability of this rifle. I highly recommend this rifle for anyone seeking to use it for target practice, or hunting/controlling small varmint. The rifle is well made, and feels quite similar to any rifle you might have used (.22, etc.). I'm impressed with this Crosman product, and will definitely recommend it to my buddies. Especially those who live in the city, where a loud .22 caliber (bullet) rifle is not acceptable, or with other residents living nearby in the neighborhood that simply prevent the firing of a real live bullet. Well done Crosman!
Nitro venom
By Mike
2012-07-31 10:18:18
I like the gun a lot. Excellent trigger on mine, and seems to be fairly accurate, although I have not had the chance to really 'wring it out.'
Good product as is
By artis
2012-07-14 11:54:18
I have had my venom dusk about three weeks and I have the same complaints as others. The gun is of very good quality, fit and quiet. Cocking is smooth each time with about 400 rds. The trigger pull is long and rough even after adj. The grouping go from low to high using a variety of amo each with one out of four flyer of about two inch, best grp with crosman destroyer ex. The scope is good but the flyers take away from it's quality. With the gun as is I can hit Most targets within thirty yds.. I'm sixty five yrs. old and shoot at tennis balls and targets durning idle time. I like the solid feel and will keep it. One day will change the trigger and scope.
Nitro Venom Dusk
By Chris
2012-07-05 11:26:02
I purchased this gun about a month ago while holding my breath. I read the reviews and it seemed as if these run about 70/30 if you get a shooter or a dud but everyone seems to say that Crosman has incredible customer service so if you have a problem they will help you with it. I wouldn't know because I have no trouble with mine at all. The only small annoyance is the gun is not as quiet as I was hoping for but I think that is an o-ring issue that can be solved in two seconds. Pellet guns require a break in period and each gun has it's own personality. Mine was grouping within 20 shots but over the following 300 became a bit indecisive at times, I had a group of eight within a dime at 25 yards and then a minute later couldn't cover the group with a dollar bill. But she has settled down now and consistently groups shots I can cover with a quarter using Crosman Premium HP's. I would like tighter groups but for the price of this gun it is an acceptable trade-off. I don't know why Crosman doesn't upgrade the trigger, scope, and add studs to accept a sling... unless it is because they want to offer a quality gun and a great price! research pellet guns folks there are a ton of them out there and this one will hold it's own with any of them.
Best gun ever
By squirlstriker
2012-06-09 11:03:20
This pellet gun is the best one I have bought.it is easy to cock but you need to get used to it. But besides that the gun has barley any kick at all but is very powerful. I love this gun
Nitro Venom .177
By Wyatt Lawler
2012-05-28 16:06:44
This gun works amazing as long as every tin you go through all the screws and tighten them but thats minor and to be expected. It hits hard at all ranges. I didnt know what to expect when i got a break barrel after reading the accuracy problems many people experiance. This gun put them all to rest it shoots flawlessly in all whether conditions including high wind. a very good gun for the price.
Not Happy
By skynard
2012-05-26 16:39:42
Bought my first Venom Dusk online and upon receipt, it experienced the same binding/cocking problem that seems to be common. Returned but due to backorder problem, I got a credit and purchased another Venom Dusk from a local retailer. Have now fired about 300 rounds through it, various types of ammo, various types of rests (including the artillery hold that is recommended), and the accuracy is totally unreliable. It doesn't just vary from day to day, but within the same round of shooting. Though the supplied scope seems of reasonable quality, I have thought about buying another but really don't want to waste the money and still have the same problem. I am a reasonably good shooter with handguns and high-caliber rifles and I'm confident that the problem isn't with me. The poor trigger certainly doesn't help things and with all the complaints I see about it online, it would seem that Crosman would address it.
amazing
By dick rosendom
2012-05-23 10:51:45
this gun is very nice i finally got it after i saved up the money and it does take a while to break it in but once you zero in the scope and put some pellets through it it gets notically quieter and more accurate. however the trigger is pretty bad and i would recommend putting on the GRT 3 trigger. overall i love this gun and have killed a good amount of squirrels with this gun, i would definitly recommend this gun to a friend or someone wanting to get a pellet gun.
amazing
By Anonymous
2012-03-24 22:32:45
this gun is so amazing it is lightweight, accurate, and power full.
NITRO VENOM DUSK
By Anonymous
2012-02-15 22:27:44
This is an awsome air rifle and i would recommend it to everyone that has any level of experience with pellet guns. At first when you bring it home (or anywhere else) get the scope mounted and go to take a shot you will notice that it is loud at first and the accuracy is not great (5 shots in a 5 inch group), dont worry though because after you take around 100 shots you will pretty much have "broken it in" (a lot quieter than a spring and very accurate groupes all within a 1/2 inch circle at 50 yards sighted in). But not every one will have the same experience and the best way to get the most out of this gun it to try a whole variety of pellets such as lead(field point, hollow point, match....) and the different alloy pellets. personally i love this gun and i prefer lead pellets with a more rounded tip and i have shot enough rabbits and squirells to tell you that it has more than enough power to kill small game at a distance and quiet enough to not startle any small game that is close by. even though i love this gun it still has one noticeable flaw.....the trigger. its second stage is toooo long....if only crosman used a more sensitive trigger and my only other problem does not pertain to the gun but to the scope. While the scope is a nice scope i think that a scope that is illuminated for shooting when there is not much light would better represent the guns name NITRO VENOM DUSK.

Blows me away!
By rrp1501
2012-02-11 18:52:44
This gun is worth every penny! The weight of the gun makes it feel like a top rifle on the market! Very smooth operation and if it gets quieter the more rounds I put through it, it will be all but silent! This will put the fear of God in those varmints destroying my garden!
nitro venom dusk .177
By Anonymous
2012-01-18 18:40:37
terribly inaccurate,installed an aftermarket trigger,shoots much better but still not accurate,cocking lever is binding and bending upon trying to cock gun,very unhappy with gun,don't waste your money. Seems as i'm not the only one with this bending arm problem.
Nitro Venom Dusk
By Bart
2012-01-03 14:02:55
Great gun ! Like the weight, feels like my real rifles, and that makes it perfect for practice. Purchased the Big Cat first and did not like the poor scope mount, light weight feel and the spriinnnggg sound on every shot. Took it back to store and bought this gun. The wife seen the first gun and argued with me when I brought the Nitro home, insisting I must have paid a lot more for this gun. This looks and feels like a my other deer rifles. The scope mount is great compaired to the other gun. My only complaint is the same with everyone else, the trigger, thus the only reason for 4 stars. Plan to tweek it as best I can and if that dont work, it's well worth buying another trigger, but if I do I void warranty...... Be better if Crosman would come up with a better trigger replacement of their own thus keeping warranty.
nitro venom dusk
By jake
2011-12-25 13:27:01
This is an incredible gun. The first couple of shots are very loud, but after that it quiets down a lot. It is very powerful, and the grouping is so-so with the lighter pellets. i tries some JSB monster exact 13.4 .177 pellets in it, and the groups were unbelievably god. i love the scope, the mil-dots help with the longer shots. i was shooting it over a friends chronometer, and the velocities were 1120 fps (with crosman premiers)
Very impressed and highly recommend!
By Killercanary
2011-12-15 12:17:18
As a kid I had a Sherman .20cal pellet gun. I used to take down a variety of small game and it did very well with ground hogs. I recently got back into shooting and noticed that my old gun was no longer working and needed repair. I did some searching and discovered that this gun that I thought was so powerful for an air gun shot at a whopping 600' second. I was in a local sporting goods store and started looking into the new offerings of pellet guns when I came across the Nitro Venom Dusk. I hadn't shot any of the newer technology rifles but after speaking with the sales associate and hearing the benefits of the nitro piston versus the traditional spring assembly I knew this is what I needed if it were true. The speed simply amazed me of these new offerings and the nitro piston had two things I needed most, it was quieter than the spring style guns and I could leave it loaded longer when hunting than with a spring design due to spring fatigue. The sound was my primary concern as I live in a residential neighborhood but I have woods on two sides of my property so I can shoot it safely at my home. I have shot over 400 lead pellets through it, and around 100 alloy pellets. I sighted the gun in for 30 yards and I can hit a 1" diameter circle with lead, the flat nosed alloy pellets from Crosman hit approximately 1" higher, and a competitor's gold alloy hit approximately 1/2" higher than the lead. I LOVE this gun. It is loud with alloy but that is due to the pellet breaking the sound barrier, the sound from lead is fine for my location. I have yet to take it hunting but I have shot a variety of materials with it and I am completely amazed at the power of this gun. I shot 5 rounds of hollow point lead into a 3/4" thick piece of plywood and it blew the back of the board out. A rounded tip gold plated alloy pellet ripped through 450 pages of a phone book with the hollow point lead piercing ~230 pages from ~10'. I cleaned it for the first time a week or so ago and was shocked at how dirty the bore was, but this is to be expected when shooting lead. All in all I highly recommend this gun. My dad bought a a competitor's gun the same day and after shooting both he and I like this Nitro Venom Dusk a whole lot more as it is quieter, and doesn't "buzz" like his spring action gun does when shooting. I will say that this gun actually does have a small kick, but I for one like it as it is cool to feel a kick from an air rifle IMO.
great
By Anonymous
2011-12-11 13:55:50
great gun bought it about a month ago and it is still shooting great.
bending cocking arm.
By dissatisfied
2011-11-29 21:39:50
I puchased this gun just under a month ago, and the bun is already bending and breaking. I have shot under 200 rounds out of the gun and the lever that connects the barrel to the piston to cock the gun is bending and starting to hit the stock. I am unhappy with the quality of this gun as my dad has a gun from when he was a kid that still works like its new. I would not suggest this gun to someone looking for quality. It is really unfortunate to, becaue i do like the gun, if it weren't for the bent piece on it.

Sincerly,
dissatisfied
Nitro Venom Dusk .177
By Anonymous
2011-11-16 16:50:54
I am highly impressed with this gun. I've never been able to shoot with the accuracy this gun has. It says about 100 shots to break in the gun for sound and accuracy.
The first five shots sounded like a .22 . but by shot 30 , sounds quiet enough hunt with. It is a heavy gun. but solid. Had the sight zeroed in within 50 shots. At 40 yards, not only was it hitting on the cross hairs, (hitting the same holes even! ) but was blowing through 1/4 inch plywood! This is an incredible gun for the price. I have only 1 complaint. The lack of regular barrel sights. an over / under scope with regular sights for those like me who don't always like to use the scope.
.177 caliber Nitro Venom Dusk
By George
2011-09-28 19:32:43
The Nitro Venom Dusk is of high quality construction . However it has too much recoil with high velocity pellets and it is very loud as well. The recoil and sound does lessen after running a hundred rounds thru it as stated in the directions. This affects the accuracy which also improves with subsequent rounds. If you use lead pellets with this particular gun (highly recommended) instead of the high velocity alloy pellets the gun will become exceptionally quiet and the recoil will be significantly reduced also. As another rater has suggested the gun's biggest downfall is the trigger. The second stage is way too long and even tho it can be adjusted somewhat it can not come close to what is necessary for a smooth pull. The trigger is incredibly hard and stiff and seriously limits the accuracy of the rifle. I will be bringing mine back. It's too bad. If the manufacturers could improve the trigger it would be a real winner.
Great Value
By CK98
2011-09-25 23:23:17
Bought this air rifle from Amazon and was not disappointed. The accuracy of this air rifle has changed how I view an air rifle as a hunting weapon. I didn't realize a break barrel could shoot like this, I thought only PCP's could shoot like this. The only reason I didn't give the air rifle 5 stars was because of the horrible trigger. I tried a stack of different types of oils and greases on the trigger. Ended up packing the trigger with a general purpose grease. It's a little smoother but still needs to be replaced, 2nd stage is just way too long. I replaced the mediocre scope with a UTG Leapers 3x12x40 and now have killed a Starling at 100 yards yes that's right 100 yards. So far the most accurate pellets that I've used are the Crosman Premier HP's. I would like to get some Premier heavies and see if I can kill a squirrel at 50 yards. This air rifle will kill a squirrel instantly at 35 yards for sure but a 7.9 grain pellet doesn't have enough energy for longer ranges to get a clean kill IMO. I was looking into buying a Benjamin Marauder I'm kind of scared of buying one now I already seen the reviews and it might make me a lazy shooter.

Pros
Craftsmanship is very good for the price
Accuracy is outstanding
Range and velocity is outstanding
Price very affordable
Nitro piston
Weaver rail
Nice weight not hold sensitive like lighter guns

Cons
Trigger
Scope

Excellent Air Rifle
By JrSquirreler
2011-08-10 21:53:41
As you see in my review, the gun is lightweight, quiet, and really accurate. Check out my full review on Crosman Crosswords Blog.
IMPORTANT PLEASE READ
There are a few ways to download files to your computer. Right-click the item and select "Save As..." or you could open the link and save the document from there. All owner's manuals (OMs) and exploded view of parts diagrams (EVPs) are in a PDF format. You will need Adobe Acrobat Reader installed on your computer to open the file. If you do not have this program you can download it for free at:
http://get.adobe.com/reader/
High resolution (
High Rez
) media center files are in a variety of formats such as .TIF, .PSD, .EPS, .AI, etc. and typically require an additional program to open. Low resolution (
Low Rez
) files are in .GIF or .JPG format and should open in your web browser.