Nitro Venom Dusk (.22)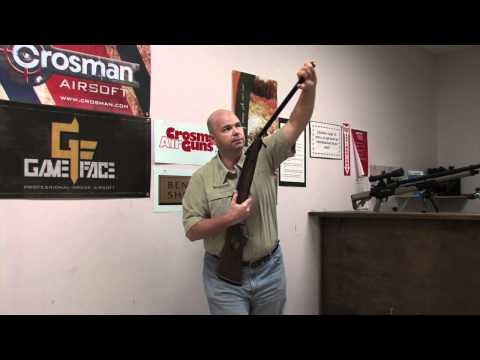 Overview
Ratings / Reviews
Downloads (Photos, Manual & EVP)
The Nitro Venom Dusk air rifle features a precision, rifled barrel with fluted muzzle break and sculpted rubber recoil pad. The rifle is equipped with a CenterPoint 3-9x32mm precision scope and a quick-lock mounting system for quick and easy optic mounting. The ambidextrous synthetic stock has a raised cheek piece and modified, beavertail forearm designed to promote the Artillery Hold shooting position. The wider surface area of the forearm is designed to rest on the palm of your hand, and assists in achieving improved accuracy with break barrel air rifles.

Crosman Nitro Venom air rifles delivers serious hunting power with muzzle energy up to 21 fpe. Take one on a hunt to experience the power, stability and stealth of Nitro Piston technology.
NOT A TOY. THIS AIRGUN IS RECOMMENDED FOR ADULT USE ONLY. MISUSE OR CARELESS USE MAY RESULT IN SERIOUS INJURY OR DEATH. BE CAREFUL, SHOOT SAFELY.
Primary Use
Specifications Overview

Model Number

CD8M22NP

Pellet Velocity

Up to 800 fps

Alloy Pellet Velocity

Up to 950 fps

Weight

7.375 lbs

Length

44.5

Mechanism

Break Barrel

Power Source

Nitro Piston

Caliber

.22

Ammunition

Pellets

Capacity

Single Shot

Barrel

Rifled Steel

Optics Rail

Picatinny Style

Optics

3-9x32 mm

Safety

Lever

Stock

Synthetic

Color

Black
Nitro Venom Dusk (.22)
Customer Reviews
2nd review on gun
By red squirrel slayer
2014-09-09 00:12:58
Same as before. I found a few pellets that work great dump all available KE into squirrels. Few examples are crosman pointed, crosman hollow point, and crosman domed. I believe the scope is decent but I need to re sight my scope any trip I make. I'm going to be buying a leupold rifleman so that will never be an issue as long as I pair it with quality scope rings. The muzzle break stumped me. It's plastic and slides off if you take it off your accuracy tightens. The gun has to be re sighted of corse. Plus the plastic is no longer in your view in the scope. Since previous post I have harvested 10 plus reds, 2 grays, 10 plus chipmunks, and 30 plus legal birds. Very effective gun paired with good ammo.
GREAT GUN / SCOPE IS CRAP!!!!!
By Anonymous
2014-07-21 15:22:03
THE GUN ITSELF IS PERFECT NICE AND QUIET. FIRED OVER 300 ROUNDS, NO ONE EVEN KNOWS. THE TRIGGER PULL IS LONG BUT THAT IS NOT A BIG PROBLEM FOR ME. THE SCOPE IS PURE JUNK, IT WILL NOT STAY ZEROED IN. IT IS ALL OVER THE PLACE. ORDERED A HAWKE OPTICS VARMIT. FOR IT. HAVE TO GET RID OF THOSE BUCK TOOTH BANDITS THAT HAVE TAKEN OVER THE CITY. SINCE THE CITY CAN NOT DO ANYTHING ABOUT THEM. THE NEED FOR STEALTH IS A MUST IN THIS CITY. AND THE GUN DOES THE JOB.
Amazing Mabey not
By red squirrel slayer
2014-07-17 13:41:23
I bought this air rifle due to amazing reviews. I wanted a gun that would shoot 1/4 inch groups. In reality trigger was horrible. So I went to adjust it. Nothing happened. Went on ebay bought a bearing that made the trigger like air. But no more safety. And if you want to shoot flat out to 50 yards no problem. But wait my pellets climb in the air more than 5 inches at 50 yards. The gun will take chipmunks no problem even through both shoulders at 20 yards they never go 3 feet away. Hits a water jug and goes in at 100 yards. Scope is great but not really. Has mill dot reticle but you can only zoom to 5 power any more and you can't see the cross hares at all.
Poor Craftsmanship
By Michael
2014-06-28 12:05:28
Let me start off by saying that this rifle performed excellently....until it didn't. Comfortable to shoot, easy to cock and load, and after a screw tightening here and there, very accurate up to 50 yards. A little louder than expected, but not enough to scare the possums around here. Here's the issue that i had. After at least 5 tins of Benjamin .22 pellets, I pulled the barrel to cock it and BAM! The gun dry fired while the barrel was broke and it slammed the pistons lever arm over its catch, instantly turning a $189 rifle into wall art. Not sure what could cause this to happen, but I'm just glad that the barrel didn't fly up and hit me in the face or something. I really had high hopes for this, it's a good looking and very comfortable shooter, BUT, the parts should last more than a year or so before they malfunction this amazingly bad. On a brighter note, my buds all got the Benji Trail NP, for around the same price, much better quality rifle. If you want to buy this rifle, get the Trail NP instead, unless you need some art for the garage.
Nitro Venom
By Anonymous
2014-06-06 21:06:14
The Nitro Venom is alright
Great gun
By Anonymous
2014-04-29 19:20:29
Very very accurate once stock screws are tightened and proper teqnique is learned. 1 inch groups at 30. very impressed
Nitro Venom Dusk, .22 Cal
By LNF
2014-04-15 23:23:25
I have written a couple of reviews of the Crosman Nitro Venom Dusk in .22 caliber. This follow up review comes after hundreds and hundreds more rounds and the construction of my indoor range. While the additional rounds have allowed the CNVD to significantly smooth out its shot cycle and trigger, the new indoor range which is nearly 10 meters in length allowed me to accurately zero the scope.

Having a well-lit and windless range enabled me to zero the scope at 29/30 feet to dime-sized groups of ten shots. Heretofore, I had to gauge shot fall/placement outdoors and getting a true coordination of POA and POI was nearly impossible. Now, the two points, Aim and Impact, are superimposed on each other and the Crosman laser is also congruent with them. The rifle, now fully zeroed in at a well-lit target has become a real tack-driver.

Periodic cleaning with Sheath and felt pellets - PUSHED not shot through the bore - have maintained the accuracy potential of this .22 rifle. Airguns do not need much hash cleaning given their dynamics, but I did mention previously the thorough scrub out with JB Bore Paste and a bronze bore brush. That initial cleaning removed much debris and allowed the bore to season well. It is now a consistent and deadly shooter.

Crosman and its Chinese manufacturer have worked together to make an exceptional piece of air gun equipment. It seems to get even better with time and use and is becoming a favorite next to my venerable RWS Model 36.
well made
By pete
2014-03-14 16:43:38
Very nice looking and well made the looks of this rifle just pulled me over really nice to shoot with the right pellet
Extremely Accurate
By 2RCHA
2014-02-21 20:16:10
I purchased my NVD about a year or so after purchasing my Benji Trail A/W, and so I figured on basically the same level of performance. I was very surprised at how accurate this gun was over the Trail, at 50meter's, I'm getting sub2" groupings using FX Smoothtwist pellets @ 16gr,. which is great in my books, The same distance using the same ammo produces 2.65" groupings with the Benjamin Trail, which is also Great, but as you can see the NVD is just that much better.. The one, and only change I would like to see, is the addition of Swivel attachments, I hate having to use a "shot-gun" sling with this gun, It deserves "Factory" installed swivels!!, other than that, It's a Fantastic Shooter, that's extremely accurate, and is built like a BSH, so don't be surprised if you see yourself passing it down the line. Cheer's, Andy.
Liking the Venom Dusk
By JohnB
2014-02-15 18:48:16
I recently bought a Nitro Venom, but took it back and got the Nitro Venom Dusk .22 cal. It took about 25 shots to tune in the scope. I use Premier Hollow Points and Diabolos for plinking and target shooting. The weight gives it the feel of a larger caliber, more powerful gun. So, I think it's a great gun for the price!
.177
By Lifeman
2013-12-16 10:22:09
This I by far the toughest and the most accrete pellet gun I have ever owned.
great gun for the money
By anonymos
2013-12-06 21:01:36
I recomended this gun to my buddy after reading about it. When we shot it it was a little loud but quieted down after about a a 100 rounds. Has. Great stopping power on the blackbirds and squirrels. This is acurate too. We've hit birds at over 100 yards with it and they drop stone dead. So far the most accurate pellets are the 14.3 grain crosman premier hollow points. I would recomend this to anybody. Crosman has a great gun in this.
nitro venom dusk .22
By Anonymous
2013-10-16 20:53:05
this gun is amazing, its hoots like a dream and for the price you cant beat it, the only kinda bad thing about it is that it is very picky about pellets, while CPHP and CPUM are normally very good with most of crosmans guns this gun cant group them for crap. the pellet that best fits my gun is the 15.89 grain JSB Exact jumbo diablo. i can stack this pellet out to about 20 yards then about 30 the are half inch, these work in My GUN. all guns are diffrent so find the best pellet for yours.the other bad thing is the scope. the scope. when you open the box take it out and beat it agaist a wall . dont even bother puting it on your gun. it fogged uup the first time i shot the gun and its still that way even after a year of being indoors. i suggest you to buy a UTG 3x9x40 with AO.when you first get your gun go and put 500 rounds through it before you try to sight in your scope, but dont shoot them as fast as you can. if you do this then your seal wont set properly due to the expation from the friction heat. i suggest to shoot it like you normally would anyother gun. all in all this gun is a steal for the price
nitro venom dusk
By David G.
2013-08-04 21:28:49
This gun is awesome! A year old now and 1500 rounds through it,now is smoooooth and QUIET! I added a Leapers scope and a GRT 3 aftermarket trigger from Charlie da Tuna. Highly recommend these two upgrades. I chose the Bugbuster scope with the lighted crosshairs. An absolutely perfect setup. I consistently hit a six inch target at 75yds! At closer ranges it is right on the money always. I use Crosman Premier pellets....better than most others and reasonably priced.With the lighted scope and a flashlight attached to the stock with a rubber band we shoot the six inch target at 75 yards in the pitch dark! Amazing gun...unbelievably powerful. Buy one...you will not be disappointed.
Excellent value, ditto for fit and finish, picky about ammo
By Scout/Sniper (retired)
2012-11-28 15:03:06
I am a retired USN sniper and after retirement became a deputy sheriff and eventually became the SWAT team lead sniper. I've shot and evaluated more firearms than you can imagine but since retirement from my second career I missed daily target practice and discovered the only way to keep up my skills on my small farm without disturbing neighbors was air rifles. I looked at several air rifles but as soon as I laid eyes on the Venom Dusk I knew it was a shooter. I bought the .22 cal version and have put about 1,000 rounds down the tube. Things I learned: Before shooting for the first time spend at least an hour cleaning the bore. It took an hour of cleaning before I began to get clean patches out. Those of you who complain about accuracy might simply need to give the bore a thorough cleaning with a lead/copper dissolving agent available at any reputable sporting goods store. Next on the list is my rifle is somewhat picky about ammo. I've tried about 30 different rounds and keep coming back to Crosman ultra magnum hollow points, round nose and premium wadcutters that come in the cardboard box. All I can say is they are consistent. Everything else I've tried is all over the target. Something I noticed is that ammo that fits snug and needs a little push to seat it in the barrel shoots best. Cheaper ammo and some expensive ammo demonstrates a loose fit and that equals inconsistent accuracy. Clean the bore throughly after about 100 shots as the grooves tend to collect molten lead. The key is when the rifle starts to shoot inconsistently it's time to swab the bore.
Crosman hit the nail on the head with this rifle. It's affordable, fit and finish is first rate, and once you find the right ammo every shot goes exactly where your POA is.
Only gripe I have is they have to refine the trigger pull. It's long, mushy and breaks soft. There is no excuse for this as I have a Benjamin that I have owned for nearly 40 years that has as crisp a break as high end centerfire rifles.
Overall, if you buy this rifle you are getting quality merchandise that is out of the box a strong shooter as long as you remember to keep that bore clean whenever possible and pay the extra for quality Crosman ammo.
Love this gun !!!
By Squirrel Destroyer
2012-11-10 22:18:01
This is really a great pellet gun, between it and my .177 phantom I have taken around 46 squirrels for 2011 and 113 for 2012 so far. The problem that does seem to be consistant between both guns is the trigger pull, it is way to stiff and for first time users could throw off their poi. secondly the scope that came with my nitro dusk was ok using 4x mag. at around 30 feet but any futher with more mag. and the crosshairs being fuzzy would cause you to miss. For first time users, you need to try at least 5 diff. kinds of pellets to find the most accurate cause from my experience all high velocity break barrels are picky at what they want to shoot acurately. Anway for small game hunting after you buy a better scope they can't be beat for the value. And if your not interested in a piston gun the phantom is just as appealing to me as my nitro dusk. The only Improvement that I can see that really needs to be made is the trigger, other than that they are both perfect for the value.
Follow Up to Initial Review
By lnf
2012-09-05 23:22:38
After approximately 100 pellets, I gave up on the scope adjustment as I had maxed out the elevation travel of the Center Point Scope. I shimmed the rear scope mount and that brought the cross hairs back to allowing increased elevation. It worked, and I discovered that I regained elevation when I shot the clamp off of the bullet trap that held the sight in target to it! Lowering the elevation significantly (on the scope dial) brought the scope back into synchronizing POA and POI.

At approximately 250 pellets, I did a thorough barrel clean. Ewwwwwh! What a mess! Lost of rust came out of the barrel along with the usual pellet lead leavings. I also used my RWS silicone chambder lube and the whole process brought about a smoother pellet insertion and much quieter firing sequence. Having NO chrony, I can't say that the speed increased, but the rifle seems smoother.

The trigger issue, however, remains. I wish Crosman would do an upgrade option to do a GT-III trigger for the piece. Frankly, the stock trigger is coarse and tends to have me pull off POA. Maybe that can be a future option? How about it, Crosman?


Not sure but possible lemon
By Mike
2012-09-05 10:11:12
I am on my 2nd Venom and I can not believe how terrible it is accuracy wise. CPHP pellets, well, there is no consistency they are all over the target from a bench at 10 meters. I thought perhaps I had a lemon and replaced it with a 2nd, and the exact same thing is happening with this one as well.

I am very disappointed, as the Benjamin All Weather Nitro Piston rifle I bought was amazing and so accurate at 10 meters that it makes a single hole with little raggedness from the bench tests.

Perhaps I got 2 in a row that were not made well. Perhaps this just isn't the rifle for me. Accuracy increased slightly with a heavier pellet (polymags) but still not to the point where I would want to rely on it for any kind of accuracy in the field.

It looks and feels great in the hands, it is nicely quiet (after a break in of about 300 shots) but from bench the accuracy is terrible and that is with 5 different .22 pellets (CPHP predator, Hatsan, Stoeger and Crosman Pointed).
Great gun/Great value!!!!!!!!
By glockman0422
2012-09-02 10:40:16
I have many firearms but this is my first air rifle. I have to say im impressed. The scope is not the best in the world but is serviceable. I was able to get it zeroed in within 5 shots and it has held zero very well so far. I can keep 1 inch groups at 30yrds. The rifle has good power and once you get used to the trigger, its actually a great shooter. The nitro piston is very smooth to operate and provides good power. One thing to notice is, the first shot with this rifle sounded like a .22Lr. It took me by surprise. But it got much quieter with following shots. I would highly recommend this rifle to anyone looking for a powerful air rifle with great features at a great price. And it looks cool too, at a distance it resembles my remington 700.
Nitro Venom Dusk, .22 CAl
By LNF
2012-08-26 23:30:10
Received the NVD in .22 and assembled it and the light/laser combo for the scope. The NVD I purchased in the synthetic stock as I intend this to be a "stealth" rifle to deal with racoons in the neighborhood. The racoons cost us $7000 having made our inherited home their home last year.

It took quite a while and a lot of adjustment to bring the elevation up so that POI and POA are synconized. I have initially set them at 5 Meters, but will be later setting it for a 10-15 Meter zero (racoon range). I hope that I don't run out of elevation adjustment in the scope before POI and POA are one. Once they are congruent, I'll line up the laser, too.

Build quality is very good save for a few flashings on the stock that were not well trimmed after the injection molding process was completed. Otherwise, the fit and finish are very good for a modestly priced magnum air rifle.

The bane of the piece is the trigger. I can see why folks are opting for after market trigger! I usually adapt well to the mfg trigger, but this one is particularly long and coarse. I hope this will improve with use, but may look into an after market unit after the first year and warrantee are over.

That caveat aside, this is a well made rifle. Good work, Crosman!

The worry is over,nitro venom dusk .22
By Infantry Grunt
2012-07-04 18:37:15
I have researched a number of gas piston rifles,and it came down to this one.Their is a lot of mixed feeling about each rifle I researched,and I decided on this one in concideration of price,customer support,and the gas piston technology.Before you buy any rifle you should check out GTA forum,about what you should do to your rifle before you shoot.I spent 2 hours cleaning the barrel,wiping it down,and removing all the packing/shipping oil and grease.My first 30 rounds fired produced good shot groups considering I havent mounted the scope yet,and ZERO diesle,no smoke,and no loud crack,it was very quiet.That being said,I feel that most of the bad reviews this rifle recieved are possibly due to failure to educate ones self and do their home work.I recommend this rifle,and if you have problems with it return it,it could be the rifle,or neglegence on your part.I adapted to the trigger that most complain about,so it wasnt really an issue.I was an expert marksman on 4 different weopons in the army,as an infantryman,so learn the fundamentals of marksmanship,and apply them when you shoot(position,sight picture,breathing,and trigger SQUEEZE)I love this rifle,built well,shoots well,and this is my first break barrel(im not allowed to have firearms).Hope this helps anyone making a decision on which one to buy,and don forget to hit up GTA's web site,and READ your owners manual before you fire your first shot.
Nitro Veno Dusk .22
By MatthewB
2012-06-27 13:51:17
I bought ths rifle even though i had another make in mind, my budget was far higher than the cost of the Venom dusk and if it hadnt been for the Gunsmiths advice i would not have tried it, on picking it up i noticed it was perfectfully balanced for the artillery hold and that aesthetically a nice looking Rifle, cocking the powerhouse of the gas powered piston was easy and very smooth and although new out of the box the rifle fired cleanly. The scope is very good and is fine for mid to long range use, the weaver rail is perfect and is my preferred rifle fitting for scopes and attatchments, there is no chance of scope creep when attatched correctly.
Even though i could have bought an Air Rifle in excess of £400 i chose the Venom dusk because it is an excellent rifle and with a gas ram system is the perfect Rifle to shoot targets/ vermin with a smooth delivery of consistent power, i have put almost 500 pellets through it and it is now zeroed , i am more than happy with my brand new Venom and will definitely hold Crosman in higher regard now and will look at other Rifles from their range in the future, as lets face it you can never have too much of a good thing.
Well done Crosman for producing a superb way underpriced Rifle.
Perfect
By rangermutt
2012-06-08 15:30:09
I purchased this gun in .177 caliber to reduce the rabbitt population in my yard at the recommendation of my brother who has bagged over 200 in his yard over the years. When I first purchased it I took it out to my in-laws farm to zero in the scope. It took several rounds of trying to knock over cans until I finally had the sense to put up a target to determine which way the site was off. Once I got the scope setup my wife, first time firing a rifle perhaps ever, knocks over a can at 50 yards! After shooting at least 100 rounds at the recommendation of others on this site, I returned home, awaiting the vermin to dare to come into my yard. On Tuesday three brave rabbitts entered the killing zone. Four pellets later (I missed the first shot, got it on the second try, and my 19 year-old son put down the other two) the rabbits were no more. I am very pleased with the power and quietness of this rifle. Most the neighbors don't even know that I have been shooting it. Thanks Crosman for a great product!
Awesome
By Night, Night
2012-05-27 13:21:59
I bought the Nitro Venom Dusk in .22 caliber and I shot it just once and it is so quiet compared to my dads GAMO spring piston. The gun has some slight recoil, but nothing to major. I use the Crossman Premier Hollow points and the grouping at 15 yards is litterally right next to each other once broken in. The overall feel of the gun is really good, it weighs 6.6 pounds, but it doesn't make a difference in performance. The knock-down power of the gun is amazing. I shot a chipmonk fom about 20 yards and it flew back 6 in.!
I've klled a couple European starlings with this and they drop like a brick. I've shot a few of these starlings from over 100 yards an they still died. The scope is great. I don't have any problems with the trigger whatsoever. Overall this would make a great gun for both shooters and hunters.
Nitro Venom Dusk
By Geoff
2012-02-24 00:13:44
Have had my rifle for a couple of weeks now, apart from the trigger which is ordinary the rifle is great,powerful,accurate and once you have put a 100 or so pellets through it remarkably quiet. The scope is great,clear,good adjustment, and OK in low light. Overall a very good package.
Excellent Value
By Stobor
2012-02-11 09:08:36
Have tried this gun in both .177 and .22. You will not be disappointed in either, but I prefer .22 for hunting. Build quality is excellent, and while a bit heavy, the feel is very good in your hands. The rifle looks like an expensive varmit gun and I have had many nice comments from other hunters in the field. This gun is somewhat hold sensitive, but is very accurate once you master any variation of the artillery hold. I have tried several pellet types in both .177 and .22 and have had good success with CPHP in both calibers. Gamo Redfire in .177 was a favorite, but did not fit the barrel as well as CPHP and was not quite as accurate. I have measured 950 fps in .177 with this rifle and recent chrony test with .22 yielded 757 fps with some shots with CPHP averaging muzzle energy in the 17 to 18 ft pounds range. Currently have about 450 pellets through this .22 version and it is getting very smooth. The scope is adequate, but not inspiring, and as you have probably read from other posts, the trigger is the weakest feature of this rifle, being way to heavy for accuracy unless you practice. Overall I am very pleased with this rifle and it is my current favorite. I recommend a sling for field use as the rifle is a bit on the heavy side, but handles extremely well in hunting situations.
Wow
By John
2011-11-21 19:34:35
This is my first nitro gun. I can't believe how quiet it is. Quieter than my powermaster 66 pump. Power fuggetaboutit. Accurate right out of the box. Scope is great. Gun feels and performes like a more expensive gun. I Really enjoy shooting this rifle. You will too.
Great rifle better customer service
By sniper X
2011-11-05 15:16:53
what can I say Crosman has the best customer support in the industry and if somethin ain't right they will fix it. What more can you ask for? The gun is great by the way very smooth cocking action and very accurate once broken in. You won't find a better deal for the money on a gas piston rifle..
Nitro Venom Dusk
By joshuaT
2011-10-07 14:45:04
This gun feels good in my hands and the weight was a lot heavier than I thought a air rifle should be after dealing with real guns. I've hooked up the scope and it shoots well together. Just a few minor adjustments and my gun was hitting the target quickly. I love the stock and scope cover. I've forgotten my rifle outside and it rained really hard. No damage to the stock or any other piece so far. Watch out pidgeons on my rooftop, lead pellets gonna make you stop pooping on my car.
very good quality and price
By Anonymous
2011-08-26 09:04:04
this rifle is excellent as a present or gift, very usefull for hunting small pests and virmin. definetely 5*+
IMPORTANT PLEASE READ
There are a few ways to download files to your computer. Right-click the item and select "Save As..." or you could open the link and save the document from there. All owner's manuals (OMs) and exploded view of parts diagrams (EVPs) are in a PDF format. You will need Adobe Acrobat Reader installed on your computer to open the file. If you do not have this program you can download it for free at:
http://get.adobe.com/reader/
High resolution (
High Rez
) media center files are in a variety of formats such as .TIF, .PSD, .EPS, .AI, etc. and typically require an additional program to open. Low resolution (
Low Rez
) files are in .GIF or .JPG format and should open in your web browser.