Optimus (.177)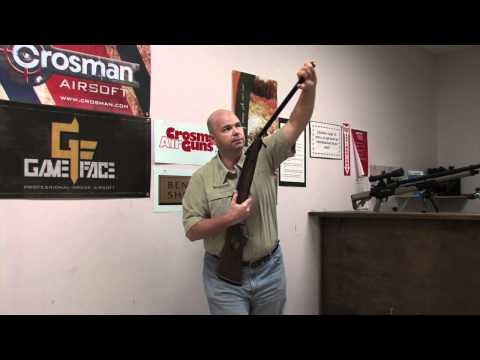 Overview
Ratings / Reviews
Downloads (Photos, Manual & EVP)
The NEW Optimus break barrel is both powerful and elegant. It features a handsome, ambidextrous hardwood stock. With a relatively light cocking force and a two-stage adjustable trigger the Optimus is built to get the job done with velocities of up to 1200 fps with alloy pellets. The barrel incorporates a micro-adjustable rear sight and fiber optic front sight.
NOT A TOY. THIS AIRGUN IS RECOMMENDED FOR ADULT USE ONLY. MISUSE OR CARELESS USE MAY RESULT IN SERIOUS INJURY OR DEATH. BE CAREFUL, SHOOT SAFELY.
Primary Use
Specifications Overview

Model Number

CO1K77

Pellet Velocity

Up to 1000 fps

Alloy Pellet Velocity

Up to 1200 fps

Weight

7.125 lbs

Length

45 in

Mechanism

Break Barrel

Power Source

Spring

Caliber

.177

Ammunition

Pellets

Capacity

Single Shot

Barrel

Rifled Steel

Front Sight

Fiber Optic

Rear Sight

Fully Adjustable

Optics Rail

3/8" Dovetail

Safety

Lever

Stock

Hardwood
Optimus (.177)
Customer Reviews
Optimus break barrel
By Drew
2014-09-20 20:38:47
I would highly recommend this rifle. New out of the box i did have an issue with sighting in the gun. After several hundred shots the gun barrel breaks in. I can now hit my targets one shot one kill, I could never get comfortable using the scope that comes with the rifle. After splitting my forehead open from the scope hitting me in the forehead from the recoil of the gun i just removed the scope. This is a very power full pellet gun. I am totally satisfied with my purchase.
I would like to compliment Crossman as a company for manufacturing a product worth buying.
Optimus(.177)
By Anonymous
2014-07-03 23:53:41
After 20 to 30 shots at target adjusting scope,had quarter sized cluster. First shot at a chipmunk, which was facing me, was right in the mouth. Extremely accurate for just over $100. Chipmunk problem may be solved, first gun I have shot in years. looks and feels much like a .22
Crosman Optimus .177
By Henry J
2014-06-23 10:03:55
Purchased my rifle about 6 months ago, spent the first few days ringing her out and sighting in the iron (plastic) sights. Tuned in, I have been keeping dime size groups at 20 yards after about half of a can of Crosman Hollow Point pellets. Later I started shooting the Crosman Round Point pellets as well, and hitting the same zero. A very well built rifle, made to be durable and last for years. I have been leery of the plastic sights, but I have hit them on several occasions and they have held their zero, so they must be rugged. Great shooter, great looking, and a great buy !
Superb air rifle
By Anonymous
2014-02-02 09:34:58
nice hardwood stock. i would have preferred a walnut stain but the finish is good. outstanding accuracy. the included scope has parallax requiring you to ensure you set up the same way each time but i can consistently print 1/4" groups at 50 feet with match grade pellets. head shots on squirrels are possible out to 50 hards with the Barska 2x7 scope I added. in short, the best 100 bucks you can spend on an air rifle. it outshoots my brothers air rifle which cost twice the amont.
better duribility
By calvin90
2014-01-22 01:53:41
wow crosman you made a great pellet gun but it only has one problem the sight could be made out of real metal .otherwize 495fps in canada is overall great heavy spring means power. good for teens and people who are ok with a 34 pound spring says a youtube video. great metal and wood but mine came out of the box with dents in the stock it works fine so apperently it can be beat up says a couple other people that wrote their reviews aswell. i didnt like the 4x32 scope as it isnt as clear image it has a rainbow colour to it in bright targets. my dads beeman dual calibre is my rival pellet guns they both make great noise like a .22 cold round so it feels real. clean often it smokes alot oil 2 drops in the gun every 250 rounds .it just feels like a real .22 in your hands and looks like one. 1200fps in america or if i got my pal licence this air rifle is the one you want. unless crosman made a dual cal spring barrel oh please crosman ps make a barrel cleaning kit availible to walmart ect and ur ammo is amazing i love the destroyer round but the head of the pellet isnt wide enough to touch the rifleing like the flat head rounds do or hollow points thats perfect them for accurcy please
Fantastic rifle
By thresher
2013-11-28 10:07:27
Upon moving into a very rural area we had some serious problems with squirrels. Rather than spend 22 ammo, I opted for an air rifle to keep the vermin down. Okay here it is, cut and dry. I've shot squirrels and killed them at ranges beyond fifty yards with open sights. It has yet to let me down and manages a bit of food on the table... perhaps not for anything larger than a bunny but it most certainly keeps the pests and strays away! Overwhelmingly YES I would recommend this rife... best hundred bucks I've spent!
Optimus/Quest
By Varminthunter33
2013-09-21 13:19:19
I have the rifle from when it was a quest but there is no difference between them. I use mine heavily for squirrel. I don't know why it says for just target shooting. It shoots high velocities and is has phenomenal fiber optic sights. I recommend using either dome or hollow point pellets for excellent knockdown power.
Awsome airgun!
By koos
2013-09-10 11:20:17
This is the best airgun in the world! I have shot 10 starlings so far.BUY ONE NOW AND YOU WIL BE HAPPY...........
Great rifle!!!!
By Flint Lock
2013-07-03 08:16:58
Buy one nowe!
Amazing pellet gun
By Anonymous
2013-06-13 11:50:59
Im 14 and this was my first gun, i got it when i was 9 and i still love it till this day
great gun
By roystr
2013-05-18 17:08:14
im 50 yo,and only shot in the army,and once bear hunting.no no bear for me. so i get this gun last fall and begin shooting it with the open sights. after much frustration,and the colder temps,,i quit till this spring. i took it out yesterday,with my stepdaughter over to try it. she hit the target the first shot, from 12 yards. then did it again and again and again. then i shot it a few times,and hit the targets as well. i was remembering all the stuff i read about the "springer" special hold,etc etc,,,she had the worst form,leaning well back on her rear foot, everything looked wrong. i said nothing...lmao now she wants one for her place,,very woodsy and private,,so maybe xmas time?? so far ,NOW that it can hit something,it seems its scope time. and maybe shes a keeper. the trigger needs care, and ill do something with the stock,its nice enough looking,but scratches very esy. forrest camo of some kind i guess. what else is there to say? if it sees me to my last day,and i see no reason why it wouldnt, then she was a great buy. .......Next i need to sight in the .25 cal benji....sigh,,i never used a scope before. and yes,i have watched nearly every vid on youtube to learn about them. anyways,the 25 is next,then ill leave a review or thoughts on that gun as well.
no regrets.
great for 12 year olds
By Anonymous
2013-05-04 22:45:59
This is a fantastic gun for 12 year olds it has fantastic accuracy and great power for the price.
Great Rifle
By Tom
2013-04-25 17:24:16
This was my first pellet gun and it was not a waist whatsoever, this gun is a great basic rifle made out of only metal and wood
except for the sights (which are adjustable)
I would say this rifle would be for you if you are looking for a good quality nothing special (no plastic garbage thats going to brake off) gun then you should
consider making the investment.
This rifle could be used by beginnner shooters and also more experienced as well.
best part of this rifle is its simplicity, it is something that if your using it in the woods alot then this is the buy.
Pros
-no co2
-no multipump
-durable
-low maintenance, but a good idea is to buy some rem oil and pell gun oil because the wood can be a little dry.
-simple but has a rail for custumization
-accurate
Cons
-cheap sight
- not practical if your bringing this to a range as it is not a repeater
-a little heavy for younger shooters to carry (mine is 9.5 pounds)
-safety is inside the trigger guard :3 -not the smartest thing if you are trying to teach gun safety
Make sure that you maintain your rifles ive seen an older one of these have the front stock/grip split in half due to lack of care and maintenance.
anyways great gun definately worth it.
Crosman Optimus .177
By Ryan
2013-03-04 20:18:58
This is actually about my friends gun. He picked the thing up at Big 5 just to shoot rat n stuff and boy did it work out. This things has great power, especially for the price. This gun has been left out in the rain, left cocked for hours in the sun, and totally beat the heck out of. The gun has a solid layer of rust around the barrel and this will still take down scrub jays any day of the week. Great gun!
Crosman Optimus .177
By JP
2013-03-04 00:30:41
I have a few airrifles for plinking in the backyard, and keeping away snakes and varmints while on hikes ( i live in the mountains, and in the summer we have a rattlesnake problem) I got this gun from amazon about a year ago, and it still works fantastic. I have not oiled it once, and its still smooth as butter to cock. The .22 model is the same externally, but is harder to cock. Obviously, a .22 packs a little more punch than a .177, but if you are using Destroyer rounds (on the .177), then you get about the same "destruction" of targets. This will either keep a snake away, or just piss it off if your'e a bad shot, so don't go around thinking this is a 357 magnum or something. The critters dont take you for Dirty harry, so it's best not to piss them off if you know you cant kill them with one shot. (squirrels, small birds, garden snakes are pretty much the only things you can kill instantly with this) If you are looking for something to kill possums, foxes, etc., then go with the .22, it will kill them humanely, but the .177 is just cruel, as it will put them through misery.

Overall, this is a fantastic airgun, and coming from a guy who owns $250+ dollar airguns, this is ridiculously under priced considering its quality.
P.S. yes, the body is made of real wood, and the trigger, internals, cocking lever, and barrel are all made of high quality steel and metal.
Long range
By TK
2012-10-20 16:18:09
Pretty good range and power plus a good range of ammo types.
Amazing
By Anonymous
2012-09-11 20:27:00
If you want power on a budget, look no further. I have this in 495 fps because you need a license for anything above 500 fps. I mounted a tasco 3-7 x 20 scope on it and have killed over 20 birds since the begginning of summer. The two most recent have been instant.
fix the rear sight
By minds
2012-09-03 16:24:02
This is a awesome cheap gun! Power, reliability and accuracy are great. The sights on my gun needed some re-engineering. The rear sight is pegged all the way right to be zeroed on the target, but hits the wood during the cocking portion. Fixed that with some extra dremmel adjustments. I purchased a "competors scope" and it is horrible. I am back with the iron sights. Critters fall fast from this gun unless it is the pellet-proof CROW..... They just walk away, leaving a huge blood trail. The good news is they don't walk too far. Bottom line, if this lasts like my bennie .22 or 2100 then I found a gem.
Wickedly accurate!
By Chris2059
2012-06-21 21:48:31
Love this airgun! Put a air rifle scope on it, and after firing about 100 rounds through it. I shoot dime size groups at 40 yards. Sure it is a springer and has that weird recoil, but after you break this rifle in and zero a scope it is super accurate. My squirrel issue is solved, and I now have my bird santuary back. This gun feels nice, and is better than any guns costing a lot more.
Crossman Optimus .177
By nick stasek-219-
2012-05-08 03:59:34
The Optimus is a great gun, its overall weight isnt that bad to deal with and its max fps with alloy pellets is rediculous. Although fresh out of the box it has similar aiming issues with the iron sights as the quest or similar moldels, this is easily countered by sighting in the ironsights consistantly or sighting in the decent scope they provide if you purchase this gun in the boxed set. i recommend buying a cheap pack of pellets as it will take a good 50-100 to break in+sight-in your new gun. Once you have sighted in your gun to deadly accuraccy and go to take down some birds or squirrels, you should use the Crosman Destroyer pellets. These pellets are a combination of their hollow point and tipped pellets, which actually expand quite well on impact and have a consistant velocity of 1200+. I took down a small bird and could actually see clean through using these pellets.
great gun for the price.
By poorshooter
2012-03-04 19:01:16
for the money this is one of the best gun i have owned. would recommend to friends.
IMPORTANT PLEASE READ
There are a few ways to download files to your computer. Right-click the item and select "Save As..." or you could open the link and save the document from there. All owner's manuals (OMs) and exploded view of parts diagrams (EVPs) are in a PDF format. You will need Adobe Acrobat Reader installed on your computer to open the file. If you do not have this program you can download it for free at:
http://get.adobe.com/reader/
High resolution (
High Rez
) media center files are in a variety of formats such as .TIF, .PSD, .EPS, .AI, etc. and typically require an additional program to open. Low resolution (
Low Rez
) files are in .GIF or .JPG format and should open in your web browser.