Optimus with Scope (.177)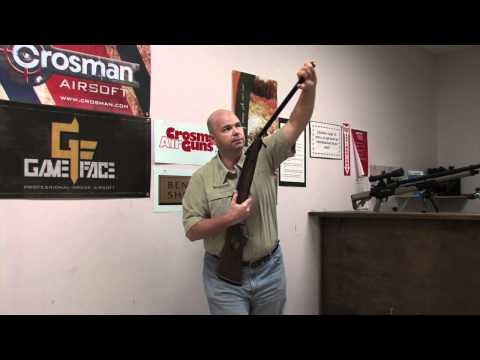 Overview
Ratings / Reviews
Downloads (Photos, Manual & EVP)
The NEW Optimus break barrel is both powerful and elegant. It features a handsome, ambidextrous hardwood stock. With a relatively light cocking force and a two-stage adjustable trigger the Optimus is built to get the job done with velocities of up to 1200 fps with alloy pellets. The barrel incorporates a micro-adjustable rear sight and fiber optic front sight. Also equipped is a CenterPoint, 4x32mm precision scope.
NOT A TOY. THIS AIRGUN IS RECOMMENDED FOR ADULT USE ONLY. MISUSE OR CARELESS USE MAY RESULT IN SERIOUS INJURY OR DEATH. BE CAREFUL, SHOOT SAFELY.
Primary Use
Specifications Overview

Model Number

CO1K77X

Pellet Velocity

Up to 1000 fps

Alloy Pellet Velocity

Up to 1200 fps

Weight

7.13 lbs

Length

45 in

Mechanism

Break Barrel

Power Source

Spring

Caliber

.177

Ammunition

Pellets

Capacity

Single Shot

Barrel

Rifled Steel

Front Sight

Fiber Optic

Rear Sight

Fully Adjustable

Optics Rail

3/8" Dovetail

Optics

4x32 mm

Safety

Lever

Stock

Hardwood
Optimus with Scope (.177)
Customer Reviews
optimus airgun
By optimus
2014-06-24 02:03:14
This thong is extremely powerful, shockingly powerful, if you hold your eye to the scope the scope the recoil is enough to bust your skin open.

Crosman Optimus
By Gawie
2014-05-18 11:47:44
I bought this gun 6 months ago with a scope fitted. I had a silencer fitted which takes away the sound of the pellet leaving the barrel, but not the sound of the spring. Then I tuned in the scope at 20 meters with a grouping of less than 15 mm at that distance. This allows me to shoot squirrels in town without the neighbours knowing. It is illegal to shoot in a town. It is deadly on the grey squirrel from North America, which is a pest in South Africa. I have taken out near to 20 now. And the war will continue. The power is enough in my opinion to kill a hare. Currently I use H & N sport pellets of 0.48 g (7.48 grain) from Germany with a flat point. According to the distributors in SA, the gun can handle up to a 10 grain pellet, which will make it even deadlier. This gun is excellent for small game and very deadly. It is a bit heavy to shoot out of hand, but for strong men, it is just perfect. This is not a toy. Have recommended it to 3 of my friends, who are all very happy.
Optimus
By Sam
2014-05-07 19:00:02
This was my first and only break-barrel airgun and there is nothing else like shooting your first break-barrel i would recommend this rifle to anyone is a beginner on break-barrels, the first shots are pretty hefty, recoil (similar to .22) loud, accurate, and heavy. All around great rifle for target shooting and hunting together :)
Optimus
By Anonymous
2014-04-27 22:20:34
I higher recommend this airgun if you are looking for somenthing affordable and accurate. I like to shoot and it just isn't affordable or convenient anymore to shoot my 9mm or 22s. This is my second airgun. I bought the Optimus because my old airgun (similar to a break barrel but has a level) was not very accurate and I liked the reviews and the price of the Optimus. I was initially very dissappointed with this gun. Out of the box I was shooting Daisy Precision Max Pointed pellets (that I bought for the old gun). I was shooting at an 8x8 taget at 20 yards and many of the shoots were not even on the paper. I mounted the scope and it made no difference. I was about to box it up and get a refund but I remembered a review I read before purchasing the gun that said it likes round nose pellets. So, I stopped and picked up a tin of Crosman Destroyer EX pellets and a tin of Crosman Premium Hollow Point pellets. I still have the gun and I love it. Ammo DOES make a difference, a big one. From a supported position the Premium Hollow Points produce a 1 1/2" group at 20 yard and the Destroyer EX a 3" group. Also the Destroyer pellets are affected by the wind much more than the Premium Hollow Points. I now have a 5" steel flapper taget set up at 40 yards. Shooting from a table unsupported I can hit the target every time with the Premium and 9 out of 10 times with the Destroyer pellets. The rifle is a bit heavy and the break barrel action can wear you out, so it isn't for the wimpy. I also like the adjustable trigger pull feature. Out of the box it has a really long trigger pull. I have mine set to a very short pull. It makes for less time holding the crosshairs on the target. This is not a rifle for taking out a deer at 500 yards with a head shoot, so don't expect too much from the scope. But it is exellent for 30 to 50 yards and probably ok to about 75 yards (haven't had a chance to shoot at anything that far yet). The fixed sights are good but my 60 year old eyes do better with the scope.
Quality Gun, Terrible Sights
By Flex9050
2014-02-12 22:16:00
Got this rifle for pest and varmint control on the farm. Solidly built gun, definitely not a toy. The only complaint I have (so far) is the sights. Haven't installed the scope yet, so can't comment on that, but have been unable to sight in this gun. Shooting every shot about 8" low. Adjusting the sight for elevation had little to no effect. Windage adjustments were accurate, but could not adjust the elevation enough to get even close. Will install the scope tomorrow and see if it is the gun or the sight. It's a shame because this seems to be a really great rifle.
Optimus Zeroing
By Nolan
2013-11-07 17:53:30
Hello. i have this gun and i need help i cant zero it. i sit in my romm and shoot at targets at about 50 feet. i try using the 2 zeroing things and it has absolutly no accuracy and does the opposite of what i tell it to do. please help me i say up and it goes left? it makes no sense please anyone i need help i have to deal with these squirrels that are getting in my garage. please help me email me. nmwoolley15@aol.com i need help! any advice will be greatly appreciated it isnt doing great. im beggining to regret buying it if i turn the nob all the way up it still shoots low or to the right or something stupid like that. i reallt need the help please. thanks.

:D
By Anonymous
2013-08-11 17:21:33
great gun
awesome
By crosmanshooter
2013-08-05 13:15:50
I just got this gun and it is pretty accurate! I love it. It shoots nice, and the scope is not all that bad for what I use it for. I would rate it 4/5 stars because when I first got it, the barrel was VERY hard to break. It took two men to break it! Also, it has a long trigger pull. Other than all that it is a great rifle!

Nice air rifle
By UGB
2013-06-20 21:41:17
Accurate and powerful. I've not zeroed in the scope so I just took it off. The sites work great. It's not quite the quality of the Diana I had back in the 70's but I found this gun at a closeout in Kmart for $27.99! I really wasn't even in the market for the gun but I couldn't pass up the deal. Glad I jumped on it. I've had it for about 5 years now I guess. Works great.
Great Gun!
By Anonymous
2013-06-09 22:15:55
Just bought this today, stopped by the range to make sure it was sighted in and not too loud for my neighbors. I had the scope sighted in at 25 yards in 3 shots, not too loud either. Picked up some PBA pellets with it as well, so far everything shoots well through it. I would definitely recommend this gun to anyone looking to get an Air Rifle. I think I'm going to use this in the air rifle competitions we have in this area.
second crossman air rifle
By Billy Stout
2013-05-26 17:41:42
I love this rifle when there is ammo hoarders in this country and my wife cant shoot her marlin model 60 and I cant shoot my sr9 by GOD we can have a blast with this gem
optimus
By Anonymous
2013-05-20 22:03:24
great gun everything I hoped for
it is
:light
:durable
:accurate
:easy to break the barrel for young shooters
:perfect for bagging small game or just shooting

almost no airgun can shoot better than the optimus the only thing I did not like about the package was the scope it is notas good as I thought it would be
overall it is a great gun
Great gun
By Anonymous
2013-04-28 20:35:04
This is a great gun. It took about 150 shots to break the spring in completely, but after that I was continually hitting quarters at 20 yards, and 1 inch groups at 50. I have had to clean the gun after it has lost accuracy to return it to pinpoint shooting, but other than that it is phenomenal. Great for squirrel and pigeon hunting, I've even killed a possum. the only problem encountered was with the scope, which I was able to easily fix through warranty. Highly recommended for anyone.
Pros-
Stock and hard wood body
Accuracy
Durability
Fiber optic sight

Cons
Trigger
Constant cleaning required
Scope
Slightly heavy (7 pounds)
ONE SHOT,ONE KILL
By william robinson
2013-04-21 10:39:31
As of 4/20/13 officially declared war on Al-cottontail terrorist cell embedded in my backyard garden. Bought Optimus same day. Next morning neutralized cell leader with 1 head shot @ 23yrds. Very impressed with your product, ammo as well. Awesome rifle and scope
Accurate, powerful, and beautiful!
By MN Air Rifle Enthusiast
2013-01-12 18:44:08
I bought mine at Gander Mountain. The factory setup person must have put quite a bit of petroleum based oil in the compression chamber because after 250 shots it was still dieseling. It shot beautifully though, so I exchanged it for another one with hope that the dieseling issue was with that individual rifle. So far I've put 500 pellets through it and zero dieseling. I've been shooting pop cans between 75-100 yards easily with the plastic sights, so It's plenty accurate. The scope that comes with is well matched. Great buy!
What i hoped for
By An average joe
2012-11-26 19:50:20
i am 11 years old and shoot targets and try for the occasional bird and this gun is what they say. Only thing i would change is sound. otherwise is accurate and packs a punch. Gots a bit of recoil. May not be for a new shooter. Hope this helps.
Looks and sounds like a .22
By Sam Tucker
2012-10-17 18:39:48
This is a great pellet gun, and it's very acurate.
bird killing machine
By bird killer
2012-08-13 18:04:24
great gun one inch groups at 25 yards killed many birds in the last two days ive hade it
AWESOME GUN!!
By Anonymous
2012-07-29 21:18:42
I got this gun for Christmas and its great for groundhog hunting. I have shot 3 large groundhogs at 25 yards and killed all 3 of them with Crosman Hollow Points.
tight grouping
By Garrett
2012-06-16 22:52:36
Got my gun and dial in the scope at 20 yards. 3 shots was cutting holes. accurate as heck. BUY IT and you will be happy.
I love this gun!!
By Rodney Roach
2012-05-21 00:01:40
Got mine back in february at cabellas for 115 bucks. Extremely accurate. Second week i had it i got 4 squirles in one day in my back yard. One of em i shot with a beeman hollow point and it didnt even hit any organs, just the shockwave of the pellet goen through its shoulder killed it. The finnish on the stock chips real easy though.
Great gun
By Gomezgon
2012-05-14 21:53:24
I bought this gun 2 days ago and it is great, pretty accurrate, a little heavy to shoot standing, but great, the scope is perfect and it is just beautiful, this gun works for every purpose, I suggest you shoul buy it
Not precise enough to shoot sparrows
By Anonymous
2012-05-10 20:29:04
After reading all the positive reviews on this gun's tight groupings I bought one myself. The tightest groups I've been able to get at 25 yards is 5".
Best air rifle I ever shot.
By Anonymous
2012-04-12 21:07:34
Awsome little rifle. I didn't even bother with the scope in the box. It is accurate and dead on out of the box. NOT A TOY!!! Its more than able to take down small varmit with a well placed shot. Little louder than what thought it would be, it was like a .22 going off.
GREAT GUN
By Anonymous
2012-04-06 11:35:32
Very good for small game, BUY IT.
Impressive Gun
By Big Ragu
2012-03-25 21:52:26
I received this gun from a raffle and was thinking of selling it. Once I got it home and gave it a good looking over, my mind was changed. This is no daisy, it had real wood, a heavy feel and nice sights with a quality scope on it. Loaded it, fired and "POW!" as loud as a .22, has a little gut power to it and accurate. Played with the scope, set off a few other shots, all in the same spot as targeted. This gun seems to have the power to knock out some large pests, like it says it can. I was very impressed and think great piece, no toy, keeper as it's in the cabinet now. Recommend to those who need to stop varmints or for the teen shooter who is going to the next level.
this is the best pellet gun go and get one.....BUT....don't buy a daisy gun
By Matt
2011-12-26 10:44:19
I like this gun it has power and it can take down a Squirrels, Rabbits, Rats, Crows, Pigeons if you want to get a good gun hear it is. I hunt squirrels,pigeons,rabbits
Great airgun!
By George
2011-12-19 21:40:41
I bought it a few days ago and it made me get impressed! before, i had a chineese airgun and it was really awful, so i didnt think the airrifles ay be good, but when i used this one i changed what i thought. Its powerful, strong, precise and it looks really cute! I live in Chile (South America). I never thought i could buy one of these here. (It was as much as $280 in my country, but generally you find guns like this at $500)
Another Crosman Great!
By Anonymous
2011-12-18 20:59:57
Just bought it today, went home took it out of the box and fired five shots with open sights and no adjustments. Two inch groups at 35 yards, shoots just as good as my brothers $300 Gamo!
Best small game/target shooting gun ever
By crosmansniper99
2011-12-06 17:18:41
I got this gun last weekend for$99.99 with the scope and i was really accurate with the scope and without it. I have already used it squirrel hunting and took 6 squirrels and they all died instantly with headshots. I am 12 and even though this is an adult air rifle i wanted a nice small game hunting gun. The gun is hardwood and the scope is really accurate.i was shooting groups at 50 yards with the scope and with out it. I highly reccommend this gun to anyone who wants to hunt small game and target shoot for fun. GREAT GUN!!!
Decent reliable and simply amazing
By Peter
2011-12-01 02:11:10
I got this for a steal of 80 dollars and I couldn't be happier. it's louder then what i'm used to but I knew it would be, the look and feel of it is just right, as for accuracy I haven't had a chance to try that yet. But out of the box i'm already impressed.
Awesome air rifle
By Anonymous
2011-11-21 22:22:34
Just returned another air rifle and bought this one. What a difference. Great grouping of shots. Just took 5 shots at 50 feet and was just slightly below bullseye everytime.. Once I dial in the scope this gun should be accurate everytime.
impressed
By goose08
2011-10-08 15:31:27
out of the box 5 shots 2inch groups at 25yds open sights, nice gun
AWESOME BB GUN!!!!!
By OPTIMUS
2011-09-22 17:06:07
Just purchased this rifle. This is an adult air rifle. Sounds like a 22 cal going off. Should have no
problem taking small game with this rifle. Easy to cock barrel, and scope is great! Be safe
and have fun.
great pellet gun
By camo
2011-09-01 20:48:38
I got this gun from canadain tire 3 days ago and it works great. I took it down to my grandparents house to shoot it and its so accruate. We were shooting it about 30 feet away and I was almost hitting the bullseye each time. The barrel is pretty easy to break down, when you first get the gun out of the box its hard to break it but once you break it down enough it will be easier. The gun is pretty heavey but not really really heavey. The scope that comes with it is an amazing.The gun body is wood, the barrel is metal and the butt stock is rubber. If your looking for a nice target or small game gun this is the gun for you.
IMPORTANT PLEASE READ
There are a few ways to download files to your computer. Right-click the item and select "Save As..." or you could open the link and save the document from there. All owner's manuals (OMs) and exploded view of parts diagrams (EVPs) are in a PDF format. You will need Adobe Acrobat Reader installed on your computer to open the file. If you do not have this program you can download it for free at:
http://get.adobe.com/reader/
High resolution (
High Rez
) media center files are in a variety of formats such as .TIF, .PSD, .EPS, .AI, etc. and typically require an additional program to open. Low resolution (
Low Rez
) files are in .GIF or .JPG format and should open in your web browser.