Optimus with Scope (.22)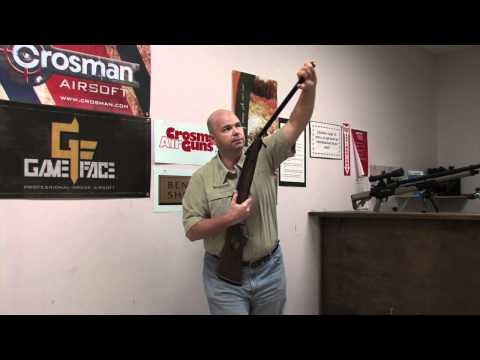 Overview
Ratings / Reviews
Downloads (Photos, Manual & EVP)
The NEW Optimus break barrel is both powerful and elegant. It features a handsome, ambidextrous hardwood stock. With a relatively light cocking force and a two-stage adjustable trigger the Optimus is built to get the job done with velocities of up to 950 fps with alloy pellets. The barrel incorporates a micro-adjustable rear sight and fiber optic front sight. If choosing the model with optics, you'll find a CenterPoint®, 4x32mm precision scope.
NOT A TOY. THIS AIRGUN IS RECOMMENDED FOR ADULT USE ONLY. MISUSE OR CARELESS USE MAY RESULT IN SERIOUS INJURY OR DEATH. BE CAREFUL, SHOOT SAFELY.
Primary Use
Specifications Overview

Model Number

CO8M22X

Pellet Velocity

Up to 800 fps

Alloy Pellet Velocity

Up to 950 fps

Weight

7.125 lbs

Length

45 in

Mechanism

Break Barrel

Power Source

Spring

Caliber

.22

Ammunition

Pellets

Capacity

Single Shot

Barrel

Rifled

Front Sight

Fiber Optic

Rear Sight

Fully Adjustable

Optics Rail

3/8" Dovetail

Optics

4x32mm

Safety

Lever

Stock

Hardwood
Optimus with Scope (.22)
Customer Reviews
My first air rifle.
By Ben
2014-09-20 16:13:38
A brilliant first air rifle, And a great bit of kit!
great all round gun
By ferret
2014-09-02 17:17:42
Wanted an all round gun and i think i have found it in this one the crosman optimus .22, great gun and price, after less than a dozen practice shots out of the box was hitting within 1 inch of center target regular at 15 yds and that was without scope took about 20 or so shots to zero in the scope that's is included in the price then was hitting center regular with about 1/2 inch spread at 20yds, plenty of power to kill small pests my shots went straight through a 5" thick bale of hay my target was on and on through a 1/4 inch timber behind that, and reasonably quiet with hardly any recoil compared to other guns i have had in the past, cant go wrong at this price for an all round gun for target shooting or rabbits and rodents
GREAT RIFLE
By JAP.74
2014-08-04 00:10:40
GOOD RIFLE FOR SMALL HUNTING..
Very nice work
By Anonymous
2014-06-22 00:39:05
I shot 150 ~ 200 of various pellets and found the Pointed HP 14.2g are very good with this one. 3/4" groups at 20 yards, 700 fps average roughly, chronograph a few at 725 but still not broke in. So far a great value as was on sale for $50.00 WOW what a buy!! Should turn out to be the best buy yet. Anyway at the regular price ($125 range) is still a good value, nice wood, locks up nicely, accuracy is good so far, it should get slightly better after 400~500 cycles.
I have several others in 22 and this one is nicely done and as I said... dang what a value WOW!


Solid, no frills rifle
By Anonymous
2014-05-18 18:25:02
Excellent beginner rifle (as was the case for me) with decent accuracy. Shot my first varmints today at 15 meters or so, clean shots that immediately dropped each chipmunk even though they weren't head shots. Great for pest control and fun to shoot!
Great simple beginner rifle
By Moneyrules
2013-10-01 21:45:59
I bought this rifle for back yard plinking, I don't know much about airguns and maintenance so I stuck with a .22 breakbarrel that was cheap. At first, the rifle is hard to cock, the spread was a little high, and the recoil was pretty strong for a air rifle. Over a few months I got pretty good with it and I can hit cans at 25 to 30 meters easily. I plan on going to some places where I can take longer range shots. Overall, it is a great rifle for teaching new shooters the basics, and provides a good learning curve to make sure you get the basic skills in like the artillery hold first. I recommend starting out with the open sights first for learning how to get good breath control first.
Crosman Optimus .22 & 4x32 center point scope
By cuddas
2013-03-30 20:53:26
My First Air Rifle too, Great value for money & Very happy with it
Very Acurite out of the box & good power too, I'm getting 711-726fps & 17.3 -25.6 ft/lb with various pellets
Awsome
By Anonymous
2012-08-28 15:31:13
My first air rifle was the Optimus .177 at 495 fps because I live in Canada. I have a 3-7x20 scope and got a mocking bird that was realy annoying in right in the face. I would love to try the 950 fps in .22
crosman optimas .22 cal
By dingus dave
2012-04-13 22:31:03
I love it good gun and great value for the price
my first air rifle to teach respect for guns
By jose buxo
2011-12-31 13:23:46
my first air rifle, which buy to teach my 8 year old son to shoot and respect guns .. I am very satisfied with product quality and performance
Optimus with Scope (.22)
By the fear
2011-11-17 15:26:36
first air rifle owned.
easy set up
well built
excellent fun and accurate to use
didn't want to spend big initially and this is excellent value for $$$
Good First Choice
By Barry Ellershaw
2011-10-10 13:13:24
This is the first air rifle I have ever owned, I bought it as a hobby now that I have retired and I am very pleased with its performance. A bit of a fiddle to zero it in but that could have been me. I had to re-enforce the padding in my home made target when it took out the back of the box at 25 yards.
Great Power
By Manuel Colon
2011-10-01 19:55:47
Excellent rifle and pretty accurate!
IMPORTANT PLEASE READ
There are a few ways to download files to your computer. Right-click the item and select "Save As..." or you could open the link and save the document from there. All owner's manuals (OMs) and exploded view of parts diagrams (EVPs) are in a PDF format. You will need Adobe Acrobat Reader installed on your computer to open the file. If you do not have this program you can download it for free at:
http://get.adobe.com/reader/
High resolution (
High Rez
) media center files are in a variety of formats such as .TIF, .PSD, .EPS, .AI, etc. and typically require an additional program to open. Low resolution (
Low Rez
) files are in .GIF or .JPG format and should open in your web browser.