Phantom 1000 Rifle (.177)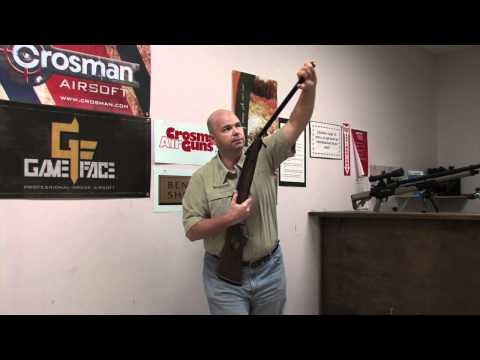 Overview
Accessories
Ratings / Reviews
Downloads (Photos, Manual & EVP)
The Crosman Phantom is a powerful new rifle with an innovative body style, tailored to the break barrel user. It is the first of a new generation of break barrel designs, featuring sleek, clean and defined lines and all-weather, synthetic stock and forearm. It features a checkered grip and forearm and incredible break barrel power at a velocity of up to 1,000 feet per second. The Phantom also features a rifled steel barrel, a fiber optic front sight and micro-adjustable fiber optic sight. In addition, the Phantom's two-stage adjustable trigger allows each shooter to customize the trigger pull to accommodate personal shooting preference.
NOT A TOY. THIS AIRGUN IS RECOMMENDED FOR ADULT USE ONLY. MISUSE OR CARELESS USE MAY RESULT IN SERIOUS INJURY OR DEATH. BE CAREFUL, SHOOT SAFELY.
Primary Use
Specifications Overview

Model Number

CS1K77

Pellet Velocity

Up to 1000 fps

Alloy Pellet Velocity

Up to 1200 fps

Weight

6.1 lbs

Length

44.5 in

Mechanism

Break barrel

Power Source

Spring

Caliber

.177

Ammunition

Pellets

Capacity

Single Shot

Barrel

Rifled Steel

Front Sight

Fiber Optic

Rear Sight

Fully Adjustable

Optics Rail

3/8" Dovetail

Safety

Lever

Stock

Synthetic

Color

Black
Phantom 1000 Rifle (.177)
Customer Reviews
Chipmunk slayer/tackdriver
By Anonymous
2014-10-31 09:15:20
I have owned this gun for a few years now and it is awesome. I have killed many chipmunks with it. I love It. At about 15 yards, using crosman destoyer ex pellets, I can drive a name. I have taken it squirrel hunting and it gets the job done. People complain about the trigger but after shooting it thousands of times, you get used to it. I have equipped it with a tasco 3-9-40. The scope works great but sits to low and can see the front sight, and can not get the scope caps on. I highly recommend this gun to anybody wanting to start air gunning.
Great rifle
By Darrell
2014-09-26 07:19:39
I bought mine at a pawn shop for $35 and I don't think it was even broke in. I use it for tree rats and garden hoppers aka squirrels and rabbits. At 80 ft. it will drop a tree rat with one shot. I have a cheap Crosman scope 3x7 zoom and it does not move or change its aim point at all. Worth the money new I believe it is a good all round plinking and small varmint rifle.
love it
By Anonymous
2014-07-12 15:24:02
I had a old pellet gun , the pellets bounced off of squirrel then I got the gun and the only problems I had with it the scope was off or I missed but that was it if u get the gun I believe the Manuel said to only use crossmen pellets but I don't I use redfire it improves fps and accuracy and I use a center point scope with 3 notches for wind and zeroing it, in and I probably shouldn't have this gun at age 13 or drink coffee but so fare the gun hase been the best gun Iv ever had and I would highly recommend this gun and the pellets and scope
bad gun to site in
By Dennis Grange
2014-06-20 18:04:30
I purchase this gun last year and I can't get it to site in no matter what sited or scope I used or pellets 4 to 6 inch from center of target.
Great Gun
By Graham
2014-03-17 22:23:35
I've had this gun for about two years, shot tens of thousands of pellets through it, and it still shoots extremely accurately and powerfully! It has enough power to crush right through a raccoon's skull. I've taken pretty long shots (up to 60 yards) with the open sights, and can still shot accurately enough to kill a house sparrow! I've found that mine shoots best with Crosman Destroyer pellets. Don't buy the version with a scope. The scope that comes with it can't hold up to the vibrations of the gun. The scope becomes off after about five shots. If you want a scope, purchase a higher quality one.
bad a$$ rifle
By mitch
2014-03-06 10:14:52
had it for 5 year still shoots like a champ ,,,
I so want to like this gun
By 67Ragtop
2014-02-01 20:59:55
but it ain't getting there. I've got over three hundred pellets through it and still haven't gotten it sighted in. This is with different pellets also. I just bought a bench rest to see if that will help. I don't think it is me, i think I might need to send this in to be checked out. I bought a Benjamin since getting this and don't seem to be having as much trouble getting it to hit consistently.

I was wearing out cans at thirty yards with a 1377 and 1322 but only occasionally hitting one with the Phantom. the 13 series was with iron sights and the Phantom was both iron and with a scope. Hopefully it will settle down on the rest. If not I reckon it will get shipped to Crosman to be checked. Hopefully the weather will be better tommorrow and I can try some more.

I recommended this because others don't seem to have the problems I'm having. Any body want to trade for a NP2 rifle???????
Great gun!!
By Anonymous
2013-12-10 16:05:07
Great so far. Nice design and easy to sight in. Kills squirrels and rabbits really good.
Awesome air gun
By Bandit
2013-12-08 22:54:17
This is a great gun. My cousin has a GAMO and it easily out shoots it. I have found that it is very accurate with a tasco 3x9x40 scope and a good set of rings. I have killed squirrels birds and turtles with this gun. I use Crossman premier hollow point pellets.

Things I like:
*synthetic stock
*accurate
*fiber optic sites

Things I don't like:
*barrel rust easily
*trigger weight and smoothness
*safety in trigger gaurd
not bad at all
By JDS
2013-12-04 21:57:10
I bought this rifle on clearance. It came with a 4X scope with rings. I never could obtain a true zero even after using the set screw. I zeroed the open sights. Wow. I would recommend this to a friend, but to scope it, check the internet.
not bad at all
By JDS
2013-12-04 21:57:10
I bought this rifle on clearance. It came with a 4X scope with rings. I never could obtain a true zero even after using the set screw. I zeroed the open sights. Wow. I would recommend this to a friend, but to scope it, check the internet.
cheap but well built and powerful
By smallgamehunter
2013-11-16 18:58:34
I have now had my phantom for about 1 year and it works great. I had a scope on it but, it was less accurate for some reason. I think the scope was broken. anyway, I took it off the rifle and I got dime sized groups at 15-20 yards. I shot a squirrel this afternoon and it went all the way through. It was a body shot behind the arm and it died instantly. It created a medium sized wound channel through the heart. another squirrel was shot in between the shoulder and it came out the chest. I mainly got this for pest control for squirrels on our bird feeder. one day I shot 4 squirrels in 20 minutes. It seems to work the best with Crosman premium hollowpoints(7.9 grain). I FIND IT STRANGE THAT the artillery hold doesn't help a lot on this rifle. I just hold it normally. THIS AIR RIFLE IS NOT A TOY, IT HAS ENOUGH POWER TO KILL SOMEONE, SO BE SAFE. this gun has ben proven for pest control and small game hunting. crosman has came out with the new FURY NP, its the same as the phantom except the fury has a nitro piston.
great gun
By small game hunter
2013-08-11 23:43:30
I absolutely love this gun, I have been shooting hundreds of squirrels with this rifle. It is a great gun for young squirrel and rabbit hunters. A great gun overall and the iron sights are very accurate. the gun is berry durable, I have dropped it many many times and it is still my favorite pellet gun I have ever had.
its got the power and is great for small game
By Anonymous
2013-07-09 13:18:18
it works best with the premier ultra mag pellets(10.5grain) and the premier hollow points(7.9grain). a lot of people think you need high fps, but you want something with knockdown power like the mag pellets. the ssp pellets are so light weight they wont kill a squirell right away. stick with the heavy pellets.
Nice but slightly off
By NightHawk
2013-07-09 00:52:02
I purchased the Phantom .177 air rifle without the scope. I haven't shot an air rifle for years and thought it would be fun and save the cost of ammo at the same time. When I first began shooting I couldn't understand why I was missing my target (.22 steel spinner target) that I find so easy to hit with my .22 rifle. I set up my 2x2 target stand at 100 feet to zero in the "iron" sights and very quickly got the elevation with the rounds hitting about 11 inches to the right. To bring it in I had to move my rear sight almost all the way. What's going on? Closer examination resulted in my finding that the front sight is not aligned with the rear sight center line. The front sight is rotated to the left and appears to be perhaps 3 or 4 degrees off. I am getting groups around 5 inches with these sights so far but I have only spent about 30 minutes with the rifle. I give this rifle 4 stars because the stock is very good with a nice rubberized but plate. This rifle feels solid and seems to shoot hard. I may have to scope this but I really don't want to. I have scopes on my "real" rifles and I want to keep it simple. Final thoughts: This entry level air rifle is fun. Don't expect much from the iron sights. Someone or some automated machine that affixed the front sight must have been having a bad day as the sights should be in alignment.
very good gun (.22)
By kyle
2013-06-03 13:16:09
I have the .22 model and I must say it is excellent....killed a squirrel from about 50 yards no scope. with a hollow point. that's right hollow point 50 yards away in one side out the other im 13 and got 5 squirrels with the hollow points. this gun is very durable. only downside is the plastic sights. but its very easy to sight up.....at first its hard to break but after a few times it gets easier. the safety on this gun is good but its very close to the trigger so be careful what you do. im currently using the pointed pellets and I don't care for them. the hollow points are better... but this gun is totally worth the money... it weighs about 6 pounds and is probly 3 to 4 feet long. but I love this gun and its totally worth the price..!
Pretty good, just not for really frequent use
By Anonymous
2013-05-31 23:08:51
This is a very powerful and reasonably accurate rifle. I believe it averages about 14 or 15 ft/lbs at the muzzle. This rifle has the power to kill stuff like squirrels and rabbits. My gun hated the destroyer ex pellets and the crosman wadcutter pellets. The Crosman pointed pellets worked good at close range, but the RWS superdomes and Crosman priemer hollow points worked the best. I could get groups good enough to hunt with consistently up to about 20 or 25 yards. Those groups were about 1 inch to an inch and a quarter. 10 and 15 yard groups were about 3/4 inches. I was using the artillery hold. I got 109 kills total with this gun, that was 22 squirrels and the rest mostly pest birds (stuff like starlings) I did one time get a one shot kill on a pest bird at 50 yards with open sights. I wouldn't reccomend that though because that is greatly risking just wounding it. But it did put a hollow point pellet right through one at around 50 yards. I had a Leapers/UTG 4X32 scope on it, but I couldn't get it to hold a zero for anything. After 10 months and about 3,000 pellets through it, it did break. I bought a Benjamin 392 so the scope would hold and the much bigger .22 caliber would allow for less worries on shot placement. But, for someone who wants to do some pest control for not too much money, this is pretty unbeatable.
good job, Crosman!
By VTOperator
2013-05-10 15:03:35
Anyone with accuracy problems: Buy a UTG low profile dovetail to weaver rail adapter!!! This gun is EXTREMELY accurate at long ranges (Crosman destroyer pellets, Centerpoint 3-9x50mm R/G illuminated scope) and do they pack a punch! Killed a grey squirrel at 70 (no typo) yards w/ heart and lungs shot w/ exit wound. Why would I take such a long shot? Because once sighted correctly (you NEED a rail adapter) I have had consistent 1.5 inch groupings at these distances. I also own a Gamo Whisper... that hasn't been touched by me since I started using the phantom.
PS: If you are using supersonic ammo, DONT COMPLAIN ABOUT ACCURACY OR SOUND.
poor rear sight, zero accuracy
By ALAN
2013-04-01 23:27:48
I bought this gun hoping to increase power while retaining the accuracy of my Remington 77 ( crossman). I was disappointed with the cheap plastic rear sights. I was additionally disappointed with the innability to zero this rear sight. I foolishly purchased a scope in hopes that I could compansate the accuracy problem. I found out the hard way that break barrel rifles and scopes don't compliment each other. Don't spend your money on this gun if your concerned about accuracy.
From plinking, to varment hunting
By Ben
2013-03-31 00:38:27
I got this in january and just got it sighted in when it got warmer, and lt me tell you... This rifle is amazing. I use it for killing and eating squirrels and rabbits and this things is extremely accurate. I tried pointed, dome, destroyer, hollow point, and flat headed and hollow point and domed work the best for just devastating anything in your way. This can shoot a quarter sized group at 25 M for even a beginner shooter. My only complaint is that the barrel diesels at first so your shots will be all over the place before you put at least 110 rounds through it. Buy this gun. There is a lot of bang for your buck here (it really is loud) and it goes along well with the 357 revolver if u need to finish something off.
very good, penny sized group at 50 yards
By Anonymous
2013-03-30 13:43:51
shot 5 squirrels in one day, all with Crossman destroyers, I recommend pointed.
Phantom gets the job done...
By Pete
2013-02-20 11:21:14
I purchased this air gun to rid my yard of pesky crows, squirrels and chipmunks. I am not a hunter, but the features and power at this price point was pretty impressive. If you're new to air guns, you can't go wrong with this one.

Pros: Consistently powerful, iron sights on the gun are pretty easy to use and calibrate, solid construction.
Cons: Outside barrel rusts easily from sweat, The sight at the mussel is too high for a scope to have a clear field of view... It's visible in the scope cross hairs. I wish I could remove it.

FYI: As for .177 pellets, I highly recommend the PREMIUM crossman pellets in hollow point to start. This pellet/gun combination works very nicely together. The target grouping at 50 feet are very consistent and tight. I've tried all the others by Daisy and they are garbage. These pellets are unstable and leave the barrel spinning out of control. At first I thought it was the rifle until I did some research. Don't cheap out on the pellet.
phantom 1000 rifle (.177)
By big A williams
2013-02-07 15:50:31
I JUST PURCHASED THIS GUN JUST A WEEK AGO I LOVE IT IT IS VERY POWERFUL
awsome gun
By Bandit
2013-01-27 19:20:57
love it deffently recomend it to any one.

Things i like.
*acurate
*kills anything from birds to turtles with one shot
*syntheic stock

Things I don't like
*barel rusts easily

This gun is the best gun i have ever shot out shoots my cousins GAMO and my freinds Bengiman Grizzly
AWESOME
By AJ
2013-01-16 23:31:17
I bought this gun over the summer. LOVE this gun, I can hit targets about 50 yards with ease!!
Dead On
By BenB
2013-01-12 15:19:14
I got 1 about a year ago, and it's wonderful. And it's even better now after i did a trigger job, and put a scope on it. I can nail a small pescky bird in the head, from 40 yards away.
Buy it now if you havn't already.
crosman phantom
By squirrel hunter
2012-11-25 19:04:59
Great gun! works very well. Its worth it
Crosman phantom
By Anonymous
2012-11-23 19:07:49
Great Gun very accurate
pretty good
By oldfart
2012-11-23 14:33:34
I have had this rifle for 2 years now. I have shot many pellets. It used to be pretty loud but that quiets down after shooting it for awhile.

What i like
Accurate. It is a nice accurate rifle. The fibre optic sights are very easy to see even in low light. The sights are adjustable. Stock seems durable. Trigger is adjustable. 3/8 mount for a scope.

What i don't like.
Just like most barrels they rust if not oiled. I have rust on mine. He rear sight is adjusted by plastic dials and the whole thing is plastic. Even touch it and it won't stay set. A scope or supermarket one is a must. The trigger is tight but very hard. I know it is adjustable but even when set in the lowest setting it does affect your shooting.

I recommend it for sure. It is a strong rifle but could be improved.
Very nice gun
By Anonymous
2012-11-10 13:27:30
I just don't understand why on its main page it says it's only suitable for target shooting. It'll easily kill starlings, squirrels, and such. I'd say it would take out a coon with a headshot pretty consistently, I haven't shot a coon though. At 15 yards using a destroyer ex pellet, it'll tear through an inch thick board like nothing. So, be careful with it. For the price, you can't beat the quality or power of this gun.
crap
By forevrbrkn
2012-11-09 12:34:29
Bought this gun a few weeks back and horribly regret the purchase. It is so inconstant even at 25 yards no matter the ammo or scope.. Junk, dont waste your money
Best pellet gun. Friend has same one.
By Chris
2012-08-29 21:11:54
I have owned this gun for 3 years now, Since then when I first shot it, was amazing. Iv been shooting airsoft and BB guns for along time now, when I saved up some money for it, I bought everything I needed for it. I got the 3 out of 4 of the differnt ammo crossman have. First I shot a high velocity and my dad said wow it sounds like a real gun.

Anyways, Its a VERY durable rifle, the only thing is, make sure you know where the safety is.. haha. I was able to shoot from 300 feet or so and hit a can of pop after sighting it in. I tryed hunting little rodents around the property, you have to use the pointed pellets that are lead to make sure you go through the critter. Took me 5 shots to sight in the gun. Now im able to judge at what range to adjust the sight for differnt ranged
Good for a Begginer
By Anonymous
2012-08-25 16:19:26
I had bought this gun several months ago and used it frequently everyday for a few weeks and shot atleast 800 to 900 pellets and then i gave it a months rest and came back to it and on the third shot the gun discharged before the trigger was pulled sending a pellet flying off into god knows where. This also broke the gun and would no longer lock the spring back so i had to send it back to crosman for a replacement. Thankfully i was shipped a brand new one before too long and i have shot only a few hundred through but have had no issues yet. I have since then bought a much nicer PCP air rifle and from what i read im willing to bet that spending maybe $50 dollars more you could get a far better and much more reliable break barrel rifle than the Crosman Phantom. But for a begginers gun or somebody who isnt looking for anything more than just shooting some cans then this could very likely be a good choice.
GREAT RIFLE
By small game sportsman
2012-08-01 15:11:45
This is a fantastic rifle. I have taken down countless squirrels, multiple crows and more with this gun. With a good shot, you only need one try to get a kill even with the small calibre. And this is about the minimum price for a good pellet gun.
GREAT RIFLE!!!!!!!!!!!!!!!!!!!!!!!!!!!!!!!!
By squirrelboy
2012-07-09 11:26:53
For the price you can not go wrong. Powerful and sleek! I am looking forward to going hunting with it. We have got a pesky groundhog that is not going to be a pest much longer. BUY NOW!!!!!!!!!!!!!!!!!!!!!!!!!!!!!!!!!
real review
By chris K.
2012-07-06 19:42:06
ok i am 14 and i am not lying i am being truthful i use it to shoot offhand 30 yards at arizona sweet tea cans (i drink them a lot) and they are the perfect size of a squirrel anyways i can hit the can about 5 outa 7 times at 30 yards but 25 and less its dead on i dont use a scope i dont think i need for THIS pellet gun i am really knowledgeable about pellet guns and i dont think its worth puting it on 4 days ago i shot a squirrel off hand at 20 yards and hit it in the thighs and i ran twords it and got it out of its mysery and i now have a pelt(i love making them ) but yea i use crosman premier pellets and they are extremely accurate and i mean they are really accurate have the destroyers but i prefer the premiers. also althouth it has an all weather stock the barrel and all is only semi water proof you will get some light rust all over if you leave the water on but all and all its a great rifle
Crosman Phantom
By Anonymous
2012-06-12 14:28:55
This is a great gun i love it. It is very accurate and powerful. It is also affordable. The say it is for pest control but you can also do small game hunting with it for squirrels and rabbits. It will take about one shot to kill a bird and about two shots for a rabbit or squirrel.
Good rifle
By Buckshot
2012-04-28 13:16:31
Good gun. Heavy, loud, accurate, everything a teenager wants. I can peg anything from cans t rabbit sculls up to 75 feet, still accurate, and kills in one shot. Perfect starting rifle, and good once you get more advanced to.
Best Gun Ever!!!!!
By Anonymous
2012-04-22 18:51:11
I bought this gun when i wanted something with more of a kick, and this one really is a great gun for it's money. Also the destroyer pellets are awesome with this gun! I really like it and have even took it to the rage a couple of times and people were surprised at how powerful and accurate it is for a pellet gun that only cost about 100 bucks!
A-W-E-S-O-M-E.... BUY IT NOW !!!!!!!!!
By Anonymous
2012-03-10 09:56:57
The coment said it...
AMAZING
By Hade
2012-03-08 18:54:30
It's accurate, powerful, and looks good. It's everything you'll need in a gun. Just know that the first hundred shots or so won't be as accurate as it should. After that, it's dead on.
amazing Phantom
By Connor McLain
2012-02-15 10:17:39
Great Air Rifle!!!!!!!
By Chad Westover
2012-02-08 21:04:41
This air rifle is a very good and very powerful air rifle, but the only downside to it is the trigger. I don't really like two stage triggers, but on the back of the trigger there is an adjustment, which I still didn't really like even after it was adjusted. I ended up buying a new cbr trigger off of charliedatuna.com, and it works great, although the spring that comes with it is too light and I just put the new trigger on and put the old spring back on. Works great now!!!!!!!!!!!
The review
By Jeremiah
2012-01-26 17:37:28
1-This gun is flat out AWESOME!!! With quality pellets such as the crosman premier hollowpints I can get 1-2'' groups up to 90 yards. Add some accessories and this gun cant be beaten.
best gun
By ALEX the HuNtEr
2012-01-25 16:14:17
best gun ever put nice scope and u have a real gun. best ammo to use is the crosman pointed pellets. Best gun ever. I used to have that 760 pumpmaster. this is awesome
rem phantom
By ziggy in sj
2012-01-05 19:09:50
gun accurate sturdy, and very hansome. Loads of power love it! This gun really has a good feel to it and doesnt break your wallet.
Great beginer gun for the price.
By Jacob
2012-01-04 22:22:33
The first shot was LOUD it blow my ear drum out! but after about hundred shots it got a lot quiter. I hate the front site because it popes out of place and you loss a lot of accuracy. I got a bird and there was a 1" exit hole with guts on the ground!
AWESOME!!!
By Anonymous
2011-12-30 18:38:25
I got this gun when i wanted something with a kick...and it was a really good price for the quality of the gun!
great gun
By Anonymous
2011-12-23 00:47:53
i got this gun a few years ago and i have killed many grey squirrels with it. i use the pda pellets and the gun shoots 1200fps i can snipe birds and squirrels from 35- 50 yards .
Sticking With It
By Anonymous
2011-11-13 20:39:32
I just started the Pellet Gun collecting hobby and d*mn, this is a good rifle. This thing will last at least 20 years if not more. This rifle is amazing, and It's a steal for the price. A little more at my store, about 40$ more, but still, absolutely amazing. Buying a scope soon and I am so set. Keeping this baby for a long time. Solid 10 out of 10.
Great Gun!
By Shortyboy15
2011-11-10 19:35:38
This gun is great! I had heard that the sights were useless but I beg to differ, they work fine. I am buying some scope mounts to mount a scope on this gun, it is far more than capable of what you can do with open sights. If you are interested in buying a break barrel rifle and don't want to spend much, look no further.
best bang for your buck
By andyboy
2011-11-04 13:08:04
After my first shot was surprised on the power and the smoke off the barrel , so I checked my target set up witch is 3/4 inc pine ply wood and it was not enough to stop it from going all the way through so had to double it up. What a great gun! Vary vary accurate and comfortable . Have a squirrel problem in my back yard and they eat every bulb of any flower, fruit,pepper it don't matter seams like i was in a losin battle until I got the phantom. Took my first squirrel out at about 60 feet call it luck if you want one shot one kill. Now I feel I can take my yard back ! thanks crossman for making a great gun so affordable , I recommend this gun to anyone the best bang for your buck.
phantom out of the box
By MR1000FPS
2011-10-10 00:30:46
well after reading hundreds of reviews and watching videos i decided to get the phantom. my first gun was the 760 pump master,then got the american classic pump pistol (awsome also)...then the sheridan 8 pump rifle, next the sheridan pump pistol......now this was all back in the 80s when i was a teen..im 40 now...got a 8 yr old son and im taken him hunting this year.....anyway....i just got the phantom today,october 9 2011..local walmart, no scope, it was 94 bucks total..great buy for a 1000 fps gun,.....the phantom rite out of the box with the fixed sites at 30 yards ,with destroyer pellets, took me 10 shots to get it sited in on a bulls eye the size of a half dollar....now i know it will get way better in time cause this beauty is nowhere close to being broken in yet....gun seems to have great power...its not really loud with the lead either, cause my neighbors didnt call the cops lol...by christmas time i will have the 150 dollar scope on it though..for those long shots !!!....i love that the gun is super sturdy and made very well, and feels great,,, CROSMAN NEEDS TO GET RID OF THE HORRIBLE REAR PLASTIC SITE THOUGH!!!!!!!.....cant wait to go small game hunting with this gun on friday!
Phantom 1000 Really Likes the Destroyer Pellets
By Joe Dz
2011-10-08 16:28:19
This review is in addition to my earlier review. I decided to really see how the Phantom 1000 worked with five different pellet types. The setup was a standard 25 ft air pistol paper target placed onto a Champion .22 rimfire LR rated bullet trap at a distance measured at 20 yards. The firing position was seated in a chair, using a normal forearm hold (fingers on the stock screws) resting my elbow on my knee taking 6-10 shot groups. I had been using the Crosman 7.9g Destroyer anyway, so I started with those and sighted-in the Phantom. Here are the results using the Crosman Destroyer sight settings (i.e. not resighting for the different pellets):
- Crosman Destroyer 7.9g: 5 of 6 shots in the black, 3 dead center, One outlier and the rest in a tight 1 inch group.
- Crosman Pointed 7.4g: 2 of 6 in the black, the rest scattered around in a 4" group.
- Beeman Kodiak Heavy 10.2g: A 1.5 inch 10 shot group located 2.5 inches at 10 o'clock.
- RWS Superdome 8.3g: A 6 shot group 1" left of center 1.3 inches in diameter.
- RWS Meisterkuglen 8.2g: A 10 shot group 2.5 inches from the center at 10 o'clock 1.5 inches wide.
My conclusions: The Phantom 1000 really likes the Crosman 7.9g Destroyers - tight groups and very accurate. If you were to pick one pellet to use, use this one.
The Crosman Pointed 7.4 g had a wide spread - not that accurate in the Phantom.
The Beeman Kodiak had a wider grouping that the Destroyers, but most of the shots would have need in the black if I had resighted the gun for these pellets.
The RWS Superdomes would have hit 4 of 6 into the black if I had decided to resight the gun for these pellets.
Most of the RWS Meisterkuglen 8.2g pellets would have been in the black if I had decided to resight the gun with these pellets.
In summary - you can't go wrong with the Crosman Destroyers with the Phantom - very, very accurate and tight groups, however, if one decides to use other pellets like the Beeman Kodiak Heavies, one just needs to resight the gun for these pellets and the groups will be a little wider or change your sighting to compensate..
Note: The 7g-8g pellets made a metal spalt sound when hitting the Champion bullet trap. The 10.2g Bemans actually hit so hard that they started to make the trap's metal ring like a bell.
squrrielbegone
By Anonymous
2011-09-16 17:15:21
just purchased it today ...out of the box fun!!!!!!........got the destroyer xr pellets to use wow this thing went through wood at 20 yards with no problem! great rifle for the money!
bye bye bears
By Anonymous
2011-09-05 17:58:39
Had a pesky bear family digging in my garbage and one shot to their butts will make thwm never come back-i kind of feel bad though because one started squeeling really loudly.
.
.
BEST GUN EVER!!!
Its getting better. Has a KICK on it!! In a GOOD way;)
By Anonymous
2011-08-29 21:19:14
I like the way SMOKE comes out after a pellets is shot. And when I heard the sound barrier break! This is going over 1100 FPS easy with Crossman .177 Hunting pointed pellets.
I think it deserves a SERIAL NUMBER to go with it. Its really a life size air gun.Weights a little for a tired arm. You have to BREAK BARREL to cock so in time it will get tired or stronger! I like the way it gets on your hands. I like the SOFT rubber material of the butt. Easy to clean and it will stand a hard rain. I went thru one a coup[le of days ago and it was easy to clean. Three nuts and off with the stock and can oil and clean accordingly. Offcourse is better to kkep it dry but this is a gun for hunting. Can take rabits at 25 YRDS with a proper shot. It is a great PEST CONTROL rifle. Aiming is easy in bright light due to the optic fiber inserts. So far , so good. Now offer us a WOOD STOCK to make our Phantom look great! We can get the other goodies as long as they are 3/8" base.Scope, laser, red sight, and a lot of pellets to chosse from. Go with Crosman, Can't loose! Another keeper guys. Thanks!
Heavy Duty gun! At first glance.
By Papun
2011-08-26 21:33:46
Got my new airgun. Phantom .177 cal. Took a look at the clam shell package and saw a nice looking rifle. Time to break the package and see what we have! There's plastic in it too. Thed front sight looks great with the green fiber optic. The rear looks good with the two red fiber optics on it, but it is plastic. I feel i might break it. It looks preety delicate for a rifle like this. The first shot was LOUD. Like a TWANG!!!! on your cheek and ear drum. This is the first shot. Will rewrite review if neccesary after 50 or so shots.It should get better by then. Tomorrow is time to sight it in and start shooting some crosman pointed hunting pellets at 30 yrds. See how many you can get on the bullseye after is thighted in and how hard it really hits with different pellets shape and weight. It is a heavy duty made rifle , but the rear sight needs some replecment or upgrade. But for the mone is an excelent buy. Add a CENTER POINT tgo it and pigeons beware!
Great Gun
By Anonymous
2011-08-24 15:55:05
This gun is awesome. It hits really hard at 1000 fps, and using the crosman destroyer pellets, it can easily take small game. I put a scope on this and that has made it the most accurate gun I've ever owned. It's a great price for what you get. The sights are really nice too, the rear are two red fiber optic, and the front is green fiber optic. With a two stage adjustable trigger, you can make the trigger pull as long or short as you want, this is great for accuracy. If you are looking for a great gun at an affordable price, get this.
Best Buy 0.177 Air Rifle
By Joe Dz
2011-08-13 13:54:43
I consider the Phantom 1000 the best 0.177 rifle on the market for the money. It easily puts Crossman 7.4g pointed pellets through 1/2" pine boards at 10 yards. I use it without a scope and I like the fiber optic sights. The gun comes up nice and feels nice. I also like the stock material. I have had the gun for almost 4 years and it has been problem free. When first fired, it is loud, but it quiets down after 20-50 shots. I use one sight setting for three pellet types. At 20-30 yards, I sighted Crosman Destroyer's 7.9g to be right on. AT that range, the Crossman 7.4g pointed pellets will hit a little high and the Beeman Kodiak 10.65g will hit a little low. I just change my aim point depending on what pellet and distance I am shooting.

I did a simple experiment using a 1000 FPS Crossman Phantom 1000. I filled three dog food cans, same brand, with water and placed them on a boulder. I then paced-off about 10 yards and fired a single pellet into each can. One was a Crossman Pointed 7.4g, the next was a Crossman Destroyer 7.9g and the last was the Beeman Kodiak Heavy 10.65g.
The exit holes on each were:
Pointed 7.4g 7/16x5/16 in
Destroyer 7.9g 7/16x6/16 in
Beeman 10.65g 9/16x8/16 in
The Beeman made the biggest exit hole. I use these three pellet, mainly for range. Pointed for 50 yard shots, destroyer for 20-30 yard shots and Beeman for under 20 yard shots. I was thinking that the Destroyer may make the biggest exit hole, but it didn't. The Beeman Kodiak Heavy won there. I have not tried the Crosman Premier Brown Box 10.5g yet. In short, this gun is so powerful, the heavier the pellet, the better.

I bought the Phantom to handle gray squirrels that were chewing on my house. No problems with the other red squirrels or chipmunks. From last October through this April, I had 31 kills and 4 wounded using mostly Crosman 7.9g Destroyers at 20 - 25 yards using the fiber optic sights.

In summary - the Phantom 1000 0.177 break barrel rifle is a best buy for the price, feel, power and accuracy.
Needs some accessories? Look through the items we paired up with the Phantom 1000 Rifle (.177).
IMPORTANT PLEASE READ
There are a few ways to download files to your computer. Right-click the item and select "Save As..." or you could open the link and save the document from there. All owner's manuals (OMs) and exploded view of parts diagrams (EVPs) are in a PDF format. You will need Adobe Acrobat Reader installed on your computer to open the file. If you do not have this program you can download it for free at:
http://get.adobe.com/reader/
High resolution (
High Rez
) media center files are in a variety of formats such as .TIF, .PSD, .EPS, .AI, etc. and typically require an additional program to open. Low resolution (
Low Rez
) files are in .GIF or .JPG format and should open in your web browser.