Phantom 1000X Rifle (.177)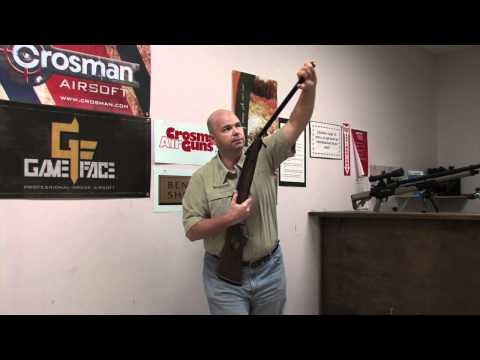 Overview
Ratings / Reviews
Downloads (Photos, Manual & EVP)
$149.99
This item appears to be out of stock.
Enter your email address below and we'll email you when it becomes available.
CLOSE [ X ]
AUTO-NOTIFY
The Crosman phantom is a powerful new rifle with an innovative body style, tailored to the break barrel user. It is the first of a new generation of break barrel designs, featuring sleek, clean and defined lines and all-weather, synthetic stock and forearm. It features a checkered grip and forearm and incredible break barrel power at a velocity of up to 1,200 feet per second. The Phantom also features a rifled steel barrel, a fiber optic front sight and micro-adjustable fiber optic sight. In addition, the Phantom's two-stage adjustable trigger allows each shooter to customize the trigger pull to accommodate personal shooting preference.
NOT A TOY. THIS AIRGUN IS RECOMMENDED FOR ADULT USE ONLY. MISUSE OR CARELESS USE MAY RESULT IN SERIOUS INJURY OR DEATH. BE CAREFUL, SHOOT SAFELY.
Primary Use
Specifications Overview

Model Number

CS1K77X

Pellet Velocity

Up to 1000 fps

Alloy Pellet Velocity

Up to 1200 fps

Weight

6.1 lbs

Length

44.5 in

Mechanism

Break Barrel

Power Source

Spring

Caliber

.177

Ammunition

Pellets

Capacity

Single Shot

Barrel

Rifled Steel

Front Sight

Fiber Optic

Rear Sight

Fully Adjustable

Optics Rail

3/8" Dovetail

Optics

4x32 mm

Safety

Lever

Stock

Synthetic

Color

Black
Phantom 1000X Rifle (.177)
Customer Reviews
Very satisfied
By Flukie
2014-03-17 10:19:03
I bought my phantom used from a friend who couldn't get good results from firing it. After I put 2 tins of pellets through it with open sights(to break in the gun myself and to gauge how accurate it really was) I found the gun to be fairly accurate. I mounted a Centerpoint 3-9X32 scope on it and within 12 shots I had it sighted in perfectly. I have since put somewhere in the neighborhood of 7000 pellets through it with consistently good results. This rifle has helped me to eliminate several nuisance critters as well as shredding many targets along the way. I've taken critters at 50 yards and dropped them instantly as well as target shooting out to 80-100 yards with ease.
I will say that break-barrel rifles are a whole different animal to learn. The "Artillery hold" usually yields the best results and it does require a little more diligence to keep them firing true. Use a thread sealant on the scope mounting screw to lock the scope in place as many of the higher powered springers will destroy lesser quality scopes and will knock them loose if they're not secured with thread locker. Also these rifles tend to be picky with pellets usually preferring one or 2 types over everything else so experiment with ammo until you get consistent results. Mine will shoot crosman hollow points through same whole but the pointed pellets are all over the target.
As far as any downsides to this rifle I would agree that the trigger could use some refinement and the stock takes a little getting used to but if you take the time to get used to the gun you will have plenty of enjoyable times shooting this rifle.
phantom air rifle w/ scope
By Robert
2014-02-27 15:51:34
I seem to be having the same problems with the scope as everyone else . One day I'll be able to pick off an Arizona Ground squirrel which is about the size of a chipmunk at 45 yds . the next day the scope is so wild that I'm unable to zero it , because no two shots fall in the same pattern .

The second problem I'm having is the stiff trigger , I've fired with the adjusting screw full in and fired with the adjusting screw removed it is still a hard pull and unpredictable as to when it's going to fire. The best luck so far is to tie the trigger as far back as I dare with a piece of string , it seems to make discharge more predictable .
Crosman phantom
By Anonymous
2013-12-17 20:09:36
Don't be hating on the gun it's the scope it's cheap by another scope a Nikon or simmons and some good scope mounts and it will sight in its not the gun.

Great gun like all Crosman guns
By Chevota
2013-08-09 04:54:42
I don't care for the stock so much, but otherwise I like this gun very much. The power is good, cocking effort low, accuracy good, price very good. As long as you like the stock then I'd say get it. It's as powerful as most any gun under $200, even if they claim it's not. So don't worry if you think it's lower powered because ads say 1000fps when other guns say 1200, if you read you will find the 1200fps claim is with super light pellets, and 1000 with lead. This gun is exactly the same; 1200 alloy/1000 lead.
The problems people have with the scope and trigger are with all Crosman and many other brands, this gun is not any worse. The scope is usually fixed with a parallax adjustment, yes it is adjustable. Parallax error causes mysterious accuracy problems like people here describe. The trigger can be fixed several ways, the easiest is to simply replace the original adjustment screw with one twice as long (3mm x 12mm) which takes seconds. You can also perform a full trigger job which is the best way and the trigger turns out amazing. Then there is the aftermarket trigger for $35 that also works great, but it kills me to see anyone pay that much for such an inexpensive gun. Many home trigger fixes can be found online, but replacing the screw is as easy as it sounds. I gave it 4 stars because it isn't perfect, but if you like the stock then it's a great gun. If you look around online you can find tuning info for both the trigger as mentioned, and for the whole gun to get more power, accuracy, smoothness, and quiet from it. Not just this gun, but all Crosman/Benjamin break barrel guns.
great power scope sucks!!!!!!!!
By g.van
2013-07-16 14:02:34
My son got this gun for his 14th birthday just a few days ago. He was so excited to have gotten this new gun, so he has asked me to get it sighted in for him. I have been shooting almost as long as I have been alive. I figured it would take about ten to fifteen shots to get it dialed in. Boy I was so wrong! After a hundred or so shots I gave up. This scope is a P.O.S!!!!!! I get close, and next thing I know i'm off in left field shooting a foot low and six inches to the left! After a few shots thinking I may have jerked or pulled the gun no its not me its the scope. So I adjust the scope and get close once again then i'm a foot high and shooting seven inches right. Had I known this scope was going to be such junk I would have just got the gun for the 100 bucks and spent the fifty I wasted on the scope towards a decent scope. I have had many spring action air rifles in my days and this so far isn't one of the better ones.
Good Experience
By Anonymous
2013-07-01 13:02:50
I have had this gun now for about 3 years, I have put through 1,000s of pellets and I still love shooting it. As others have mentioned, you need to make sure that the scope is set and will not move when shooting. Once you have that down you can zero in and shoot perfect everytime. Great gun and the scope works well also once you can get it to set right. If you are looking for a great pellet gun, this is it!
Hard hitter
By Tenn shooter
2013-04-22 10:02:38
This is a very accurate hard hitting rifle . I'm clipping fence post at 60+ yards
Crossman phantom .177 kit
By Fear god
2013-04-20 19:11:56
Bought 2 of these for my teenage sons, great bits of kit once zeroed in, even in uk with power limited to 12 ft/lbs I consistently take rabbits at up to 65 yards with a 2 mil dot hold over. One of the most accurate break barrel pellet guns I know. Highly reccomended
Solid Value Air Rifle
By RJC
2013-02-18 16:09:03
Try a 30 or 40mm Red Dot scope on appropriate mount with stop screw and zero in at 30 yards. Makes for a darn good, relatively light weight, small game hunting machine. You have to run a couple hundred rounds thru it for break-in, after that be sure to use Crosman chamber oil every couple hundred rounds to keep the piston seal fresh.

For the price, its an above average airgun for its power class.
crosman phantom air rifle model cs1k77x
By Anonymous
2013-01-26 05:58:21
i have spent the last week trying to zero the sights .i have put about 700 pellets through it.as far as acuracy goes it is a heap of crap.the rifle feels good,power is good. at 20 yards i can group acouple of shots but then they seem to go any where.i am not a novice at sighting in rifles.
Great gun if you set the stop screw for scope.
By bradh70
2012-12-25 14:28:04
I have had this gun for about 2 weeks, i bought it as a scope package. I installed the scope and tried to dial it in. But after 3 or 4 shots it became incositant groups. My scope was moving backwards on the dovetail rails. I tightened the scope up numerus times and after a couple of shots it would keep moving around. I found out that you have to take the rear mounting ring and use a allen wrench to tighten a set screw to go into a predrilled hole in the top of the air riflle. Once i mounted the scope and set the allen screw to stop the scope from moving backwards with the recoil of the riffle, i was shooting 1 inch groups at 40 yards no problem. Great accurate gun when correctly set up. The only thing i dont like is when i look into the scope to shoot, i will see a green dot from the front iron sights in my scope view. I still could have the scope setup incorrectly but i am shooting geat with it the way it is.
great gun for the price
By james
2012-11-20 13:29:22
this is a good gun bought it used on line the woman said she could not hit ne thing with it she said she got it as a gift from her husband i got for less than a hundred bucks
took it home wiped it down oiled it up took it to a buddys house to shoot and it hit every thing i aimed at could not ask for a better airgun love it might buy another one .
Inaccurate
By forevrbrkn
2012-11-09 12:20:17
I bought this gun a few weeks back and from day one am not impressed... I bought the model without the scope and mounted my own that I was using on my .22 for years that has more than proved itself. At 25 yards this piece of junk cant group for anything. Occasionally i will get one freak repeat shot but 9 times out of 10 it wont group within an inch and a half at 25 yards no matter the ammo.... Not worth the money....
my favorite gun
By cameronlongstaff
2012-10-17 17:27:27
This is only my 2nd gun but I have had a lot of experience with air rifles. 1 of my mate's has just bought 1 and he loves it as well as me. It is definitely the best gun I have used. my dad has an air arms tx200 (£600) it is extremely Good but the feel of this gun and the look is amazing. I would definitely recommend this gun.
best gun ever
By Anonymous
2012-10-05 13:47:39
im 13 and have had many pellet guns but this pellet gun it the best. i have put this gun throught alot like leaving it out in the rain droped in on the ground and droped in the mud and this gun AND no matter what i had put it through it steal shot like it was brand new i had the gun for 3yr and put it throught alot and it was great but my pap toke it from me and now im looking for anther on. i have killed many animals with this birds chipmuncks squrriels rabbits raccons possums and frogs and a ground hog kills um in one shot i recomend a crosman amo like !!!!!!!!!!!!if
great but scope is not good
By anonmouse
2012-10-05 01:09:54
this is a great gun i got a bird from 45m but the scope goes out after some shots
Crosman Phantom 1000x
By Joe
2012-09-03 14:31:44
This gun is so inconsistent it is a piece Of crap never had any accurate grouping worst gun ever
Great Buy!
By HerrimanHutsman
2012-08-07 12:46:33
This gun is a great buy. I purchased it just before the deer hunt last year, and I was really amazed at the power and accuracy. I found myself shooting starlings at 60+yrds. This being the first spring gun in my collection, I was amazed at the distance, as all the guns in my possession at the time were hand pump pneumatics. I did find, however, that if you buy the gun without the scope, and put your own on, YOU MUST BUY MOUNTS WITH A VERTICAL STOP SCREW(capitalization for emphasis), as this gun does have a bit of recoil. Other than that, I have really enjoyed this gun, and it makes a great window for other guns, as this gun is relatively cheap considering the qualtiy.
great gun
By dante
2012-08-03 16:38:41
the best pellet gun ive ever shot
amayzingness
By mr.anoniMOUSE
2012-07-19 17:52:50
*powerfull/accurate-----nuff said
Great Gun!
By Bfreies
2012-07-05 19:54:26
I received the Phantom 1000X as a Christmas present about two years ago. Have been very pleased with the gun! Very tight groups at 25 yards. The scope is a little weak but once you get it dialed in it works just fine. BEWARE some pellets shoot a lot differently then Crosman brand pellets. I have found that the Crosman flat head match pellets work best for accuracy.
Süper
By Ediz
2012-06-29 08:34:36
Mükemmel çok mutlyum
GREAT!!!!
By Garrett pratt
2012-04-05 23:31:40
I love this gun. I have had it for only a couple days but it has performed great with every shot. I have read some of the other reviews and I don't understand there problems with the stock scope. I love it! It not only looks good on the gun, but i am making great groups of shots at around 35-40yrds. Not only a accurate gun but powerful. I shot through a full beer glass and empty can of coffee with one shot at around 25yrds. I will and have recommended this weapon to lots of my friends, for the money, this is downright the best gun you can get.
phantom 1000X rifle
By squrrl killer
2012-03-04 02:51:59
awesome,awesome,awesome! great for killing squirrels(not many left in my hood) rabbits and them poor black birds. i've had many(100 +) 1 shot kills on squirrels and many head shots on rabbits. the optics are fine but could be better. the gun is just awesome, awesome, awesome and it looks sweet also. My son has a ruger and shoots the same f.p.s. as my phantom but i always seem to out shoot him and he has alot younger eyes than i ( he is 20 years old and i'm alot older) and he is one heck of a good shot . i always tell him if he had a phantom maybe he could out shoot me. we've had many different air rifles and pistols but i think i'll stick with the phantom till it falls apart, which wont be any time soon. SQUIRREL!!! P.S. my phantom is a refurbished gun and it still kicks squirrel tail!
Great gun :)
By Anonymous
2012-01-16 10:32:20
My dad bought me this gun a little over two years now, it still works like new, the only problem is that on my gun if you cock it, and load it, I have to push the barrel up alot, because if i don't the barrel is at a slight, slight angle and it shoots down. all i have to do it reach over the barrel and pull it up though. All in all its a great beginner's gun. It was my beginner gun. I think if you are a dad wanting to get into air rifle hunting/target practice i think you should buy one for your kid. Ive shot a startling in flight with this gun. it is amazing. :)
Epic Gun
By B
2011-12-31 00:04:29
This gun is beast just amazing you really did well on this one Crosman :)
Awesome
By Anonymous
2011-12-26 21:06:41
I've killed over 200 sguirrels with this gun!!
crosman phantom! excellent rifle!!
By Anonymous
2011-12-09 21:18:13
Very good air rifle!! i have killed many squirrels with this rifle! But the scope? i dont think i ever shot a decent group with the scope. With a good scope, this is a VERY good rifle!!! and buy the no-scope version if u are going to get a diffrent scope on it.
perfect
By Anonymous
2011-12-04 15:17:00
This gun is a very nice gun and if you hit a squirrel in the vitals it will kill it and if you hit it eany wear else it will realy slow it down wear you can get close and get a second shot and kill it.If you are loocking for a gun to kill squirre loock now more.l
Gun/Scope Combo
By John Keltgen
2011-12-03 17:46:31
AWESOME weapon of mass squirrel-killing destruction! The gun is accurate, reliable, and rugged (even in the Minnesota cold). The scope, however, needs some work. I don't know if I got a bad scope or if it's just not as "up-to-snuff" for the rifle. The guts disintegrated after my 23rd squirrel. Until that point, I got accurate shooting out of it. My suggestion: Buy the gun and, if you can afford it, get yourself a good quality rim-fire scope. Trust me, this gun deserves a good scope!
sights
By Jean
2011-10-09 12:22:18
Rear sights made of plastic are not really accurated. If someone knows if it's possible to change them please contact me.
Phantom 1000X the best gun in my colletion!
By Oldbunny
2011-10-05 19:41:37
This Phantom Break Barrel .177 pellet Air Gun are the best unit in my Air Guns Collection.
Elegant look and high quality material makes this gun unbeatable in particular for the very low price.
I love the weight, power and vellocity which actually are higher than 1000 fps giving me with the lead head pointed pellet easy 1200 fps (tested).
I use with my own Walther Rifle Scope 4x32 , Duplex Reticle, 1" Tube, 11mm Rings with stop Pin, so at the 50 Feet Zero Test the pellet going thrue my House thick alluminium heavy Downspout.. and are very accurate..
But remember when using Scope.. you need to have secure with Safety Pin to hold the Zeros, beside at 50 feet Zeros getting One Dolar Coin average hiting.
This are the best Air Rifle I ever own and runs so power full with great looking as well..
I will recommend to any one looking for small hunting Rifle this gun.. once you try to find as much you miss.

Scope not Gun
By John Keltgen
2011-08-28 13:45:33
The gun itself has performed FLAWLESSLY. The scope, however, leaves much to be desired. I've been using the gun to keep the gray squirrel population down. After my fourth dead squirrel (in as many shots), I swung the gun onto yet another squirrel sitting at the base of a tree. It was then that I noticed the crosshairs had somehow become x-hairs. For such an excellent weapon, you'd think that the scope would be rugged enough to match. NOT happy with the scope, the GUN is another story. If Crosman put a better scope on this gun, it's be an awesome varminter.
overall
By sebastian
2011-08-11 01:52:16
overall this gun for me has been the greatest i have ever had from crosman or any other manufacturer
IMPORTANT PLEASE READ There are a few ways to download files to your computer. Right-click the item and select "Save As..." or you could open the link and save the document from there.

High resolution (High Rez) media center files are in a variety of formats such as .TIF, .PSD, .EPS, .AI, etc. and typically require an additional program to open. Low resolution (Low Rez) files are in .GIF or .JPG format and should open in your web browser.