Phantom 1000 Rifle 495fps (.22)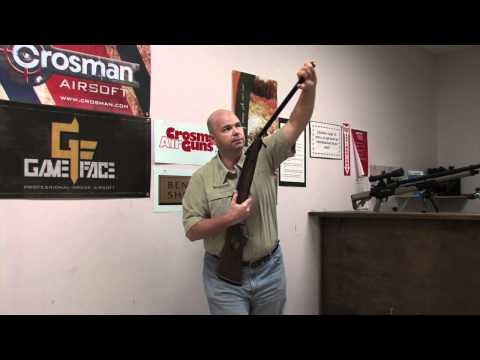 Overview
Accessories
Ratings / Reviews
The Crosman Phantom is a powerful new rifle with an innovative body style, tailored to the break barrel user. It is the first of a new generation of break barrel designs, featuring sleek, clean and defined lines and all-weather, synthetic stock and forearm. It features a checkered grip and forearm and incredible break barrel power at a velocity of up to 495 feet per second. The Phantom also features a rifled steel barrel, a fiber optic front sight and micro-adjustable fiber optic site. In addition, the Phantom's two-stage adjustable trigger allows each shooter to customize the trigger pull to accommodate personal shooting preference.
NOT A TOY. THIS AIRGUN IS RECOMMENDED FOR ADULT USE ONLY. MISUSE OR CARELESS USE MAY RESULT IN SERIOUS INJURY OR DEATH. BE CAREFUL, SHOOT SAFELY.
Primary Use
Specifications Overview

Model Number

CS5M22

Velocity

Up to 495 fps

Weight

6.02 lbs

Length

44.5 in

Mechanism

Break barrel

Power Source

Spring

Caliber

.22

Ammunition

Pellets

Capacity

Single shot

Barrel

Rifled steel

Front Sight

Fiber optic

Rear Sight

Fully Adjustable

Optics Rail

3/8" Dovetail

Stock

Synthetic

Material

Synthetic
Phantom 1000 Rifle 495fps (.22)
Customer Reviews
Great gun
By Anonymous
2014-04-11 22:40:20
Although I've used a few, this was the first air gun I bought and for the price I was very pleased, the optic sights are great and the weight is nice. Very accurate, recently bought hollow point pellets and they help with velocity and impact greatly. Easily took out a couple of squirells today.
great for 100 bucks
By Anonymous
2014-03-23 16:05:53
i did have a issue with the spring from factory it was bent and cut. i called crosman they said call gravelagency.com i got a new spring within 3 days no charge great service . so far i have the .22 phantom .177 optimus and the .177 model 795 .the .22 is all stopping power unless u have a pal or fire arms licence much more enjoyable for target practice compaired to the .177 495 fps. i dont regret maybe at first untill i shot it and saw the difference for plinking havent shot any pests yet but that is what i got it for squirrles my .177 bounces off these tubby ontario rats we have the largest tree rats in the world. dear crosman need more ammo types in canada on shelf at wallmart or canadian tire cant find wadcutters or heavy mag rounds i can only get destroyer pointed and hollow points ive been looking for like a year for mag rounds havent even shot one before thanks
phantom....don't bother
By Anonymous
2014-02-08 17:13:31
Bought a phantom .177 and man, what a disappointment. Crunch, crunch gravelly sound/feel while cocking, like something broke inside. Horrible trigger, must be close to 8-10 lb. pull. Junk air rifle, waste of $$.
Good gun
By Dom
2014-01-29 11:05:13
It's a good gun I have the .177 cal but I would recommend the .22 the .177 seems to lose velocity very quickly! Giving it next to no penetration at a bit of a distance! Great gun for target shooting but for pest control get the .22! I mounted a cheap scope on it a it works nicely! Overal very sturdy feeling gun it's a good choice for the price!
Phantom
By Jon
2014-01-02 11:31:23
This is a great gun for its price. This gun is great for pest and small game hunting. I recently killed 2 squirrel and a few crows even a rabbit so this gun is pretty good. The only thing I don't like about this gun is the sight. Other than that it's a great gun overall.
Phantom 1000 Rifle 495fps (.22)
By Alan
2013-07-15 09:05:25
I am plagued by feral pigeons so needed a decent rifle to sort them. on the advice of my gun dealer I purchased this rifle. What a disapointment it has turned out to be. anything over 7metres away it just bounces off even tried hollow points and that was even worse. My dealer has checked out the rifle and says it is working within it's parameters but to me it's worse than useless.

NOTE FROM CROSMAN: THIS IS A DETUNED VERSION AND NOT SUITABLE FOR PEST CONTROL.
Phantom
By Mike
2013-06-12 20:57:21
I live on an acreage with quite a few pests. A .22 rimfire is noisy and bothers the neighbours, this takes care of that. The sights line up nicely and are really accurate once you learn to line them up red between green......
awesomeness
By kyle
2013-06-03 13:20:46
this gun is good for pests. 50 yuards away hollow point pellet went right through the squirrel. best bang for your buck. downside is the plastic sights but easy to sight up. very good gun. hard to break at first but gets easier I love mine and would recommend it. these guns can kill even cats... so be careful and watch what your doing.....
Great gun
By Anonymous
2013-05-22 22:37:45
I have had this gun for around 8 months. I do live in Canada, and this is the biggest gun you can get legally without a firearms license. I mounted a centerpoint 3-9x32 AR22 series scope on it and it is very accurate using Crosman Premier Hollow Points. I recently shot a rabbit with it. I usually shoot close range because it is pretty low velocity and there is drop after about 30 feet. I shot the rabbit at about 15-20 feet. This is a great gun and I love it.
Accurate, great stock, excellent value!
By harleyflhxi
2013-05-15 04:56:24
I don't live in Canada, but I bought this "de-tuned" 495 FPS gun because I wanted a relatively gentle, all-day shooter. That's exactly what I got.

Additionally, I got excellent accuracy and an ergonomically-great stock. This stock makes it very easy to use the artillery hold, which improves the consistency of the gun's accuracy.

The gun feels solid and well-made. It looks good, too, with a level of fit-and-finish that is above this gun's price point.

Anything negative? YES! The trigger is heavy, far from smooth, and it is also unpredictable and inconsistent.

Despite knowing about the trigger issue before I bought this gun (I also have a Quest 1000, which is very similar to the Phantom), I still did buy this gun, and I am happy that I did.
phantom
By Anonymous
2013-04-15 10:25:32
good gun for plinking and small game . I have been using it for about 5 months on an almost daily basis and had had only a few small problems. some pellets do not stay in when I close the barrel and others seem very snug. this probably has more to do with the pellets but whatev. still a great gun for a great price ! a few extra bucks for a scope wouldn't hurt either. I installed a laser for a couple weeks but in the daytime it was almost useless outdoors. for a beginner or an old time air rifle expert , this gun is among the best.
sturdy
By chris
2013-02-03 18:53:53
I was impressed with the way this gun shoots and feels. I paid 99$ for it so didn't expect much.
The gun surpassed my expectations by far. It's a strong shooter. Lots of power for a air gun and it feels good and comfortable when shooting. It seems to
Be made very sturdy. No shoddy parts on mine. It has good grouping . Hit a nickel at 45ft consistently I will be trying a scope on it to see how far I can push it.
But I think it should do ok. All in all I'd say for the price its as good as it gets. Now go buy it and have fun like I am ...lol

Phantom gun
By Phil
2012-12-31 12:01:14
This is a good gun overall but the sight is a pice of crap it fell out for me but otherwise it is a good gun so i would recomend getting a scope for it.
Needs some accessories? Look through the items we paired up with the Phantom 1000 Rifle 495fps (.22).
IMPORTANT PLEASE READ There are a few ways to download files to your computer. Right-click the item and select "Save As..." or you could open the link and save the document from there.