Nitro Venom Rifle (.177)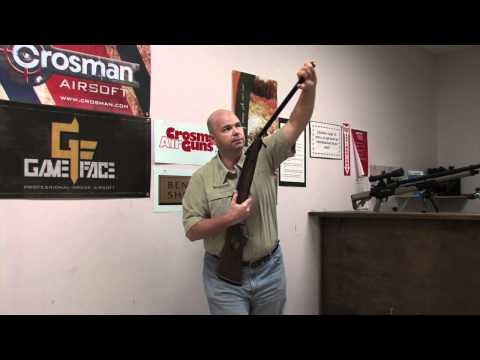 Overview
Accessories
Ratings / Reviews
Downloads (Photos, Manual & EVP)
The Nitro Venom Dusk air rifle features a precision, rifled barrel with fluted muzzle break and sculpted rubber recoil pad. The rifle is equipped with a CenterPoint 3-9x32mm precision scope and a quick-lock mounting system for quick and easy optic mounting. The ambidextrous stock has a raised cheek piece and modified, beavertail forearm designed to promote the Artillery Hold shooting position. The wider surface area of the forearm is designed to rest on the palm of your hand, and assists in achieving improved accuracy with break barrel air rifles.

Crosman Nitro Venom air rifles delivers serious hunting power with muzzle energy up to 18 fpe. Take one on a hunt to experience the power, stability and stealth of Nitro Piston technology.
NOT A TOY. THIS AIRGUN IS RECOMMENDED FOR ADULT USE ONLY. MISUSE OR CARELESS USE MAY RESULT IN SERIOUS INJURY OR DEATH. BE CAREFUL, SHOOT SAFELY.
Primary Use
Specifications Overview

Model Number

CVW1K77NP

Pellet Velocity

Up to 1000 fps

Alloy Pellet Velocity

Up to 1200 fps

Weight

7.4 lbs

Length

44.5 in

Mechanism

Break Barrel

Power Source

Nitro Piston

Caliber

.177

Ammunition

Pellets

Capacity

Single Shot

Barrel

Rifled Steel

Optics Rail

Picatinny Style

Optics

3-9x32 mm

Safety

Lever

Stock

Hardwood
Nitro Venom Rifle (.177)
Customer Reviews
Good product for the money
By David
2014-09-14 09:45:18
I had the trigger modified by the air gun range from where I purchased the gun. It is fun to shoot, generally has good power and the scope is well sighted. A good product for the money you pay. I would definitely recommend this gun to a friend.
Scope Issues
By Anonymous
2014-08-22 02:15:19
I have owned the rifle 13 months, scope will no longer adjust to either elevation or windage and now is out of warranty. I have never been happy with the supplied center point scope, the mountings come loose after 25 to 50 shots and then requires to be re-adjusted. Purchased a new AO Hawk scope and well see if I can finally get the rifle to be accurate at 25 yards.
Good, but could be better
By Jerry M
2014-06-16 10:17:16
I bought this gun just to see what the nitro piston was all about. It is pretty quiet, and it seems to have a lot of power. (Through shot on a woodchuck at 65'). The main problem is the trigger, not smooth but usable. I installed a GTRIII trigger and could not believe the difference. The pull went from about 1/2" to about 1/8". Just be sure your are ready to shoot when you put your finger on the trigger because the gun is going to go off. All in all I would recommend the gun to anyone looking for a reasonably priced gas ram gun that shoot good. I also flattened the supposed muzzle break because it was on an angle and I think it was throwing flyers all over the place. That helped a lot. Wake up Crosman!
bad scope
By steven
2013-10-28 14:38:23
don't buy this product, it shoots 10 inches below the target, it's not adjustable
poor scope
By jason
2013-10-28 14:34:08
the scope is not clear if you turn it to 9 mag power, it shoots 9 inches below the target, the scope is not adjustable. this product waste your time and money.
poor scope
By jason
2013-10-28 14:28:55
the scope is not clear if you turn the mag power to 9. it's not adjustable, you aim the target, but it shoots 9 inches below. i tried to use different scopes, but it's not matched with this air gun, it shoots too high or too low to the target. you can not adjust your scope windage 10 inches, then you have to try different ring. i tell you THIS PRODUCT JUST GIVE YOU TROUBLE, WASTE YOUR TIME WASTE YOUR MONEY. DON'T BUY IT.
Nitro Venom .177
By Plinker
2013-07-31 19:25:35
Pleasantly surprised at the accuracy with scope that came with it. Nickle sized bulls eye at 35 yards don't stand a chance. (with a rest.) Love this gun.
Diamond in the Rough
By AmAture
2013-05-03 07:01:31
I got this gun cause I was denied a purchase of a ruger 22 and was waiting for an appeal, no felonys or crimes ever committed. And started to change my mind when I noticed how rare and$pricy ammo was becoming and saw the nitro dusk on sale, fired great fresh out of the box(use alloy pellets only trust me). Needs adjustments as it breaks in. But I have made my buddies who have ARs 22s 40s to jelliouse because of how prisice this gun will shoot. And not to mention pellets are still in abundence!
AMAZING
By Anonymous
2013-04-29 21:58:35
hi i just got this gun in .177 1200fps and i love it its so accurate and it drops rabbits and squirrels just so simple the cocking is very smooth and the 3x9x32 scope is so easy to sight in and very clear i would highly recommend this gun to jr hunters its very worth your money
Just won my first competition with this gun
By John Swenson
2013-01-07 20:16:55
Purchased this a year ago for my wife so she could learn to shoot. Heard of a 4 position competition in the next town over last week and figured I would give it a try. got a respectable 343 out of 400 points and got tightest group of the night. 5 out of 5 shots touching @ 50 feet. Not bad for a first time, looks like she lost her gun... sorry Honey.
Varmit hunter
By Anonymous
2012-07-15 16:48:47
A very powerful gun. Can take starlings to COONS.im 13 tears old and this is a execptional gun.Very quiet and pwerful,dont know why its only placed in target shooting.Should be all the to varmit.
This is a 'Project Gun' . . .
By Urban Squirrel Hunter - New Orleans
2012-07-14 13:38:57
Two stars out of the box, with a five star potential after tweaking. This is a Crosman import from China. As with most line production items, there is always room for improvement and the Nitro Venom is an example of what can best be described as raw material. This review is of the .177 Venom I received from Walmart, and is by no means a review of the entire Nitro Venom production line. No two rifles will perform exactly as the other, even those coming off the same production line.

I am an urban squirrel hunter. I don't hunt to eat, but to kill. If you have ever had a squirrel tear through your walls and run your family out of the house you would understand my position on squirrels as pest. I have established a sixty yard kill zone around my home and was looking for a quieter weapon to dispatch my prey. My Powerline 1000 is extremely effective, and is extremely loud (confirmed by neighbors). The Powerline 880 (ultimate close quarter squirrel killer and extremely quiet) is effective up to forty yards, but doesn't have the juice to remove them from the tops of the big oaks sixty yards plus down the block. The marketing hype about the quietness of the Nitro Piston along with reviews on Walmart, Amazon and PyramydAir prodded my decision to buy the Crosman Nitro Venom.

Out of the box this is an awesome looking rifle. The hardwood stock has the right feel with a scope installed with medium height rings. However, the stock's finish is less than stellar. Two things that jump out at you on first impression is the cut-out for the rear sights on a gun that doesn't have iron sights, and the crude attachment of the Crosman butt plate. Removing the stock reveals manufacturing using a drill and chisel. Some might say this stock is hand-made, but 'crude' would be a better description of the inside of the Nitro Venom's stock. The stamped checkering does give the gun a unique appearance, and distinguishes it from all others. Bluing is mediocre and won't win any awards. The area immediately under the breech was completely covered with rust. This area was completely missed in the bluing process.

The accompanying scope should not have been included. While it's an introduction to mil-dot ranging, it doesn't have the magnification, or clarity, to do any serious mil-dotting. After installing the scope I took it out to my backyard range (Max 22 yards) to zero. Quickly discovered, cocking this rifle is no joke. My Powerline 1000 has a cocking force of 38.8 pounds as measured by my cheap bathroom scale. I tried to measure the cocking force of the Nitro Venom using the same method, but couldn't get a reading. However, cocking force of the Venom feels much greater, and is longer, than the Powerline 1000 (feels greater than 45 pounds).

Running the scope's elevation turret all the way down wouldn't put the point of impact on the paper. Ended up using five 35mm slides (cut to fit) to shim the front scope ring. The CenterPoint 3-9x32 was given to my nephew and replaced with a CenterPoint 4-16x40. After about 400 rounds the Nitro Venom destroyed the Walmart 40mm CenterPoint. The reticle exploded from the center. I returned the scope to my local Walmart, but luckily couldn't obtain an exact duplicate. The closest scope available was the predecessor of the CenterPoint 40mm currently being sold by Walmart. Coincidently, this scope is pictured in the description of the 40mm on Walmart's site and is sold by PyramydAir as the UTG 5TH Gen 4-16x40AO. FYI: These are rebranded Leapers Scopes. I like everything about this scope and it holds zero after a 'Scope Break-in'. Google 'Scope Break in procedure . . . by Norman E. Johnson' on Doug's Message Board for more information.

As others have noted the trigger on this gun is ridiculously obnoxious. Crosman needs to be wiped for this one. I solved the trigger problem with the You Tube clip 'Crosman Trigger Fix !!! FREE'. Ignore the personality of the guy doing the clip. He has a small problem. I used three 5mm washers from Ace Hardware. This left enough space between the trigger and the safety latch to make the gun unsafe. This situation was remedied by tapping the safety latch and installing a small set screw to snug the latch against the trigger when the safety is applied. Crosman could have solved this problem by installing a screw on the trigger that engages the cam that releases the Nitro Piston. This arrangement works great on the Powerline 1000 Springer.

Finding the 'Pellet Match' for this rifle was no easy chore. I went through Daisy Pointed Field Pellets, Gamo Tomahawk and Rocket .177 before settling on the Crosman Premier Domed .177 Caliber 10.5 Grain Pellet. The Crosman Premiers produced dime size groups. After re-crowning the barrel, groups were reduced to same ragged hole. Took over 600 rounds to break-in this rifle after the barrel was cleaned.

Cosmetic enhancements were made to the stock's checkering by painting with black and removing the top layer, leaving the checkering highlighted in 'black'. The rusted underpinnings of the breech was cleaned up with sandpaper and painted with two coats of black Rust-Oleum.

Enhancing the trigger, scope, and crowning the barrel has produced a 'Five Star Poor Man's Field Target Rifle' that is consistently on target – same hole . . . The Venom is quieter than the Powerline 1000, but not the 880.

Note: I purchased my rifle from Walmart and paid too much. With shipping and tax the total came to $183.21. Had I purchased the same rifle from PyramydAir I would have saved $33.22 (Free shipping and no tax). Guess who I will be buying my next rifle from . . .

I'd only recommend this rifle to someone who is looking for a 'Project Gun' . . .

Urban Squirrel Hunter – New Orleans
great gun
By larry quid
2012-04-15 16:32:26
Crossman have made a fantastic gun.
I placed out 5 chalk targets...at 10-15-20-25-30 yards
This gun smoked them out...
i changed the scope on it to 4x40...made alot of diffrence
Trigger just takes a bit of getting used to
i have tested a few guns this is ground breaking gas ram piston or as the crossman boys
Call it nitro piston..
For 200 pounds its a bargain..
Need to come with a better scope
By gamo2hammerli
2012-04-03 00:47:52
My friend bought one last week. Excellent gas rammed (Nitro piston) air rifle. Cleaned the barrel throughly before taking the first shot.....and a total of only one detonation. My springers usually give me 2 or 4 loud pops before settling down. Accurate out to 25 yards now. Will need to test more with different pellets at longer distances. Only big problem is the cheap 3-9x32mm scope that came with it. Maximum up to 7x....and that wasn't too clear. At 8 or 9...it's like looking through the bottom of a Coke bottle.
Btw...very powerful...the 7.9 grain .177 Crosman Premier Hollow Point went through 5 layers of soup can metal and dented the sixth at 10 yards.
My friend will be putting a higher quality scope (And higher magnification....maybe 4-12x40mm AO) on her in the near future.
shooting straight
By Jess ball
2012-03-04 14:41:37
this is a great pellet gun only took me three days to site the scope in. I already shot a crow about 40yrds aways gun has great knock down power and it shoots straight ony thing i would change on it is the trigger it has a long creep so you have to sweess the trigger slowly. I orderd the GTX -gen2 hopefully that fixs the problem. other than that great job crosman you made a great pellet gun.
awsome rifle for the money
By Anonymous
2012-01-29 11:31:19
this rifle is accurate and powerful out to 30 yards or so. the new and improved weaver mount is nice there is no scope slippage at all, it is really quiet. ive used it to take down squirrels and doves. not sure why crosman catogorizes this rifle in the pest group, becuase it definintly has the power and accuracy to take small game
thanks!
By victor
2011-09-10 11:28:41
excelent product!! thanks!!
Needs some accessories? Look through the items we paired up with the Nitro Venom Rifle (.177).
IMPORTANT PLEASE READ
There are a few ways to download files to your computer. Right-click the item and select "Save As..." or you could open the link and save the document from there. All owner's manuals (OMs) and exploded view of parts diagrams (EVPs) are in a PDF format. You will need Adobe Acrobat Reader installed on your computer to open the file. If you do not have this program you can download it for free at:
http://get.adobe.com/reader/
High resolution (
High Rez
) media center files are in a variety of formats such as .TIF, .PSD, .EPS, .AI, etc. and typically require an additional program to open. Low resolution (
Low Rez
) files are in .GIF or .JPG format and should open in your web browser.