Nitro Venom Rifle (.22)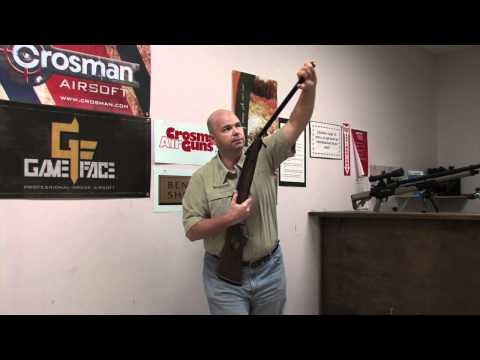 Overview
Accessories
Ratings / Reviews
Downloads (Photos, Manual & EVP)
The Nitro Venom air rifle features a precision, rifled barrel with fluted muzzle break and sculpted rubber recoil pad. The rifle is equipped with a CenterPoint 3-9x32mm precision scope and a quick-lock mounting system for quick and easy optic mounting. The ambidextrous stock has a raised cheek piece and modified, beavertail forearm designed to promote the Artillery Hold shooting position. The wider surface area of the forearm is designed to rest on the palm of your hand, and assists in achieving improved accuracy with break barrel air rifles.

Crosman Nitro Venom air rifles delivers serious hunting power with muzzle energy up to 21 fpe. Take one on a hunt to experience the power, stability and stealth of Nitro Piston technology.
NOT A TOY. THIS AIRGUN IS RECOMMENDED FOR ADULT USE ONLY. MISUSE OR CARELESS USE MAY RESULT IN SERIOUS INJURY OR DEATH. BE CAREFUL, SHOOT SAFELY.
Primary Use
Specifications Overview

Model Number

CVW8M22NP

Pellet Velocity

Up to 800 fps

Alloy Pellet Velocity

Up to 950 fps

Weight

7.4 lbs

Length

44.5 in

Mechanism

Break Barrel

Power Source

Nitro Piston

Caliber

.22

Ammunition

Pellets

Capacity

Single Shot

Barrel

Rifled Steel

Optics Rail

Picatinny Style

Optics

3-9x32 mm

Safety

Lever

Stock

Hardwood
Nitro Venom Rifle (.22)
Customer Reviews
Crosman Nireo Venom .22
By Anonymous
2014-07-03 18:23:32
Ok so here is my review of the Crosman Nitro Venom .22 break barrel rifle.
Out of the box the main things that caught my attention is the fit of the gun; the construction is solid and (albeit a little stiff!) very smooth and relatively to cock. Great mounting system for the scope and for the actual scope itself? Tell me where else you can get a gun combo of this quality with a 3-9x32 scope for this price!
Needless to say I am well chuffed with the whole combo...but that is not why I like this gun so much.
The sheer power and accuracy of this thing is fantastic! The gas ram means for a smooth, reasonably gentle recoil that means I am getting consistent groupings.
Now OK, I am not the best shooter and someone who is better and has more experience than me may not like it is much as some of it's German made competition, but for the hobbyist or for general pest control this is a fantastic piece of kit!
Now I am not saying other rifles in a similar price range are any better or worse than this. When I was looking at buying this air rifle I was also looking at the Webly & Scott Stingray IIXS, the Hamerli 550, the Gamo IGT series, the Remington Express, the Cometa Fenix 400 and the Norica Dragon - this just happened to be the rifle my local gunsmith had out of these, and good thing he did!
The only real improvement is that the trigger travels a mile and a half before anything happens, luckily there are some videos online on how this can be corrected yourself, or you can take it to to your local gunsmith to rectify, but once Crosman get their triggers sorted (as I believe this problem is not exclusive to the Nitro Venom) then what we have is an affordable, well-made and practical rifle!
scope
By Jimmy H.
2014-06-24 16:04:51
i had the same problem when i first received my venom dusk drove me nuts but i found out how to fix it:
to adjust scope at max magnification to get the blur out remove the front ring at output side and slowly turn till it clears up then thread the ring back on.
i love my venom dusk .22 air rifle
nitro venum as advertized
By hodie
2014-05-14 12:13:11
OK, beginner here, first air gun, read the reviews, and directions on the venum two things to take in to account. even though there is minimal recoil, vibration will loosen any screws in short amount of time, check all screws often,at least 50 shots. holding the gun as directed is important, no pod or gun rest is needed and doesn't work with these or any air gun. donot grip the gun with trigger hand or forearm. basicly lay forearm on palm and cradle grip on middle finger of oposit hand with stock against cheak and squease trigger. after 4 cans of pellets I believe. if accuracy is inconsistent, its because somethings loose or hold is not consistant. found pointed , or hollow point crosman work well and shoot similar without much adjustment. love the gun. quarter size groups at 25 yds and no drop out to 50.......good luck!
Could be better
By Jerry
2014-04-19 10:29:08
No matter how much I try I can't get this thing zeroed in. I just ordered a new scope. A Hawke 3-9 x 40 AO hope it helps. I get flyers all over the place. The first shot is dead on, the next is 4" off. I don't know what is wrong. I do know that the artillery hold is the way to go, much better luck using it than any other way. Don't try to use a shooting bench, it doesn't help unless you support the gun with your hand on the rest or sand bag. Just like the owners manual says, guess they know what they are talking about. I just hope it gets better or it goes away! I am not sure if I would recommend it or not, at least not till I get the new scope.
Works better with experience
By Anonymous
2014-02-20 21:48:57
First when i got the gun it seemed like it had really terrible accuracy. i was shooting groups of like 4 inches at 25 yards. But once i shot about 1000 pellets through it i had the trigger pull figured out. So i cleaned it and shot groups of less than 1/2 of an inch. But i did give the gun 4 stars because the scope is impossible to focus at ranges of +25 yards. It literally will not focus no matter how you adjust it.
nitro venom 22cal
By mj
2014-01-05 23:47:18
I have allways ben a gamo guy the venum is alout better in alout of ways and all the negative thing's people say about the 22cal is alot of human erore I shot mine from a resting position and it held 3 shoots out of four with in a 1/2 at 40yds with the premmer holopoint pellets
Fairly good rifle
By Anonymous
2013-12-28 23:00:47
I got this gun for Christmas this year. It is my first .22 bb gun in about 5 years so I was expecting a lot. I shot some rounds through it at a target and I was getting groups of about 3 to 4 inches at 25 yards. I was not impressed. Then I found a reason to give it 4 stars. I set up some targets to test penetration. I made a ball of ice about 6 inches thick and it was destroyed in 2 shots. There is a lot of power in this gun. I also folded up some paper. This gun shot through 100 sheets of paper (I folded 6 sheets 4 times each and taped them together) like it was nothing, the wood behind the paper stopped the pellet. Aside from the accuracy this gun preformed well. If you have a solution to the accuracy please tell me.
Scope stinks, trigger horrible, muzzle brake fake!
By Scotthere
2013-12-05 13:38:32
This is 100% my opinion! The scope was easy to install, but it ended up being impossible to sight in even for someone with a lot of experience. The muzzle brake at the end of the rifle is just a piece of plastic pressed on the end of the barrel. It's a bit heavy so I strongly recommend buying a single clasp sling, to help bear the weight. Use the hole on in the trigger guard where the trigger adjustment is for the clasp or buy a double clasp sling-mount that screws into the wood stock of the riffle. I found videos online showing how to modify trigger pull, but always use safety when changing manufacturer specs. As there are no backup sights on this rifle, I added backup iron-sights that fit the rail that I love or I recommend a investing in a decent microdot sight. I did and keep on putting scratches and dings in the wood, which is no big deal to me. I'd prefer getting the Dusk version if you worry about the surface of the wood, which I wish I could buy as an after-market accessory. After all that, I have a great piece of pest control hardware. I gave this 3 stars only because nitro-piston system has been a stable powerhouse so far.

I would recommend spending more money, as this seems to be the most affordable nitro-piston rifle out there. I'm on a tight budget, so this was the best I could do.
Crosman Nitro Venom .22
By Ronnie
2013-10-20 11:39:32
The gun is a very good gun. it has an okay trigger and has still the "flyer" that hits way off. But the groups still are ok. I shoot the 14.3 Premier Domed from Crosman. I upgraded the scope to an NCStar 3-9x40 AO which is a lot better. If they had the 3-9x40 scope from Centerpoint it would have been better.
Nitro Venom Rifle .22 still miss the target
By Anonymous
2013-08-02 22:11:41
Just got my new .22 Nitro Venom about 2-weeks ago, It always missed the target and I found out I user Scope + to aim the target and it always hit 4 inches at the right of the target.

Not sure if the scope has problem and trying to adjust it but no improvement at all.

Great value
By Anonymous
2013-05-31 00:21:51
PROS:
*Pleasant to the eye
*Solid built
*Easy to use
*Hits REAL HARD. 18-19 foot pounds of measured muzzle energy- blasts groups right through 3/4" marine grade plywood @ 20 yards.
*Quiet for what it is.
CONS:
*Scope is alright but you'll want an upgrade.
*Excessivly hard trigger. There's mods out there if you don't care about warranty.
*I have ran about 1300 rounds total. Crosman 14.3g domes, Crosman 14.3g HP's, Banjamin HP's. It is grouping better but not as good as expected. Averages 2-3" groups at 20 yards. I'd like it to group better than that. Still trying different types of rounds.
Great Pellet Gun
By C.Toney
2013-04-05 13:09:11
I mainly got this weapon for use around the house to run off pests and other various critters; however, upon shooting this weapon I've come to fall in love with it , and will use it for something else. Due to its size, weight, and feeling of being a real rifle, now I'll start training my 5yr old on firearm safety. This weapon is a perfect beginners weapon to use and grow accustomed to before moving on to a higher caliber. The scope isn't the best but it works for what the air rifle should be used for and I really have no complaints. A lot of people have griped about the trigger mechanism but also, once again, I have no complaints with the trigger and feel that it is just fine. Overall, this weapon is a good investment and I would recommend that anyone buy this if they're looking into buying a pellet gun.
Excellent gun for the price
By Ken
2013-01-02 10:45:29
My opinion for the money this is a great gun. At 20 yards was blasting thru a piece of 3/4 in pine. At 30 yards 1/2 inch wafer board. As far as sighting it in no problem 6 shots at 20 yards had 11/2 inch group at 30 yards it shoot about inch high and still had 11/2 groups. I dont think you can ask much more from a pellet gun.
Crosman Nitro Venom .22
By Rickachino
2012-11-26 05:45:22
Purchase Price- $140.00. Todays price $203.00 from Crosman
I bought the NV .22 because I shoot a RWS 350 mag clone and it's the most hold sensitive of all my air rifles, has crazy recoil & it's a beast to cock, even after tuning. Not a good plinker but w/ a mv @753 fps w / a14.5 gr pellet. it's great for dispatching undesireables. So my positive things about the NV is: the replacement of the spring with a sealed piston unit to smooth alot of things out made sense. & I also like the Weaver style scope base. I hope other manufactures catch on to that & I like the ambidextoris roll over cheek piece.( my shootin buddy is a lefty).. The bluing is nice and the reciever to stock inletting is nice and snug. It's easier & smoother to cock as is the shot cycle. Alot smoother!! After about 700 rounds I'm getting a mv@ 746 fps w the 14.5 gr pellets , about the same as my 350 mag. & alot smoother too. I'm hitting my 1.5" disc at 25yrds pretty regularly. So the gun does pretty much what I wanted it to do except the trigger and asthetics and they should keep the scope. (SEE BELOW). For a $140.00 bucks I think it's a good value but for $200.00 I'll pass.
My negative things are: the scope.they're charging you around $60.00 for . No parallax adj. and hard to focus at 15 yrds.for 20 bucks more you can get a full feature quality air gun scope , I think the recoil pad is a bit much and not neccessary unless it's part of a vibration system maybe, I don't know. I'm not crazy about the stamped checkering on the stock either.(looks cheap) but I don't like anything that has stamped checkering. I'm gonna stipple over it. .Then there's the trigger, although predictable let off, the stages could be better defined. I shoot better with it adjusted without the second stage until I upgrade it..
Nitro Venom Dusk .22
By Croesgadwr
2012-09-08 19:23:22
I've had my Nitro Venom for nearly 4 months now, and have only just considered posting my opinions of it. Thats for no reason other than lazyness on my part!
Others have commented on the 'sloppy' trigger so I won't go there again - apart from saying that after I decided to change the trigger for an aftermarket version purchased from a guy here in Wales called "Welsh Willy" (I believe Charlie da Tuna also has a similar device available), the mod took less than 15minutes, and really changed the feel of the gun and made it much more "shootable". In my opinion the Crosman Nitro Venom Dusk is an excellent gun, quieter than most, the sight is capable, the artillery hold needs to mastered to get the best out of it... but Its still an excellent gun.
Croesgadwr (meaning "Crusader" in the Welsh language)
Buckley, Flintshire,
North Wales, UK.
Crossman Nitro Venom .22
By Anonymous
2012-08-06 07:32:37
This gun has a nice hardwood stock with a rubber butt pad. the beaver tail is perfectly suited to the artillery hold which is essential for consistent accuracy, also the scope has an adjustable zoom and microdots ideal for longer kill shots. the Nitro` system ensures even power output, this rifle really packs a punch and a follow up shot is very rarely needed even at 40 yards or over. The only part that was disappointing was the length of travel on the second stage of the trigger, however this is adjustable and after several nice clean kills is easily forgiven. All in all a quiet, smooth, powerful, good value for money rifle.
Crosman Nitro Venom .22
By Jon
2012-07-21 11:28:45
Just got my new .22 Nitro Venom about 3-weeks ago and it is actually more gun than I had hoped for! I've run about 200 Crosman domed and/or hollow point pellets through it and it hits 1" groups at 25 yards almost every time. Before purchasing the Nitro Venom, I had squirrels constantly running through the yard and over my roof; now that I have the rifle, the squirrels have disappeared!

There are certainly more expensive pellet rifles but dollar-for-dollar this is a great weapon!
crosman nitro venom .22 cal
By Anonymous
2012-07-08 07:46:08
This gun has the best stock on it that i have seen in a pellet gun. I love the artiliry hold. Not only is it nice and fun to shoot it is very accurate. I took it right out of the box and started sighting it in. It took about ten shots before it was dead on. I hit a nickle bulls eye every shot up to about 45 yards. That is great for small game hunting pesting and target shooting. I am in love with this gun. Get it while it is still around $100. The retail is about $230.
Muy buenas prestaciones y calidad
By rfluciani
2012-06-04 22:03:45
Acabo de adquirir uno después de hacer unos 100 disparos aproximadamente los resultados son bastantes buenos, agrupa bastante bien con cualquier tipo de munición. Su estética en general es excelente, con algunos detalles en la madera de algún toque o raspón quizás ocasionados por el vendedor. El rifle se siente todo firme, el gatillo muy bueno un poco largo el recorrido pero se ajustó correctamente con el tornillo de regulación. La mira center point 3a9 x 32 buena pero quizás mejor seria una con control de paralelo.
Nitro Venom Rifle .22
By Jerry
2012-01-31 19:35:27
Fit and finish are great. Others suggested putting 100 pellets through before attempting to zero scope. But why, there are no sights. I put about 30 through it and mounted the scope. After 10 rounds it was zeroed in about 25 yrds. So far so good, goodby pests. I suggest cleaning the barrel first as the barrels are filthy after there made. Run wads through till clean. Overall Impressed.
Excellent value for the price
By Anonymous
2011-09-14 10:31:33
Things I liked: Well made - excellent fit and finish, good scope and excellent scope mounting system, quiet, hard hitting, accurate
Things I would change: an adjustable objective would be great, add sling swivels like the Benjamin Trail, a smoother, crisper trigger
Comments: As I expected, the first shot was loud due to dieseling. After that it was quiet. My son's 1971 Benjamin 342 is MUCH louder. I fired around 100 pellets before I even thought of adjusting the scope and then had no problem zeroing it in. I hit bottle caps at 35 feet no problem. So far I've only fired a couple of shots at about 75' at a 2" square target and hit both times. (But that's a long shot for my shaky old hands.) Don't let my comment about the trigger dissuade you - yes it could be better, but as it is it is perfectly fine for plinking, hunting small game, target shooting, and pest control. I'm just saying that with a better trigger this rifle would be better than any $400 break barrel rifle on the market.
Tip: Learn and use the artillery hold. It doesn't matter if you've been shooting other types of guns for 40 years - break barrel rifles behave differently.
I am very pleased with my purchase. This rifle offers quality and accuracy and FUN for a good price.
Needs some accessories? Look through the items we paired up with the Nitro Venom Rifle (.22).
IMPORTANT PLEASE READ
There are a few ways to download files to your computer. Right-click the item and select "Save As..." or you could open the link and save the document from there. All owner's manuals (OMs) and exploded view of parts diagrams (EVPs) are in a PDF format. You will need Adobe Acrobat Reader installed on your computer to open the file. If you do not have this program you can download it for free at:
http://get.adobe.com/reader/
High resolution (
High Rez
) media center files are in a variety of formats such as .TIF, .PSD, .EPS, .AI, etc. and typically require an additional program to open. Low resolution (
Low Rez
) files are in .GIF or .JPG format and should open in your web browser.