Raven Rifle (.177)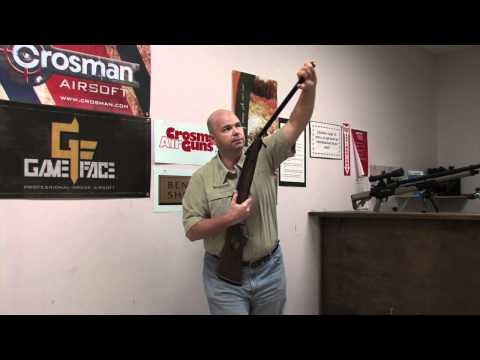 Overview
Ratings / Reviews
Downloads (Photos, Manual & EVP)
The perfect gun for the younger or smaller shooter. The rugged, synthetic, all-weather ambidextrous stock and corrosion resistant, overmold rifled steel barrel will keep your gun looking great for years to come. 600 fps with minimal one-pump cocking force and fully adjustable fiber optic sights make this the ideal gun for target shooting. The Raven comes with dovetail grooves ready to mount the optic of your choice.
NOT A TOY. THIS AIRGUN IS RECOMMENDED FOR ADULT USE ONLY. MISUSE OR CARELESS USE MAY RESULT IN SERIOUS INJURY OR DEATH. BE CAREFUL, SHOOT SAFELY.
Primary Use
Specifications Overview

Model Number

CY6M77

Pellet Velocity

Up to 600 fps

Alloy Pellet Velocity

Up to 720 fps

Weight

4.9 lbs

Length

37.5 in

Mechanism

Break Barrel

Power Source

Spring

Caliber

.177

Ammunition

Pellets

Capacity

Single Shot

Barrel

Rifled Steel, overmold

Front Sight

Fiber Optic

Rear Sight

Fully Adjustable

Optics Rail

3/8" Dovetail

Safety

Crossbolt

Stock

Synthetic

Color

Black
Raven Rifle (.177)
Customer Reviews
Accuracy is amazing, and power better than listed.
By rotagen
2014-09-19 19:51:58
OK I hope someone from Crosman actually reads this and makes note of it, hopefully all their newer (adult) guns will be made at the same factory and specs as this one.
I am an adult but I couldn't pass up the price and light weight of this one, nostalgic for the good ole days when Crosman made the wooden 760 pumpmaster...that gun was extremely accurate for its time and also very durable. But I digress, I ordered this one and got it in not expecting too much due to its smaller size, did I mention LIGHT is important to me? Well, I scoped it up with a cheapo crosman fixed 4x scope and it sighted in after only 4-5 shots. I then set up a bullseye on a cardboard box at 25 yards.
I then shot 4 pellets, EVERY single one within the 1 inch bullseye, and this is at 25 yds. Not only that, the fps seems MUCH higher than listed, it hits the target in a time lag almost exactly the same as my old Gamo which is advertised at 1300 fps. That old gamo has only fired appx 100 rounds. PLEASE keep this up Crosman, and make note of the factory/procedures used in this rifle... it's just fantastic. Only thing I wish is that it was full-sized for an adult like me, but again it is darn light and portable.

freakin' awesome gun
By ns
2014-05-24 13:59:06
i got this gun as a present for my birthday. I am extremely impressed with this great piece of equipment. I have only shot down the garden with it but it's accuracy and weight makes me feel that it could pound a few rodents heads in! even though it's a rifle for youths I feel like it has a great deal of power. over all this is a great gun i would recommend it to anyone interested. hope you enjoy this masterpiece as much as i do. Have a great hunt!!
very good gun
By that dude
2014-03-29 20:52:17
Awesome gun! I have taken a few squrills with it allways a clean kill.
excellent rifle!
By .... .......
2014-03-15 13:36:38
I have had this gun for almost a year, and there was only one problem- the barrel had snapped off! I had put some epoxy into the crack, and it has been truckin' ever since. the sights were perfect, until the barrel snapped off, and broke the rear. but even then, the rifle still portrayed Great accuracy, and it will be true for years to come.

Fun gun
By Kid
2014-02-19 10:48:34
This is an exelent airgun after about 5-6 months you will have to oil it. And every 500 rounds i clen the barrell. To oil the gun use crosmsn silicone chamber oil. I have my gun outfited with a swissarms 4-32 scope and its real nice. Ive hunted squirell and rabit with this gun and is capable of taking down any pests with authority. This beautiful airgun is extremely quiet and is an exelent gun for target bractice and small game hunting !

Great gun!!
By Jh
2013-10-17 19:57:28
I am so impressed with this gun it has held up for a long time! It does more than shoot targets!!

very good gun
By Anonymous
2013-07-24 15:43:07
I have had this gun for at least 5 months and it is great. the sights are great and it is very powerful. it is also easy to cock and load. i have shot a bird before with TARGET pellets and it still dropped dead instantly. the only problem i have had is that it has surface rust on the barrel and i don't leave the gun outside and it has never got wet. the gun also has a pretty strong recoil and it is very heavy with a scope on it and just heavy alone. although it has some cons all in all it is a great gun.
Raven airgun
By Pest control
2013-06-01 17:42:25
Only target practice! What are you talking about!!!!!! I've shot 3 groundhogs,1 rat, a chipmunk, a rabbit, and a lot of birds!! Buy it!! Extremely accurate and very quiet!
its a good gun
By Anonymous
2013-05-01 13:00:34
Had this for a good 4/5 month and it says target but i got a fair amont of birds with this air gun but one problem the sight need some fixen but easy to cock the teger is a litte hard to pull but thats also good if you give it to your kid
Awesome air rifle
By Alex
2013-04-13 16:34:07
Got this air rifle since a week, i didn't shoot on animals yet. I read the comments and I see it is good for hunting birds etc. No problems with the gun yet. Everything that is needed for a good hunter is in this gun, accurate and big power, I am sure it goes more than 600 fp/s.
REALLY GREAT GUN!!!!!!!!!!!!!!!!
By jh
2013-03-24 13:56:40
They say its for target shooting but i think it is PERFECT for hunting. I have shot a couple red squirrels with it and it killed 'em real good!

great gun
By Anonymous
2013-02-21 21:40:36
great bird shooter
not ravin'
By Dad
2013-01-19 22:30:53
This gun looks very appealing. It is easy to cock and load. It is close to a good beginner gun, but needs two small changes. #1- the sights , rear in particular, don't stay adjusted. Frustrating for a novice to shoot consistently well with them. So, put on a scope , you might say. A beginner gun should not need a scope! Beginners need to use the open sights first. #2- The trigger is much too heavy ! Accuracy is what these beginners enjoy. Make these changes and you will have a great beginner gun. You can do it , you"re Crosman!
awsome gun
By rhu
2012-10-20 10:06:33
good gun killed rabbits and frogs and squirrels with it.
Powerful and accurate gun.
By Pheasant hunter
2012-07-30 16:26:54
There's really nothing bad to say about this gun. It is easy to cock, safe, lightweight, durable, accurate and powerful enough to easily kill Common Pheasants.
Good Gun
By pest control
2012-07-14 19:14:02
Today, i went over my grandmas house and shot 2 rats and a chimpmunk. I got this gun 3-4 years ago and started hunting with it 1 year ago. overall i shot 2 groundhogs,a racoon,2 rabbits, 2 rats, and a chimpmunk. I probably put 50,000 rounds throung this gun.After a while your the Crossman Raven gets a little off couse.
My pellet gun
By Small game hunter
2012-06-28 09:16:00
The crosman raven is a very good gun for kids. I am 11 and I shoot small game with it. When the sights are sighted in, the shooter can hit a two inch target at amazing distances. This gun is a great gun for kids whether they hunt or just shoot targets.
Awesome hunting air rifle for kids
By Small Game Hunter
2012-06-27 09:40:16
Awesome gun I shoot squirells and rabbits with it. It is very accurate when sights are adjusted. I'm 11 and I think it is perfect for young shooters
Fantastic Gun!
By schuyn
2012-03-27 21:33:49
Has a great feel, light and easy to manoeuvre. Good iron sights, they can block your line of sight sometimes though, however the fibre optics really helps in lower-light conditions. Trigger is fine, and safety works as it should. It cocks very easily, just give it a tap to open it. I mounted a cheap Targetfinder scope on it, and after some adjustments it easily hits cans out at ~50 yards. Cheek piece can be a bit uncomfortable sometimes, not a real problem though. Overall a great buy, not many other guns of the same quality for the price.
Crosman wanting to go hunting
By Anonymous
2012-03-20 00:58:31
Great gun. I have had it for about a year, and it has the stopping power to take down squirrels and rabits if your closse enough. I would by a scope on it, but the sights are still really good and adjustable. Since its spring, buy a durable scope. good for young kids who want to go hunting.
great bird shooter
By cabela
2012-02-19 15:38:53
its great i have had it ages and not broke down on me once

raven rifle (.177)
By air hunter
2011-11-14 00:15:17
I almost forgot to mention, the trigger pull is as smooth as glass!!!!!! Far superior to the other air rifles i have. If you are thinking of buying this gun for your some one, buy two and keep one for yourself! I am going to buy another for myself next payday!
raven .177 pellet gun
By air hunter
2011-11-12 20:59:46
A great gun.. Even though i have several other larger and more powerful break barrel air rifles, this one is so much fun to shoot. I bought it for my wife who is 5'2" 110 lbs, so the feel, size and heft of this gun is perfect for her. I am so tempted to keep it for myself!!!!! i bought it this afternoon and couldn't wait for the two of us to get into the woods for some squirrel hunting. I put probably 100 pellets through it in a couple of hours.I found the cocking effort to be really minimal and is very easy for my wife to load and cock. She is not very strong at all and can easily operate the gun. It is quite accurate, shooting silver dollar groups at 25 yards with Crosman premiere pellets . This air rifle is one of the few i have ever purchased that i cannot find anything to complain about. Although i have read the review from Smaug listed above, i disagree about the need for a high mounted scope. I mounted a standard (and very cheap. Bought on ebay for .99 plus shipping) Tasco 4x20 pellet gun scope on the gun and although i thought the factory iron sights would interfere with the line of sight for the scope, it did not. In no way does the sight interfere at all. The outstanding performance and operation of this gun definitely warrants a much better and larger scope which it will promptly receive. All in all, i am completely satisfied with this product. If i absolutely had to find SOMETHING negative to say about this gun, the only thing i could think off is that it could be more powerful while maintaining the same cocking effort.
good for kids under 16.
By Anonymous
2011-09-05 19:22:02
wow. fantastic. easy to use and very safe.
Great little gun.
By Smaug
2011-08-25 23:28:27
I picked this gun up because I was looking for something with less power, weight, and cocking effort than my Stoeger X20, but more power than my Daisy 953. I'm an adult, and I don't mind that the length of pull is meant to be youngster-friendly.

The barrel requires a tap just inside of the front sight to break it open; it has a nicely latched lock-up. The receiver is grooved for typical .22 rimfire 11mm or 3/8" rings. I wanted to fit a UTG 6X AO Bugbuster. Be warned, you need high mounts for this scope, because the objective is pretty big for 32mm. But it will be the perfect scope for this rifle. Enough magnification to hit things at 50 yards, and the adjustable objective will let it be focused down to 3 yards. (I'll probably never shoot it inside of 10) Mil dots will help with estimating drop compensation.

Back to the rifle. The trigger is not the greatest, which is why I deducted one star. It is heavy, but it breaks cleanly. I much prefer this to a medium weight trigger with all kinds of overtravel so that I don't know where it is going to break!

The thumbhole stock is comfortable in all positions, and much more comfortable from a bench than the traditional style. The edges of the upper part are not that cheek-friendly. It would have been nice if they angled it a bit to allow a comforable place for a cheek.

One thing I like about this gun is that the safety is not automatically engaged, as it is on many other break-barrel rifles. So keep your fingers well away from the trigger while cocking and loading. It is nice not to have to deactivate it for every shot.

The forearm part of the stock is nicely shaped, and it is easy to place my forward hand right in front of the trigger guard, so that elbow is tight to my body.

I can't wait to get the scope mounted and see what it can really do.

Here are some chronograph numbers for different pellets out of this gun, at the muzzle:

Crosman Premier Light, 7.9 gr. 578 fps
Crosman Premier Hollow Point, 7.9 gr. 567 fps
RWS Hobby, 7.0 gr. 606 fps
Beeman Kodiak, 10.65 gr., 468 fps
H&N Field Target Trophy Power, 8.8 gr., 536 fps
JSB Exact, 8.4 gr, 586 fps
JSB Exact RS, 7.3 gr., 634 fps
Beeman Laser semi-wadcutter, 7.1 gr., 641 fps
Beeman pointed, 8.4 gr., 548 fps

As you can see this is enough power to take pests and small game out to probably 30 yards.

I'm hoping this gun has some real accuracy potential. I was thinking of a Beeman R7 or HW30 or Diana Schutze, but just could not make myself drop that kind of money
IMPORTANT PLEASE READ
There are a few ways to download files to your computer. Right-click the item and select "Save As..." or you could open the link and save the document from there. All owner's manuals (OMs) and exploded view of parts diagrams (EVPs) are in a PDF format. You will need Adobe Acrobat Reader installed on your computer to open the file. If you do not have this program you can download it for free at:
http://get.adobe.com/reader/
High resolution (
High Rez
) media center files are in a variety of formats such as .TIF, .PSD, .EPS, .AI, etc. and typically require an additional program to open. Low resolution (
Low Rez
) files are in .GIF or .JPG format and should open in your web browser.