RepeatAir 1077 (.177)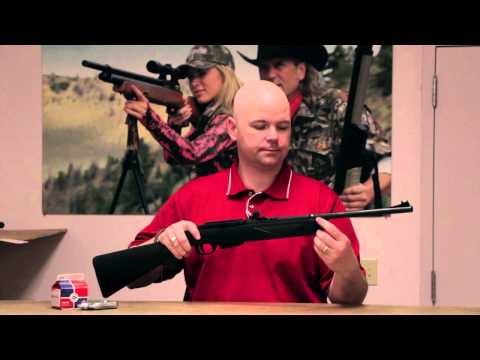 Overview
Ratings / Reviews
Downloads (Photos, Manual & EVP)
You won't find a more reliable semi-automatic air rifle than our 1077. It fires as fast as you can pull the trigger and our exclusive 12-shot rotary pellet clip lets you shoot longer. Features adjustable rear sight and fiber optic front sight.
NOT A TOY. ADULT SUPERVISION REQUIRED. MISUSE OR CARELESS USE MAY CAUSE SERIOUS INJURY OR DEATH. BE CAREFUL, SHOOT SAFELY.
Primary Use
Specifications Overview

Model Number

1077

Velocity

Up to 625 fps

Weight

3.69 lbs

Length

36.88 in

Mechanism

Semi-Auto Repeater

Power Source

CO2

Caliber

.177

Ammunition

Pellets

Capacity

12 Shot Clip

Barrel

Rifled

Front Sight

Fiber Optic

Rear Sight

Fully Adjustable

Safety

Cross-bolt

Stock

Synthetic

Color

Black
RepeatAir 1077 (.177)
Customer Reviews
Crosman 1077 pest control
By Hungrypuma
2014-05-21 20:36:46
Very accurate and effective for prairie dogs, ground squirrels; head shots from 40-60 feet are sometimes all I get and I have picked off a couple from about 70 feet. If I get a full body shot and miss the head or heart/ lung area, the 12 round clip lets me pump a few more Destroyers into them to finish the job. With fresh CO2 the shot is dead on the sights and hitting power plenty good; small (hamster size) ground squirrels can get lifted out of their holes with a head shot. Also drilled a Western Diamondback between the eyes from about eight feet, no big deal but it quite literally cleaned his clock and left no big mess other than a small blood pool out of his mouth. I'm no expert shooter, do no target shooting--only rodent control, so all the credit goes to the rifled bore and good sights. Only complaint is the rapid gas depletion, after two clips (24 rounds) the gun is useless, but that might be gas leak that others have mentioned. I don't shoot the cottontails, quail, lizards or nonvenemous snakes since they don't bother us, and the birds and rabbits are frankly too big and easy anyway to call that sport-shooting. Besides, this is not the gun for an animal that size. For small rodents, this rifle kills just fine and at an impressive distance.
Yikes!
By Dawter
2014-05-21 17:07:35
I've had this rifle for over a year and just now got on the internet to see what in the world is wrong with this thing!
I've shot many birds and squirrels. They just look at me. Really? I just shake my head. If I have to oil this and do that....why wasn't that included with instructions?
I wanted something to put down a squirrel. With this thing I can hit the squirrel in the head from 15 feet and he just turns and looks at me!!!
I'm buying a different brand. I'll bet I can't even sell this one on Craigslist for $20.
---------------------------------------------------------------------
NOTE FROM CROSMAN: The 1077 is not a hunting rifle.
crosman 1077 12 shot repeater
By leo the lunatic
2014-05-14 14:29:11
I just wrote a long review on this rifle, then I read what some other people had to say. sadly, many people don"t seem to understand the importance of reading and following the information provided in the owners manual. I also know more than a few nitwits who do the same with real firearms. you do not, I repeat, you do not store a co2 gun with an open can inside and expect it to be ready to fire at your command. this is just plain ignorance. read and follow the instructions and you and the gun will be just fine. here is a very good tip for all. I always research a gun before I buy it. then I find out how many rounds I get out of each air cartridge, then I buy enough extra magazines to get that many shots out.this will save money and time and fun in the long run. put 1 or 2 drops of pellgun oil on each can, pre-load your magazines before you put the air in the gun, and proceed to have a ball! if you do not read and follow the instructions that came with the product then you only have yourself to blame when things don"t turn out the way you planned. I do know some products are made crappy and that is why I do a little research, this is not one of those crappy guns, as I have said, I have been shooting the same 1077 for at least 8 years now, and I could not be more happy with this product. so if you all just take the time to read and understand the information that comes with the product, I am sure you will all get better results. once again, happy shooting!
Great fun gun .
By John Price
2014-04-04 08:04:41
I have owned mine for years now in the UK and I have only recently (March 2014) had to replace the first seal , its a great gun that is lots of fast fire fun , what more could you ask for .
FOR ALL PEOPLES INFO
By Mr.Anonymous
2014-01-31 02:31:37
This is a good gun. I had the same problem as many. The hissing Co2 leak. I took it to a Crosman licensed repair shop. They said this rifle has a bolt/screw that keeps the seal tight and all they did was tighten it and it never hissed again. I got this done 4 years ago. And whoever says it never fired from the beginning, keep in mind machines do not make everything perfect these days so all you do is send it back and you will almost certainly get a good one when they send you the new one. So IF YOU HAVE A CO2 LEAK TAKE IT TO A LICENSED REPAIR SHOP AND THEY WILL FIX IT FOR FREE, THEY HAVE TO DO THAT BECAUSE CROSMAN REQUIRES IT IF YOU HAVE THE LOOSE BOLT FROM THE FACTORY THAT THEY DID NOT TIGHTEN. Hope this helps.
pretty good
By outdoorsman
2013-12-08 17:17:43
this is a good kids gun. the clip is sometimes hard to get out but it is semi automatic-cant complain it is ok but the gun is not that powerful not good for sniping
Great Gun for a First Time Shooter!
By Andew S.
2013-11-30 07:19:14
This is is Response to "Very Dissapointed" by Big John,. First Off Johnny, This gun is kid's gun, you know the type, a first-time shooter should have a weapon he/she can easily shoulder, that isn't heavy, very accurate, and it doesn't need any force(other than Dad giving the knurled Co2 knob an extra turn, or two)to cock and load. As with ANY Co2 weapon, whether it's a pistol or a rifle,(in this case it's a "rifle"),Always! add a drop of OIL to the top of each Co2 cartride before dropping it in, ALSO, ADD a drop or two to spiraled rings on the "knurled Co2 cap, The drop placed on the cartrides tip leaves a thin film on all of the gun's internals as it's punctured, the drop on the knob ensures an air-tight seal on that end, I've left my cart's in this gun, as well as my QB78D(chinese Co2 Rifle), for months at a time with no Co2 loss whatsoever. So, a little knowledgable maintenance is all it takes to ensure a life time of shooting w/ your kid's. Cheer's, Andy.
1077 noting but trouble
By gene
2013-11-27 17:33:17
From day one have had nothing but problem with it. Has a air leak broke it down to see if could fine it. After about 3 hours of hunting problem found it . Had to put 2 new O rings, one was missing from the factory. Does Crossman have a QC department if so, hire someone that will do the job because there not doing there job. Had 3 screws missing that holes the gun together. Only had the gun for about 4 weeks.
Nice, inexpensive rifle
By Baker Bob
2013-11-20 12:32:20
This was the first CO2 rifle I purchased. I've been having a lot of fun with it. Although it is almost all plastic it doesn't feel flimsy, and is fun to shoot without having to pump it or reload for every shot. It has decent power, but not too much for target shooting in the basement if you have a long enough basement. (Mine is 30 feet, under that it just gets too easy to hit your target) I've been getting about 50 solid shots per co2 cartridge, after that it really slows down to where it feels like you're just throwing the pellets. As far as accuracy mine is quite accurate with some careful adjustment of the rear sight. I generally don't have a problem with CO2 leakage, or misfires. Things I would change: a nice wooden stock but in this price range that really is too much to expect, and better, more easily adjustable sights. I would also like it if it came with more than one magazine and clip. If you buy it I would suggest putting a drop of Pelgunoil on the tip of most but not all of your CO2 cartridges (too much of a good thing is not good), and be careful when you are screwing in the cartridge cap. If you buy extra clips and magazines, you can shoot a lot without much effort to slow you down. My only comment regarding hunting , since I do not hunt, is that you probably need a more powerful gun, and with this, you might not be getting a quick, clean kill which would be humane. Wounding animals is inhumane.
crosman 1077 box of junk
By Anonymous
2013-11-19 08:48:22
Piece of junk, never able to fire the first pellet, tried 5 co2 crosman powerlets none would seal. Followed directions very carefully, used pellgun oil on all and would not stop leaking. VERY DISAPOINTED IN CROSMAN. BUY ANOTHER BRAND
Good for a year..
By Anonymous
2013-08-29 17:39:44
Accuracy was ok, not great - maybe a 3" grouping at 40 feet. The problem is that the seal doesn't last more than a year +/-. When I screw in a new CO2 cartridge, the gas just hisses out slowly. I can see the seal - it has turned sort of gummy and irregular. I now have to decide if I should buy the replacement parts, only to have the gun break again in a year, or try something else.
1077
By Anonymous
2013-08-25 16:58:40
I have owned several of these. Often, in three cases, after perhaps 20 or 30 shots the gas cylinder does not seat properly and all gas is expended when trying to seat the co2 cylinder. I'm not rich but the repair cost isn't equitable with the purchase of a new rifle. So, here goes with another purchase of the fifth 1077, am I a glutten for punishment or what? The plus side is that when new this rifle has settled my score with plenty of grey squirrels.
Meh...
By Chuck
2013-08-19 13:55:25
I got this gun because I was looking for something to take care of our out of control pigeon population. I was previously using a Daisy 880 and it worked great except that I needed more than one shot at a time. I bought this gun because it was cheap, had the right power, and it seemed to fit my needs. Let me tell you though, this gun leaks CO2 horribly and you pretty much have to change the cartridge after going through one rotary wheel. I shot a pigeon from point blank on my second rotary and it barely pierced the skin. Some of the other reviews claim to have shot bobcats and the like but that, frankly, it bull. This gun is very accurate so if you want a gun that is good for backyard plinking with your family, buddies, or anything like that, this gun is great. If you are looking at this gun to take care of pests though, DO NOT buy this gun.
Not a great gun
By It was okay
2013-07-02 18:08:01
It shoots but you have to replace the co2 charge after bout a minute because it leaks it is an okay gun but I wouldn't recommend it.
repeatair 1077
By anon 70 year old
2013-05-05 20:02:11
I have 2 one purch 1994 and 1 purch 2012.
The 1994 is great.
The 2012 would be the same but the co2 cartridges do not seat correctly.
I am ordering the parts 32c and 32d to see if that will correct the prob.
They are both scoped and sighted and both will do 3/4 inch at 10 yds.
(my fence precludes any further range)
I would say 4.5 stars is accurate.
Leaks AIR
By Rick
2013-04-25 20:14:10
I thought this gun was great for my son, but Crosman quality has dropped since i had one of these 15 years ago and it was awesome, this one started leaking air after the first CO2 was changed, plus the group moved all over the place. I can not recomend this gun to anyone who is not willing to buy a new gun and have to send it in for repair, plus having to pay for the shipping to the repair shop.

1077
By Anonymous
2013-04-25 15:26:50
This is an excellent rifle. I got mine many years ago and it has always worked brilliantly. It is reliable, absurdly accurate, and easy to maintain (I dont think I ever had to clean it, actually). I would recommend this gun to anybody in a heartbeat.
Great Air Rifle
By Alan M
2013-04-15 03:22:34
This is a very powerful little air rifle that is very affordable. I shot some steel cans at 100 feet with lead pellets and they went right through both sides and made a bigger hole on the back side of the can. Also at the same distance the non lead alloy pellets went right through both sides of these steel cans...the only difference is the rear hole for the alloy pellets were smaller than the lead holes. I get good power on 36 shots...the next 12 are a bit under powered. A total of 48 shots on a CO2 with 75% of them at good power.

RepeatAir 1077
By Mr. Rineer
2013-03-20 13:24:31
Bought eight of these for the Boys Scouts to use on the Marksmanship range. They are pretty much the standard "go to" air rifle for the BSA. They have a very low failure rate, excellent safety record, great accuracy, excellent look, and provide a wonderful platform for teaching young adults how to handle weapons. The 12 shot clip "insert wheel" was a good way to control the rate of firing on the range and provided an opportunity for adult review and oversite. The Co2 canister is good for about 48 shots before the velocity starts to drops off and you can use plenty cartridges on a one-day outing. Crosman does offer an adapter-tube option which is great for fixed facilities or if you are processing hundreds of boys and have time to set it up. One last comment regarding many of the negative comments about pressure: If you read the instruction, it clearly states that you should not leave the Co2 cartridge in the weapon when not in use or it will have a negative impact on the seals, it also advises that you should periodically "oil the gun" to reduce the loss of seal pressure. I'm not convinced that the comments about pressure are not a "self-imposed" problem. Buy one, maintain it, and you will love this gun.
Great for shooting in backyard
By himisskarpel
2013-03-18 20:07:03
this is a great gun to shoot with your mom dad or even grandpa. it is so fun to play with and is very fun to use
A Big Disappointment
By Archi
2013-03-06 10:48:55
Because I have an ancient Crosman 180 .22 caliber C02 rifle that I love I thought I would upgrade to the 1077 for its repeater feature for my varmint control issue. I liked the idea of going to a .177 caliber repeater. I need a pellet rifle that can hold a charge and be ready when I need it. The rotary magazine is used successfully by a number of manufacturers, so no fears there. The price was right, so I bought one.
It has been a real let down. If you plan to shoot it be prepared to empty the CO2 cartridge because it will NOT hold a charge for more than an hour. From what I've read this is common for this rifle. Other disappointments include poor accuracy and, of all things, usually the first two shots of a magazine full will not get a full power discharge, in fact, it has stacked pellets in the barrel. Now, I am aware that I can send this thing back to the factory, but that is not cheap and somewhat of a hassle. I don't know if I'll send it to the factory or not just yet because frankly, I'm still pretty angry.


C1077
By Pedro Carattini
2013-01-30 22:23:07
This rifle is great!,I have used a lot of pellets & co2 12gr cartridges,until i found an adapter and a remote coil with a 20oz co2 tank.Now i am shootings targets for ever without having to change cartridges so often. Having a lot of fun in the back yard!.
Best CO2 Rifle For Twice The Money
By Dan
2013-01-06 14:42:52
I've had this rifle for awhile ( over 15 years ) and it's never leaked , jammed or failed . The high notes are it's inasane accuracy even with a revolver like trigger pull which is easy to master . The only down side is that when we have plinking contests I and my rifle are required to hit the soda can pull tabs instead of the cans or the string holding the cans or my shots don't count - too accurate compared to any other . I would love if Crosman would make a kit to mount this into a M4 or M16 frame or just offer one of these already available in one of these platforms , they would sail out the doors . Buy one , a box of pellets , large box of CO2's and the kit with the box magazines and spare clips and blast away .
Awesome
By triumphant378
2012-12-29 19:57:38
Great pellet rifle for plinking and chipmunks
Best airgun ever
By theairgunner
2012-12-02 09:01:59
I love this pellet gun it is the best. I put the scope for the gun on it and it shoots like a charm. love this gun!!!!!!!!!!!!!!!!!!!!!!!!!!!!!!!!!!!!!!!!!!!!!!!!!!!!!!!!!!!!!!!!
repeater air rifle
By Anonymous
2012-11-07 22:37:48
great gun! ive had 4 almost a year and its goin strong. it shoots acurate and the rate of fire is awsome for showing off and having fun. but 1 prob is that it only 1 shoots crossman pellets. i used other pellets and it jammed and i had to return it (mostly my fault) the 2 stage trigger is pretty annoaying as well. on long disatnce shoots its bad. but the pro far out way the cons i think. its a great gun for having fun and shooting like nuts i would defintally recomend 1. also it eats ammo like crazy so buy aloooot of co2 and pellets. great gun! buy it!

Very Disappointed
By Big John
2012-11-02 20:14:10
I purchased this rifle with the intent of discouraging rabbits and squirrels. Now, just a little over 6 months old. Each time I reached for it over the past 2 months,,I found the CO2 low,,I assumed that the wife had been plinking with it or practicing,,,,After several times of this happening,,I told her to let me know when she was shooting so that I would know if we needed to replace the cartridge,,,,,She informed me she had not shot the gun more than 3 times,,,,,So as I added a new CO2 cartridge,, I began to hear it leaking,,,,down by the trigger and where you load it at,,,,And of course where I purchased it will not take it back and I have to pay to package it,,ship it and then pay to have it repaired,,,,I AM VERY DISAPOINTED IN THIS RIFLE,,,, Spend a little more money and purchase a better quality.
Good
By Ed
2012-10-18 20:56:19
The rifle is overall pretty good, its nice to be able to fire 12 shots before reloading. I do find that the power of the shots drops off drastically after the first 3 or 4 but I got mine used so factory new might be different. Its pretty accurate at 15 yards but less at more than that. I find that i can get a few clips of 1 cartridge but if i want powerful shots, like to shoot mice, I change the cartridge after each clip and a half. I want to try it with a scope and see if its better.
paper target gun [NOT FOR HUNTING! ]
By long time shooter
2012-10-14 02:53:26
Yes it's fast firing,and sure that's fun. On paper targets, lots of fun - very accurate if you do your part. Power....on a 90 deg day in summer you MAY get one or two shots capable of hunting. Wounding a creature is not hunting, sure it will die in time but would YOU want to go out that way??? Rats under 20 yards?, sure it has enough power for that with a heavy pellet. The crosman 10.5 grn will do that job just fine. But it ends there. It is not for hunting anything,light pest control - maybe, as long as it's body mass is no larger than that of a rat at close range. Yes it is tempting with all those shots in the clip and the ability to rapid fire them. I will explain why : the gas cylinder cools rapidly as you fire causing a loss of velocity. A new cylinder does have enough power to hunt close range, but only for 2 shots. Then the cylinder freezes and pressure drops too much to be effective - or humane. Need to remove unwelcome four legged guests ? A low price effective rifle would be a crosman storm / quest in .22 cal around $100 or so. Accurate,powerful, afforable.
AND effective at a considerable distance with a heavy pellet. 14.5 grns is okay, but 15 to 18 grns will be very effective. A bit of velocity is lost as the pellet gets heavier, but the energy gain is worthwhile. It's a great paper puncher, not a hunting rifle. Use the right tool for the job at hand.
Crosman 1077 a mixed blessing
By ChrisPer
2012-10-06 22:20:45
I bought two of these a year ago for indoor shooting with friends and youngsters. Bought extra mags and speedloader cylinders. Used over 50 CO2 cylinders through them, and about 6 packets of 500 Crosman target pellets. Mostly I shoot paper targets and 'tiny teddy' frangible targets.

The rifle is a fair deal for the price. It is a bit lighter than I expected from its looks, and mostly plastic. Trigger is as expected for a double action. Heavy and unpleasant, but you can live with it.

Feed and reliability are poor. One of the two rifles is fairly reliable, the other regularly jams on each or most cylinders. Initially most of my jams were due to the cylinder pins in the magazines; they require a solid push to CLICK all the way in but are designed so unitl you see someone else do it you may not realise you are not latching them fully. Now despite having figured that one out I get many jams with a pellet only a tiny way out, needing the barrel to be pulled forward to release the mag and clear the jam.

The iron sights were not pleasing. I bought cheap eBay reflex sights but they were rubbish - big groups and wandering zeros. Leapers Bugbuster scopes are better, though still not as good a quality as I would like.

Grouping was over an inch to 2 inches at 8 yards in both rifles. I bought and fitted the Delrin accuracy bushings offered on eBay. The accuracy bushing appeared to tighten one of the rifles to 3/4 inch, the other did not visibly improve. The accuracy is very unimpressive.

These rifles are good fun if they are reliable. For the money, they are OK value.
crossman 1077
By that one guy
2012-09-24 23:35:04
this is a great gun I've been shooting field mice, that live under a bridge with one blw usually.
crosman 1077
By aj
2012-08-19 11:56:33
This is a good gun. I am getting 60-70 good shots from one C02 cartridge. Make sure the piercing tube screwed on tightly so you don't lose any c02. You will also need the speedloaders so you can keep shooting without having to reload every single time you go through a clip.The gun is accurate and is perfect for shooting cans,bottles, and targets. The weight is perfect because it is not too heavy or too light. Good deal!
Crosman 1077
By Dylan
2012-08-11 19:02:57
AMAZING GUN. i got this gun from my grandpa for my first gun and it is flawless in 14 now and i own manny pellet guns and real powder guns and this it the best for the price.. highly recomended!!! get this gun!!!
Unos de mis mejores rifles
By soydeMéxico
2012-07-13 22:08:23
Bueno pues apenas compre el rifle y la verdad me encanto nunca habia probado esto de las botellitas de CO2 y pues para mi vale la pena agrupa muy bien y eso que utilize unos diabolos cualquiera, si se ve el cambio de miras abiertas a mira telescopica y pues si alguien de México checa esta pagina y ve el comentario pues le recomiendo que utilizen el lubricante LIM LUB que venden en STEREN ya que aqui en México no se consigue tan facil el crosman Pellgunoil.
Saludos from Mexico!!!!!!
Crosman 1077
By Anonymous
2012-07-12 21:22:56
Just bought one of these from local sporting goods store and I love it. I was originally in the market for a pellet pistol but gave this a try because it has the dimensions of a carbine, the power of a rifle, and a twelve round capacity. After shooting it I am so glad I purchased this over the pistol. It shoots tight groups and I could not detect any power loss from the first twelve shots. The only criticism is that the co2 takes a little bit of effort to pierce but don't let that stop you from getting this gun. Although it does have a plastic frame and stock they have done something so it does not have a hollow sound or feel. Good job on this one Crosman.
vertical drop
By jon schroeder
2012-07-06 13:59:02
Very accurate with fresh co2 cartridge . accuracy decreases very quickly as co2 is used. At 25 yards or more plan on changing co2 cartridge after every 12 to 15 shots. With rifle in a fixed gun stand, using crosman pointed pellets, and target @ 25 yards,my rifle had the following results.
Shots 1-12 no vertical drop
Shots 15-16 2 inch vertical drop
Shots 21-22 3.5 inch vertical drop
Shots 24-25 5 inch vertical drop


Scopes?
By Chad G
2012-07-03 16:32:48
which scopes are going to fit on this im having a hard time finding one except the crosman 4x15 wich is hard to zero in, i dont want to waste CO2
Great Gun
By Andrew G
2012-06-22 17:46:28
I actually got this gun i believe as a gift from my father over 13 years ago before going to the desert to viisit family. I remember this gun was able to shoot lzards and a running jack rabbit with out any problems since the trigger action was quick. I havent used my gun in such a long time as its currently somewhere in the garage. overall this is a good rifle.
Awesome gun
By john
2012-05-30 21:28:09
I was looking for a semi automatic pellet rifle, and this came up. I checked it out, and after a bit of researching, I bought it. This is by far the best pellet gun investment you will ever make.

Pros:
Cheap
Easy to install CO2
Fun to shoot

Cons:
Default sights are.. Iffy
Only holds 60 CO2 shots before running out of CO2

That's about ti! You should totally get this gun if you are planning on putting a scope on it, otherwise look at other guns.
BO$$ GUN
By barkbarkzoopals
2012-05-21 21:53:49
This gun is my first CO2 powered gun and i love it. At first i didnt like it because i couldnt figure out how to do all the CO2, even though i read the instructions like 10 times. But when i oiled the tip of the CO2, and the oiled the screw around the pierceing tube, i finally got it to work. After that, it worked every time. If you put a nice scope on it, it will hit dimes from 20 yds away. This gun absolutly amazing. I recomend buying an extra MAGAZINE or two and keep them loaded with a clip, so you can change the mags out like a real gun.
ONLY ONE REGRET I DID'NT GET IT SOONER
By Tim
2012-05-16 16:26:26
THE GUN IS TOTALLY BOSS!!!!!!!!!! I LOVE SHOOTING IT MY FRIEND WANTS IT TOO
A detailed look at a 1077
By gunlover51
2012-04-03 00:33:04
Okay. I have tested two 1077's extensively and I am going to give facts and not hype or opinion. At 20 yards the rifles are plenty accurate but the factory sights need improvement. The front sight has too large of a fiber-optic dot for precise aiming. I cut the fiber-optic off mine and replaced it with a 1/16" gold bead. I also installed a Williams WRGS 54 peep sight on the grooved receiver. This gives my 60+ year old eyes a sharp sight picture. The rear sight is pricey for this gun but to me it is worth it. I have Chronographed both rifles several times at 80 degree temperatures and here is what happened. The first four shots yielded velocities ranging from 665 to 650 fps with the Crosman 7.4g pointed pellet (Item #7-P577). Shots 5 through 8 run from 643 to 630. Shots 9-11 from 611 to 607. Shots 12-16 from 581 to 570; shots 17 & 18 in the 540's; shots 19 & 20, 520's to 512. The avg. velocity for these 1st 20 shots is 601 fps. The Crosman 7.9g Premier Match Wad cutter (# LM77) averaged 590 fps for the first 20 shots. In these tests of 2 rifles, neither delivered the rated 625 fps avg. velocity for a 7.9g pellet after the first 9 shots. The guns were very also ammo sensitive for accuracy but both shot well with the right selection. I was surprised and disappointed in the very abrupt velocity drop-offs that occurred. During testing the guns were slow-fired with at least 30 seconds between shots. Both guns gave this tendency to drop off. After 20 shots the velocity is down in the 490's and by shot 32 or so you are in the 300's.This gun is fine for cowbirds, but it is cruel to use it on some of the claimed animals shot in other reviews. It is best as a plinker and casual target gun. I would recommend this gun to those who want it for these purposes. If you need to hunt larger species, get a much more powerful Crosman gun in a larger caliber. For raccoon and beaver I recommend at least a .25 caliber.
Get what you pay for
By rscott521
2012-03-31 16:06:57
Looks good, shoots like it should. Only complaint is the front sight is not in line with the rear sight. Front sight seems to be monuted to the left of the rear sight if you are sighting down the barrel.
Best co2 gun!!!!!!
By Best co2 yet!!!!!!!!!!!!!!!!!!!!!!!!!!!!!!!!!!!!
2012-03-19 01:01:54
I hunt small game with this gun ALL the time! It's said to have a low fps but it really kills in one quick shot! Anybody who has a gun should have this one too!
Love this gun
By Jachai A.K.A 11agenteleven@youtube.com
2012-03-03 12:15:26
The Semi- automatic on this gun is great i used my friends and we saw about 6 crows flying over head i hit three of them. Ypu should buy this gun.
setting the record straight
By Anonymous
2012-02-17 21:18:13
I have heard some fairly incredible stories about killing beavers and raccoons with this gun. I have one of these and as a hunter, there is no way these are capable of kling humanly. You can shoot a beaver or raccoon with one of these and it will die but it will be slow and painful. These co2 guns are 10 meter can killing guns only. If you ar going after a beaver or raccoon you need a high power large caliber air gun that is ACCURATE. Think .22 cal or.25 cal over 950 fps and a good pellet like a polymag predator designed to break bones and destroy vital organs. If you hunt, do it humanely, and not with a crosman 1077. If you target shoot for fun, this is a fun little gun. Use it for what it is made for.
Repeater Air 1077
By Bob S.
2012-01-26 15:08:57
I bought this gun for my 16 year old grandson and decided to use prior to giving it to him it so I could pass on any problems. I liked the gun so much that I bought a second one for myself. A truly great gun. I wish it had a little more power, i.e., 1,000 fps. Thank you Crosman
Great Fun and fairly accurate!
By Florida Shooter
2012-01-22 09:33:20
So much fun, I now have 2! Added a barrel stabilizer and n more worries about the barrel wobble (if it did in the first place). Need more clips, cause this can eat up the pellets fast!!
1077
By Paul
2012-01-21 09:40:55
This is a great gun! For targets or plinking out to 25 yrds. it is accurate. The power starts dropping off around 40 shots but just have some targets set up at different ranges to get the full potential of this gun. Buy extra 12 shot clips and magazines for faster reloads when shooting an arcade style target range. My gun came with a Center point 4x32 scope and it sighted in at 6 shots. The 88gr air source adaptor is a must for this gun if you plan on useing it all day as i do. Once you get this gun you will not be able to put it down.
crosman 1077
By Marcel Gutierrez
2012-01-06 15:43:43
Le he regalado esta arma para reyes a mi hijo de 6 años, al principio la opinion no fue buena ya que se me atasco un balin, gracias a la gente que representa a CROSMAN en Uruguay la armeria GRAN AVENTURA que me solusionaron el problema en 5 minutos, de regreso en casa calibre la mira center point 4x32 , a 10 metros agrupa en un cuadrado de 1 cm por 1 cm y eso que ya no soy un buen tirador. El mayor problema que encontre no lo tiene el rifle sino las garrafas de co2, de 6 dos me fallaron y las tube que desechar , eran garrafas cosman!!! En cuanto a la potencia los 20 primeros tiro de algunas garrafas son muy potentes y en otras no tanto, despues empiezan a perder potencia para tiro al blanco esta muy bien para la caza aun no la he probado cuando lo haga lo comento. Gracias a Crosman por permitirme dar mi opinion, desde Montevideo-Uruguay saludos!!!!!!!
pretty good
By Anonymous
2012-01-04 15:59:31
powerful and good gun but hard to set up
more power please
By T
2012-01-03 17:24:11
This gun is great and a must for the price, just wish they had a pcp version or one with a bigger tank, 600fps is descent but I know crosman can make a 1000fps version with pcp or like 800fps with 22g or bigger co2, that would be amzind to hunt with because this gun is accuate as you can get with fiber optic sites! But it loses a lot of power half way through the second clip.
1077 RepeatAir
By Boywithgun
2012-01-02 14:24:11
I have owned this gun for nearly 17 years. Loved it as a boy, love it now. I recently discovered the gun in my parents basement after many years and it still fires now like it did the first day. I have now passed it on to my boys. The only problem I have every had with this gun would be me losing the clips and had to purchase replacements (Obviously, my fault). Loved this gun as a child, still love it now. Thanks Crossman. If it ain't broke don't change it. I was very happy to see you still support this rifle after so many years.
1077
By airgun hunter
2011-11-18 13:49:39
My main two complaints are that it runs out of power too quickly and that the trigger is two stage which is no problem except for the second stage because it is sluggish.
The sight is not my favorite but hey that is just me.
But whatever your choice, have fun and share your sport!


Best c02 gun ever!!!!!!!
By gunboy101
2011-11-13 21:53:11
this is the best gun ever!!! Bought it yesterday and have already used 4 co2 cartridges! I get about 60-80 shots per cartridge and love it! This is a must buy
not bad
By Anonymous
2011-10-26 18:54:16
The 1077 has earned it's way into my arsenal and I can say is a good pest control gun. It was instrumental in dealing with a bobcat that was killing my chickens.. yes it did... and has been a reliable guardian around the house for many many years. The only big minuses I found is they can't use longer pellets like predators but do an excellent job with crosman pointed pellets. Also the rear sight is cheap and the front sight could stand to be redesigned with a better fiberoptic setup.
MODEL 1077
By don burkhalter
2011-09-29 10:28:42
Great Gun
By GunHunter
2011-09-13 20:12:28
this gun is the best around
Hunting, pest control, or just fun?This gun can do it all
By Ethan
2011-08-16 07:30:29
Let me just start off with this, for all you guys who say you should only target shoot with this gun, you couldnt be more wrong. I am getting guarter sized groups at 15 yards and I am hitting, or should I say exploding, eggs at 20 yards. The gun itself isnt to shabby in power either. I have read articles of people killing raccoons and beavers with this gun and I totally believe it. Trust me, I am NOT a HUGE hunter(I hunt with a 20 guage stoger condor shotgun), but I do enjoy the sport and I know this gun can take out any small game(rabbits, squirrels,etc.), but if I could say what this guns real purpose is, It is pest control or just fun. Fun because you have 12 shots and its not real noisy. The same reasons for pest control. You have 12 shots so its perfect if your infested with something and its not noisy so you dont scare it away. I have first hand experience with pest control. There was a group of cowbirds in my front yard. I tried to make it like a real stalk, so after a minute or two, I am in position and I put the crosshairs on the biggest male in the group and pulled the trigger( it was a 20-25 yard shot). It died instantley. So all in all buy the gun. You wont regret it.
good gun
By billy
2011-08-13 14:21:35
i got this gun without the clip from a friend and i had to buy it i love it you should get it
1077=10/22
By Nick
2011-08-11 14:35:48
This gun is amazing the only semi-auto rifle out there. I get about 80 shots from one Co2 and the power isn't a ton but it is enough that it will do what ever you want. Its not hard to stop the pellet with some wood and that makes it for great plinking and target shooting. But god is it ACCURATE a little heavy on the trigger but nothing that will bother you. And another thing THIS GUN IS THE SAME size as the ruger 10/22 and marlin 995. Same stock and barrel length if mine where not wood I would have a hard time telling them apart. Overall a nice tough accurate versatile rifle.
IMPORTANT PLEASE READ
There are a few ways to download files to your computer. Right-click the item and select "Save As..." or you could open the link and save the document from there. All owner's manuals (OMs) and exploded view of parts diagrams (EVPs) are in a PDF format. You will need Adobe Acrobat Reader installed on your computer to open the file. If you do not have this program you can download it for free at:
http://get.adobe.com/reader/
High resolution (
High Rez
) media center files are in a variety of formats such as .TIF, .PSD, .EPS, .AI, etc. and typically require an additional program to open. Low resolution (
Low Rez
) files are in .GIF or .JPG format and should open in your web browser.