Marauder Rifle (.177)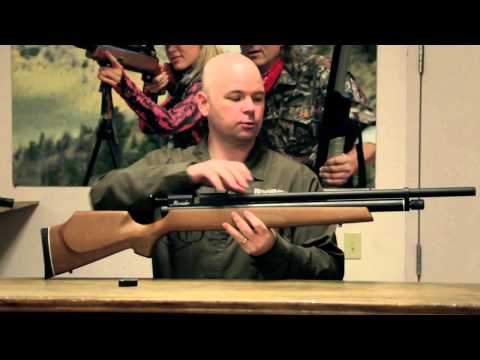 Overview
Accessories
Ratings / Reviews
Downloads (Photos, Manual & EVP)
$579.99
This item appears to be out of stock.
Enter your email address below and we'll email you when it becomes available.
CLOSE [ X ]
AUTO-NOTIFY
Following up on the popular Benjamin Discovery PCP air rifle comes the revolutionary Benjamin Marauder! This powerful new PCP air rifle offers all the features needed for field target shooting and small game hunting.

The Marauder features a Crosman Custom choked barrel and internal shroud for unsurpassed accuracy and ultra quiet operation. The new two stage adjustable, match grade trigger pack with a metal trigger makes every shot smooth and steady. The Marauder also has a raised aluminum breech with a heavy duty pull bolt making loading the gun and mounting a scope a snap. The Marauder is also a Multi-Shot rifle with the new 10 shot auto indexing clip. This gun also operates at fill pressures between 2,000 and 3,000 psi. This rifle can be filled with the Benjamin hand pump or a high pressure tank (items sold separately).

This powerful and exciting air rifle will once again set Benjamin as the value to performance leader in the PCP category.

Need help picking the right adaptor to fill your PCP airgun?
Click here to view the PCP Fill Guide
NOT A TOY. ADULT SUPERVISION REQUIRED. MISUSE OR CARELESS USE MAY CAUSE SERIOUS INJURY OR DEATH. BE CAREFUL, SHOOT SAFELY.
Primary Use
Specifications Overview

Model Number

BP1763

Velocity

Up to 1100 fps

Weight

8 lbs

Length

42.50 in

Mechanism

Bolt Action

Power Source

PCP

Caliber

.177

Ammunition

Pellets

Capacity

10 Shot Magazine

Barrel

Choked and Rifled

Safety

Lever

Stock

Hardwood
Marauder Rifle (.177)
Customer Reviews
recomendation
By calr
2013-08-11 23:39:56
the maruder needs a rear and front sight
Marauder Rifle (.177)
By Anonymous
2013-04-20 05:58:16
estremamente valido, qualità prezzo competitivo con tutte le carabine europee, sono molto soddisfatto .
Marauder Rifle (.177)
By Robert
2013-02-07 22:19:48
Excellent is an understatment.
The best pellet rifle...
I shoot the 10.5 grain high domed pellets from Crosman.
At 50 yards from a bench i get 10 shots in a 1/2" group.
I have made shots out to 133 yards and hit 1" targets.
get a good milldot scope with vairable settings you will need it,
It shoots that far.
the rifled barrel should be on a hunting rifle.
Its so sillent it sounds like a miss fire or mistake.
untill you hear the pellet hit the target.
I get about 60 shots befor I refill it. 2200 psi at the low an 3000 psi at max.
Buy the exstra clip you need it. I have three now.
Dont waste your money buying somthing eles.
Get this and you wont regret it.
Have fun, be safe.
Marauder .177 VS Plinking Target
By Jeremiahfull
2012-11-02 11:09:57
Great air rifle! I own both the BP1763 and the BP2263, respectively the .177 version of the Marauder and the .22 version .
Both great air rifles for a very reasonable budget!


Best Regards,

JSSC (Jeremiah's Shooting Sports Channel)



Benjamin Marauder .177
By Andy Wibowo
2012-09-05 15:37:02
HI.. I'M FROM INDONESIA.. IN MY COUNTRY THIS GUN EXPENSIVE CATEGORY AND MORE CHEAPER THEN ANOTHER EURO GUN.. I THINK THE MARAUDER IS A MIDDLE PRICE FROM THE OTHER EURO GUN PRICE THAT VERY EXPENSIVE.. BUT IT'S DOESN'T MATTER.. I'VE GOT GOOD QUALITY, GOOD LOOKING, GOOD FINISHING TOUCH.. SALUTE..
FIRST TIME I HEARING THE SOUND SO QUIET, SMOOTH, BUT THE POWER SO GREAT..
ABOUT THE ACCURACY, THIS GUN ARE VERY VERY CONCISTANLY ACCURATE, OUTSTANDING PERFORMANCE.. AGAIN SALUTE TO CROSMAN..

JUST TRY THIS GUN AND YOU WILL KNOW THE PERFORMANCE..
I WRITE THIS REVIEW CAUSE THAT'S WHAT I'VE REALLY DONE WITH MARAUDER.. I'VE BEEN WASTED MONEY WITH THE OTHER AIR GUN, HOPE YOU DON'T WASTED MONEY LIKE I'VE DONE..

I'M WRITE THE REVIEW NOT FOR BUSSINES INTERESTS, BUT THAT'S FOR REAL..

SORRY FOR MY BAD ENGLISH..

THE BEST OF AMERICA
By DOUG DIVER
2011-11-10 11:08:42
I'M JUST DISAPOINTED THAT CROSMAN TOOK SO LONG TO BRING THIS ''FABULOUS RIFLE TO MARKET...WHY??,,BECAUSE I WASTED SO MUCH MONEY ON HIGH PRICED EURO GUNS,,TRYING TO FIND A CONCISTANLY ACCUARTE AIR RIFLE .
NOT ONE,,,I REPEAT NOT ONE OF THOSE EURO GUNS ARE AS ACCURATE,AND MORE IMPORTANTLY CONCISTANTLY ACCURATE AND AS AS HARD HITTING AS THER MARAUDER IS.
DID I SAY THE GUN IS ACCCURATE??,,DANG RIGHT IT IS,,,HOW ACCURATE,,IS QUARTER TO HALF INCH GROUPS AT 50 YARDS GOOD ENOUGH.
I'D SAY THATS MATCH GRADE ACCURATE,,,AND ALL IN A PACKAGE THAT I PAID ONLY $350.0
AND QUIET,,,DID I SAY HOW QUIET,,,MY FIRST OUTING IN THE LATE NOVEMBER WOODS,,,HAD A WHITETAIL DEER,,PEACEFULLY SLEEPING ,,NOT MORE THAN 50 YARDS OUT,,,FINALLY GET UP AND RUN OFF,,ONLY AFTER I HAD BEEN SHOOTING AT A STUMP,,FOR ABOUT 20 MINUTES, I PERSONALLY THINK IT WAS ME GETTING UP AND GOING OVER TO THE STUMP,,,NOT THE SOUND OF THE RIFLE,THAT ACTUALLY DISTURBED THE DEER..
I LIKE THIS GUN,,,I LIKE THIS GUN ALOT.
Needs some accessories? Look through the items we paired up with the Marauder Rifle (.177).
IMPORTANT PLEASE READ
There are a few ways to download files to your computer. Right-click the item and select "Save As..." or you could open the link and save the document from there. All owner's manuals (OMs) and exploded view of parts diagrams (EVPs) are in a PDF format. You will need Adobe Acrobat Reader installed on your computer to open the file. If you do not have this program you can download it for free at:
http://get.adobe.com/reader/
High resolution (
High Rez
) media center files are in a variety of formats such as .TIF, .PSD, .EPS, .AI, etc. and typically require an additional program to open. Low resolution (
Low Rez
) files are in .GIF or .JPG format and should open in your web browser.