Marauder Rifle (.22)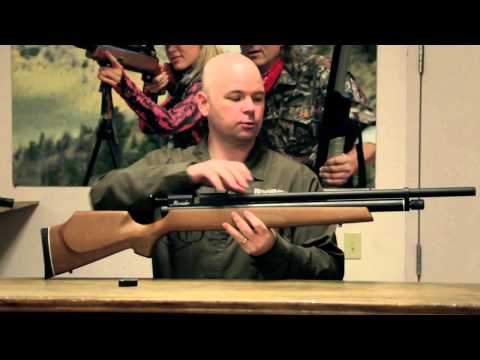 Overview
Ratings / Reviews
Downloads (Photos, Manual & EVP)
Following up on the popular Benjamin Discovery PCP air rifle comes the revolutionary Benjamin Marauder! This powerful new PCP air rifle offers all the features needed for field target shooting and small game hunting.

The Marauder features a Crosman Custom choked barrel and internal shroud for unsurpassed accuracy and ultra quiet operation. The new two stage adjustable, match grade trigger pack with a metal trigger makes every shot smooth and steady. The Marauder also has a raised aluminum breech with a heavy duty pull bolt making loading the gun and mounting a scope a snap. The Marauder is also a Multi-Shot rifle with the new 10 shot auto indexing clip. This gun also operates at fill pressures between 2,000 and 3,000 psi. This rifle can be filled with the Benjamin hand pump or a high pressure tank (items sold separately).

This powerful and exciting air rifle will once again set Benjamin as the value to performance leader in the PCP category.

Need help picking the right adaptor to fill your PCP airgun?
Click here to view the PCP Fill Guide
NOT A TOY. THIS AIRGUN IS RECOMMENDED FOR ADULT USE ONLY. MISUSE OR CARELESS USE MAY RESULT IN SERIOUS INJURY OR DEATH. BE CAREFUL, SHOOT SAFELY.
Primary Use
Specifications Overview

Model Number

BP2263

Velocity

Up to 1000 fps

Weight

8 lbs

Length

42.50 in

Mechanism

Bolt Action

Power Source

PCP

Caliber

.22

Ammunition

Pellets

Capacity

10 Shot Magazine

Barrel

Choked and Rifled

Safety

Lever

Stock

Hardwood
Marauder Rifle (.22)
Customer Reviews
Marauder rifle (.22)
By Anonymous
2013-10-31 14:09:25
I bought a .22 cal. model 18 months ago. First off the air pump had a 90 degree kink in it right out of the box. I called the company and they promptly sent a new one. Then the gun would not take air...So I sent it back to the company. I got it back and pumped it up, shot a few rounds. Great I thought. I put it away, making sure to leave a bit of pressure in it because that is what the company told me to do. I picked up a brand new red dot scope and figured I was ready to do some shooting. Think again...Not only did the air leak out of it in storage but now it refuses to take air again. It just pushes the air right out the barrel as you attempt to air it up....Save yourself 500 dollars and buy a baseball bat. If I lived closer to this corp. I WOULD have returned it right through the front window! Over priced, over hyped, junk. I have yet to fire a full clip through this THING...Again, if you are thinking about buying one of these--save your money. Wish I could get just half of mine back, I would gladly send mine back and call it a lesson learned...
gun
By JAY
2013-10-25 06:00:00
i can`t speak english ... but marauder is best rifle

1.marauder .... 2.walter.... 3.ar6 under 80 jule

god luck
Great gun, but...
By Jeffrey Bee
2013-09-20 17:08:07
First, let me tell you that this is my second review. I gave the gun one star on the first one simply due to my experience with Crosman customer service, and what do you know, a day later I see my review hasn't been posted. That should tell you something about Crosman's issue with telling the truth.

The gun is excellent: accurate, powerful, very quiet, what more do I need to say?

So why a less than stellar review? Well, my gun leaks air. It started about a year and a half after I purchased it, but I consider it a manufacturing defect because it is a KNOWN CHRONIC PROBLEM with the early production. I can even forgive the leakage because the gun is so marvelous in all other ways, except for the fact that Crosman will not own up to the problem or stand behind one of their top of the line products. To put it quite simply, they lie about it.

Read the other reviews here. How many mention air leakage? Quite a few, right? Does that suggest that the leakge is a manufacturing defect? It sure does. So I call Crosman customer service and explain that although my gun is out of warranty, all evdence points to the leakage being a manufacturing defect, and would they please do the right thing and fix my gun? I was simply floored to hear the representative say, in a bored dismissive tone, "That's news to me... we are not aware of any air leakage issues with the Marauder."

The CS rep's response was disingenuous at best. I was asking for leiniency in their warranty period because of the history of leakage in the Marauder product line, and what I got was a lie. Not "We are sorry, but we have to stand by the original warranty period." but was told in effect "You're making this up." After this insult, I pressed further, pointing out that every single airgunner's forum I could find had multiple threads about how to fix leaking Marauders. The CS rep's response: "I don't read those forums because half of the posts are untrue." Apparently, the only reason they read the customer reviews on their own site is to delete unflattering posts such as my first one. I don't typically post on forums, but thanks to Crosman Customer Service, my experience is going on every airgun forum I can find.

Great gun; too bad they won't stand behind it when things go wrong.

Jeff Bee, Saint Louis


Cocking the Marauder
By PEPE
2013-08-28 18:52:21
I have my new Marauder .22 since 10 days here in Mexico
Im working with the Factory tuning
Very nice and the precisión is superior, where I put the crosshair at 20m goes the pellet
This weekend I will go to 40-50m distance

What's not to Love!!
By Jeff
2013-08-19 19:18:49
Absolutely perfect in my opinion. I can't imagine high priced rifles could be any better. An absolute pleasure to own and shoot. Smooth, quiet and extremely accurate. Hole in hole at 25 yds with premiere domes all day long. It's almost to easy (not). Now to own the synthetic model. Buy one. Try one. You won't be disappointed. I'm not!!!!
Marauder .22 Rifle is a Tack Driver
By whitesalmon
2013-05-21 21:24:10
I have a few Benjamin Air rifles and this one is my new favorite, It's like shooting a suppressed .22LR Very accurate and Powerful. Using the Hand pump takes a little getting use to but it with a little effort it offers endless refills. My only complaint is they didn't use a Pickatanny rail for scope mounting and other optics. My Ruger 10/22 .22LR has been sitting in the gun safe ever since I got into these air rifles.
Remek!
By gambi
2013-04-03 06:52:15
Nagyon eltalált, kiforrott íipus. Hihetetlenül pontos, bár ez erősen függ a lövedéktől. Pl.: A JSB Exakt 5.50 és 5.51mm-esnek 50m-en 6-7cm a szórása, a 5.52mm-esnek
csak 2.5 cm! Ha jól választod meg a lövedéket, nagyon sok sikert könyvelhetsz el! A regulátor nélküli kategória legjobbja szerintem!
Gratulálok Crosman!
Good air rifle
By PyroMaster
2013-02-08 12:48:12
Not perfect, but good. Experiences are very positive about the rifle. The trigger is fantastic! The accuracy is good. The aesthetic is also perfect. The stock is good!
I shot him two years to 25,000 shots, without any mechanical failure. Is it worth the price! I recommend it.

Weaknesses: The air cylinder surface finish is very weak. The gaskets get old very quickly. 1.5 years to be replaced.



11 Stars in Accuracy
By Kito
2012-11-11 10:35:34
I like everything about this Rifle. The perfect elegant design, the trigger, the shrouded barrel, the discrete sound of the shot, the (almost nonexistent) recoil, the number of shots per fill, the pre-existent sling studs, the amazing harmonics of the mechanism and above all, the incredible accuracy. Its impossible to be more accurate!
I wouldn't change Absolutely Nothing about this rifle. Don't change anything in this gun. This is an amazing piece of engineering that has reached its highest point. I'm sure that any attempt to improve this gun will compromise this perfect balance; - something that is extremely good.
This gun deserves the best scope you can afford. Don't forget that.
Since I started into airguns I may have tried maybe 18 different guns and nothing compares to this one. Top Dollar airguns can't do better than the Benjamin Marauder.
All you folks out there should know is that if you have a chance to buy a Marauder, do not hesitate. Only an accurate gun , no matter what qualities it may have; - only one accurate gun can give you pleasure. This is the one. This gun will make you happy for sure.
un bijoux ! thank Crosman !
By Brice
2012-11-07 23:04:40
je suis Français et je ne connaissais pas la marque Crosman, j' ai fais l achat d une Maraudeur et je suis bluffé par sa qualité de fabrication et ses performances ! bravo Crosman et continuez de nous faire des supers produits comme la Marauder !
The best PCP Gun
By Jeramia
2012-11-06 19:58:34
The title says it all. The BEST PCP Gun
Marauder Long Range Scopecam
By jeremiahfull
2012-11-02 11:12:27



marauder(.22)
By howzen
2012-08-25 06:36:28
this gun was displayed at the recent NRA convention in st louis, mo .. i have had several spring 22 cal airguns in the last 20+ years but read other reviews on this rifle and decided to purchase one. wish i had one of these long ago, quiet, accurate,easy to maintain, and with a scuba tank to refill your gun u can burn up inexpensive pellets in your back yard (if u live in town). well worth the price
Just perfect
By Hade
2012-06-09 23:48:29
This rifle is just perfect! Accuracy is tied between CPHP and CP Ultra Magnum with DIME SIZED grouping. Easy to use and shoot. And the trigger...oh the trigger...don't get me started. It's like cutting butter with a hot knife! The only issue is the weight, you'll get used to it though. It'll get you strong! Also, she is silent. Really, really, really, silent. Only sound is the hammer against the valve and the pellet whacking the target. Must buy. If you can only get one, go big.
Benjamin Marauder .22 at 110 yards indoor
By Jeremiahfull
2012-05-02 16:26:30
not to bad for a relatively cheap air rifle ...



Surprizingly Amazing.
By Anonymous
2012-03-22 23:01:54
Picked one up with a Leapers 5th Gen 6x24x40 Scope and was a little frustrated trying to Zero with the scope becuase of the less than typical adjustments on the scope. Couple that with the fact that I started with a brand of pellet that simply wouldn't group tighter than 5" at 45'. However once I figured out the right pellet to use (Crossman Premier Hollow Point), and figured out how to adjust the scope I was punching 5 shot groupings all day long THROUGH THE SAME HOLE. I setup a couple pennies and started plinking them at '45. After 20 shots and no misses I handed it to my kids (daughter 12 and son 16 and they bent a hand full of change) another 20-30 rounds and ONLY ONE MISS from 45'. I've made zero tweaks to the gun and it just work. WORD OF WARNING, some ammo simply won't pattern well in this gun. Tried other Crosman, and Gamo rounds and nothing worked the the ones mentioned above.

The ONLY negative IMO is the weight.
Almost the best......almost
By Brandon
2012-03-11 22:50:36
So I purchased this Marauder .22 back in October of 2011, and i loved it! I shot this rifle at very least 2-3 times a week.. Mainly testing to find the best pellet for the gun. (for tree squirrel and cotton tail season) And crosman what the heck, your brown box .22 14.3grain pellets were one of the worst pellets i used in this gun and they're ridiculously expensive. But in this time i spent over $100 on different pellets to test in this gun. I purchased Benjamin PCP hp 14.3grain, JSB Exact Heavy 18.1grain, JSB Exact 15.9grain, JSB Exact Monsters 25.4grain, H&N Baracuda Match 21.1grain, Beeman Kodiak Copper Coated 21.1grain, Predator Polymags 16.0grain and a few other H&N, and Beeman pellets. Velocities for these pellets with the factory tune from 3000 psi consisted of: 14.3grain= AVG 935fps. But one drawback about this rifle is i was only able to get about 20 good consistent shots with the JSB 18.1. AVG shot string= 881.3, 879.2, 878.6, 875.1, 873.7, 870.2, 870.7, 868.4, 864.9, 862.2 and the velocity would only continue to drop. The only pellets that could maintain decent accuracy at 50 yards were the JSB 18.1, 15.9, Polymags, and Match Baracudas 21.1. The best groups were with the 21.1 baracudas and 18.1 JSBs. Baracuda groups= 0.964", 0.859" 0.751". JSB 18.1= 0.521" 0.648" 0.439". So squirrel season came and went without any luck. But I continued to shoot. Then a couple days got warm enough that i figured some ground squirrels would be out enjoying the sun, and there where. The JSBs found their mark and hit 9 squirrels hard, all these squirrels were under 50 yards, and the 10Th one i shot at i missed......but it shouldn't have. He was at 72 yards with a 5-8 mph 90 degree left to right wind, my fill pressure was good so the velocity was just fine. I had a 4-16X40 MD AO IR centerpoint scope on this rifle, so i made the right adjustments concerning elevation and windage, and squeezed the trigger, what happened next was kinda weird, the pellet struck low 2 inches, and to the left 4 inches, latter found out it was the scope. (So i wouldn't recommend this scope to anyone, considering the scope was never bumped or dropped or anything), But back to the gun. So 2 days later i pulled the rifle back out to shoot some more, and found out the gun was leaking. I don't know where the leak was or if it is normal for Benjamin PCPs to start leaking after about three months of use but i sent the gun back to crosman for repairs, still waiting to hear back about the gun. I would recommend this Rifle to friends, but if you want absolute pin point accuracy at range i would suggest putting a Lothar Walther barrel in place of the factory barrel. Another thing is i just wish i could get more shots per fill.
Exelent
By Anonymous
2012-02-25 03:03:44
Exelent gun, I like
A PCP airgun for the ages
By rzrbax
2012-02-07 16:41:49
I have had my Marauder for a year and a half. It is an amazing airgun. Here are the things I like best about it. Mine is the .22 caliber.
1. It is very quiet with a fully shrouded barrel.
2. It is very powerful easily taking raccoon sized game.
3. It is very accurate, and is easily within an inch at 50 yards.
4. It has a 10 shot magazine for quick follow up shots.
5. The trigger is very predictable and can be adjusted where you like it.
6 It is American made.
7. I get around 25 very consistent shots with a fill.
8. It has a pressure gauge.
9. The gun can be tuned to offer power or more shots.

My least favorite part is the stock. It is somewhat bulky, and the checkering is easily damaged by a gunsock.
If you don't have a Marauder you'll regret it some day when the airguns of legend are being discussed.
The .22 Marauder is Deadly & Accurate
By Anonymous
2012-02-06 21:15:34
What are you waiting for? Buy it. I've been shooting BB/pellet guns and firearms for about 60 years. This bolt-action, 10-shot repeater is fantastic; especially if you've been fooling around with .177-cal single-shot, break-barrel pellet rifles trying to rid your urban backyard, gutters and downspouts, and roof of bushy-tailed rats (squirrels) for as long as I have. I bought the .22 cal version because I wanted more knock-down power than a .177 cal and reviews I read said the .25 cal version used a lot more air; hence less shots per filling/pumping and was a bit louder. Buy a good mil-dot scope for it since it doesn't have iron sights. Be careful what you buy, not too short, so that the eye relief won't be beyond your comfortable reach when mounted on limited rail space on the receiver. Only draw backs: Need to buy a scope, need for a high-pressure pump or compressed air bottle, and the very heavy weight of the wooden stock. A nice, lighter weight, synthetic stock would be a terrific addition to this VERY FINE pellet rifle. Be sure to shop around on the internet for a best price; they are available at a hugh discount at some locations and even with shipping and sales tax can be had for at least $100 below MSRP. Did I say buy it? It's whisper quiet, accurate, single-shot deadly for bushy-tailed rats at about 30 yards.
some long range field shooting with my .22 Marauder
By Jeremiah
2012-02-03 07:41:03



At the 55 yards range
By Jeremiah
2012-02-03 07:38:38



Excellent rifle
By Suburban gardener
2012-01-12 21:04:50
Perfect for suburban pest control. Humane one shot kills every time for squirrels and rabbits.
It really is insanely accurate. My tuned .22 rimfire rifle does not even come close.
It's not an inexpensive set-up for a pellet rifle, but well worth the cost for suburban varmint hunting.
Mine is most accurate with Crosman Premier hunting pellets fed from the magazine or Polymag Predator pellets loaded one-at-a-time.

I put a first time shooter prone off of a bipod at 35 yards. His first five shot string could be covered with a nickle. He's hooked!
I gave him my old springer air rifle while he saves up for a Marauder.
It'll do.
By Mark
2011-09-26 01:13:22
Actually an outstanding air rifle. Quiet. Accurate. Trigger is comparable to the match triggers I grew up shooting. A little on the heavy side for a hunter. This contributes to the accuracy so it's hard to complain. Most definitely would recommend. One need only compare the price to that of the competition. Leaving it tuned from the factory gives me about 30 rounds of 14.3 grain ammo in the sweet spot before a refill.
Wow
By Anonymous
2011-09-09 22:38:53
Excellent weapon. buy it.
Awesome rifle
By Peyton
2011-08-20 16:19:49
This is one excellent weapon. Insanely accurate, quiet, and powerful, with an excellent trigger. I love shooting empty shotgun shells out to 60 yards with no problem. I also hunt rabbits, squirrels, and coons with it. Knocks em dead every time, no matter the distance. :D
IMPORTANT PLEASE READ
There are a few ways to download files to your computer. Right-click the item and select "Save As..." or you could open the link and save the document from there. All owner's manuals (OMs) and exploded view of parts diagrams (EVPs) are in a PDF format. You will need Adobe Acrobat Reader installed on your computer to open the file. If you do not have this program you can download it for free at:
http://get.adobe.com/reader/
High resolution (
High Rez
) media center files are in a variety of formats such as .TIF, .PSD, .EPS, .AI, etc. and typically require an additional program to open. Low resolution (
Low Rez
) files are in .GIF or .JPG format and should open in your web browser.