Marauder Rifle (.25)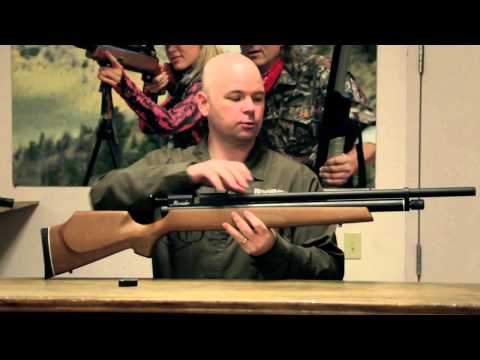 Overview
Ratings / Reviews
Downloads (Photos, Manual & EVP)
Following up on the popular Benjamin Discovery PCP air rifle comes the revolutionary Benjamin Marauder! This powerful new PCP air rifle offers all the features needed for field target shooting and small game hunting.

The Marauder features a Crosman Custom choked barrel and internal shroud for unsurpassed accuracy and ultra quiet operation. The new two stage adjustable, match grade trigger pack with a metal trigger makes every shot smooth and steady. The Marauder also has a raised aluminum breech with a heavy duty pull bolt making loading the gun and mounting a scope a snap. The Marauder is also a Multi-Shot rifle with the new 8 shot auto indexing clip. This gun also operates at fill pressures between 2,000 and 3,000 psi. This rifle can be filled with the Benjamin hand pump or a high pressure tank (items sold separately).

This powerful and exciting air rifle will once again set Benjamin as the value to performance leader in the PCP category.

Need help picking the right adaptor to fill your PCP airgun?
Click here to view the PCP Fill Guide
NOT A TOY. THIS AIRGUN IS RECOMMENDED FOR ADULT USE ONLY. MISUSE OR CARELESS USE MAY RESULT IN SERIOUS INJURY OR DEATH. BE CAREFUL, SHOOT SAFELY.
Primary Use
Specifications Overview

Model Number

BP2563

Velocity

Up to 900 fps

Weight

8 lbs

Length

42.50 in

Mechanism

Bolt Action

Power Source

PCP

Caliber

.25

Ammunition

Pellets

Capacity

8 Shot Magazine

Barrel

Choked and Rifled

Safety

Lever

Stock

Hardwood
Marauder Rifle (.25)
Customer Reviews
gun
By Anonymous
2013-10-09 14:18:18
This gun is amazing! hits a dime a 50yds no problem.
HOLY COW!!!
By Chris
2013-08-08 20:07:43
MY BROTHER-IN-LAW IS A CAREER MILITARY MAN AND OWNS A WHOLE GUN SAFE FULL OF GUNS. WHEN I TOLD HIM ABOUT MY DECISION TO PURCHASE A BENJAMIN MARAUDER PCP AIR RIFLE, HE IMMEDIATELY BEGAN TO MAKE SMARTA$$ COMMENTS ("AAAH, HE'S GETTING A NEW BB GUN TO PLAY WITH!). WELL, AFTER FIRING JUST 8 ROUNDS AT A RIFLE TARGET, HE WAS SPEECHLESS. THIS GUN EASILY MAKES 1 INCH GROUPINGS AT 50 YDS. I LOOK FORWARD TO GETTING SOME MORE TIME FIRING/TWEAKING THIS GUN. I'M CONFIDENT THAT WITH THE RIGHT ADJUSTMENTS, I CAN DRIVE NAILS AT 75+ YDS. UTG 3-9-40 MIL DOT SCOPE, 10 LB SPRING, BIPOD, BENJAMIN DOMES. AMERICAN MADE AND PROUD OF IT! THANKS CROSMAN!
WOW
By Anonymous
2013-06-28 23:07:49
I've been reading all of the reviews I could locate concerning the Marauder 25 cal. Today MY Marauder was delivered and I finally had the honor of shooting one for myself.
None of the words I've read or You Tube videos can prepare a person for the experience of actually sending lead down range using such an amazing rifle.
I'm not going to waste anyone's time with farther commentary.
Just save your money, buy one and experience the WOW factor for yourself.
WOW!!!
25 Ca. Marauder
By Blind Billy
2013-06-15 08:18:18
I used a Crow Magnum spring piston for many years, but after shooting a pap European 22 cal., I was so impressed that I bought a 25 cal. Marauder and sold my Crow Magnum. The Marauder was more in my price range than the $1500 European rifle of my friend. I could not be more pleased with my purchase. I have had it for abut 9 months and used a variety of pellets, all of which are accurate and perform well in my rifle. I am 78 years old and have owned and used many different rifles, and this has to be one of my favorites. Would recommend it unconditionally.
Marauder .25
By Marco
2013-04-19 17:28:00
Excellent PCP rifle!

It's my first one and it's a tac driver! Easily reaching out past 125 yards. Had a check valve problem though and it was quickly repaired after I sent it back free of charge. Great customer service! I use a ham pump to fill it and it takes a solid 5 minutes to get from 2000psi back to 3000psi. So if you get and want a pump as a primary fill source I hope you're up for it.

Now all Crosman needs to do is make a Sheridan Marauder .20 PCP. That would sell like crazy!


Great hunting rifle.
By Harry
2013-04-11 17:20:26
I got this gun hoping to hunt a backyard fox so it wont terrorize the kittens. Tell you what, this gun shot the fox in the head at 30yards and he dropped dead. The pellet shattered his brain and spilled it everywhere. This gun can probably take gobbler with ease now its hunting season. All i gotta say is wow.

Save a ton of money to buy other accessories with this gun than a European airgun.
benjamin marauder 25 caliber
By gene minniefield
2013-03-01 22:40:26
WOW . This Pcp 25 caliber rifle is ridiculously powerful and deadly accurate.I am proud to see the Benjamin marauder is made by Crosman and a American made company. This product is good looking and well made .Eevery day I shoot this weapon it amaze me each day with its performance . It's so darn quiet and has very little recoil.. I own the Benjamin super streak -wealthier falcon hunter- and hasten 125 although I know these guns I just mentioned are all Springer and quite good but they don't compare to the Benjamin marauder power looks accuracy and all around performance
Benjamin Marauder .25
By Patrick O
2013-01-24 13:19:25
The Benjamin Marauder .25 is the first PCP air rifle I have ever bought, seen, or fired! It has excellent accuracy, stealth, and in .25 lots of POWER! I paired mine with a UTG 4x16 40mm scope and 1" rings! I have shot 2 pellets almost in the same hole at 35 yards easily. I put up a outdated soup can and shot it from 50 yards and it knocked it down and spilled it's contents everywhere! I haven't hunted with it, but I know it will easily kill rabbits, squirrels, and possibly coyotes if necessary! My only criticism is that the Marauder should come with the Benjamin pump like the Crosman Discovery does. That put aside, if you can afford to shoot PCP rifles, you should get a Marauder! It performs or out performs as well as European PCP rifles which costs up to $2,400.00. A must have purchase if you are into PCP!
Marauder .25
By DanDee
2013-01-22 16:48:34
Terrific. At 40ft consistant one hole groups are the norm. i wanted a bolt action for the follow up shot but with this accuracy it is all one shot kills.
.25 Marauder
By Patrick O
2013-01-21 21:42:27
This is my first PCP air rifle! Having said that, I'll say the .25 Marauder is an excellent choice for small game or having some fun shooting targets! I like the power, stealth and consistency of this rifle: 2 pellets in the SAME hole at 35 yards. It's report is less than some CO2 pistols and it has power to penetrate 1/2" plywood at 1500-3000 psi easily. I use a UTG Leapers 4-16 power scope and it pairs excellently with my Marauder! My only criticisms are the Benjamin pump takes a while and a lot of force to get to 3000 psi, I wish it shipped with the pump like the Discovery rifle does. Other than that if you like to have a high end, high power, and high speed air rifle get a Marauder! Performance meets or surpasses some PCP's with $900-$2000 price tags. Enough said, if you can afford a Marauder get one!!
Marader 25 cal
By Alan
2012-11-29 11:03:18
My cousin told me about hunting with a pellet gun. I been hunting for over 45 years with guns and bows. I enjoy getting out and hunting as much as I can. My cousin and I were archery turkey hunting and he brought along his PCP rifle. I was amazed on how accurate it was so I did some reserch on PCP rifles and what you could hunt legally in California? Everything I read on the Benjamin Marader was so positive that I decided to get one in the 25 cal. I bought a 4X12X50mm mil-dot hawke scope and put it together and my first five shots I could cover it with a dime at 20 yds! Since then I've been killing cottontails out to 80 yds with no problem! Just love how that gun shoots! I will be hunting coyotes in the California vinyards soon!
Mrod 25
By Peyton
2012-10-09 22:25:30
This rifle is amazing. I already own the .22 cal version, and a Rogue. Crosman makes great products. I tuned my gun for maximum power, and this thing is packing some PUNCH. I have killed nearly everything there is to kill with this thing. Squirrels, rabbits, coons, foxes, crows, opossums, coyotes, beavers, snakes, skunks, the list goes on. I even made a clean kill on a small white tail deer at close range with a single head shot. This rifle is incredible, and has quickly become my favorite out of all the guns I own. and So, so accurate. If you are considering buying it, do it. Especially if you plan to hunt with it. you will not be disappointed.
Marauder .25 cal
By JBird
2012-07-21 17:37:05
I LOVE this gun! This is by far the most accurate pellet rifle i've ever owned. Minimal recoil, quiet, and LOTS of power. I've taken many large raccoons with a single head shot and i would not hesitate to go for a large Coyote. Shot a large possum the other night and, while i had him in the crosshairs i thought to myself "this is too easy". It was - he went down with a single shot to the middle of his nogging right above his eyes.

Chipmunks are dispatched instantly (i don't shoot squirrels but i'm sure they would also be put down instantly) even with an off the mark shot.

I mounted a bipod and a UTG 4-16X40 scope to it and it's always at the ready when i need it.

I get about 20 good shots from a 3000PSI fill. I also have 3 magazines just to try different pellets or in case one fails.

You can't go wrong with this gun in .25 caliber- just buy it!




Great PCP!
By mtsheron
2012-06-01 20:05:23
I wanted to get another .25 caliber airgun and after looking long and hard at traditional springers and others I decided for such a caliber one would need a PCP. I performed months of research online reading through the reviews and narrowed it down to a few guns. The M-Rod received all great reviews and with the shrouded barrel it won out in the end. The gun is absolutely a deal and well made from the USA. It is very quiet as well for a PCP. This gun packs a punch on stock settings in the .25 caliber. It is a real hunter. At 3000 psi it is relatively easy to charge with my Hill hand pump as well. This rifle only took about 3 mags to sight in roughly with final sighting only a few more shots. This rifle will definitely make you happy if your budget minded or not. Cycles easy and the trigger is a pleasure too. This gun is definitely a winner and will be around for some time to come.
Great Rifle!
By DR
2012-04-15 00:13:09
I just got a .25 Marauder and I'm a fan. This rifle rocks! Mine came with a perfect tune from the factory so I haven't made any adjustments and it's very accurate. Best rifle for my money!
The Best Money I Ever Spent!
By Hector Escobedo
2012-03-15 23:10:08
WOW! Really, thats the only way to introduce this rifle. Lets talk accuracy. What can I say? Its pretty darn accurate. I promise you that even with a budget scope like a CP will bring you great results. I had planned on a better scope but I gotta tell ya, this 4-16x40 CP is all you need. What about the noise? Well, what about it? Im still waiting for this thing to whisper to me its so quiet. Perfectly shrouded and reduces almost all noise created by the rifle. Trust me, I know. I removed the shroud and baffles and took one shot. Man I couldnt put them back on fast enough. LOUD! POP! Never again. I thought the neighbors might complain. Even if this is your first PCP like it is for me, you will not be dissapointed. I have taken Pigeons, black birds as they are heavily agressive during mating season, and also a dove. Boy oh boy! Never missed a shot like I did with my springer. I could go on all day. I absolutely love this rifle and I cant get off of work soon enough to shoot it before the sun goes down. Im telling you, you gotta buy this thing.
DONT WAIT....BUY IT NOW!!!
By CRAIG CAUDILL
2012-03-06 18:47:36
THIS IS WITHOUT A DOUBT ONE OF, IF NOT THE BEST PCP GUNS ON THE MARKET. I DID MY HOMEWORK FOR 3 OR 4 MONTHS BEFORE MAKING MY PURCHASE AND I WAS NOT DISAPPOINTED IN ANY WAY. THIS GUN LOVES JSB EXACT KINGS 25.4 AND I HAVE TAKEN SQUIRRELS OUT OF TREE TOPS AT 80 YARDS AND IN MOST CASES THE BULLET PASSED COMPLETELY THRU THE ANIMAL PROVIDING A CLEAN KILL. YOU'LL HAVE TO SPEND ANOTHER $1000.00 DOLLARS AND BUY A EUROPEAN WEAPON TO GET ANYWHERE CLOSE TO THIS GUN AND EVEN THEN THE MORE EXPENSIVE ONE WONT SHOOT ANY BETTER. MATCH THIS WEAPON UP TO A HAWKE SCOPE AND IT IS ABSOLUTELY DEVASTATING. MAKE NO MISTAKE ...THIS WEAPON IS VERY LETHAL!! THANKS CROSSMAN FOR A GREAT HUNTING WEAPON.
МАРОДЕР Rifle(.25)
By Dear Customer
2012-02-23 08:12:18
The BEST!!!Очень приличная стрелялка-убивалка!
Hits Like a Hammer
By Lets Hunt
2012-01-20 21:57:29
Wow! This is a wonderful gun. I have played with other air guns, etc. I did not want to spend the money for this gun, but the reviews were so good I had to try it. For pests or target, this gun does it all. My 25 seems to like most ammo. I get about 16 shots before I refill using the higher settings. When I am hunting I want a clean and quick kill. The M Rod .25 does the trick. This gun is more like a .22 running sub sonic rounds. Quiet and deadly. Buy, you will not be disappointed.
Benjamin Marauder .25
By Anonymous
2011-12-30 21:51:28
The best gun I have ever shot in my life and I've shot everything from a little BB gun to a .30-06 Keep making more guns like this! Can't wait to check out the Benjamin Rogue as well!
M-ROD.25
By Hare Hunter
2011-12-28 11:31:05
This gun is my second air gun but my first PCP i will never go back to any other gun it is very accurate and has good power in every single shot. took out a lot of Rabbits and Hares with it. all of the shot where bueatifull placed.

Great gun
.25 Marauder
By longranger21
2011-11-26 00:38:34
Excellent gun with excellent power! I have knocked down plenty of animals and pest with one shot. Accurate with most pellets,best hunting pellets are the predator polymags out to 50 yards and Benjamin domed pellets for long range accuracy.
Awesome
By QuesoJim
2011-10-30 17:30:20
This gun is a great example of the quality manufacturing and workmanship of Crosman Benjamin air rifles.
25 cal marauder,,,,,
By bruce r
2011-08-29 20:04:28
my 1st pcp rifle,,,,extremely accurate to 50 yards easy,,,highly adjuatable for velocity and ft lbs of force,,,BUY IT _ U won't be dissapointed
marauder 25
By john
2011-08-20 21:48:25
exelent , price-perfomance
IMPORTANT PLEASE READ
There are a few ways to download files to your computer. Right-click the item and select "Save As..." or you could open the link and save the document from there. All owner's manuals (OMs) and exploded view of parts diagrams (EVPs) are in a PDF format. You will need Adobe Acrobat Reader installed on your computer to open the file. If you do not have this program you can download it for free at:
http://get.adobe.com/reader/
High resolution (
High Rez
) media center files are in a variety of formats such as .TIF, .PSD, .EPS, .AI, etc. and typically require an additional program to open. Low resolution (
Low Rez
) files are in .GIF or .JPG format and should open in your web browser.