Marauder Rifle .25 Synthetic Stock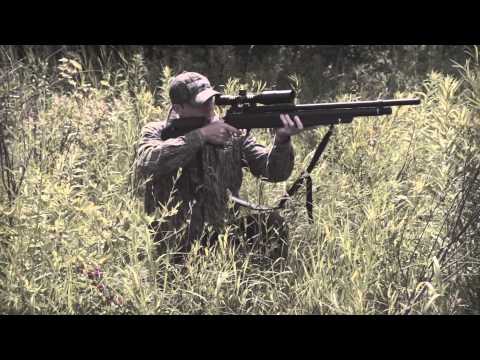 Overview
Accessories
Ratings / Reviews
**Due to high demand this product may not ship for up to 5-7 business days.
The new Marauder goes lightweight with a new, all-weather, synthetic stock. Featuring an ambidextrous raised comb, it's well-balanced for carrying in the field. This powerful PCP air rifle offers all the features needed for pest hunting small to medium sized game. The choked and internally shrouded barrel provides both precision and ultra-hushed operation, producing the most accurate and quietest rifle in its class. The two-stage, adjustable, match-grade trigger system helps to make every shot smooth and steady, while the innovative 8-round magazine allows for fast follow-up shots. With the built-in pressure gauge and quick-disconnect Foster fittings, this gun is quick and easy to fill so you can refill and return to shooting sooner.


What's New
All-weather synthetic stock designed and balanced with field carry in mind. Features an adjustable comb for a custom fit.
Moved the trigger rearward where, when combined with the redesigned stock, provides a more comfortable hand position.
Ambidextrous bolt - First built for the Marauder Pistol, it's now been adapted to the rifle. The "mouse hole" / bolt stud protrusion has also been eliminated for a cleaner look and to keep the action debris-free.
Simplified the breech design for assembly, service and to provide a more stable platform for larger scopes.
Made top secret changes to the valve resulting in a 12% power increase and a 30% increase in shot count (.22 & .177).
Factory installed de-pinger changes the sharp "ping" to a dull thud resulting in a less-perceived noise level.


Additional Features
Multi-Shot, Bolt Action, PCP Hunting Air Rifle
Up to 16 consistent shots per fill
Adjustable, two-stage, match-grade trigger
8-round magazine delivers fast follow up shots
Rifled, shrouded barrel
50 foot pounds of energy (fpe)
Dovetail mounting rail
Sling mounts
Due to high demand expect 5-7 business days until this item is shipped.
NOT A TOY. THIS AIRGUN IS RECOMMENDED FOR ADULT USE ONLY. MISUSE OR CARELESS USE MAY RESULT IN SERIOUS INJURY OR DEATH. BE CAREFUL, SHOOT SAFELY.
Primary Use
Specifications Overview

Model Number

BP2564S

Velocity

Up to 900 fps

Weight

7.12 lbs

Length

42.50 in

Mechanism

Bolt Action

Power Source

PCP

Caliber

.25

Ammunition

Pellets

Capacity

8 Shot Magazine

Barrel

Choked, rifled, shrouded precision barrel

Optics Rail

Dovetail

Safety

Lever

Material

Synthetic stock

Color

Black
Marauder Rifle .25 Synthetic Stock
Customer Reviews
Refinement of a Classic: 25 cal Syn Rod
By FuzzyGrub
2013-12-05 21:37:30
This is truly a refinement of an American Classic PCP. This was purchased via pre-order from Pyramid Air. I also own a 1st gen Mrod 25 cal, which I will compare to.

Packaging and Contents:
Gun was essentially triple boxed. The crosman gun box followed by the crosman brown cardboard box, followed by an outer box with packing paper. The internal gun box had the familiar foam blocks holding the gun in position, along with the bolt and muzzle end protectors. The crosman box had the original packing staples, so this had not been opened. Package includes 1 mag, degasser tool, and documentation. BTW: the documentation does show a sister Mrod decked out with a wood stock. Future release?

Cosmetic Inspection:
One small mark on the right hand of the receiver/breech. A small scratch that was all the way through paint to the aluminum. It is about 1/2" forward of the rear right side mounting bolt. Also noticed that this has a different gauge, which does not have the Benjamin name on it. No other blemishes or cosmetic defects were noted. Serial Number: O13121242

Initial Weight and handling:
Weight of gun without any scope or rings was 7.6lbs, 121oz. Comparing that to my 1st Gen wood 25 cal, of 8.88lbs, 142 oz, yields more than a lb lighter (21oz). Balance point (without scope) is just forward of pressure gauge. To me that is a very good improvement. The rear of the stock sounds solid, not like the hollow syn stocks of a Savage Axis or Remington 700. You can produce some slight flexing in forearm if you try to twist it. Normal shooting is not an issue.

A few thing that always bugged me about the 1st gen stock, have been addressed. The major one is the adjustable cheek riser. I installed a 56mm obj with high rings, and had plenty of adjustment. The foregrip on the 1st gen was fat and always seemed like it may slip out of my hand when I pick it up, one handed from vertical wall rack. While the new foregrip looks about the same width, the dovetail makes for a secure grip. The fat pistol grip area is gone. On original Mrod, my thumb and middle finger would only overlap by a little bit, point of thumb to tip of middle finger nail. Now my thumb reaches the 1st knuckle. This also provides a much more secure one hand holding. Trigger position is closer and seems more comfortable to me.

Other changes include a new 7 baffle system that replaced the 4 of old. It does seem quieter at equivalent power levels. While I'm right handed, the new model comes with the Prod style ambidextrous bolt. I like the 4 bolt breech over the older 3 bolt. The factory depinger is an improvement, but doesn't completely eliminate the ping at higher power levels.

Accuracy is about the same, which is very good, using JSB Kings. Power levels and tuning seem near equivalent to the old. Stock out of the box the tune was a declining string. After some adjustment, had it tuned to a Low Es string, for two mags. 861-870-860fps w/Kings.

Overall, this has allot welcome refinements to what has become an American Classic. You get allot of value for the price. 4.5 stars

Needs some accessories? Look through the items we paired up with the Marauder Rifle .25 Synthetic Stock.
IMPORTANT PLEASE READ There are a few ways to download files to your computer. Right-click the item and select "Save As..." or you could open the link and save the document from there.