Pumpmaster 760 Rifle (.177)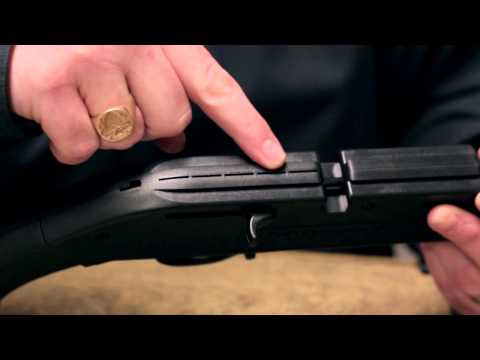 Overview
Accessories
Ratings / Reviews
Downloads (Photos, Manual & EVP)
The legendary Crosman Pumpmaster offers a simple solution for the beginning shooter. With easy-to-use features like variable pump power for velocity control, this repeater shoots BBs or pellets with power and accuracy. The elevation-adjustable rear sight and blade front sight help you stay on target while the checkered stock provides a firm grip. For over 40 years the Pumpmaster has been "taking it outside" for plinking and target shooting fun!
Pump 3-10 times with each shot to vary the power - fewer pumps for target shooting, more pumps for high powered pest control!
The BB reservoir holds up to 200 .177 caliber steel BBs, Preload the internal magazine with up to 18 BBs and the Pumpmaster 760 shoots them up to 625 FPS.
Included is a clip that holds up to 5 pellets, firing them up to 600 FPS.
NOT A TOY. ADULT SUPERVISION REQUIRED. MISUSE OR CARELESS USE MAY CAUSE SERIOUS INJURY OR DEATH. BE CAREFUL, SHOOT SAFELY.
Primary Use
Specifications Overview

Model Number

760B

Pellet Velocity

Up to 615 fps

BB Velocity

Up to 645 fps

Weight

2.75 lbs

Length

33.5in

Mechanism

Bolt Action

Power Source

Variable Pump

Caliber

.177

Ammunition

Pellets / BBs

Pellet Capacity

5 Shot Clip

BB Reservoir

200

BB Magazine

18

Barrel

Smooth

Front Sight

Fixed Blade

Rear Sight

Adjustable for elevation

Optics Rail

3/8" Dovetail

Safety

Crossbolt

Material

Synthetic

Color

Black
Pumpmaster 760 Rifle (.177)
Customer Reviews
Awsome Gun
By MrFunk
2014-07-01 19:54:35
Just bought this gun today and have never owned a gun before of any type. I bought this gun just to shoot around with at targets in the yard and I'm very pleased. Right out of the box I loaded it up with BBs and went outside. I then shot at the first small bird I saw, which was a sparrow at about 35 feet. Now I didn't hit the bird but I did hit within about 4 inches of the bird, which then flew away. So considering I am an amateur and could shoot that close to a bird at 35 feet without a scope, the gun seems pretty accurate to me. Also if it matters any, I had pumped it 6 times for my first shot. All around fun gun an for only $35 at Walmart
awsome
By baseball5
2014-05-31 11:14:53
the best backyard airgun I have ever had
awesome
By baseball 5
2014-05-26 16:59:23
this is one of the best guns I have ever had, and is affordable, I would recommend this great gun to anyone who is new to the sport or just wants to have fun.
760 pump master
By novice hunter
2014-05-07 05:28:27
Got it as my first bb rifle great rifle for lizards all the way to rabbits just wish it had a scope
Can't sight a gun in without a windage adjustment
By Chuck, NY
2014-05-02 17:03:09
After returning 2 pumpmaster 66 rifles because the barrel rotated 1/8 of an inch to the left and right, this was the rifle that was recommended to me by customer service. The barrel doesn't rotate, but it is impossible to site it in without a windage adjustment...What a disappointment and a waste of time and money.
Decent
By Anonymous
2014-04-26 09:38:03
It is decent, but it's really lightweight. I like its performance and ease of use but it basically just some you can shoot at targets with don't expect to hunt small game.
AWESOME GUN
By Gray
2014-04-19 16:00:35
this video is just to show you that this gun is effective far past the weapons range.... i love this gun!
This is my video for my pumpmaster
By Gray
2014-04-19 02:21:26
I love this gun
Awesome
By Troy
2014-04-17 19:12:06
Amazing gun
Amazing
By Anonymous
2014-03-26 20:22:46
Great gun got my first squirrel with it
pumpmaster 760
By Anonymous
2014-02-16 15:06:42
i bought one of theses for myself because when i was a kid i had tremendous luck with it but he one i bought did not work the best just thought i got one bad one then bought my son one for christmas shot it about 20 times then took him hunting with me and pumped it 8 times now it will not shoot more than 10 ft no matter how many times you pump it
Very Happy.
By Anonymous
2014-02-07 00:22:17
Got two of these for the kids for Christmas and a backpacker for myself. Couldn't be happier. Kids are always asking to go outside and plink.
Good low cost gun.
By AirShooter
2014-01-25 22:03:13
I had used a friends 760 as a kid 24 years ago and loved it then. I JUST GOT a NEW 760 and love it., it is better than the old ones in many ways.

I own a couple of higher power Crosman Pumpers (2289g, 1322, 1377) and enjoy them very much. None of them are stock, I enjoy modifying for power. All of the current MultiPump offerings by Crosman are excellent even in there stock form.

The new 760 uses a good hardened plastic (I assume Delrin or similar) for some rub areas that were pot steel in the older 760, this will improve the wear life of those parts (like the bolt and breach). Also I like the 5 pellet clip of the new version, though It would be nice to have a 10 pellet version :-) .

The new 760 uses a valve that is almost identical to the 13xx/2289 thus making it easy to work on. The same is true of the pump linkage. Overall this is a very good low cost multi-pump air gun, that gives good out of box performance for the price, and for an extra $20.00 in materials and a little time and effort can easily be brought up to over 750fps with 7.9 Grain Crosman Premier Pointed Pellets.

The only three complaints that I have are (and not really complaints at this price):
1: The lack of a rifled barrel on the current version.
........A cheep Rifled barrel like that on the M4-177 would improve accuracy greatly at any usable hunting distance.
2: It recommends the use of BBs.
........If you want to maintain accuracy in any pellet gun you NEVER shoot a BB through it, even if it is smooth bore.
3: The lack of a good seal between the Bolt and barrel.
........The seal problem is easy enough to correct, by adding a thin layer of tapered polyurethane to the outside of the bolt where it meets the barrel.

*****
So in sum this is an extraordinary gun for the price.
broken stock
By Anonymous
2014-01-03 21:54:31
I have a 760 and would never hold a plastic stock and put that much pressure on it to pump a rifle up.Pumping should only be done as instructed by Crosman.Any thing can and will be broken if used improper.I am 69 yrs.old and can pump this gun to 10 with ease and can not imagine an adult man who can not do it.This little gun is not a sniper rifle ,but i find it to be pretty accurate to not be rifled .The 760 is a fun gun if you do not expect to much and just enjoy it.I find this gun to be a lot of fun,easy to use,b.b.s are cheap and plenty accurate ,maybe more than some of the guns users.Come on men ,for 40 $ dont be so critical .



Quality has diminished
By Jim Norman
2013-12-25 10:19:29
I bought my kids two 760s or Christmas and was shocked to see how much the quality has diminished over the years with the Crosman products. Everything is plastic now and the charging handle is very flimsy. In the 1970's when I was a 10 my father gave me one for Christmas and I still have it today. When I compare the quality between the two the contrast is night and day. Very sad to see what your money buys you nowadays. I would say if you want to buy your child a BB/Pellet gun that will last over the years as mine has to look for a better investment than Crosman. Sad.
Great
By Anonymous
2013-12-23 15:18:56
Gun is very good and accurate. Very good air gun!! A must buy!!!
Crosman 760 Pumpmaster
By Anonymous
2013-12-20 11:52:53
Very inaccurate!!!! placed a scope on it to rule out operator error. Nope,....the gun is just that inaccurate. Run five shots through it and you'll be lucky if two of them are close to the same spot. Even if this gun is intended to be used as a teaching device for our youth, where is the reward at the end of the tunnel? Their arm will fall off from pumping it before a shot hits the bull.
760B
By Ragbul454
2013-11-24 20:33:43
I must say I am impressed with this airgun. Out of the box with no sight adjustments it delivered 5 5shot groups centered on the bullseye
at 10 yards the largest of these was 3/8ths of an inch! These were shot with Crosman Premier 7.9gr. H.P. Pellets.
These would be good groups from a rifled barrel. They are fantastic for a smoothbore airgun at this price.
Keep up the good work Crosman.
Pumpmaster 760
By Anonymous
2013-11-15 22:46:28
I got this gun not long ago, and I must say we'll worth the money! I can hit a can from 40-50 yards away at ease with its scope. I like the fact that it also has open sights that adjust. For $50 think it is well worth the money, it's a very wonderful gun.
gun is good
By Anonymous
2013-11-02 17:37:08
it really good for kids
760
By senor gerretto
2013-10-12 07:39:15
I love this gun .I have had mine for a year now and I am well pleased. iuse it to kill chipmonks, squirrels, and blackbirds and it does the job just fine.
play toy only
By Chris
2013-10-04 11:43:22
I borrowed this pellet rifle to eliminate squirrels at a distance of 20 feet. Did not have enough knock-down power to kill without head shot. at up to 665fps perhaps might be getting 3 or 400 at best. purchased Beeman with 1000fps with .177 pellets or 22 cal pellet. Killed quickly.
22 years later
By Tim
2013-09-29 20:36:59
I got my 760 Pumpmaster in 1991 and it still works great! Keep it clean, oiled and the sights aligned, and you'll have it to play with for the rest of your life!
Decent gun
By Kahless
2013-09-08 01:38:48
Bought this gun about 2 months ago. It's light, shoots great, and is perfect for basic target shooting. Used it onetime to help get rid of a opossum. No kill shoots, those thing are mean and kinda big, but it did mortally wound him using pellets. Overall, great for plinking and minor pest control. Just next time I'll use something a bit stronger.
Awesome Gun
By Anonymous
2013-08-28 22:32:00
I read the reviews about terrible accuracy and I can't say what's up, yes it's not rifled, but mine shoots a tight group, time after time at 10-15 yards. Love it! Made in USA does matter too.
Pumpmaster 760 - remarkable accuracy, if you...
By drBee
2013-08-27 22:06:57
Bought this gun just to have some fun shooting targets in the basement, approx 20 feet, and purchased a 4x32 CenterPoint scope. With BBs the accuracy is only fair, but I've tried several types of pellets, and with Predator Lead-Free wadcutters I can put ten pellets in an area smaller than a dime (not bad for a rank novice!) The Crosman lead wadcutters seem to work pretty well, too. Amazingly accurate for such an inexpensive gun. The pumping effort gets easier after a while, and really isn't that bad, though I usually only use about three or four pumps in my basement workshop.

If you're frustrated with the accuracy you're getting with BBs, then by all means, try some good pellets. And a scope! Be prepared to treat it gently - it is plastic in many places, after all - and be sure to use the pellgun oil as recommended.

A great value for the money, and remarkably accurate, with a scope and the right pellets!
Good for shooting green Mexican June bugs within 25'
By PedleyDan
2013-08-16 23:56:25
I've been shooting the green Mexican June bugs off my figs on my fig trees for the last few weeks with this using BB's. I can hit within 0.25 inch consistently. Sometimes it shoots to the left a bit high, but then it settles down again, and I usually hit the bugs with the first shot. If I can see it, I can hit it. So far I've shot well over a thousand of them. It is great practice for trigger control and sighting a target. The sights work great. I should say the range I'm shooting is from point blank out to about 25 feet, so don't get excited about long distance shots from my review. Also I've only been giving it 2 pumps so I don't have to worry about breaking any windows or shooting my neighbors.
A Waste of Money
By Larry E
2013-08-15 13:55:11
Purchased this gun from Amazon. Put the scope on. Tried to zero in the scope but one time the b b would go left ant the next right and the next somewhere off the tatget. After going through a couple hundred b b and never getting the gun to hit even near the same spot twice, I knew their was something wrong with the gun. I called Crosman customer service and explained the problem. I was told by the Customer Service Rep that the 760 is just a fun gun and not really accurate. He said that they had quit rifeling the barrel back in the 80s. He explained that the 760 is meant to hit within a 12 inch area. I asked him if he were serious. He said yes. This gun is just to teach you how to shoot. Buy this gun only if you wish to get your friends together and play "Where did the B B go".
Pumpmaster 760
By Hunter Limoli
2013-08-08 13:10:18
The Pumpmaster is a really good gun for shooting targets but lacks a little bit of power. Crosman Firearms, if you read this can you email me. The reason why I chose a Pumpmaster 760 because it was was made in USA. I could've had gotten a Daisy 880 Poweline but it was made in China. KEEP MAKING YOUR STUFF IN AMERICA!!!
760 pumpmaster
By Anonymous
2013-07-27 00:29:42
One of the funnest guns ever. I love the fiber optic sites on the gun. Great for plunking. Despites what some people say this gun is very accurate. It'd recommend it for anyone really easy to learn
The 760
By Anonymous
2013-07-21 19:42:19
Super fun to shoot, great plinker on cans and spinner targets. Not the most accurate after 10 yds. Accuracy best with pellets.
Review on pumpmaster 760 .177 cal. what a great gun
By Madog1997
2013-07-14 01:27:33
It's a great gun to have. This gun is good for practice target shooting and more. Like killing small pest like rats or even mice. I would recommend getting this gun. It is also a good gun for the little ones that you may want to train for when they get older to shoot a real gun.
Good gun but not accurate...
By Jrhunter25
2013-07-09 22:05:30
The gun is nice, but it is very inaccurate. Accuracy drops after 10 yards. Fun to shoot, but the pellets are terribly inaccurate due to the smooth bore. But it is a very fun gun.
Love this gun!
By Markese Hairston
2013-07-02 15:22:19
I love it!! It is so cool! Crosman 760 Pumpmaster is so iddecting I shoot it a lot!!
great gun great memories
By Anonymous
2013-07-01 13:59:46
I still have my first 760 pumpmaster i had it in working condition for a long time but i shot it to death i was using it and then it just died in mid pump. I got a new 760 and i love it, i will state my opinion on the new 760's: I dont like the fiberoptic sight, my older 760 had a rifled barrel, and my old gun did one pellet at a time by hand i liked thatr better than the clip. but am still satisfied by the gun.
P.S. if the stock breaks from you pumping it it is because the guns not designed for the stock to be where your hand is when you pump it.
crosman
By Anonymous
2013-06-26 10:29:14
It shoots fine, but i have a new 760 and a 2010 model i like the 201 better because it feels better and is more accurate than the new one. I would not reccommend bring back the metal reciever and classic look!!!!
Bad experience and disappointed with this product
By tom
2013-06-23 19:53:21
absollutly no power to the gun, oiled it, went through all the instructins, what a rip, would return it I could. Completely dissatisfied with the product. Cant find any troubleshooting literature to try and cure this weak firing gun.. Waste of my time and money is all I can say. BOO BOO BOO
760 Pumpmaster
By L.J. Gibbs
2013-06-19 18:20:41
Great little plinking gun. Right out of the box two shots to zero it in to a grouping center mass under a quarter size grouping. Great for my Nephews and Grandkids when they come over. Of course they are supervised very closely to insure proper gun handling and safety. We practice the FAMILY THAT SHOOTS TOGETHER EATSW TOGETHER.
Very good gun
By gunboy
2013-06-18 15:17:15
This is very good gun. It's annoying how you have to pump it every shot, but if your used a pumpgun, this is a goodgun! Some other reviews say pellets fall out of the pellet clips if you tip the barall towards the ground, which is true, but I don't usually keep more then one pellet in the pellet clip. I don't like hurting animals, but if you want a good gun for birds and sqirrels, I'm sure this would be a good gun. And if it starts leaking air you can get new pieces for the great. It's a great gun.
Crossman 760 Pumpmaster
By Crossman Pumpmaster 760
2013-06-08 21:43:20
Piece of crap. Not accurate or precise. Had target practice to zero in sights - nada. One shot to upper left, next to lower left, next to upper right, etc. Should have thrown a rock.
Pumpman
By Anonymous
2013-06-08 16:56:15
Awesome gun. At first hard but gets easier to pump. With a scope, very hard to see magazine.
760
By Anonymous
2013-06-07 13:40:10
the 760 is an awesome gun, it shoots fairly accurate at under 10 meters, but you may have to adjust the sight after 10 meters. at ten meters I had to move the rear sight to the 2nd notch. at 3-4 pumps at that distance I put a quarter inch group in the center of the bullseye, with iron sights. I did install a crosman 4 power target finder super scope on the dove tail rail, but I havent sighted that in yet.

pros-
good weight
takes BBs and pellets (although i exclusively use pellets)
it has a 5 round pellet magazine that you have to push to the left for a new round.
you can get a good grouping with 3-5 pumps
really cheap-about 35 USD at Walmart.

cons-
the stock is loose out of the box, you have to tighten it yourself.
the forearm is really stiff.
the barrel isn't rifled
you have to manually move the magazine for a new pellet.

i wish it had a picattany rail instead of the dove tail, but that's just me, I also wish it had a ring for a sling.

overall, cheap and fun gun.
Pumpmaster 760
By Bob
2013-05-31 18:05:26
I have a Pumpmaster 760 dating back to roughly 1980. It no longer pumps and creates compression. The nearest repair facility is 60 miles away, so I bought a new one.

I am extremely disappointed. Parts that were metal in the old one are now plastic. The most serious problem is that the rear site permits no adjustment for windage (i.e. left and right adjustment).

The rear site on my old gun was attached to the barrel by two screws, permitting the shooter to make left/right adjustments to sight in the gun.
760
By joe
2013-05-27 08:13:12
my dad bought this gun for me when i was eight. i took out of my gun storage yesterday. and shot it still accurate as ever , problay more than i am any more.
what a peace of american workman ship . im quessing 30 years old and several thousand rounds old. what a gun.

thank you Crosman


Awesome Rifle
By Lynx
2013-05-14 17:02:35
I have had this gun for a few months, and every shot from it has impressed me. It is extremely accurate (I use a CenterPoint 4x32 scope on it) with both pellets and bb's. It penetrates targets very easily and can damage whatever is behind it so be wary of that. It is very easy to pump (I usually pump it around 12 times when I am using pellets, 8-10 for bb's) but I would not recommend it for a kid under 10 years old. I have not yet hunted with it so I do not know how easily it will kill anything, but I can prove that it is great for everything else.
Crosman Pumpmaster 760
By Anonymous
2013-05-13 21:45:12
This is my first ever air rifle and it is awesome. I can shoot quarter sized groups at 20 yards with open sights. I had to adjust the elevation a little and it shoots great. It is easy to pump and very quite. Make sure to oil the pump with oil about every 250 shots. This is a must have for beginners.
Good gun
By Anonymous
2013-05-09 22:28:36
Awsome gun for price,I've read some reviews and some of them said that
The stock on the gun breaks easily,when I was little(6-8)it broke when I had
Abused the gun over that time period,if u want too teach ur son,daughter how
To shoot perfect gun for the job. I recommend the primer hollow point pellets
(As seen on crosman.com/ammo)for dove and squirrel hunting/eliminating.
Pumpmaster, you're my only friend!
By BackYardBullseye
2013-04-25 16:04:03
When I saw a .22 caliber pellet rifle on the auction block, I got all excited thinking about how I'd be able to sit out back and blast targets till my trigger finger gave out. The reality was far from my expectation. The seals were all shot on the rifle and I didn't want to spend more than I did on the rifle, on the re-seal kit. Depressed as I was, I was with my lady at the local Wal-Fart and spotted the little Pumpmaster on the rack and for the same price as the re-seal kit I'd need to get any action out of the other rifle. I bought it. When I got to the house and unpacked my newly acquired beauty, I was more than satisfied. It had a nice fiber optic front-sight and adjustable (or detachable) rear-sight. A few weeks later and a couple hundred pellets AND bbs later, I happened across a nice Crosman 4x32 scope out of the same auction. It looks brand new and I was lucky enough to pick it up for sixteen bucks. That scope on the Pumpmaster is an unstoppable combo and I couldn't have more fun in my backyard with my clothes on. GREAT GUN!!
760 Pumpmaster .177 Cal
By Nyan Cat
2013-04-25 01:57:44
This thing is awesome. Just bought it today, brought it home, loaded it up and it kicks butt!

pros:
great price
shoots both bbs and pellets
pretty powerful
hold alot of bbs
adjustable sight
perfect wieght, heavy enough to feel somwwhat like a gun but not so heavy it gets tiring to hold

Cons:
stock is hollow plastic
pellet clip only holds 5 pellets
bb resivior loading hole thing opens really easily even when not trying to open it.

Over all a great gun for the price. If you have 50 bucks and want a pretty good begginer airgun, or are just on a budget, (like me) this is the one for you.

Great for the price
By Anonymous
2013-04-24 18:15:56
I had shot different air rifles before that had way more fps than the 760 and they were great but due to the price in some of them I settled for the 760 I thought it would have been the worst buy ever, but it totally changed my mind. I added a 4x15 scope by crosman and it just improved its accuracy greatly. would totally recommend this for shooters around 14 to 20 simply because the pumping is a bit rough at first.
very nice
By Anonymous
2013-04-21 18:32:51
i have a lot of fun with it.. me and my dad shoot it a lot. people say that it is hard to pump it but i am 12 and i can pump it 3 times easy 5 with to hands
EPIC
By Anonymous
2013-04-18 07:38:01
With this gun I can shoot cans at 60 yards with a good 60 dollar 4x scope on it they go completely thru at that range with 5 pumps.
good gun
By Raptor314
2013-04-11 21:19:14
This is a great gun for the price, it used to be hard to pump but after a week or so it was ok. it is decently accurate with pellets. just tighten the screw in the stock so it wont come off
Pumpmaster 760
By Ghost shooter
2013-04-01 17:47:30
I have just recently shot a pigeon from 20 yards straight through the chest and it certainly died instantly! I recommend this for bird pests only! Great gun for backyard activity!
(Please don't shoot birds that are not pests in your area.)
awsome
By camo guy
2013-03-09 08:32:29
the annoymous guy saying it sucks he is wrong, I am a 9 year old squirrl hunter I can pump it my self as many times as i whant but i would not recommend for a eiederly wife
pumpmaster 760BKT
By Anonymous
2013-02-13 22:38:38
Not bat for the price. This is a new gun...and as such, very hard for my elderly wife to pump up. Its even hard for me. Also when using the 5 pellet clip..if your not careful, yoiu will lose the last three pellets in the clip. Sometimes she forgets and holds the gun down as you should when not firing it..and the pellets will fall out. As far as the BB's, If you only have 2 or 3 in it....its very difficult to get them to come up to be loaded in the bore. After a lot of shaking..etc...they will eventually load into the bore, and yes I read the manuel several times. Would not recommend this gun to anybody unless they are a weight lifter.
Great gun lasts 4 ever
By 84756465
2013-02-03 21:32:56
I got this gun on Christmas when i think I was 9 and just shot cans all day after school and weekends with the green fiber optic sight and the gun was stored in the hallway closet because there was no room in the 2 gun cases and one day I went 2 get and I was rough on the gun and the green fiber optic sight came off and I couldn't find it and can't find a replacement and if there's a replacement didn't know if I could accurately put on another so my dad went in the gun cabinet and got me a scope I think 4x15 nothing fancy but worked great so I was plunking cans like usual now I'm ten and I saw a European sparrow within 20 yards raise my gun 10 pumps sight right on his head released bullseye and ever since then no more cans and this gun with 10 pumps can kill any bird from large crows 2 large squirrels it can do it all love dis gun
Extraordinary accuracy up to 25 yards
By Pat
2013-02-01 08:21:17
I have had my 760 for about a month. I shoot it daily at targets from 15 yards to 25 yards. It is hard to believe the consistancy and accuracy of this unrifled barrel air gun. I am no marksman but I am able to have a 1 1/2" grouping at 25 yards with BBs from a standing military hold with no support. Crosman makes a quality product even in this lower range price group. Thank you Crosman for a lot of fun!

p s after about 500 shots I did clean the barrel and my accuracy improved.
squirrels and chipmunks
By Anonymous
2013-01-24 22:27:46
This air gun is really good for chipmunks and birds hunting. I hunted more than 5 squirrels. The only thing bad about this gun: its plastic stock. It is not noisy at all. It is wonderful for target shooting but it is a little bit hard to pump. Overall, it is a nice airgun.
crosman 760 pumpmaster
By artraymond4
2013-01-22 16:13:59
great for smaller kids looks slick and stealth i also got a little 4x15 scoop and its accurate
I LOVE IT
By best gun ever
2013-01-20 19:20:27
im 13 and this is my first gun and I love it it is so accurate I shot a bird from 20 feet, I have not used pellets yet, but the bbs are satisfying me, I cant wait to get me dad to get me some pellets


LOL CANT WAIT
great gun
By Anonymous
2013-01-20 18:31:57
I got this for christmas and I LOVE IT!!!!! I usually play with it on the weekends and cant use it enough! I would reccommend it to you
good gun
By hi
2013-01-05 23:45:31
i shoot sqirrels and with this its an instant lights out for him. i use ten pumps.
I love this thing
By Tomassetti
2013-01-05 21:33:37
My Dad bought one of these each for my brother and I. We unwrapped them on Christmas Day way back in 1984. He taught us how to shoot and we had many weekends of fun, shooting stuff in the swamps while he was ice fishing when visiting him before growing up, going to college and moving on to other pursuits. Well, this year on Christmas Day, Dad gave me my gun again. It had been at his house for these decades as I had grown and become a man, a teacher and a football coach. He had cleaned and oiled it, periodically maintaining it for all these years, and when I got it in my hands again, it felt like magic. This gun still shoots like it was new. But it's not the gun that matters; rather the relationships that it helped forge so many years ago. I will always think of my brother and father and those long-ago days when I hold, shoot or look at this gun. I own others now, much more powerful for sure, but none feel like this one and I imagine none ever will.
really like this gun
By Anonymous
2013-01-04 12:42:08
I really like this gun. I have killed 4 swallows and a couple of sparrows.The pellets work really well. The BBs work alrite for sparrows and grackles but aren't very accurate. Iit is a littlel hard to pump at first but now I hardly notice it at all. I really like this gun.
Good pest control gun!
By Really good for pest!
2013-01-02 20:23:44
Its a really good gun shot a whole right threw a sime at 20 yeards about,shot a wood pecker,and no suffering at all instant kill,he was about a good 20 yards away and about 20 feet high,i really love this gun im 12 and its a good beginner gun just to pump on the stock you will break it it happend to my friend.
Great for Target Shooting
By Someone
2012-12-29 17:02:37
I've had mine a few years, and it works great. It isn't too hard to pump (I usually do 3 pumps, but sometimes up to 5), and it's pretty darn accurate. I use BB's, and I haven't tried shooting animals, just targets. I would definitely recommend it.
uhh
By dur
2012-11-29 16:20:30
you have to tighten the screw in the stock so it does not come apart!!!!!!!
a solid gun
By jake
2012-11-01 17:16:47
not as powerful or accurate as my nitro venom dusk, but a well placed heart shot with this gun is capable of taking a grey squirrel, and it is simple to modify or improve.
760
By Anonymous
2012-10-21 18:48:25
This is the most inaccurate gun I ever seen or had, can throw a rock straighter! Was a waist of my money
crosman 760 pumpmaster
By isreali
2012-09-24 19:38:16
great for hunting,target swhooting and plinking;ive killed 1 red squirrel,1 blue jay,5 chipmonks, 40 somthing frogs, and about 15 birds.
Great target/beginner rifle.
By musicfeind
2012-09-12 20:02:17
This air gun makes a great squirrel deterrent, as it's not powerful enough to break skin ...most of the time. It is easy to use and understand and is a good way to learn to operate a gun. I wouldn't hand it to my 7 year old simply for the fact that I don't know what they would aim it at, but that's without saying.

A great sturdy rifle!
By FatedScythe777
2012-09-06 17:46:36
I've owned my 760 for almost 15 years now. Got it when I was a kid. The rear sight rusted and broke off about 3 years ago. But I can still shoot it accurately. Just memory.
Great gun
By Anonymous
2012-08-16 16:26:56
I was given this airgun when I was 7 witch was 6 years ago. As an educatid guess I have fire 10,000 rounds with it and never had any problems. It is not exceptionally accuret but, it is smooth bore and still tons of fun. This is a great first gun expestaly for the price.
Dont Pump Using The Stock!
By Tony
2012-08-12 01:44:43
Use the receiver, it is much stronger. For 40 bucks, what more do you want. The magazine for the pellets is a nice feature. It is super light weight and accurate. I took out a pesky bird that stole a bunch of fruit from my tree. Got him with the destroyer EX pellet. This is a decent air rifle. If you live in the city the noise is not too loud.
Crosman Pumpmaster 760
By Anonymau5
2012-08-06 16:23:27
I just bought one of these today, and I have to say I really like it. I haven't tested it with pellets yet, but with BBs, I can say that it is very accurate with 3 pumps, but I don't recommend more than 7 pumps, or the BBs tend to curve a lot in trajectory. My only complaint with the gun is the slightly difficult pumping mechanism and the fact that the stocks are made of a not-so solid plastic. But hey, for the price I bought it for, it definitely delivers, I recommend this one.
to those of you that broke your stock.
By Anonymous
2012-08-06 09:23:10
A little common sense says. Don't hold the stock when you pump it. Grip the gun right below the closing point of pump. This part is metal and won't break. Just picked it up yesterday and works awesome. Even my seven year old can jack the pump. I think you guys need to start eating your Wheaties. Out of box right on target. Can't ask for any better for 32 bucks.
You Get What You Pay For
By small game sportsman
2012-08-01 15:21:14
Its not bad for the price, but theres a reason its this cheap. Its not very accurate, not very powerful and breaks easily. . It won't kill anything unless you shoot it at point blank range. If your not hunting, just target shooting, its not bad. I would spend a little more, and get a better gun.
Great gun, plastic fine
By Chris
2012-07-30 11:37:07
This gun is great for backyard shooting. The people who have broken the hard plastic stock the same day they bought it were not pumping it the way it was meant to be pumped. Holding the stock and pumping is the reason for breaking, however if you look at the instructions it clearly says to pump while holding on to the middle of the gun. It works perfectly and won't break, unless you're not smart enough to read the instruction manual.
Crossman Pumpmaster 760
By AudraMarlo
2012-07-12 13:41:18
I bought 2 of these guns, one in Nov/Dec 2011 and one in Jan 2012, both broke in the same spot due to the fake wood plastic pump components. My daugther is 5 and broke both guns, and no, she is not reckless or rough. I returned both items to Dunhams, with a lot of arguing, and will not buy a Crosman to this day! Show me American made, QUALITY, products, and I may reconsider, and not American made products made of foreign parts!!!
Same gun it used to be, only a little different
By Retired
2012-06-30 18:46:19
I'm retired now, live in southwest Missouri. My neighbors boy age 8 came over with his new bb rifle and sat in the yard with me, and we plinked the rest of the evening at soda cans, boxes, whatever we could find. I had a blast. This got me thinking about the bb gun I had when I was a kid. It was a crosman 760 pump rifle, and it shot both bb's and pellets. I looked on line and was amazed that they still make this model. That says alot for the gun. It was a bb gun before it's time, back in the day. I ordered one and it was delivered. Right out of the box, it was like a visit with an old friend. My old one had a wood stock and pump handle, and a brass colored bolt which was magnetized to hold bbs, and the receiver was metal, along with the trigger. Same system for bbs in upper reservoir, but the pellets were loaded one at a time.
The new model is made largely of plastic, including the trigger. The barrel and pump assembly is metal, everything that is essential to still function. but everything else is plastic, stock, pump handle, receiver, trigger. This looking on the bright side makes the rifle extremely light and easy to maneuver. I really like the 5 shot pellet strip improvement they made to the rifle. You can shoot 5 pellets now, just as fast as you can 5 bbs. Plus you can by extra pellet clips, and keep them with you preloaded for extra shots, and quick reloading when you run out of the original 5 shot clip.
Over all, I am extremely satisfied with the rifle, as it will do everything that I want to do with it, which is set out in the yard and shoot, kill cans, boxes, homemade targets etc. Just enjoying the evening. This gun has a moderate amount of power, but the pumping action may be to hard for younger children. How long it will last remains to be seen. The price, you can't beat the value for what you get. Hope this helps someone else considering this model.
760 pumpmaster
By blah blah
2012-06-30 15:50:41
i got the 760 when i was 8. nothing has broken on it. ive shot 12,000 copperhead bbs threw it. ive used it mainly for squirrels

lasts forever
By Anonymous
2012-06-21 23:19:15
I am now 16 and using the one my grandfather had used for pest control, won't fail you if you clean oil and take care of it, 10 pumps puts a pellet through half a phone book
sweetness!
By mr. awesome
2012-06-21 13:50:57
this riffle is great! me and my buddies attached a flashlight and take down rats at night. this riffle is perfect for the price.
Durable Accurate Awesome Gun
By Anonymous
2012-06-17 15:17:06
I've had this gun for at least a week now and I recommend this gun to beginners,
as well for people interested in target practice. The gun itself has great durability,
as long as you treat it well, also for beginners
I myself find the scope is difficult until you get
the hang of things like the ability to easily get a
accurate shot of your target. This gun has impressed
me and my family for the safety and quality in gunmanship.



Crosman 760 Pumpmaster
By Twitch
2012-06-15 13:58:21
I love the pump master, my dad and I often spent hours in the back yard shooting at pop cans and clay targets. I first used it when I was about 12, was hard to pump it then and I wasn't very good. 5 years later, I'm shooting really well and I can load the next BB in and pump the gun 4-5 times in about 10 seconds, good gun, easy to use, very accurate, good ammo capacity, hasn't jammed on me yet! I'm planning on changing the stock bit if I can, same with the pump, I want to get my name painted onto the gun somewhere in a nice dark red. I recommend to all, worth every penny!
nice for the price
By R
2012-05-21 17:05:01
this air rifle is great for the money. I saw one review that said the barrel is rifled, it's not, it is a smooth bore and it wont hurt it if you shoot bb's through it. I don't know how you people are breaking the stock, if you grip it firmly by the receiver area and pump it should never break the stock because during pumping you shouldn't be holding it by the stock. the fiber optic front sight is garbage however I was able to nail a black widow spider from 30 ft away up in the eaves of a house. I can't see the target behind it because it is so bulky. a 12 dollar 4x scope cured that problem and now I can shoot it with great accuracy especially if I use the premium grade pointed pellets. I am a decorated military expert with a m-16 ( they gave me a ribbon to pin on my chest) and up to about 70 feet this little air gun is just as accurate. I wish it had a better front sight on it because I don't like to use a scope for target practice
amazing gun
By Anonymous
2012-05-19 20:54:19
iv had this gun for 6 years and put 6000+rounds through it and it still shoots great but has lost sum power
crosman 760 pumpmaster
By pellet gun hunter 35
2012-05-12 22:22:01
the pumpmaster 760 is the first airgun crosman ever made i use it for every thing from hunting to target shooting i put a scope on it and it is accurate I really love this gun. The ammo I use is crosman copperhead bbs, crosman destroyer ex pellets, crosman hunting pellets, and crosman wadcutter pellets. I hope this will help you make a decision.
good memories
By jake p
2012-05-04 19:33:46
I got my gun 3 years ago the stock broke in 2011, but it was taped back on.

I have very fond memories with this gun, I shot my first squirrel with it. Its gone threw a lot of wear and tear but it still fires, nearly everything has broken off except the bolt pull. So I put a scope on it and it still works very well. Since I have upgraded to more serious pellet rifles but this gun always has me coming back to shoot it.
Crosman 760
By mark garvey
2012-05-03 00:31:22
OK, I got into air guns a little late. Like 50 years later than I could have I guess. inherited my grandfathers Daisy Modle 25 pumper and decided that I needed to find something better. got a PC77 then a 1322. On a whim I bought a 760 and a Daisy 880 pumper the same day. I really LIKE the 760! right out of the box it popped one into the 10 ring from 30 ft. I use it indoors a bit and outdorrs too. seems to be powerful enough to nail what I want with even 8 pumps and has the same mechanicals as the 1322 and pc77. Stock seems fine, a little cheap maybe, but the darn thing was like $35 so who am I to complain.
I really like the little clip that the thing uses! a nice feature. keep a couple of those in a shooting pouch and you can reload easily from the tin and not have to fumble around for the next pellet. My grand son't nerf dart gun seems to be built about as well in the plastics department, but it keeps it light and inexpensive and it is a pretty good deal for what it really is! The daisy was $10 more and I should have saved the money and gotten something else. I like the trigger on the 760 too, smooth and easy, nice break too. The only reaason to not give it 5 stars is the cheap plastic. but you can't have everything!
pumpmaster 760
By Anonymous
2012-04-22 09:31:25
my first bb gun and the best one and easy to pump
hard to pump
By good gun!!
2012-04-21 14:36:59
this is a good gun but it is hard to pump ten times but other than that, it is a good gun!

Okay - Inexpensive - Horrible sights (get a scope)- hard for a child to pump
By scodyw
2012-04-18 13:35:01
I got this for my 10 year old for christmas, in 2010. He was excited, until he shot it. He could get one pump on it back then (now that he is 12 he can pump it about 5 or 6 times). The rear sites move (they are clamped on). The front sights moved all over the barrel. This thing could not be shot through the included sights.

Before giving up and thorwing the thing in the trash, I figured I would spend $12 on the scope crosman makes to put on it. The scope made the rifle worth having. My son can now use it to shot targets.

I have taken the rear site off (one tab broke), and will remove the front site once I get a muzzle break to protect the end.

I would recomend this to a friend, but only if they buy a scope to put on it.

Off of the shelf, I would give this two stars, but with the scope, and no sights I would say 4 stars. Since I had to get the scope seperate, I am giving it 3

Crossman should either replace the sights with better ones, or just ditch them completly, and include the $12 scope with this gun.
Great Airgun
By Anonymous
2012-04-12 20:12:50
well, this is my second airgun and it is very good for the price. at first for me it was very hard to pump but after having it a month it is the easiest airgun I have ever pumped. I tested the gun on chickens, and it can kill one with 3 pumps, it has a good amount of power. This gun is moderately acurate, but I would reccomend getting a scope.


Pros:
.very powerful
.pretty good accuracy
.can kill small animals with only 3 pumps

Cons:
.hard to pump at first.
.the sight at the end sometimes twist to the side if you drop it
Damn good, especially for the price
By Anonymous
2012-04-02 00:58:03
Got my first 760 about two weeks ago at a Granbury Walmart. Also picked up three 500 round tins of Crosman Premier hollow point pellets (morons only stock those and the Destroyers, so bought two tins of those for crow control), a 6,000 count jar of Copperhead BBs, and a 4x15 Targetspotter scope. Got home, set up a target, bench rest and a comfy chair, just started popping away. Must've gone through half a tin that time alone. Should've gotten some oil too, been about 1,000 rounds downrange without any lube.

With BBs, I can shoot about 3/4-inch groups at 20 yards (from one end of my back yard to the other, give or take a foot). Pellets, on a good day I can fire fifty shots, and only put one hole in the target, on a bad day I can hold about a 1/4-inch group.

My only real complaint is that the body was cracked out of the box (right where the stock screws in), and that the stock was a little loose and wobbly. Nothing a quick twist of a screwdriver couldn't fix though. Like some others, I've had a problem with the plastic cracking, again where the stock and body meet. Just got around to duct-taping it together, planning on supplementing that with some leather tomorrow. In the event that someone from the company actually reads this, I'd recommend either strengthening that area, or making it one -solid- piece of plastic, and I emphasize the solid. Might up the price by a buck or two, but it would be well worth the investment.

I only have two regrets about buying this beauty of a gun. The first is that I forgot the oil, and can already feel things starting to seize up. My second regret is that I waited until I was 19 to buy the damn thing. It's a major improvement over what's left of my old Daisy guns (Red Ryder with a shattered stock and broken sights, and a Grizzly that's in more pieces than I can count).
Pump master 760 nice for the price.
By Kent
2012-03-31 20:01:32
I love this rifle. The plastic stock leaves something to be desired but the accuracy for a $35 Walmart bought air rifle, awesome. I added a scope and laser to mine and I can get a 2" group from about 20 yards and a 3/4" group from 10 yards with .177 pellets +5 pumps. BB's are not even close to being accurate. I can hit the 6" target from 10 yards and didn't even try from 20 yards. Through the scope I can see the bb's swerve left and right. I cannot conceive of trying to hit a target from 50 or 100 yards like some of the other reviewers suggested. I plan on taking out some rats with this gun and then I am going to give it to my son. He isn't strong enough to hold or load my Titan XL but the carbine size and weight of this gun is ideal for him.
BB's Sometimes fall out
By theshooter
2012-03-25 20:51:02
This is a great gun. So what if its made out of plastic...... it will last as long as you don't hit stuff with the stock. After a few shots the gun is kinda hard to pump and makes you not very accurate. Also if you load the bb before you pump the gun it will fall out of the barrell..... and sometimes it will fall out even if you pumped first.

Pump Master
By Anonymous
2012-03-25 20:33:51
This gun is good but you have to me strong to pump it the gun is very lightweight.
Best bb gun Ive EVER had!!!
By Andy
2012-03-17 12:49:29
I have had this gun for 5 yrs. now the only time it fails is when its dirty. Its rusty ,but its still capable of taking down a squirrel,birds, and rabbits.
Great accuracy, great power, just needs a good scope
By Blake
2012-03-16 20:23:34
I have had mine for quite some time, and has terrible sights. I put a 12x scope on it, and can now shoot 15 shots in a quarter-sized group, but only with pellets. BB's are way to inaccurate. The pellet clip is extremely handy, and overall it is a great gun.
bueno bonito barato
By ivan_420k
2012-03-13 18:03:15
rifle exelente economico y duradero se acaba de descomponer el mio me duro 4 años y esos 4 años fue un exelente rifle por que es presiso silencioso y potente con el podia matar: conejos palomas codornises cuerbos ratas ardillas y liebres si el modelo 2012 es tan bueno como el 2008 lo recomiendo el unico problema fue montarle una mira telescopica 4x15 ya que el riel no se fijaba bien en los anillos
GOOD ALL-AROUND GUN
By Anonymous
2012-03-12 13:45:41
Once when I was hunting birds with the pumpmaster, I seen a bird in a tree 30yds away, i shot and the bird died instantly. but i took that big green front sight off and it is so acurate without it. out of all of my eight bb guns my two pumpmasters are my favorite
Pest Control
By John
2012-03-05 08:35:23
I have killed birds and squirrels with this gun. Wish it had more power like 800 fps. Best bird control rifle ever.
Great for the price.
By Anonymous
2012-03-04 15:34:28
I bought this gun about 3yrs ago for about $32. It showed very good accuracy until a chip appeared in the muzzle. One problem is as it grows older the power is reduced, at least in my gun, I now have to pump it about twelve times for adequate power. But having had over probably 10,000 rounds cycled through it, and numerous falls and other trauma it performs relatively well. I have never had an issue with any part of the gun breaking. Overall a great beginner gun.
THE NEW DESIGN
By Anonymous
2012-02-28 14:39:45
just got the new 760 with upgraded stock and pump handle. so far i like it, its still a little short but im a grown man and this rifle is geared more for the youth shooter. the new stock has a nice cheek weld molded in, and the new pump handle is alot more comfortable in the hand, and is slightly narrower than the original. that said it does seem to be easier to pump than my other pumpmasters. i think its just due to the new pump handle having more in the way of leverage. mine did however have a loose buttstock bolt that needed to be tightened so be sure to check yours before first pumping. the only thing i dont like is still no rifled barrel.* ATTENTION CROSMAN* I MYSELF (AND MANY OTHERS LIKE ME) WOULD REALLY LOVE TO SEE A RIFLED BARREL FOR THE 760 AND WOULD PAY MORE FOR THE 760 IF IT HAD ONE !!$$$!!
solid performer, weak stock
By Jc
2012-02-26 09:47:57
I love the gun for what it is. A $30 pellet/bb gun that can take down birds and maybe squirrels with good aim. However the front sight is a little big and the stock broke after my second round of pumping it up. It was a easy fix though and now i have metal bracing on it. If you get this i suggest a scope and metal bracing for the joint between the receiver and butt-stock. Also note you should hold your hand on the receiver and not the stock when pumping, it's easier and is not likely to break like mine did.
One heck of an airgun!
By Loren
2012-02-25 22:26:51
I had one of these when I was a teenager. Never had a problem with it. Shot plenty of birds and rabbits with it. Not sure what I ever did with that one but I missed it so much I went and bought another and I am 30 years old now. As far as the plastic stock goes, the one I had years ago was also plastic and that never broke at all. Probably because I never held that part as I was pumping it. I remember always holding it between the trigger and the pump when I would pump it. And these guns have plenty of power and are quite accurate. Those complaining about the accuracy probably aren't aiming correctly.
Pros/Cons
By David
2012-02-22 18:15:54
Pros: Very accurate even my 12 year old cousin can shoot this even when she holds it a little wrong. I believe the barrel is rifled for those people saying it isn't.
P/C: You can pump it like ten times for a power control. When you pump it 1-5 times do not expect long distance. 6-7 is about medium distance. 8-10 is pure awesomeness.
Cons: Plastic seems a little weak but as long as you don't melee someone in the face or something you should be fine. A bit hard to pump. Can actually make your arm sore if you pump and shoot all day long like i do.
Best Crosman Gun Ever!!!!!!!!!!!!!!!!!!!!!!!!!!!!!!!!!!!!!!!!!!!!!!!!!!
By Sharpshooter
2012-02-20 21:10:43
This gun is the best air gun money can buy for begginers. I have owned it for a couple of years and have loved it! It is great for killing small rodents if you pump it 6-8 times or more.It is also alto better if yiu add a scope for target practice or killing rodents it's the best gun money can buy. I would definitely reccommend this gun!!!!!!!!!!!!!!!!!!!!!!!!!!!!!!!!!!!!!!!!!
Cheap plastic stock broken again
By Anonymous
2012-02-20 20:50:37
I had a 760 in the early 70's the first year they came out with the plastic stock and had no problems with it. I grew up on a farm and shot my 760 daily without any problems. Forward to 2012 when I bought my 9yr old son a 760 for his birthday only to have the stock brake within two days of use. I returned the gun where I purchased it and was givne another one. Three months have past and now my second gun also has a broken stock. I understant that things change over time, but the 760 of today is much too cheap to have my son fall in love with it only to have it let him down. Over all he loved the gun, but for the price I consider it disposable.
Crosman Pumpmaster 760B
By Larry
2012-02-16 11:52:20
I have been using this gun for a couple years to harrass squirels around my bird feeder. With BBs and 10 pumps (the max recommended), the gun won't kill a squirrel, but it makes them jump about 3 feet straight up when you hit them in the side or rear. My goal is not to kill them, just make them look for other sources of food. The rifle does have a lot of plastic, but, for the price what would you expect. Durability has not been a problem. I don't know what these people are doing to break the stock. The rifle was dead on accurate at 15 to 20 feet right out of the box. Pumping is not too difficult for an adult, but I suspect a 10 year old child would struggle. The gun is fabricated with a plastic swivel type tab covering a 1/4" diameter hole for loading BBs into the reservoir. It hasn't been a problem, but they could have done a little better. A bigger hole and more secure closure would have been nice. Everything considered, this is a great gun for target shooting with the grandchildren and harassing squirels. I would buy it again.
Great gun!
By Mike
2012-02-11 17:42:22
I have an older version of this airgun(brown wood, thicker, different pump) and it performs amazingly well. It has rusted on the outside but functions like new. I would recommend this to anyone over 12 who is responsible.
need work
By Anonymous
2012-02-04 19:10:46
It shoots smooth but it has poor accuracy and everything breaks on it easily. I had one as a kid and i remember them being much tuffer.
Buy It
By hunterpro
2012-01-20 09:01:18
This gun is awsome you have to buy it. I shoot bird, frogs, and rabbits it works really good.
Classic Rifle
By BamaNative
2012-01-18 20:07:12
Have had mine for several years and its still going strong. Great reliability and ergonomics. The sights are pretty useless after about 15 yds. BBs are so cheap though and if you shoot it enough you'll prolly just develop a feel for it. I seem to shoot it with more accuracy if I don't even use the sights. Point and shoot.
Solid gun
By Anonymous
2012-01-18 13:09:01
My cousin had one in the '70s with woood stock, broke the pump arm and replaced it with a newer plastic stock model. I bought mine in the mid '70s and we shot thousands of rounds through these guns. I recently found mine let my son play with it. It still shoots fair but can't hit top speeds any more. What a great gun to still function after 30+ years! We both now own 1377 and 2240 pistols and enjoy shooting them also.
awsome
By Anonymous
2012-01-18 10:10:55
best gun ever
Awesome gun for the right price.
By Anonymous
2012-01-17 23:00:37
I have had this gun for a little over 5 years now and have had no problems with it at all. I use this gun for target practice and for getting rid of the occasional varmit that comes around my house. Other reviews have said that it is not good for hunting or taking down large pests but i have taken down skunks, squrriels and birds numerous times with this rifle.
the best ever
By Anonymous
2012-01-11 20:31:57
got one years ago loved it hit anything thirty feet to a block away . had it for twenty years it was the most accurate bb gun i ever had worked on it a lot then one day couldnt fix it any moore so brilled it to the wall looks good so i wanted another and wanted a scope it looked cool so bought a daisy 880 that thing woud not hit a six pack at 15 ft i feal bad bout not gitting another one ill trade a daisy powerline 880 brand new shot thirty times for a used crosman any day
so maney things to say so little space! :-)
By Anonymous
2012-01-09 10:42:23
accurate strong good range all of this says the pumpmaster 760.

Best gun ever
By Anonymous
2012-01-02 11:45:20
I got this for Xmas and it is my best toy. Many people say that it is hard to pumpand, I'm 12 but it's easy after you break it in. I had my dad who was in the army sight it in and now I can shoot a rabbit from 45 yards no scope. Over all this is a great gun and I love it evan my grandpa has one. BEST GUN EVER!!
Nice gun
By Frank
2011-12-31 15:48:46
A few days ago I bought a Daisy Model 880. It came with a scope and supposedly has a rifled barrel. It was terrible. Couldn't zero it in because of the wildly inaccurate groupings.
BBs flew in all different directions. Took it back, got a refund, and purchased the Pumpmaster 760, for about 12 dollars less. This little Crosman shoots very good. Haven't shot pellets but shoots BBs pretty accurately. I am going to go back and get a little Crosman scope to put on it. I consider the Pumpmaster to be a great little BB gun for the price.
Good gun
By Conawesome
2011-12-26 22:31:15
This is a good gun a little hard to pump but don't pump it ofer 5 or 6 times or it shoot really inaccurate hold a good amount of bbs shoots like 700 fps good for pest control and target practice I shot 5 bottles in 5 shots from 35 feet away
Great Little Carbine!
By DILLIGAF-SNW
2011-12-26 18:35:31
I got my first Crosman 760 Pumpmaster back in the late 1980s while on family vacation in Maine. That little rifle was dead-on accurate and tough--yes it was plastic then too! I fired all manner of pellets and BBs through it without so much as a hiccup. I easily had 10,000 rounds through it. Nowadays, it resides at my parents' house in New Jersey where it is damn near impossible for me to legally transport it out of there due to New Jersey's Draconian laws that treat airguns as firearms.

My wife got me a new 760 Pumpmaster for Christmas. The locale where I reside now is perfectly OK with me plinking in the backyard. I'm happy to say that this rifle is just as good as it ever was, but that new pellet clip will take getting used to. I prefer the old style, since losing the pellet clip is a question of "when," not "if."

For those decrying the pump effort, I remember it being tough when I was a kid. Now that I'm much older and slightly stronger, it's a breeze. For those decrying the velocity, keep in mind you spent less than forty dollars. Speed costs money. How fast do you want to go? For those decrying accuracy, in 99.9% of all cases--with all guns--it's the shooter, not the gun.
Bought one in 1976 at 9
By Elvishead
2011-12-25 07:52:26
Got it with my own paper money, all by my self. Loved it. I bought it at Holiday gas station in Osseo MN.
Ok gun
By mr.varmithunter
2011-12-23 16:30:35
This gun is ok i have shot bout 2,000 shots thru it and it still shoots good.This gun is special to me because i shot my first rabbit with it. BUY IT!!!
760 pumpmaster
By Preston
2011-12-20 17:53:38
It is a great gun to shoot at targets and pest control.
;)
By acm1pt
2011-12-13 21:37:34
it broke after 500 pellets !!! but it is fun to shoot we where shooting at 78ft.

Limmited addition National Wild Turkey Federation 760 pumpmaster
By Anonymous
2011-12-02 09:27:06
This is a very good gun. I like how it loads pellets and bbs

great
By blade
2011-11-27 19:05:43
this was my first bb gun and i loved it . every day i would go out and shoot it. i was extremely pleased with it. it's perfect for young shooters around the age of 8 to 10 it's really really good. but each time u pump it it gets harder to pump but more power is added.
awesome
By Anonymous
2011-11-27 18:45:32
amazing!
GREAT for beginners!
By Anonymous
2011-11-27 18:40:29
This was my first bb gun ever and it has definitely served its purpose. It is a great beginner gun and is very durable for the less experienced people. I now use a Crosman phantom 1000 and still finding myself shooting this for fun. This is a must buy for kids and adults, it is less powerful and very safe. A good gun to be your kids first! A MUST have.
Best BB gun i have
By RED MIST
2011-11-21 20:19:12
Last month me and my buddy picked up this bb gun. i have 6 different guns. Crosman Raven,Crosman Phantom 1000,Crosman recruit,Crosman 2100,Crosman M417[got yesterday] and this. this one is my favorite gun. killed 2 pesky rabbits and 1 squirrel with it. i put a 4X15 crosman scope on it and it works great. i would recomend this gun to biginner and nieghborhood shooters. BUY THIS GUN!!!!!!!!!!!!!!!!!!!!!!!!!!
760B
By Mark
2011-11-17 19:36:52
The 760 B is a decent air gun especially at its price point, but it was and could be better. I collect air guns and currently own all but 2 variations of the model 760 and I have shot them all. My 760 B shoots 1 inch 5 shot groups at about 25 feet, not bad. my other 760s usually shoot groups half that size at the same distance. I can only assume that its because of the lack of rifling. all previous variations had rifling. 760s are often a young shooters first air gun and if they are successful they may become life long air gun shooters. The 760 B is still a lot of fun to shoot and a good value. I do hope that the redesigned 760 due to be out any time now, has rifling.
760
By Zac
2011-11-16 20:23:38
The 760 is a nice little carbine with a five round clip, which is nice because you don't have to dig in your pocket for pellets between shots. Mine had a smooth bore barrel so accuracy wasn't ever that great. After a few months I broke the plastic stock clean off while pumping it. That was with pumping it 4-6 times.

Make this with a rifled barrel, wood stock, metal receiver, and this will be a great carbine.
SMALL GAME HUNTING
By Amino us
2011-11-16 02:45:05
i have gotten countless squirrels with this gun and many other large animals such as coons, rabbits, and many other animals

GOOD FOR SMALL ANIMAL HUNTING AND TARGET SHOOTING
Pretty good shooter
By Jason
2011-11-13 00:48:12
its a good starter gun. accurate and powerful. i would suggest a scope though...sights could use some help. other than that its a good gun
alldayhunter
By Anonymous
2011-11-11 21:41:02
This a great gun its light, powerful, and durable.This gun would be great for target practice or small hunting out to about 20 yards ive killed tons of rabbits and squirrels with it .Its a great starter gun i acutally take mine small game hunting with me but i would never shoot anything past 20 yards. its pretty accurate for the price you pay and the stock will not break unless your realy just banging it around now i going to pass it down to my younger brother this is a great gun. this is a great gun for anyone
A Very Nice and Affordable Rifle...
By Anonymous
2011-11-07 23:14:38
This is a very nice weapon straight out of the box. I had bought it as my first airgun when I was 14. I am now 15 years. A year and a half later, and with a little oil every now and then, it still holds that same quality as it did when I first bought it. However, unfortunately, my stock also broke off at one point. My father and I just decided to cement it back together and it hasn't broken since with the repair. The plastic stock is the only downfall to the airgun itself. If you treat it with great care I guarantee you it will last a long time. But besides that, I feel that it functions as an above average weapon with certain qualities that deem it as a very great beginning rifle and a very affordable airgun. I would highly recommend it for young men who are also interested in target shooting.
perfict
By aron mills
2011-10-21 17:39:44
all you need in a airgun. it shoots straight and it is powerful.i can kill birds from 50 feet with this gun.
perfect
By aron mills
2011-10-19 22:10:37
the gun is all you could ever want in a air gun. it shoots straight ,it is accurate ,powerful ,and down right AWESOME.


i recommend it to all
pumpmaster 760
By squirreldown
2011-10-17 18:30:42
i have one for now about 6 years and nothing has broken on it. I shoot red squirres and other pests with it. I got a cheap scope for it and its a very good gun. The five round clip comes in handy for hunting.
760 Pumpmaster
By Mr squirrel killer
2011-10-16 09:06:13
This is a great gun for target shooting or hunting small game.i bought this gun for myself to hunt small game along with my 2100.first the bad thing is that its a little hard to pump at first but overtime it will get easier.this gun is very powerful with the destroyer pellets i killed a squirel with one shot it knocked him right out of the tree.i also killed quit a few rabbits that were in my wifes garden they died instinillay.this is a great gun the plastic won't break in less your realy banging it around.
I Don't Know Why This Isn't a Hunting Gun
By RabbitHunter1234
2011-10-11 19:12:17
I got one about three years ago and it took six months for the stalk to break, and all I had to do ws duck tape it back. I gave that one to my cousin and he still has it. The next one I got i taped the stalk right off the bat, and it never broke, however it got given to my little brother. They're on rollback at Walmart and I'm going to get one in two days. They're a bit hard to pump, but you'll get better at it. I don't know why people don't hunt with these. Just buy some Destroyer EX pellets and you can one-shot a rabbit with ease. i highly reccomend this gun to anyone. The stock wont break if you put some tape on it, and you can buy some really good camo tape at Walmart
amazing gun
By wolfboi
2011-10-05 04:35:49
I got a pumpmaster 760 about 10 years ago when i was only 9. at first it was pretty difficult for my to pump up past about 4 or 5 pumps. but over time i got stronger. yes, the stock and pump are both plastic, however i have never had any problems with them braking in any way! I know mine has been dropped in rivers, on rocks, dropped of ledged landing on hard compacted dirt, or occationally on some rocks, and obviously its kinda beat up and scratched up but the plastic has never broken or cracked, and it still shoots fantastically. i absolutely would recomend to anyone looking for a good, fun, dependable little beginer bb/pellet gun! i still love mine. almost prefur it over my .243 (mainly because ammo is so much cheaper haha).
great gun other than...
By scott44
2011-10-04 16:02:07
the gun shoots smooth, other than the accuracy sucks big time!!! no way to adjust the "windage" only to elevate the rear sight. the front fiber optic sight on mine will twist out of alignment which also causes it to shoot poor.
memories are made of this
By jb11664
2011-10-01 21:34:53
I had one of these when I was a kid. I still have fond memories of it and can't wait to pass it to my daughters. I have a small gun collection but the one piece that is still missing (until my wife reads this) is the ole' pumpmaster. Ralphy had his Red Ryder.......only because he didn't know about the Pumpmaster 760. Best bb gun ever.

Great Gun
By Anonymous
2011-09-30 18:19:10
I got this Gun when I was 13 and now i'm 16 and it still works great
Awesome
By Anonymous
2011-09-25 16:06:18
I have owned this gun for about 1 year now. yeah, it is a little hard to pump at first, but once you get used to it, it is a really powerful air rifle, and is definitely worth EVERY PENNY I spent on it. Shoots pellets and BB's just fine, and the stock is as sturdy as you can get it, ( IF you don't ABUSE it.) I recommend it to everyone.
Awsome!!!!
By Anonymous
2011-09-23 18:34:40
I got this gun for my 12th birthday and shot maybe 100 bb's in a row strait out of the box. since then I've probably shot 10,000 bb's out of it with no problems. I'm 15 now and still have this gun. This gun is very durable in the fact of what I've done to it. Its been left out in the rain several times, didn't get completely soaked but pretty wet nevertheless, left in the dirt a couple of times, and still shots perfectly. If your looking for a first bb gun this is the one to get. I highly recommend it for years of enjoyment.
Always been good
By Anonymous
2011-09-21 20:15:17
Had my first 760 in about 1973, one of the last years it had a wood stock. My freind got a 760 a year later and it was plastic. We shot together. not just 760's but powder firing shotguns, rifles and pistols. We shot the 760's for fun and cost savings. We got alot of targets along with some birds and rabbits. We shot these guns for years(I still own mine), ran thousands of rounds through them and didn't break either. Real good fun gun.
nice gun
By daniel
2011-09-04 19:18:13
This gun its very nice to be shooting from 50 to 100 yards l. I've had it for a year and stil works perfectly. It would last if u treat it well. Its juat that is a little hard to clean the inside.
Plastic Stock Snapped After 10 Minutes
By hopnpop
2011-09-03 20:38:33
Day one I snapped the stock pumping the gun (two pumps). Not of the same quality of my 760 I had as a kid thirty years ago. Other than returning the gun, I'm not sure what I'll replace it with.
Great for target Practice... Cheap plastic stock broke
By Anonymous
2011-08-21 22:25:16
I purchased this gun because it was a step-up from my Red Ryder... I only use BB/Pellet guns to shoot at targets, not animals etc...The only downfall to this gun is that the stock is made of plastic and broke within a half hour of using the rifle, I am currently looking to get it fixed or just purchase a metal stock (if I can) It has some power, definitely more than my Red Ryder and so far I have only used it to shoot soda cans.
Good gun but...
By Beastboy1028
2011-08-17 20:35:05
Its a pretty good gun for the price but only after owning it for an hour, the stock on the gun broke while pumping. Now im looking on getting the stock fixed. The plastic could be more stronger but overall its still a very sturdy gun.

Good little gun, solid action, a little tough to pump 10 times
By Smaug
2011-08-16 00:08:01
I had one of these growing up. First the bads: Short pumping arm makes for pretty high effort. Max velocity is somewhere around 600 fps.

Now the goods: Very light weight, and sized for kids of 12 years on up to anyone. It is so light that it is no problem to hold it up, even for the weaker or less developed among us. Although it will shoot BBs, don't bother. The barrel is rifled, and I could occasionally see one corkscrew through my scope. Stick with pellets and put a good 4X scope on it. (like a Leapers BugBuster) and you're good to go.

Yes, the stock is plastic, but you're not going to break it unless you really abuse it. If you beat on it that hard, you deserve for it to break. The action is nice and smooth, and has a satisfying click-click when loading it. The loading channel is open, and much easier to load pellets into than the 2100 Classic.

The Recruit has the same action, but with a longer pump arm for easier pumping, and the adjustable stock. Slightly longer barrel too.
Good for the $$$
By AAA
2011-08-12 20:38:33
needs more power but other than that vary good for the $$$.
realy good
By jeren b
2011-08-12 20:32:05
shoots well just needed a little oil when i got it other than that it great for the price
The gun
By I shot it
2011-08-11 23:20:13
It great so what if it's plastic it's still nice
Crosman PUMPMASTER 760
By Pearse
2011-08-11 12:39:34
THIS GUN HAS PLASTIC FAKE WOOD THAT CAN EASILY BREAK ALONG WITH DIECAST METAL THAT SEEMS PRETTY SOLID. THE PUMPMASTER IS ALSO HARD TO CRANK FOR PROBABLY KIDS 11 AND UNDER. I WOULDNT USE THIS GUN FOR HUNTING RABBITTS OR SQUIRELLS BUT THIS GUN IS LIGHTWEIGHT SO IT DOESNT HURT YOUR ARMS CARRYING IT AROUND BUT YOUR ARMS WILL PROBABLY ALREADY HURT FROM CRANKING IT. IF YOUR A PERSON WHO LIKES SHOOTING TARGETS FROM FIFTY YARDS AWAY THEN THIS MIGHT BE A GOOD GUN FOR YOU. BUT IF YOU WANT A GUN SIMILIAR TO THIS BUT BETTER FPS AND ACCURACY YOU SHOULD GET THE CROSMAN RECRUIT.
Needs some accessories? Look through the items we paired up with the Pumpmaster 760 Rifle (.177).
IMPORTANT PLEASE READ
There are a few ways to download files to your computer. Right-click the item and select "Save As..." or you could open the link and save the document from there. All owner's manuals (OMs) and exploded view of parts diagrams (EVPs) are in a PDF format. You will need Adobe Acrobat Reader installed on your computer to open the file. If you do not have this program you can download it for free at:
http://get.adobe.com/reader/
High resolution (
High Rez
) media center files are in a variety of formats such as .TIF, .PSD, .EPS, .AI, etc. and typically require an additional program to open. Low resolution (
Low Rez
) files are in .GIF or .JPG format and should open in your web browser.