Pink Pumpmaster 760 Rifle (.177)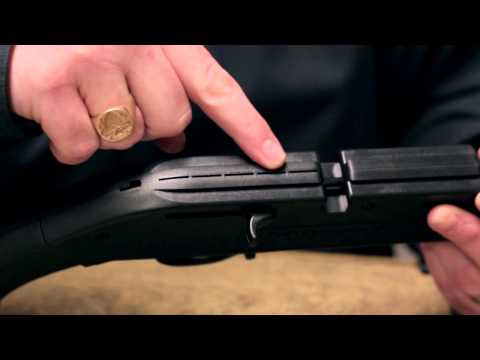 Overview
Ratings / Reviews
Downloads (Photos, Manual & EVP)
A proven Crosman favorite for four decades, this dependable rifle offers an experience all its own. Over 12 million have been sold! Doubles as a BB repeater or a single shot pellet gun. Now available in classic pink!
NOT A TOY. ADULT SUPERVISION REQUIRED. MISUSE OR CARELESS USE MAY CAUSE SERIOUS INJURY OR DEATH. BE CAREFUL, SHOOT SAFELY.
Primary Use
Specifications Overview

Model Number

760P

Pellet Velocity

Up to 615 fps

BB Velocity

Up to 645 fps

Weight

2.75 lbs

Length

33.5in

Mechanism

Bolt Action

Power Source

Variable Pump

Caliber

.177

Ammunition

Pellets / BBs

Pellet Capacity

5 Shot Clip

BB Reservoir

200

Barrel

Steel

Front Sight

Fixed Blade

Rear Sight

Elevation adjustable

Optics Rail

3/8" Dovetail

Safety

Crossbolt

Stock

Synthetic

Color

Pink
Pink Pumpmaster 760 Rifle (.177)
Customer Reviews
crosman 760
By bonarski3
2013-11-29 14:57:15
decent riffle needs to be easier to pump for the youth shooter but decent for what it is
Great little air rifle
By Josh L
2013-06-30 16:53:57
I bought this little air rifle as a cost effective way to teach my daughter how to shoot. Not a huge fan of the color, but hey I guess girls need to accessorize. Back to the point. Accuracy with this thing is great. I have personally taken targets out to 40m with no problems. My daughter can shoot a 1" group at 25 yards. The only thing keeping it from getting 5 stars is how hard it is to pump. It isn't all that bad since children should have adult supervision/coaching while they shoot, but man is this thing a work out after 40 - 50 shots. I don't remember my old Crossman being this hard to pump, of course I had a bigger model. I can't remember what model number it was.
Pest Control
By Anonymous
2012-12-30 08:57:40
Although the included scope wouldn't zero out, its been effective pest control against woodpeckers.
decent for price range
By Anonymous
2012-11-23 10:36:55
Decent... my daughter loves it. Good for a starter but does seem a bit hard to pump for a youth gun.
My 9 year old can only get one pump easily struggles with two an three being impossible.
bad changes
By Anonymous
2012-07-08 19:58:18
crosman has made tree changes that took a great air rifle and made it less than good. 1) the fiber optic sight may be highly visible, but the sight makes it very hard for students learning to shoot. The old blade sight on the 66 was much easier and made the rifle far superior. 2) The cocking leave has been shortened which requires considerably more strength to cock rifle. This becomes even more evident with younger shooters. 3) The pellet clip may be nice in theory, but after use, the start having feeding problems, not to mention near imposable to load pellets without the clip
I wish that crosman would produce a gun at least equal to or better than the old 66.
Like Father Like Daughter
By Frank
2012-05-27 11:42:46
Almost 30 years ago I received a Crosman 760 as a gift from my dad. It was my first true gun and started a life-long love of shooting. Yesterday my daughter received her own 760, this time in pink. So Glad to be able to pass the same tradition of Shooting to my daughter that my dad passed to me all those years ago with the same gun that I used. I still have my 760 and we now spend time on the weekends shooting together.

There have been many changes over the years, like the pellet clip and fiber-optic front sight. But the gun has remained fundamentally the same. I picked her's up out of the box and shot three balloons out of the air as the floated away about 60' over head.

If you are looking for a quality, reliable, and accurate air rifle that will last for generations, the Pumpmaster 760 is the only way to go.
Less than expected
By Evolve
2011-12-28 20:29:55
I purchased this air rifle for my 11yr old daughter. After seeing her ability to shoot and safe handling; I felt she was ready to get a rifle of her own. This Crosman 760 appeared to be a perfect size, and heck color. Pumping this thing is unnecessarily difficult for a youth. The forearm/pump grip is ridiously slippery and seems to be designed to pinch the fingers of our children. Loading BB's from the storage cavity is an adventure in itself. Tilt rifle so, flip switch, tilt rifle this way, flip switch....why? I have yet to get this darn thing to load from its storage...(possbility plastic flashing blocking entry). With all this being said, the 5shot clip is a great idea. Though, it's a moot point considering that lack of accuracy when shot. Crosman completely missed on this gun. It's a great possiblity this rifle was designed to discourage children in believing shooting can be a joyful sport.

I'll make a smarter buy for my beginner shooter, and this rifle will make a great fence T-post with pink character.
Great 4 starters and it has power to i shot a rabbit and it took it down.!
By JASON J
2011-12-28 16:06:52
i was wonting to buy my little girl a 22.LR cricket but i saw the pink bb gun model 760p.and i decited to go with that one.because she has never shot a lot and it was perfect to learn with it and train her the right way to handle a fire arm. start out small and as they learn and grow then let them go with a bigger gun or a more power full bb guns or pellet rifle. crosman is the best in bb guns and pellet guns in my book that was what i grow up with.but mine was not pink LOL.
Decent rifle
By L-Con
2011-12-19 17:28:43
IMPORTANT PLEASE READ There are a few ways to download files to your computer. Right-click the item and select "Save As..." or you could open the link and save the document from there.

High resolution (High Rez) media center files are in a variety of formats such as .TIF, .PSD, .EPS, .AI, etc. and typically require an additional program to open. Low resolution (Low Rez) files are in .GIF or .JPG format and should open in your web browser.