M4-177 Rifle (.177)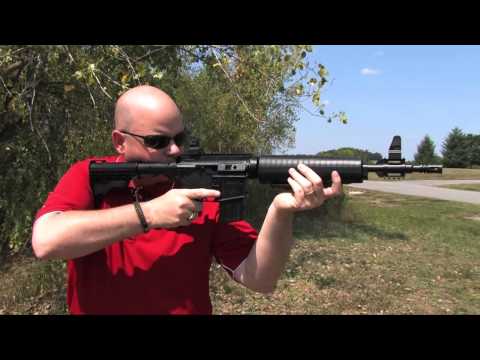 Overview
Ratings / Reviews
Downloads (Photos, Manual & EVP)
The next great variable pump rifle is here! If you enjoy the adaptability of the AR platform then you're going to love the M4-177. The airgun features a rifled steel barrel and shoots both pellets and BBs. The rifle's variable pump action is easy to use for right or left-handed shooters.

Expect velocities up to 660 fps with BBs and 625 fps with 7.9gr, .177 caliber pellets.

There's plenty of picatinny rails for mounting your favorite accessories, plus the front and rear sights and stock are removable for the ultimate in upgrade possibilities.
Includes a Firepow'r 5-shot pellet clip
Reservoir capacity of 350 BBs
Adjustable stock to fit every shooter
Loop slots for adding a gun sling
Windage and elevation adjustments
Two aperture sizes instantly available on rear sight: just flip up the small one for stationary or bullseye targets or the large one for moving or large targets.
Removable magazine stores pellet clip and sight adjustment tool
NOT A TOY. ADULT SUPERVISION REQUIRED. MISUSE OR CARELESS USE MAY CAUSE SERIOUS INJURY OR DEATH. BE CAREFUL, SHOOT SAFELY.
Primary Use
Specifications Overview

Model Number

M4-177

Pellet Velocity

Up to 625 fps

BB Velocity

Up to 660 fps

Weight

3.56 lbs

Length

34 in

Mechanism

Bolt action

Power Source

Multi-pump

Caliber

.177

Ammunition

Pellets / BBs

Pellet Capacity

5 Shot Clip

BB Reservoir

350

Barrel

Rifled steel

Front Sight

Removable/Adjustable

Rear Sight

Removable/Adjustable

Optics Rail

Picatinny Style

Safety

Crossbolt

Stock

Synthetic

Color

Black
M4-177 Rifle (.177)
Customer Reviews
Love The M4
By Anonymous
2014-12-13 09:05:01
I just purchased the M4, WOW!! I put a red dot scope on it and that thing is accurate. I also have to CO2 powered repeater and have nothing but good results. Keep up the good work. Idea for you guys, combine the repeater into the M4 body, that would be very cool, may set up to use 2 CO2 cartridges to prolong the fun and power. Thank you for making great products!!!!!!!!!
I Like It
By Me ED
2014-09-23 03:01:31
Im 64. I had a the old 760 when I was 24. Lots of fun. After a few years I passed it down to my nefhews. When I saw this one @ an online vendor for $44, I couldnt pass it up. Im amazed in the advance of different pellets crossman offers now. As a 'Nam vet, I love the look of it, memories. I would give it 5 stars, but the pump can get you tired. Also as the pump handle slams home it is a hard jolt, needs cushion. I found that walmart offers crossmans and accesories @ best prices, and taxes are cheaper than shipping. Keep extra pellet mags loaded ready to go in the fake mag storage. So far it has been fun. Cheaper than real ammo for target plinking. I removed the iron sights. I had an extra, varible image holographic-sight, and I laser bore sighted it, nice shooting. Once I got to know pump volume and distance characteristics. Projectile drop figuring is easy. The rifled barrel is a plus. My old 760 was varmint deadly with a smooth barrel. I hope the service life is as good as my old 760 pump was.
Word of advice. Parents this is not a toy. Teach gun safety and supervise youngsters.
M4-177
By MARIE.R
2014-07-14 17:41:06
AWESOME, GREAT FOR ALL KIDS YOUNG AND OLD!!
M4-177 magazine
By RedReiter
2014-07-01 11:54:03
Lots of PRO;s
1 - negative
-supply more than 1 magazine clip, or have retailers stock them
M4 177 Is Awesome
By Dwayne
2014-05-06 01:14:28
The M4 177 is a Awesome Rifle, it is very easy to sight in and it is extremely accurate. A great gun for the Range or Back Yard Shooting........... The M4 177 is also the same Rifle as the USMC 0311 Riflemen just a different color...... I like that the M4 177 is a pump because I can control how much power it has for the kind of shooting I do with it.... This is a great gun for the young and old alike........ Thanks Crosman for making a Great Air Rifle ..............
Excellent Rifle, Fun to Shoot
By Kevin
2014-03-19 17:22:41
I was honestly a little worried when I saw the amount of 'plastic' that surrounded the gun. In the end it makes it nice and light and as strong as my old Crosman 2100 I had as a kid. What we can do with composites now days is amazing. The pump is nice because it allows the kids to control the velocity to a degree when shooting targets in the back yard. We put a inexpensive red dot on the gun and the kids are picking off cans at 25 yards no problem. The BB reservoir is great for lots of shooting, but the pellet system with the clips also works nicely. We definitely bought an extra package of clips.

Overall, very accurate and just plain fun to shoot. As noted by a few places when I did my research the stock is nice for a stock but do not use it as a support for pumping as it is not meant to take the stress. The kids and myself hold the gun just in front of where the stock slides into its release for support.
M4-177
By Mark B.
2014-01-18 23:43:01
Its hard to believe that under the bold tactical skin of this airgun lies the bones of the venerable Crosman 760 with a plus. The plus being rifling. Thank you Crosman for putting a rifled barrel on the yet to be released re designed 760. those of you that are new to Crosman products may only know the 760 as a smooth bore. it was in fact rifled for most of its variations. Rifling makes a big difference, especially for young shooters. I would recommend the M4-177 to young and older shooters alike. It has dime or so sized groups at 10 meters (33 feet) and it is an absolute hoot to shoot. I own a lot of air guns from budget priced to very expensive and sometimes one can get caught up in whats the most powerful or accurate gun or which one is best for what type of shooting and forget why they got into shooting air guns in the first place. IT'S FUN! So get a M4-177 and have some fun. If I concentrate really hard it's just like 1972 again and I'm in the back woods with my trusty side kick the 760 hunting all manner of dreaded beasts like sticks and cans.
Great job Crosman.
AWSOME!!!!!
By paul
2014-01-06 17:55:50
i set up a bottle cap 30 feet away and nailed it!! I was very impressed with the accuracy of this gun
Deserves 5 stars
By Devin
2013-10-11 13:52:17
This gun is a gun that just about anyone can shoot. The gun is great to shoot at targets to show kids how to shoot guns. The gun is a pretty powerful gun ad all around a good BB gun to have. This gun has the power to shoot anything just as long as you sight it in the right way. That could be a problem with someone who hasn't sighted a gun in before. But it comes with instructions on how to sight it in. The gun may be made of plastic but you need to respect the gun, you can be too rough with it seems how it's only a BB gun. But this would have to be the best BB gun I have ever owned it shoots great just as long as you can hit your target if its pest control or a target.
Crosman M4 177
By Eric
2013-09-15 19:02:21
Not a bad little pellet rifle. Not too expensive and has enough oomph to do some pesting.
Only problem I encountered was its picky about what types of pellets it will shoot accurately .
With one type of pellet it easily groups into 1 1/2 " at 25 yards, but switch to another type and she opens up to 6 or 7 inches!
Other than that, no complaints. Buy One!
Iron Sights
By Anonymous
2013-08-06 23:28:34
This gun is great and all, but the iron sights are horrible! I can't ever get it sighted in, not to mention the screwdriver part of the sight adjuster broke, so I have to use a screwdriver. The sights come in the box off the gun, they should be already attached and sighted in.
Really Fun but FRAGILE
By Tony P
2013-03-07 17:03:37
Bought this gun about 4 months ago and it's an absolutely great gun to shoot targets with (being in Canada I only have access to the 450 fps version). The top rail is great for sights while the bottom rail is somewhat useless since you can only really use attachments that wont interfere with the pumping motion.

But the big problem here is the stock. It only clips on to the receiver via a plastic that is about 3/4 a cm thick. Within a few weeks of using the gun I noticed some cracking on the clip and within 3 months, it snapped off completely. You have to be VERY careful when pumping this gun to make sure that you don't put any stress on the stock by having it hit your body while you pump, or even worse, by pumping holding the stock.

Other than the stock problem however, this gun is very fun to play with and to customize.
clip problem
By Anonymous
2013-03-02 10:38:03
It works wonderful but when i put the lip into the gun one day it got stck and wornt come out so that is a major proplem
its a good gun
By cliff
2013-02-22 09:13:47
This m4-177 is a good gun for most part I like that it takes BBs and pellets u don't really see alot of guns that do
Not the best
By Steve.O
2013-02-21 11:06:39
I bought the M4-177 air gun about a month back and it is not a bad gun, it is fairly accurate at ranges of up to 70yards and is also a very customizable gun. For instance I can have on my gun a fore grip or a bipod, I can have a flashlight or a lazer, I can have the iron sights or a scope or red dot on as well.(the removable iron sights come in very handy when trying to mount a scope without interference) The only problem I had with this gun is its somewhat lack of quality, Example: The rifle is made mostly from plastic and can therefor break easier than most rifles. And in places more so than others, the stock of this rifle is likely to be your primary concern when buying this rifle, as dropping the rifle from hights as little as two feet can break the stock, On my gun while testing I dropped the gun onto a tree stump and the stock broke into ceveral pieces. I have not been able to find a replacement stock anywhere on the crosman website and cannot therefor assume that you can buy a replacement stock for this rifle. Overall this is rifle is slightly below average compared to my previously purchased crosman rifles.
Rifles Barrel
By Spec Ops mechanic
2013-02-20 12:21:25
i give this rifle 5 stars because its sight calibration resembles the colt m-4 and m-26 i love that it has a rifled barrel
M4 177 Rifle
By ragbull454
2013-02-17 22:32:24
I owned 3 air17's back in the 80's and I thought they were great rifles and have always regreted giving them away. Until now. The M4 177 is the best thing going in multi pump air rifles. I already own 2 of them & will most likely buy 1 or 2 more before I get enough of them. Very accurate gun. Well made. Great look's. I have been shooting crosman air guns for over 30 years and they always have a well made product and the coolest looking air guns out there!


Updated review
By GimpsUnlimited
2013-02-15 20:44:35
I rated it 2/5 before due to faulty front sight. Upon calling Crosman, they sent me a new front sight and I can happily say that it is a full 5/5 now. With the new good front sight, I was able to calibrate it and scored 6 to 10 from range of 40 feet with 5 pump using Gamo Match pellet consistently. For target practice and rat control, it is more than sufficient.

Yesterday, I was able to score a direct hit on a mouse in the yard. I could not get a follow up shot because of the loading/pumping action takes too long. Sadly, it escaped. But not before leaving blood trails behind. Not sure where it was hit, but it likely went through as I found pellet mark on the tree stump.

Overall, I am very happy with it.
Great shooter
By Rudy
2013-02-03 15:00:33
This is a great rifle for the money, shoots great, I like that the went with the variable pump on this rifle because makes it easy to shoot inside.
I'm however a little disappointed at all the plastic that was used, especially on the pump mechanism seems like this piece wants to bend at times
after 7 pumps, this is the only weak link i found on this rifle, other than that its a great shooter, very fun and light weight. I enjoy shooting it every chance
I get. Hope this helps some of u thinking of getting this rifle. Its a lot of fun.
Good quality, works, but faulty front sight
By GimpsUnlimited
2013-01-30 18:05:42
I was very happy to get this bb/pellet gun. It looks cool, feels hefty, and feels to be well made. On top of that, it can shot both BB and pellets. Cool.

Since I got my rifle and shot over 100 BB's and 30 pellets, I found that nearly all my hits on the upper half of the target. At the 10 ft range, I could group near 8 (upper). But as soon as I move back 5 ft, all my shots are out of target near the top of the paper now. If I aimed way below the middle of the target, say 4 or 3 (lower), then I could score in the 10. Funny thing is that it was the only time I scored a 10.

I know it must be the front sight and it need to be adjusted up. But I am already at the top of the adjustment. There is no where to go. I took off the front sight to see if there is anything wrong with it and I found nothing out of norm. Only that the front sight does not travel upwards enough. This is extremely frustrating. Thus my 2/5 rating.
Deadly Accurate
By CanadianArmy
2013-01-30 10:55:11
I just bought the M4-177 rifle today, and I couldn't be more impressed! At 10 pumps it will shoot into a 2x4 board and stick right into it. I love how you can control the power to accommodate for shooting inside, or outdoors. At 10yrds I can shoot 5 pellets into a grouping the size of a penny. Very accurate when sighted in. This gun easily shoots harder at 10 pumps than most of my other break-barrel rifles. Definitely worth the $100.00CAD I paid at Canadian Tire for it.

The only con I can give this gun is that it's a little awkward to hold when pumping, especially as your hand wants to instinctively grab right where the sight is when pumping the gun. This is only a minor detail in the grand scheme of things. Also, I recommend that you only use pointed pellets instead of bb's with this gun. Even though it can hold over 300 bb's, the bb's aren't nearly as accurate as the pellets.

Also, if you are thinking of purchasing this gun for a beginner, make sure you understand how hard it is to pump this gun. A young child will struggle to pump this gun even 4-5 times. It takes more effort to pump this gun than my break-barrel .22cal pellet rifles.

Don't hesitate to buy this gun, it's too much fun once you've picked it up, you won't want to set it down.
M4-177 more than you pay for
By Jeff
2013-01-14 14:17:00
Just an awesome little rifle.I've had some time to do some testing with the M4 now. Absolutely fantastic for the price. I bought the combo kit to get the red/green dot sight. I only shoot dome pellets/no bb's. I also sight all my rifles for 25 yards. From that distance the dot covers the nickel size bullseye. But amazingly enough this thing is dead on accurate from that distance. All groupings are about quarter size on average. I bought it thinking it was more for show than anything but I was wrong. Great power and superb accuracy with dome pellets. You will not be disappointed. I have no problem hunting small pests without fear of just wounding them. A GREAT BUY !!!!
Crosman never lets me down!!!!
Amazing
By Maseo
2013-01-10 14:57:23
I just got the Gun for a Christmas gift and it is amazing. I love to shoot it every time. Have myself a nice target set up and just fire off each pellet that I have loaded in there
First air gun
By Zach
2013-01-10 03:18:33
I love the feel of this gun. I feel like it's real. doesn't seem like it will last very long but I guess you get what you pay for. Btw the instructions say not to pump it more tha.n give times so that might be your problem.
M4-177
By Connor
2013-01-06 01:25:13
I just got this gun and it looks amazing. I tried it out for a full day and it had no problems. It is an awesome gun. Makes me feel like I am holding a real gun. Pretty accurate. I would suggest buying a red dot/scope for it though. I live this gun. Definatly buy it!!!
Crosman M4 rocks
By Anonymous
2012-12-25 11:54:31
I just received the Crosman M4 177 and let me tell you I wanted to stay outside with it all day lol lol. This is my second product that I have used for the Crosman line and they have a lifetime customer. When I took it out of the box and just stood there and looked at it and when I took it out of the box. Crosman you get 4 thumbs ups (big toes included). And when I put the Crosman hollow point pellets in the clip and started shooting at the target. It was very smooth shooting. I had to adjust the sights on there some but after that I was off to the races. Crosman you did an amazing job with the M4. I take my hat off to you.
Great Gun
By Anonymous
2012-10-13 11:00:41
Lots of fun!
put a scope on it..
By Anonymous
2012-10-11 22:08:58
Ive been shooting at pests with the same pellet gun ive had since i was 12, im 32 now and it was a marksman break barrel .177. It served me well, but its lacking on the power that i need to take out the squirrels in my yard. I upgraded to the M4-177, decent gun for the price, however the factory sights are a little lackluster. The rear peep sight seems solid enough, but the front sight wobbles around too much for me. I put a Bushnell 4/32 scope on it, improved accuracy 10 fold!! GOOD POWER dont let the haters fool you, GOOD RANGE effective at 20 yards (thats enough for my yard i live in the city) I cant ask for alot more from this PELLET GUN and its a CROSMAN they wont let you down. Good hunting...
awesome
By bfl2125
2012-10-06 19:25:27
One of the most unique air pump guns I have owned and not to mention the adjustable sights just like on the real m-4. And the accessories u can buy make it that much more incredible. I definitely have endorsed this rifle. Get it you won't be disappointed. BL
very good
By Pretty awesome
2012-09-25 21:46:03
I shoot birds with this. pretty cool gun
more than a good bargain, good looks,and performance too.
By ozerob
2012-08-16 01:54:18
you get a proven crosman barrel, mine seemed a bit inaccurate until I re-crowned the barrel, after which it can hold 3/4 inch groups at 20 yards.
I guess as this is the Canadian model there is some restriction to the valve 495 fps - but some tinkering can fix that. and replace the plastic link
that the pump cocking arm operates. and replace the valve itself. I figure you could get this one up to about 600-700 fps with a little bit of work.
And folks - don't be using less than a .22 for "pests" - 177 is meant for targets, not creatures. Just a thought... for you.
The gun is well made for what it is, and yes, a darn good facsimile of army issue. I am very satisfied - I definitely got what I paid for. Chrony later,
for now (after my first can of 250 pellets) I like this little bad boy better than some of my other airguns. Still can't beat the old 2240, though...
M4-177
By Walt B
2012-08-06 19:56:04
The Crosman M4 177 is a well performing multi-pump air rifle. Dual ammo usage is nice and power is decent. Use of integrated weaver rails is welcomed. Overall this is a reasonable priced air gun. For all the good I give the M4 177 there is also some not-so-good. After much usage there are certain points on the rifle that start to get stress fractures. Two of the most likely areas this happens to are at the pump hinge near the barrel end and at the stock/receiver end. Hopefully Crosman makes some changes that address these concerns. It will definitely improve the longevity of the rifle. Also, making a .22 version with metal and high quality synthetic in a break-barrel or fixed-barrel nitro piston build would be awesome.
M4-177
By Walt B
2012-08-06 15:36:11
The Crosman M4 177 is a well performing multi-pump air rifle. Dual ammo usage is nice and power is decent. Use of integrated weaver rails is welcomed. Overall this is a reasonable priced air gun. For all the good I give the M4 177 there is also some not so good. After much usage there are certain points on the rifle that start to get stress fractures. Two most likely areas this happens are at the pump hinge near the barrel end and at the stock/receiver end. Hopefully Crosman makes some changes that address these concerns. It will definitely improve the longevity of the rifle. Also making a .22 version with metal and high quality synthetic in a break-barrel or fixed-barrel nitro piston would be awesome.
Weak plastic parts
By RayO
2012-08-03 18:12:53
I just got this rifle Thursday and tried it out Friday...after 5 rounds of pellets and another 5 rounds of BBs, I felt some rattling inside the pump handle, It was a broken plastic part from the pump fulcrum part. I was very careful in pumping and never did more than 7 pumps per load. I wish that Crossman would have a reinforced plastic parts for the ones that are constantly under stress or pressure.
AWESOME GUN !!!!!!!!!!
By Anonymous
2012-07-30 12:33:36
it is a very good gun dead center at 100 yards it's the best pellet gun i have ever had nothing has been dameged on it and i've had it for 2 years !!!!!!!!!!!!
can replace buttstock
By Anonymous
2012-07-30 04:06:49
Yes you can replace the buttstock by pulling down on the length adjust and then pulling back.That will remove the base stock.I have switched to the stock on my pulse DP4 airsoft gun to make the m4-177 into some for of a MOD-0 sniper rifle by taking the PDP4's DEVGRU stock and adding a scope.It works well by the way AND IF YOU CAN USE DESTROYER EX's ,they work best.
cool gun
By richman19
2012-07-28 17:07:34
I have had this gun for about a month now and cant seem to get it to shoot consistently, i have tried two different scopes along with two different mounts and still cant seem to get it to group well even at ten yards, i guess ill just have to keep seaching for a set up that works and keep trying different pellets as well. I do like the rails and customability, the triggers alright but wish it had a shorter cycle, overall i do like the gun just hope i can get it shooting better.
great gun for the price
By tankerthesoft
2012-07-17 18:21:53
this is a grat gun for the price.this gun is amazing with the right shooter behind it. this gun is great for pest control but only shoot them after you have got a toonie sized grouping from 40 yards. This gun locks up somtimes but easy to fix. if you are a beginer marks men i would get this

m4-177
By Koby
2012-06-16 19:33:31
I bought this and I was fairly pleased but the only thing about is when I bought it, it didn't come with the sight adjustment tool and the storage magazine so it only hits consistantly at about 10 feet from the target and it does not hit the target at distance of about 20-25 yards but other than that its a good gun
m4-177
By jeremy
2012-06-04 23:03:50
the gun is good mine the sight broke of and had a hard time finding a good scope to put on it. the clip button broke still trying to find a new one. But the gun is good for its price.
Pellets / Ammo
By James Running Wind
2012-05-28 21:20:29
I just ran through a tin of pellets through mine, and I adjusted the red-dot to these pellets, 10 pumps @ 80 ft. , I was drilling out the (x) dead center and through the same holes fired at the target before...... We had a raccoon pest that rummaged through everyones trash, at 75-80 ft. in the evening light, I put one through dead center between its eyes and it was instant, no suffering at all... The neighbor wanted the critter, and most likely bar b qued it the next night.... I see some didn't give this gun good reviews, but I believe it's all in the hands of the shooter, the ammo, and the sights...
You Got To Buy It!
By M4-177 Lover
2012-05-16 17:53:42
Pros; It's weight is just perfect. I like the removable dual aperture rear sight and the removable adjustablefront post sight. It's accuracy is very good. The removable adjustable stock is also a neat feature. The storage box is a neat idea. The fore end grip helps when pumping. It has Picatinny rails which most sights fit. It shoots a good distance. It also looks realistic and cool. It hols a good amount of bb's. Fair price.
Cons: A little hard to pump at first ( just like most guns) but eventually becomes eaiser. I wish the charging handle was acutally used like a real gun. When i bought the gun i was hoping the bb's were acculaty placed in the storage box.
Overall: Buy it, you won't regret it.
awsome, quiet, and it looks cool
By phillip
2012-04-23 07:32:20
I have loved this gun since the day I got it. It can kill a bird, first shot at fifty yards. Over all this is the best pellet gun I have ever had!!!!!
m4177 accurate
By snipercam13
2012-04-05 22:54:50
When i first bought this rifle it shoots quarter size shots at 25 yards

Very, very disappointed.
By Kattan_tha_man
2012-04-04 03:11:57
I bought this gun to do some fairly long range target shooting. Well. long range for a .177 caliber pellet gun. Maybe 40-75 yards. First off, this gun was totally inaccurate with Copperhead bb's. It would load two at a time unless I was very careful and cocked the gun very slowly. If I quickly cocked it, I would almost always get two bb's in the breech. Second, if the gun was jarred even slightly with the barrel pointed down, the bb would roll out of the barrel. Ok, that's fine I thought. I bought it for long range shooting anyway. With pellets, the gun loaded them great. With crosman premier pellets the best I could do was about an 8 inch cluster of five pellets at 40 yards with zero wind. I was disappointed, but it was only an $80 rifle. And I read that it needed about 500 shouts to get broke in. Ok, cool i'll wait and get it broke in properly i said to myself. The problem is that the piece of plastic that the pump hinges on broke along with another part of the pump mechanism that was probably collateral damage broke before I made it through my first tin of 250 pellets. It lasted maybe 175-200 shots. That was it. I now have to send it in to be repaired but honestly I don't want the gun anymore. Is it going to break again after 200 shots? All the problems and disappointments I had I was ready to live with on account of it being a cheaper air gun, but when I spend 80 dollars of hard earned on something I expect a certain amount of quality. Maybe I could have bought the $40 one and still be shooting it. I have had several Crosman pellet guns in the past and all have been bulletproof except this one. With it breaking so easily and having the problems loading bb's, I with I had spend more life $150 and gotten an all metal rifle. The only positive thing I can say about the gun is that it has a SWEET trigger pull.
M4-177
By White Male Mid-30's
2012-04-02 03:32:48
The M4-177 is a fantastic air rifle, but not perfect. I really like the rifled barrel and the integrated rail system from the factory, but it could be better. The rail on the pump lever is not useable do to the fact the pump action interferes with any accessories placed on the bottom rails. Also, if rails were placed on the side of the barrel, and not just top and bottom, it would increase accessory placement. The internal bb magazine is a nice touch and holds over 18 rounds along with a reservoir holding up to 350 bb rounds. The pellet clips hold up to 5 rounds and slide in easily from the side. Storage comes in the form of a fake mag with enough room to store various small items. It secures on each side and seems to hold well. The variable pump is easy to use and adds to the versatility with reasonable power at 625 bb and 600 pellet. The adjustable stock is nice, but would be better if it had a little weight added to it. The dual ammo capability is great and accuracy is good with either, but those looking for the best accuracy should use pellets. Overall, the design and appearance of the M4-177 is beautiful. It is a good-looking air rifle modeled after a classic US military rifle. The gun is sturdy and built well. I definitely recommend this air rifle to anyone looking for appearance and performance with a reasonable price tag.
.177cal bull's eye
By RandomChiefDEF
2012-03-21 22:50:31
I love this new pellet/BB rifle. I purchesed this AR style rifle for my son. It has just the right amount of length of pull for him. many BB/pellet guns have too long of pull for him. he will be able to transition over to the real deal soon thanks to this great platform.
M4-17 - Coolest thing since AR-17
By Viper63a
2012-03-20 01:10:53
I owned a AR 17 way back in the 80s - 90? I loved the look of the gun, but had issues getting it sighted in. I hated giving that one up, but it just didn't do what I wanted from it. I got another brand rifle, but always regret giving up the old AR-17....then I saw this beauty at Wal-Mart and bought it on the spot. I switched out the rear sights with a carry handle sight. I am in the process of changing out the front sights too (All metal). Its not that the original sights are not good, its just not the look I wanted. The rifle is light, but feels solid. and the metal sight add alittle more weight to the rifle. Once sighted in, the accuracy is decent. My M4-17 looks like the M4-117 now. The only complaint I have is the rail on the underside of the pump handle. After serveral rounds of pumping, the bottom rails start to make the pumping action uncomortable (hence the 4 stars). Other than that - Its an excellent rifle for the price. Love it...love the look, love the performance - but remove the underside rail on the pump handle...if that happens - this rifle would be 5 stars!
M417 AR Platform
By Arkangel
2012-03-17 20:57:39
I just bought the M4177 BB/Pellet Rifle and it was nice except, the screws on the pump handle towards the front were loose.( and could not be tighten) So I took it back and Exchanged it for another which when I searched they had an M417 box still on the shelf. So i got it instead. awesome!! Shoots great, I will have to set my sights in tomorrow. thanks Crossman keep up the good work.
Stock
By JDDL
2012-03-17 20:12:14
First of all, its a great air rifle! The only thing that confused me some was that you had to put the iron sights on. I was a first time user and did not know where to place them and how far away they should be and such. Also, the owners Manual never mentioned anything about removing the stock, which i found out later that you could do from youtube. Another Con is that the Stock is plastic and broke after adjusting the stock multiple times. I will now have to send it in and have it repaired. i can still shoot, but without as much accuracy. Overall, its a great gun as well as pest control rifle.
AMAZING GUN
By Anonymous
2012-03-17 10:39:43
I RECENTLY BOUGHT THE M4-177 AND FELL IN LOVE WITH IT. IT HAS DECENT POWER PRETTY MUCH NO RECOIL UNLIKE MY BROTHERS BREAK BARREL AND IT LOOKS SWEET. ALTHOUGH I HAD TROUBLE WITH THE PLASTIC SIGHTS I ATTACHED A 4X32 SCOPE AND I AM NOW HITTING WHAT EVER I POINT AT. GREAT JOB CROSMAN!!!
M4-177 "Black Rifle"
By James Running Wind
2012-03-06 19:18:41
Well, I brought one home and enjoyed mine so much, my daughters (13, 21, & 28 yrs.of age got to enjoy it also), I ended up buying 3 more of these. Now they have their own now and can leave mine alone... 2 of them I mounted the BSA red-dot like mine, and the other I mounted a weaver riser and a Bushnell 6-18x50 ajd.Ob. for the 21 yr.old. Now insted of buying girly stuff they go to the sporting goods department and buy pellets, and targets, LOL. Thank You guys for building an awesome multi-pump rifle. Now insted of smelling nail polish remover in the living room (while it's family TV time), now I smell Hoppie's Oil.... J. Running Wind
Very Good
By Anonymous
2012-03-03 02:38:52
Very Good and a hole lot of fun to shoot
Great gun
By Blackhawk97x
2012-03-02 19:29:11
I got this for Christmas and it works great. I have killed about 20 squirells with this using just pointed pellets. I did notice it was just as loud as the pumpmaster 760 so i built a suppressor for it. The suppressor doesn't effect the range or accuracy of the bullet and just slides on the end.
setting the record straight
By Anonymous
2012-02-17 19:31:28
I have 2 of the m417 models. I have extensively worked with one in an outdoor ballistics area I set up on 10 acres of land. I have killed several squirrels with mine but it was done under 25 yards. Honestly, no airgun of this price and muzzle velocity is good for more than 30 yards realistically and most air gunning is done within that range. That being said, this is a good can killer and squirrel killer IF you are 10 yards or so from the squirrel and hit it right in the heart.
Tacti-cool pest thumping at its absolute best!
By Macabespeed
2012-02-07 11:13:40



Most accurate .177
By Dwrek40
2012-02-05 02:39:32
This is amazing the M4.177 is not just cool looking but the hype is true this has got to be one of the most accurate non C02 rifles ever, well worth the price i consistantly shoot 3"-4" groups at 50yrds with stock hard sights "NO CRAP" if you dont have one get one......
m4-177 awesome gun
By Anthony Esterline
2012-02-03 14:48:44
I just got my m4 it is all the hype says it is and more! The only thing I had to do was adjust the front sight for elevation and the gun puts'em where I aim out to 35 yards so far as that is the max for my backyard range. Iam looking forward to doing some pesting with this gun! This really is a cool shooter.
M4-177
By Anonymous
2012-02-01 14:51:26
Nice looking gun but what would make it even better is if you make the clip functional like on your 1077 gun.
The Best Sub $100 Variable Pump ever made in .177
By Macabespeed
2012-01-28 12:31:31



Nice "Black-Rifle" -
By James Running Wind
2012-01-24 22:44:50
Really nice piece. I see the reviews from others, I have to add this is a Pellet rifle, (bb's too), so the outter shell being plastic is a given, and its just fine. I tried the sights that came with it and they were cool, but when I added the BSA red-dot and tuned it in, * putting the red dot on the tip of the front sight. This rifle became a nail driver. I sat and sand bagged it on a picnic table and with a target at 20 yards, I put 5 shots into a dime sized group.. I'm very impressed. As for accuracy, I put up a dime sized gum ball and one shot and I hit it at 20 yards.... Now, just like a real rifle / ammo, I stuck with the same pellets I tuned it for. I found the crossman pointed field pellets were the right ones...
The steel barrel being rifled, I'll never shoot bb's throught it, and I'd think and hope that anyone that would purchase and own this rifle would do the same.. I'm going back to the store to buy 2 maybe 3 more, my daughters are wanting one of their own now.
awesome
By Anonymous
2012-01-19 21:48:12
It looks and fells great. Shoots real good. Just fun!
m4-177
By yy
2012-01-18 20:15:46
i bought this gun the other day and i am impressed. it is a fairly accurate gun and once i put a 4x32 scope on it i was shooting quarter inch groups at 25 yards.I am not too fond of all the plastic and i wish crosman would put more metal on it to make it feel more realistic.over all good gun but too much plastic. it would also be cool if crosman made a semi auto metal pcp m16 style air rifle
Fun Rifle
By BamaNative
2012-01-18 19:29:05
I enjoy this gun. I've managed to get decent groups at closer ranges. Not much for longer ranges being a smooth bore, but an optic would prolly tighten that up quite a bit. I was impressed with the quality when I first opened it. I mean its not a tank, but it is made better than expected. The sights are of good quality except for the the actual apertures themselves they seem pretty cheap. They function as they should though and are fully adjustable. I think that my daughter will enjoy it when she gets a little older because of the adjustable stock as well.
buy it
By Anonymous
2012-01-18 17:18:25
this guns iv had it for a few months i just cant stop shooting it but its tha bomb with a red dot sight all i can say buy it in fact its makes dasiys pump air guns look crap
m417
By airgunner
2012-01-17 20:57:44
I have had pellet guns for 25 years crosman hit this out of the park this thing is by far the best looking airgun i have ever seen, i like the variable displacement guns for different conditions unlike break barrel or co2, perfect for around the yard!
My Review Of The Crosman M4-177...
By Harry D.
2012-01-17 05:56:57
Its a good beginners gun...but if you cant afford this get the Crosman 760.Over-all the gun it-self is made mostly of polymer and a few metal part's for example polymer barrel,polymer rail's,and etc.The M4-177 has a DMR look when you add a High Powered Scope...The power is average as most pump guns going 600-800 fps.
best pump gun on the market
By Justin.L
2012-01-15 10:17:37
ok i just bought this gun it is great! i put a old 4x32 rifle scope on it and it is verry accruate lots of power and looks cool
great beginner gun
By airsoftbro5
2012-01-14 18:58:56
this is my 1st gun and I love it! works good and is accurate. the only con is that u have to push the magazine in pretty hard or it will either fall out or wont shoot.
M417
By Joey
2012-01-12 22:41:36
I am young, under the age of 18 but I can still handle this weapon with a high level of effeciency, very accurate and light wieght. I hope to purchase a new optic and a vertical foregrip soon.
M4177
By deadeye
2012-01-09 19:06:08
I just got my M4177 today put 3-9 scope on it put target out at 20 yds put 5 shots in dime size group first time, also shot pellet into 2by6 pressure treated board and went in 1" hope to take it hunting for rabbits tomorrow hope to get the clip kit so can have extras loaded fast reloading!!!! I think its a real nice gun!!!!
M-417
By Anonymous
2012-01-03 20:55:19
Nice Rifle , have only one complaint with it and that is the fore stock grip where the picatinny mount stops the hand grip there has rather pointy edges , wish it would have been rounded slightly more .
Very accurate rifle .
Older M-417
M4-177
By Bill
2011-12-31 20:50:09
Coolest air rifle I've seen in a long time. I used to have the old M16 look -a-like but this is much more realistic. First shot after attaching a red dot point sight hit the top of a 20oz soda bottle at 25 feet. I also attached a tactical sling for easier carrying. A semi-auto CO2 version would be great!
Amazing air rifle
By Mark
2011-12-29 23:38:55
I was a little skeptical at the thought of an AR style airgun at first. But after my first sighted in group at 25 yards was under the size of a quarter, I was impressed.
The M417/M4-177 (mine is the original 417) is an extremely accurate air rifle. Crosman is on to something good with this little airgun.
M4-177
By eviltim449
2011-12-29 22:58:37
This gun is cool and different. I like this gun alot but i would really like a high powered co2 version of this gun. I personally don't like the way one has to load bbs into a mag and the other bbs rattle in the reservoir . If the clip used the co2 and held bbs or pellets and thats what the gun fired that would be really cool. It looks like you tried to combine an M4 and the old M-16. If you make it fire with co2 and used the clip as the actual clip this gun would be amazing. And put quad rails for various attachments it would surpass everybody's expectations.
M417
By NoblesTachOne
2011-12-29 14:04:12
I bought the M417 to add to my collection, I received it anbd right out iof the box is fires well and does everything it is advertised to do. Really laying on the table it has very little differences to the real M4. I think for the money it is a vey well designed rifle, copied after the M4 Tactial Aslt. Rifle system carrier. Nice for the cost.
All the others that complained about the cheapness or the plastic feel. Its a BB/Pellet rifle that fires .177 and 4.5. Its is not a 9 or 12 mm tach rifle.
I think it goes rather nicley with my collection of air rifles. Crosman makes a very nice system.
great target/ pest control gun
By Ryan
2011-12-28 20:55:15
The day I sighted mine in I killed two birds! Great gun for the money
m417
By jason
2011-12-25 13:40:17
best gun ever for the money i have a nitro piston but the m417 out shootes up to 50 yards great gun.
great for hunting small game
By squirrelhunter
2011-12-24 21:46:11
great gun killed many squirrels with this gun i was not thinking it was gone to be accurate but i thought wrong
Sweet M417
By Batmanzrx
2011-12-23 11:09:59
good looking and accurate
awsome
By sweetnees
2011-12-23 10:33:19
i just saw this thing an its amazang
M417
By James Running Wind
2011-12-19 10:12:29
m417 pellet gun
By DeerHunter90123
2011-12-11 17:36:29
this gun is the best that i have had
M417
By Anonymous
2011-12-07 23:42:35
Its a great gun, and the price is right. Its very accurate and I have found that the Crosman Destroyer EX pellets are the best (Crosman hollow points were the worst) shooting out of my M417, and I have shot every .177 size pellet crosman makes through it. I shot it tonight and I put 17 out of 20 pellets in the 1 inch bulls eye and the other 3 were just outside of it, and that was at 25 yards, and It can put a pellet through a grapefruit at 25 yards with ease as well. I would highly recommend this gun to any one, no matter what their experince level, any one would like this gun. It looks awesome, easily customized, has storage in the clip, very accurate and light weight. Im glad I found it, and Im also glad I was able to get one of the first ones made so It has "M417" above the clip instead of "M4-177". The only thing I would like to change is higher fps and maybe a PCP version but thats no biggie the gun is excellent like it is.
loving this gun
By Anonymous
2011-11-27 15:06:09
I'm totally loving this gun. I just had a squirrel climbing my livingroom window screen. 10 pumps and I guarantee he will never climb another screen... that is unless heaven has screens, but he will no longer be a pest here. That hunt took me back in time to the late 80's in germany when a group of us shot a boar with our m-16's but that is anothe story. Point is, this is an awsome squirrel hunting gun. You can pump it up load it and leave it ready to shoot for hours and be ready for that special moment. Works in any temprature just fine.
M4177
By davdri
2011-11-13 15:05:18
Good looking and well made, great price. It is an accurate shooter right out of the box. I added an AR 15 carry handle,red dot sight and folding fore grip to finish it off. A warning must be added, the rails on the pump/grip and barrel/lower sling are pretty useless as is. You can not pump if you add anything to these rails as they are, I had to remove the lower barrel sling loop/rail in order to add a foregrip and still be able to pump. If you want to add a fore grip it must be the folding type to work.
fairly good quality
By Anonymous
2011-11-04 15:01:39
When I first saw this gun I thought," This is the coolest thing I sen since the air17 back in the '80's." I thought the sigts were a bit on the cheesy side but they are accurate. Crosman says the butt stock is replaceable but so far I failed to see that as happening. I'm lovin the fake magazine for storing pellet clips and the sight tool... very 80's air 15ish. I'm also liking the picitannys for putting on lasers, flashlights, various optics and sights and the under barrel one is perfect for... get this... a pistol bayonett. In all a fairly decent rifle. I was a bit put out by the fact that the gun is covered in plastic from muzzle to buttstock. I'd have liked a real steel barrel. Also nowhere on the gun can I find where it was made. I hope it was made in the USA and not "build it cheaper china".
Crosman M417 Fun Accurate gun
By Gary F
2011-11-02 16:49:36
Very pleased with my M417,. I tried a cheap chinese Simmons scope on it with poor results. Installed the stock tactical sights and am now shooting quarter sized groups at 45 feet. Cool looking gun with enough power for squirrels. For the money you cant go wrong.
IMPORTANT PLEASE READ
There are a few ways to download files to your computer. Right-click the item and select "Save As..." or you could open the link and save the document from there. All owner's manuals (OMs) and exploded view of parts diagrams (EVPs) are in a PDF format. You will need Adobe Acrobat Reader installed on your computer to open the file. If you do not have this program you can download it for free at:
http://get.adobe.com/reader/
High resolution (
High Rez
) media center files are in a variety of formats such as .TIF, .PSD, .EPS, .AI, etc. and typically require an additional program to open. Low resolution (
Low Rez
) files are in .GIF or .JPG format and should open in your web browser.