M4-177 Kit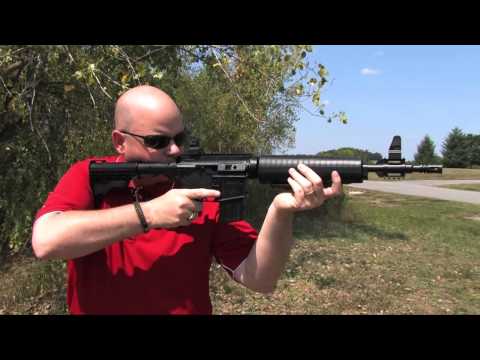 Overview
Ratings / Reviews
Downloads (Photos, Manual & EVP)
The next great variable pump rifle is here and now available with everything you need: rifle, ammunition, targets and shooting glasses.

If you enjoy the adaptability of the AR platform then you're going to love the M4-177. The airgun features a rifled steel barrel and shoots both pellets and BBs. The rifle's variable pump action is easy to use for right or left-handed shooters.

Expect velocities up to 660 fps with BBs and 625 fps with 7.9gr, .177 caliber pellets.

There's plenty of picatinny rails for mounting your favorite accessories, plus the front and rear sights and stock are removable for the ultimate in upgrade possibilities.


Includes a Firepow'r 5-shot pellet clip
Reservoir capacity of 350 BBs
Adjustable stock to fit every shooter
Loop slots for adding a gun sling
Windage and elevation adjustments
Two aperture sizes instantly available on rear sight: just flip up the small one for stationary or bullseye targets or the large one for moving or large targets.
Removable magazine stores pellet clip and sight adjustment tool
NOT A TOY. ADULT SUPERVISION REQUIRED. MISUSE OR CARELESS USE MAY CAUSE SERIOUS INJURY OR DEATH. BE CAREFUL, SHOOT SAFELY.
Primary Use
Specifications Overview

Model Number

M4-177KT

Pellet Velocity

Up to 625 fps

BB Velocity

Up to 660 fps

Weight

3.56 lbs

Length

34 in

Mechanism

Bolt Action

Power Source

Variable Pump

Caliber

.177

Ammunition

Pellets / BBs

Pellet Capacity

5 Shot Clip

BB Reservoir

350

BB Magazine

18 Shot

Barrel

Rifled

Front Sight

Elevation Adjustable Pin

Rear Sight

Dual Aperture Windage Adjustable Carry Handle Peep Sight

Optics Rail

Picatinny

Safety

Crossbolt

Color

Black
M4-177 Kit
Customer Reviews
Great rifle
By Rusty1325
2014-10-19 00:57:53
I received mine as a Christmas gift last year and here it is 10 months later and it still works as well as it did the first day.My wife bought mine through Fingerhut.It was slightly more then what the price here.She paid $125 But i received 3 clips not 1.But they did not send any targets like the ad stated.But the 2 extra clips was far better then paper targets anyway.After being so impressed with this rifle i just ordered the 357 vigilante and i am just hopeing it is the same high quality as this rifle .
great rifle
By Anonymous
2014-07-16 20:49:21
I've had this for a few months and I haven't had any problems! I love the fact that it shoots bb's and pellets. My airsoft friends who always had the best guns decided to have a war and were a bit surprised when I showed up with my airsoft pistol and this. They called of the war and we just took turns shooting at squirrels with bb's. Its a great gun!
Great Air Rifle
By Anonymous
2013-06-17 03:08:53
This Air rifle is very accurate! I like the peep sights on this air rifle. Crosman really hit the nail on the head with this product.
Awesome Airgun
By Jeff
2013-06-06 22:40:23
This airgun far exceeded my expectations.
When I saw on the box that it included a carry handle I expected it to be flimsy plasic and didn't expect to use it. However, it is very sturdy and can support the weight of the gun!
To test the stength of the airgun, I fired crosman pellets into 4 gallon cartons filled with water. With three pumps, the pellets just bounce off, but with ten they shoot straight through! The only thing missing from this gun is the ability to mount a sling, but that in no way diminishes this product.
Looks nice
By Dave
2013-03-17 16:29:57
I just picked up one of these at Cabela's the other day. I haven't shot it yet, but I did take it out of the box and examined it closely. I really liked the rear sight which is just like the M4/AR-15, even allows elevation adjustment for longer shots. Pumps fairly easily. The stock adjusts nicely. Seems to be the same size as my real AR's. I liked the fake magazine storage box. I wasn't too fond of the use of so much plastic and will be interested to see how it holds up over time. Really didn't like the useless Picatinny rail on the bottom of the handguard which just gets in the way for pumping. It really needs to be deleted. Overall, it looks and feels pretty good. I can't wait to see how it shoots. If it's accurate, it may make a good trainer for indoor practice for Highpower competition with a pellet trap.
Great pump, stock issues.
By Plinker
2013-02-27 11:00:17
Had this for around 3 months, and yeah, you guessed it, stock broke at the base where it meets the gun. Superglued 3x with loctite, considering fixing it to the gun permenently with a construction adhesive at this point... But i digress.

Down to the nitty-gritty, this is an accurate gun, easy adjustable, and at 25 feet, able to write my name(if i tried) in a target, its that accurate. The handle on the kit is stable and makes the rear sight adjusting even easier, however a way to lock the adjustments would be nice. Only real complaints are when pumping, thats where the issue lies. Awkward weaver rail makes it uncomfortable, and the gun is unwieldy when pumping. You will be tempted to brace the gun with the stock, which is the first fatal mistake, thats what did ours in. From there your next option is pumping from the pistol grip, which will tire or hurt your wrist at over 3-5 pumps. Next option is to pump via the handle provided, which, so far the handle has been stable, but this can also cause the extended stock some wear, as you are prone to shaking it while doing this. Last option being to grip the ring behind the pump, around the barrel, but this is unwieldy and small, and in the event you replace the handle with a scope, really makes it difficult to do.

Even with a weak stock merger, and difficulty of pumping, this gun is great, its so accurate, mostly durrible, the kit is a nice deal, and i intend to buy the upcoming MK-177 sibling to this gun when its released. If you are looking for a variable pump rifle and like the military motif, this is the gun for you.
Don't Hesitate
By Anonymous
2013-02-16 13:57:00
I bought this airgun to solve a feral cat problem I had. That is correct, I had a problem with feral cats until I purchased this airgun. Not only was it accurate (after adjusting sights) it is durable. My feral cat problem was solved within several days. The price was great, less than $80.00 and the kit was complete with ammo, targets and shooting glasses. My only additional investment was pointed pellets which gave the knockout punch I was looking for. When you can't pull the .22 LR or 30/30Win out for use, this airgun is the next best thing.
The m-4 .177
By Sniper101
2013-02-12 19:09:05
This gun is awesome I have had it for a week. I can hit targets at 10 to 75 yards is an easy shot with the iron sights

M4-177
By Nickolas Woods
2013-02-01 23:03:56
i have owned this rifle for.... a little over six months, maybe seven. I have enjoyed every shot from it and i would love to buy another if i had to though, aside from it being modeled after one of my favorite rifles, the M4, i feel that it could have been made better in some places. For one thing, the stock. I love how it's adjustable but where it connects onto the gun, i hate that. I've gone through three stocks due to it's bad construction. The problem would be easily fixed if carbon steel or light aluminum was used to make the connection more sturdy. Other than that, the stock is great. Now as for the weaver rails, why have the two rails on the bottom conflict? Why have them there at all and not on the sides? The bottom weaver really chews up my hand and could use improvement. THe iron sights included are very nice and very useable. I have also tried a friend's scope and found it preformed very well with a scope, but i like iron sights more. scoped, iron sights, or red dot sights, they all work fine. I reccomend pellets for the most accuracy and bird-killing power. (I have a mocking bird and red squirel problem.....) The long triggler pull is very nice and smooth and i wouldn't change that any day.The fake magazine, taht was a nice touch. I would love to see a rifle like this that was magazine fed as if it were the real McCoy. Co2 and ammunition in the magazine, oh yeah that'd be really nice.
BOTTOM LINE: I love the rifle and i would seriously reccomend this to an avid shooter who wanted a budget rifle with a good ammount of power for the price. Another great rifle Crosman!
The coolest gun I ever own
By Benton
2012-12-24 09:22:52
I love this gun because its very accurate at 20 yards. I like the sights, but a scope would help at long yards. I go for squerrels all the time if I could find them. This is an awesome gun its aimed towards youngsters of eight years of age.
2 thumbs up
By The_reaper
2012-12-23 12:47:22
I got this pellet gun against my g/f's wishes and I can't say I'm dissapointed, within the first clip mag I got it zeroed in and would have taken less shots to do so if the front sights elevation wasn't backed all the way out. The action is smooth, the design is very usable, it looks very much like an M16 or a .22 version of an M4 and kinda makes you feel like 'nam because of the short "mock" magazine. The adjustable stock is a bonus, and locks into place very reliably. Once zeroed I was able to get one inch groupings at 15 ft and able to hit the numbers on the target by calling them out, say the 0 from the 10 in the bullseye, so exetreamly accurate...
And now the part I don't enjoy, the Cons. I don't like dissing a gun I absolutely love but it wouldn't be a complete review if I wasn't completely unbiased in my evaluation. 1st) It could have weighed a little more, I was honestly amazed at how much it weighed since the gun is almost entirely plastic minus the action, the barrel and, the mounting brackets for the plastic ''iron'' sights. 2nd) In my opinion the gun could have achieved a better balance by properly securing a metal weight within the telescopic stock becuase as previously mentioned all the weight in the gun is on top of or ahead of your trigger hand making the back end feel almost non existant and overly front heavy in all. 3rd) The useless picattiny rail under the foregrip, I have two problems with this one...how come the rail cover is mock and not actually removable to reveal a full size under rail? and why did you guys put a rail where you know it's gonna get in the way of charging the weapon in the first place?? To me this is a relatively major design flaw on crosmans behalf and the only thing I can think of to remedy it, would be to use an offset riser rail to the L or R for a laser or grip, and on a similar note why only put rails on the muzzle, the bottom handguard and on the upper reciever? would it have broken the gun to add the two sides and the top rails to the handguard?

Summary: All in all, great gun whilst the over use of plastic does bother me a bit and I do prefer actual IRON sights lol, everything is sturdy, things that aren't sposed to move don't, my shots land where I put 'em everytime so I really can't complain, easy to load, shoot and carry, versatile in that it can be far more accessorized than most any other bb/pellet gun out there and the only thing I could suggest is to pick what you want to do with the rifle before you use it, baisically the magnetic bolt idea is really cool but if you wanna use bb's and fill the resevoir up then don't bother with pellet because the steel bbs tamper with the internal ballistics of the riffled barrel, if you prefer target shooting to general plinking and intend to ever hunt with this thing I suggest sticking to lead ammunition to keep your shots true to point of aim. In the end, I love this gun, wouldn't ever get rid of it, will probably keep to give to my children eventually to teach them proper gun handling and such and my only real complaints about it and this is entirely biased to my opinion regardless of how much I like it, I prefer the handle style rear sight which only comes with the kit and I got just the gun so if that were an option that would have been cool and secondly I understand you have to "nerf" the velocities to make them legal in Canada but when the box tells me up to 495fps and the best I can see with 10 pumps is ~470fps that bothers me a bit especially when in the U.S.A. they're manufactured to 600fps (pellet)- 625fps (bb), I guess I just feel slightly ripped off that the M4-177s aren't as fine tuned for the Canadian market. Still if they're available in your area and are looking for a new pellet gun GET ONE!!!!
great gun
By josh
2012-09-13 17:00:30
I had this gun for a week and it hasnt failed yet got it sighted in easily .GREAT GUN BUY IT
Good rifle!
By Marius hagen
2012-08-14 14:42:57
i have had this rifle for about 1 week now, not disepointed!!! but it is abit hard to dile in as good as i want it... and i can't find the rigth "red dot sigth" for it.. is it an 21mm ore 32mm rail ore what is it?? can't figure that out...-_-' so if annyone can help me with that i wud like that alot!
i like this gun for the looks and that it looks almost like an real M4. if you are looking for an good targetshooter this is it!

Overal!! AWSOME wepon, but hard to find gear to it....
awasome gun
By KillPain9er
2012-07-22 15:19:07
i got the m4 in the mail i opented it i shot it i said what in the world it shot throw four soda bottles nice gun!!!!!
Nice rifle
By rat hunter
2012-07-07 01:40:59
Bought myself one of these the other day ...... very accurate , just need to carefully set up the sights . I like the power for rodent removal . I could see this gun having no problem with birds either . Nice because the noise is almost non existent and local hunts won't be noticed by the neighbors .
crosman m4 177 kt
By john fairbanks
2012-07-05 21:28:36
im 63 years old and have been a avid hunter all my life haveing owned mant different deer rifles in many diffrent calibers from 223 to 300 winchester mag. this is my first pellet rifle and to say i was impressed is a understatment at 10 yards it took me 2 shots to get it dialed in then 5 shots went into a 1/2 inch group i was amazed the m4 is all plastic i would have liked to see more metal but it is what it is a good shooter at a good price.
M4-177KT = Well worth 100 bucks!
By Nick Woods
2012-05-04 16:17:11
I've had this M4-177KT for about two weeks and it doesn't fail. The only thing i don't like is how the two bottom rails appear to be unusable due to the pumping action which for me is ok because i plan to take off the iron sights when using an optic or laser. I mainly use this gun for target shooting and pest control such as mocking birds and crows but mainly for fun. Pros: Great weight, standard weaver rail fits to any attachment that can use a weaver rail, great power, easy to load and work, easy to sight in, easy to remove/add attachments Cons: Hard to pump at first but after a few workings of the action the spring isn't as tough, a little loud during pumping, the stock is made of plastic (not shocking) but i would have preffered metal such as aluminum or pot steel (along with where it hooks on the gun),
Summery: Great gun, gotta buy it. BUY IT!!
Very nice
By kimberlink
2012-04-07 18:00:56
Pros seems to be accurate havent got it dalled in yet but getting close. looks real enough from a distance
Cons is the Lower rail is hard on the hands while pumping. im going to maybe try a flashlight on the bottom to see if that helps.
Overall really nice for the price....Buy it!
Good stuff
By dajaaj
2012-02-17 11:39:48
I really love it so far.
PROs: Looks very realistic. Feels good to hold. Really fun to shoot!! When I checked reviews with my barcode scanner, everyone was giving 4 and 5 stars...and they are right!!
CONs: Decent weight, but would not mind a bit more. Sight alignment/picture was a bit off from what it is on my 5.56mm M4. The biggest so far is that even though there are rails, a lower attachemnt looks like it gets in the way of pumping a bit.
OVERALL: Buy it!!
excellent
By jacob
2012-01-19 22:15:36
amazing!
IMPORTANT PLEASE READ
There are a few ways to download files to your computer. Right-click the item and select "Save As..." or you could open the link and save the document from there. All owner's manuals (OMs) and exploded view of parts diagrams (EVPs) are in a PDF format. You will need Adobe Acrobat Reader installed on your computer to open the file. If you do not have this program you can download it for free at:
http://get.adobe.com/reader/
High resolution (
High Rez
) media center files are in a variety of formats such as .TIF, .PSD, .EPS, .AI, etc. and typically require an additional program to open. Low resolution (
Low Rez
) files are in .GIF or .JPG format and should open in your web browser.