Elkhorn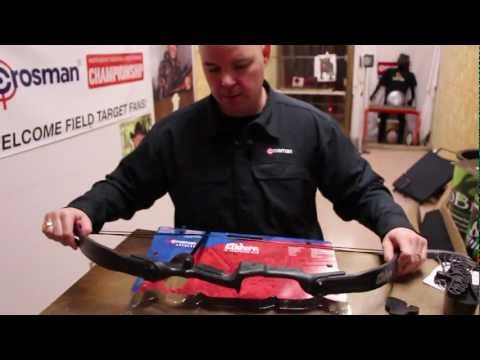 Overview
Ratings / Reviews
Downloads (Photos, Manual & EVP)
Jr. Compound Bow Designed with the look and feel of Dad's bow. The Elkhorn comes equipped with durable, heavy weight composite limbs and an integrated composite center shot riser with large sight window. The composite cam system is supported by heavy duty all weather strings and cables complete with guard for superior shooting performance. Specs:
33" axle to axle - designed for shootability, and feel for the starting compound bow shooter
17-21 lb. Draw Weight - Ideal for beginners
26" max draw - allows for years of use with the same bow set
8" Brace Height - exceptional design for ultimate forgiveness during the shot
1 lb. 12 oz. Mass Weight - very versatile for balance and feel
Integrated design to allow for optimum hand placement for right-handed shooters
65% let off - cam / wheel design provides outstanding shooting performance
Package includes Two composite youth arrows, two-piece quiver, arm guard, finger tab, sights and arrow rest
ADULT SUPERVISION REQUIRED. RECOMMENDED FOR USE BY THOSE 16 YEARS OR OLDER. DO NOT SHOOT THESE ARROWS IN ANY OTHER BOW. MISUSE OR CARELESS USE MAY CAUSE SERIOUS INJURY OR DEATH. READ ALL INSTRUCTIONS BEFORE USE.
Specifications Overview

Model Number

ABY1721

Weight

3.3 lbs.

Length

33"

Draw Weight (lbs)

17 to 21 lbs.

Limbs

1 Piece Composite

Riser

Composite

System

Cam Wheel

Camo

Black

Package Set

2 Composite Arrows, rest, sight, arm guard, 2 piece quiver, finger tab
Elkhorn
Customer Reviews
Super Cool Bow
By Anonymous
2014-02-09 20:39:20
Super cool bow got it yesterday (you should but more arrows) it is a beautiful bow got like 15-25 meters really cool bow

SUCKS SO BAD!!!!!
By hi
2014-01-02 21:49:11
this bow sucks! instruchins are terrible, sight is really inaccurate, bow is cheaply made, and arrows are also terrible! if i could put 0 stars i would!
excellent
By fluknick
2013-08-10 16:26:16
This is my daughter's first bow.
Shoots with authority at 10-15 yards.
Sight works perfectly.
There were no assembly issues, there is plenty of guidence online, if needed.
The only required assembly is the sight and quiver; if you are familiar with bows, instructions are not even needed.
Great bow for the price
By Anonymous
2013-07-02 22:18:24
I am 12 years old and wanted to get into archery. (My mom is buying it for me). This is an amazing bow. if you need instructions just go on youtube and search crosman elkhorn jr bow and you can find a really good instruction video
it was okay.
By Anonymous
2013-06-27 13:44:43
the instructions to assemble the bow sucked but it was a good starter bow and it works fine.
Entry level
By Faustrocket
2013-04-30 09:33:20
This is a great bow to start a kid out on. My boy just turned 7 (B Day Gift) and you never know what a kid will take to and what they decide they don't want to do. Perfect compramise between price point and quality to see if he takes to it. Instructions are no big deal if you have half a wit. Ditch the sight all together, know your flight path. The arrows it comes with are cheap but cheap is good when there is a good chance they will get lost early on. Get a few more cheap ones and a few good ones for once the kid learns to shoot.
Porqueria
By Anonymous
2013-01-24 13:57:41
Es una porqueria gaste $1900 pesos, las flechas llegan a 3 metros.
Assembly instructions
By Scott Martin
2012-12-25 23:31:38
A nice beginner bow. Good quality but the assembly instructions could be improved.
crosman elkhorn - poor assembly instructions
By tnt
2012-12-25 09:33:46
do NOT recommend - what idiot put together the assembly instructions? parts, but no good pictures or instructions on how to put it together.
good
By Anonymous
2012-09-03 19:15:14
good starter bow, get better sight
IMPORTANT PLEASE READ
There are a few ways to download files to your computer. Right-click the item and select "Save As..." or you could open the link and save the document from there. All owner's manuals (OMs) and exploded view of parts diagrams (EVPs) are in a PDF format. You will need Adobe Acrobat Reader installed on your computer to open the file. If you do not have this program you can download it for free at:
http://get.adobe.com/reader/
High resolution (
High Rez
) media center files are in a variety of formats such as .TIF, .PSD, .EPS, .AI, etc. and typically require an additional program to open. Low resolution (
Low Rez
) files are in .GIF or .JPG format and should open in your web browser.