PCP Charging System 15"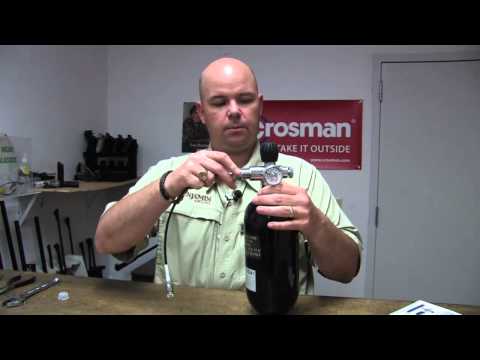 Overview
Accessories
Ratings / Reviews
Downloads (Photos, Manual & EVP)
Rated for 4500psi and constructed with carbon fiber to reduce weight. Includes a stainless steel fill connection, 12" microbore hose, grippy hand wheel for controlled filling, built-in pressure gauge and bleed valve.
At under five pounds and 15" in length with a 4" diameter, this tank fits nicely in a pack for a day in the field.
Capacity is 90 cu in (14.72 cubic feet). Expect the following number of fills (your results may vary):
Marauder Pistol (Model #BP2220) - 34 fills (refill @ 2000psi)
Discovery Rifle (Model #BP1K77GP) - 28 fills (refill @ 1000psi)
Marauder Rifle (Model #BGP1763) - 10 fills (refill @ 2000psi)
Challenger Competition Rifle (Models #CH2009 and #CH2009S) - 27 fills (refill @ 1000psi)
MAR177 (Model #MAR177) - 18 fills (refill @ 2000psi)
Where can I have a scuba or HPA air tank filled?
Check locally for
dive shops
or
paintball fields
. You can also contact a
regional cylinder tester
for businesses that will be able to fill your tank. Whether it is a dive shop, paintball field or some other business providing the service, confirm they can fill to 4500 PSI. In our experience, tank fills range from $5 to $15.
Do I need an adaptor?
Some fill stations may require fill solution
FAH007
. Please contact your air fill provider for their specific needs.
Specifications Overview

Model Number

81001

Length

15 inches

Capacity

90 cubic inch

Color

Black
PCP Charging System 15"
Customer Reviews
Nice tool for quick air fills!
By Bullseye
2013-06-19 23:31:35
Tank was made well and received with no problems out the box. More shipping insulation could have been used to wrap up the hose fitting from rattling around with the tank. So nice to have an air tank like this when you don't want to mess around with an hand air pump to recharge your gun. The only thing I had a hard time with was the built in air gauge only displays the fill pressure during the air station charge. After the initial charge the gauge doesn't show what's left in the tank. From my understanding a simple dead head 1/8" nipple plug may help with this which is not listed as an accessory. Tank protection accessories would be another plus if offered by Crosman. I spent time looking around for a tank protector and carry handle that would work with it. I would have given an excellent rating if the air pressure was able to be read in the tank after the air station charge. Overall, it's a good deal that does the job well, backed up by Crosman and goes well paired with my Marauder.
IMPORTANT PLEASE READ
There are a few ways to download files to your computer. Right-click the item and select "Save As..." or you could open the link and save the document from there. All owner's manuals (OMs) and exploded view of parts diagrams (EVPs) are in a PDF format. You will need Adobe Acrobat Reader installed on your computer to open the file. If you do not have this program you can download it for free at:
http://get.adobe.com/reader/
High resolution (
High Rez
) media center files are in a variety of formats such as .TIF, .PSD, .EPS, .AI, etc. and typically require an additional program to open. Low resolution (
Low Rez
) files are in .GIF or .JPG format and should open in your web browser.