Opening Day Critter Gitter Pack (.22)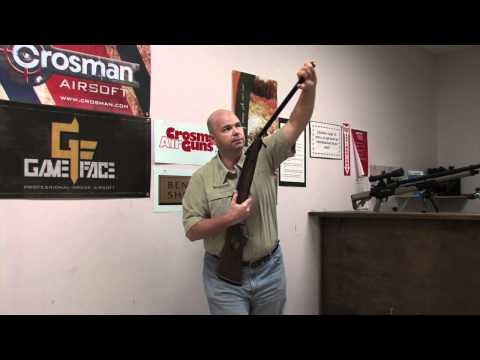 Overview
Accessories
Ratings / Reviews
If you circle Opening Day on your calendar, this Pro Pick is for you.
"Opening Day is special. The start of a brand new season, fall is not far behind and the woods seem alive with activity. Raccoons in the treetops, squirrels on the forest floor. Awesome.
It's hard to beat the Nitro Venom on the openng day of squirrel season: .22 is an ideal caliber for squirrels and rabbits and the Nitro Piston powerplant gives me a huge advantage. It's quiet, powerful and the forestock on this rifle is specifically designed for the artillery hold - the most accurate way to shoot a piston gun.
The Ultimate Hunting Pellet Assortment from Benjamin is a great selection of the very best hunting pellets. And the new Crosman Powershot Red Flight Penetrator pellets pack a wallop to ensure you max your bag limit on Opening Day."
The Nitro Venom air rifle features a precision, rifled barrel with fluted muzzle break and sculpted rubber recoil pad. The rifle is equipped with a CenterPoint 3-9x32mm precision scope and a quick-lock mounting system for quick and easy optic mounting. The ambidextrous synthetic stock has a raised cheek piece and modified, beavertail forearm designed to promote the Artillery Hold shooting position. The wider surface area of the forearm is designed to rest on the palm of your hand, and assists in achieving improved accuracy with break barrel air rifles.
The Opening Day Critter Gitter Pack includes:
Crosman Nitro Venom .22 air rifle

500 rounds of Benjamin Domed 14.3gr pellets

100 rounds of Crosman Powershot Red Flight Penetrator pellets
Chip Hunnicutt has pursued a wide variety of fish and game and used this experience to develop two iPhone apps for scoring trophy animals. He tweets for Crosman as @crosmancorp and manages the company's Facebook Page.
Specifications Overview

Model Number

PROPICK017

Alloy Pellet Velocity

Up to 950 fps

Weight

6.6 lbs

Length

46.25 in

Mechanism

Break Barrel

Power Source

Nitro Piston

Caliber

.22

Ammunition

Pellets

Capacity

Single Shot

Barrel

Rifled

Optics Rail

Picatinny Style

Optics

3-9x32 mm

Safety

Lever

Stock

Hardwood
Opening Day Critter Gitter Pack (.22)
Customer Reviews
.22 cal Nitro Venom
By Papa Smurf
2014-07-12 11:52:49
I first wrote a review on 2013-08-06 You may want to read it .---- I am now at 8000 rounds--( that's 8 with 4 zeros)-- and it is now more accurate than it was at 400 . Crosman is by far #1. My next rifle will be a Nitro Venom in .177 .
Great deal
By Joey
2013-08-07 11:29:29
Great very accurate quiet gun. The 400 lead pellets group very good. the red sabot type pellets group good also but no where near the other pellets. so you will have to decide which pellet u want to use and stick with it. It definatly is a shooter, The scope don't even put on buy a different one rite away to save time and frustration I put good rings qand average prices scope and wow 50 yards pellets are touch constantly.
.22 Nitro Venom
By Papa Smurf
2013-08-06 16:00:14
This is my third product from Crosman , and by far the best . VERY ACCURATE and plenty of power . Would be a deal it twice the price (don't tell upper management) . After 400 rounds I got a second one for my son . Keep up the good work Crosman .
Not accurate, no help from supplier to fix
By Barry
2013-07-27 08:29:56
I purchased this firearm a month ago. I have put over 200 pellets through it, and it jumps all over the fixed target at 33 feet, in a six inch circle. I used a bench to sight the firearm in, to eliminate human error, and still it is not consistent. I changed the scope, believing it could be faulty reticules, but it remained the same. I corresponded with the supplier who provided the firearm to the retail hunting store, and all they advised me to do was shoot over 500 pellets to gain best accuracy. They said that the residue may cause in-accuracy. I cleaned the barrel, and there was no change. It is not specified in the manual nor packaging to do such, thus it is false advertising. Now I own a gun that can't hit a target consistently. And I am suppose to purchase more pellets to hopefully improve the accuracy. The only positive comment I have about this firearm is that the stock is nice to handle and comfortable. That was the reason I chose this firearm over other models I inquired in.
nitro venom .22
By kyle
2013-06-16 20:18:47
I received my nitro venom .22 a few weeks ago. I have since put about 300 rounds through. It did take about 120 rounds for her too settle in, which I expected from reading other reviews. as for the Benjamin pellet assortment that was sent with the rifle, I found the wad cutter design too be the most accurate, the round nose and hollow point design were equal sized patterns, however they did seem to strike about an inch lower and to the left of the wad-cutters. the spire point pellets did poorly. The polymer based pellets were awful; they were all over the place with no consistent strike pattern. The crosswind performance was worse.
Overall, the rifle it is a good value. The trigger does smooth out after a few hundred, but is by no means a match grade. the grip area is a bit large, it fits my hands fine but someone with smaller hands may find it difficult. I would recommend this rifle to someone, I would say that it would be prudent to throw the spire point pellets through the rife for break in since their accuracy leave something too be desired. then sight in the scope with the wad-cutters.
exelent
By franky
2013-04-28 11:33:33
best gun

crosman venom dusk
By crosman
2012-11-15 18:22:01
this is a great and cool looking gun i am buying one!!THANKS GUYS!!
crosman nitro venom dusk
By tim sharrock
2012-11-10 17:35:52
I bought one,,wow was i shocked this is a mean gun,,i had the reg spring piston then got the nitro,,,,what a diffrence feels better hits harder less springy noise ,,love it do buy one,,
Crosman Nitro Venom/Dusk...a lot of rifle for your money!
By Dave
2012-09-15 10:40:43
A lovely rifle with a crafted hardwood stock. The "beaver-tail" forearm is ideal for the "Artillery" hold,and the rifle comes to shoulder very comfortably. The trigger is rather disappointing given the standard of the rest of the rifle, however once adjusted they can be improved. The 3-9 x 32 sights are good however the parallax can not be adjusted which restricts the full use of the higher magnification. You can use this rifle all day easily thanks to its light weight and good balance.
Overall a lot of rifle for the money. :)

Needs some accessories? Look through the items we paired up with the Opening Day Critter Gitter Pack (.22).
IMPORTANT PLEASE READ There are a few ways to download files to your computer. Right-click the item and select "Save As..." or you could open the link and save the document from there.